The global telecom millimeter wave market was valued at USD 300.2 million in 2017 and is anticipated to grow at a CAGR of 39.7% during the forecast period.
The radio waves between the frequency of 30GHz and 300Ghz are called telecom millimeter waves. Their wavelength ranges from ten to one millimeter, also sometimes referred to as Extremely High Frequency (EHF) range. These waves experience high atmospheric attenuation than the lower bands as their medium of propagation is through the line-of-sight. Although they have a smaller antenna size, the telecom millimeter waves are capable of transferring high speed data maintaining a low latency. Advantages offered by telecom millimeter wave such as high data transmission and high-speed communications has increased its adoption in diverse applications.
The growing adoption of telecom millimeter wave in small-cell backhaul networks drives the growth of this market. The increasing demand for bandwidth requirement coupled with growth in mobile data traffic further supports telecom millimeter wave market growth. The growing penetration of mobile devices, and rising demand from the telecommunication sector and 5G technology is also expected to support market growth during the forecast period. Other factors driving the market include technological advancements, increasing adoption of advanced networking technologies, growing demand for mobility, and growing applications in radar and security sectors. However, negative impact on the environment, and limitations regarding range are factors expected to hinder telecom millimeter wave market growth. Growing demand from defense and aerospace sectors, and increasing applications in autonomous vehicles are factors expected to provide numerous growth opportunities in the coming years.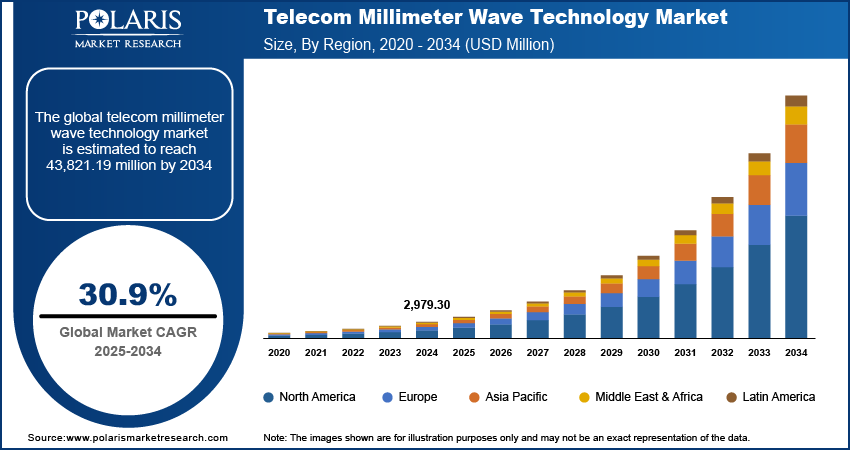 Segment Analysis
The global telecom millimeter wave market is segmented on the basis of product, frequency band, end-user, and region. Based on product, the market is segmented into scanner systems, radar and satellite communications systems, and telecommunication equipment. The telecommunication equipment accounted for the highest market share in 2017 owing to increasing application in mobile backhaul solutions and growth in demand for bandwidth requirement.
On the basis of frequency band, the market is segmented into V-Band, E-Band, and others. The E-band frequency band dominated the global Telecom Millimeter Wave market in 2017 owing to growing demand for backhaul networking and solutions from smart homes, buildings, and automation in other sectors.
The end-user segment is categorized into defense and aerospace, telecommunication, automotive, consumer, healthcare, and others.
Regional Analysis
This report comprises a detailed geographic distribution of the market across North America, Europe, Asia-Pacific, Latin America, and MEA. North America is further segmented into U.S., Canada, and Mexico. Europe is divided into Germany, UK, Italy, France, and Rest of Europe. Asia-Pacific is bifurcated into China, India, Japan, and Rest of Asia-Pacific. North America accounted for the largest share in the global Telecom Millimeter Wave market in 2017.
Competitive Landscape
The leading players in the telecom millimeter wave market include Siklu Communication Ltd., Farran Technology Ltd., Millitech, Inc., NEC Corporation, E-Band Communications, LLC, Bridgewave Communications, Inc., Sage Millimeter, Inc., Keysight Technologies, Inc., LightPointe Communications, Inc., and Smiths Group PLC. among others. These leading players in the market are introducing innovative products in the market to cater to the consumers. Global players are entering new markets in developing regions to expand their customer base and strengthen market presence.