The global tool steel market was valued at USD 5.03 Billion in 2022 and is expected to grow at a CAGR of 5.2% during the forecast period. Tools are available in a variety of formats, shapes, and sizes. They are available in flat, square, or round, among others. Some benefits of tool steel are high micro-purity, minimum presence of trace elements, low segregation, good tolerance limit, and ability to comply with etch-graining and polishing. Such advantages have broadened the general application of tool steels, thus favoring market growth.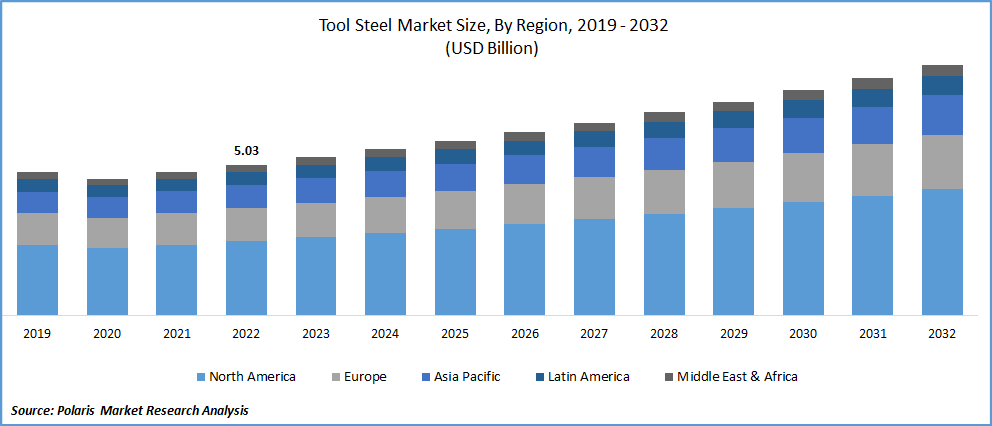 Know more about this report: Request for sample pages
Tool steels are a distinct family of carbon and alloy steels and have features such as better hardness, wear resistance, and toughness. They are manufactured using different carbide-forming materials, including molybdenum, tungsten, vanadium, and chromium. In some cases, materials such as cobalt or nickel are also used for manufacturing. Different manufacturing processes manufacture the final product depending on the applications.
Manufacturers work closely with their clients to provide tailored solutions that meet their specific production needs. They assist in selecting the most suitable and efficient tool steel that will minimize progressive damage caused by cyclic mechanical loading and other factors. These companies offer various tool steel grades to address failure mechanisms such as abrasive wear, adhesive wear, breakage, and chipping. By doing so, they help clients to enhance their overall manufacturing process and increase productivity by minimizing the occurrence of failure mechanisms.
When used in plastic molding applications, tool steels offer excellent machinability, polish ability, homogeneity, low Sulphur content, and a good photo etching ability. They also exhibit better toughness and weldability than other counterparts. They also have a high material removal rate, thus making them ideal for usage in high cavity designs.
The COVID-19 pandemic has had a significant impact on the market. In the early stages of the pandemic, the demand for tool steel decreased due to the shutdown of manufacturing activities and the disruption of supply chains. However, as the world has adapted to the new normal, the demand for tool steel has increased. The pandemic has also led to changes in the tool steel industry's supply chain, with transportation and raw material supplies disruptions. Some manufacturers have had to reduce production or temporarily shut down their facilities due to these disruptions.
Despite the challenges, the market is expected to recover and grow in the coming years, driven by the increasing demand from the automotive, aerospace, and construction industries. The market will also benefit from technological advancements in tool steel production, such as developing new alloys and heat treatment processes.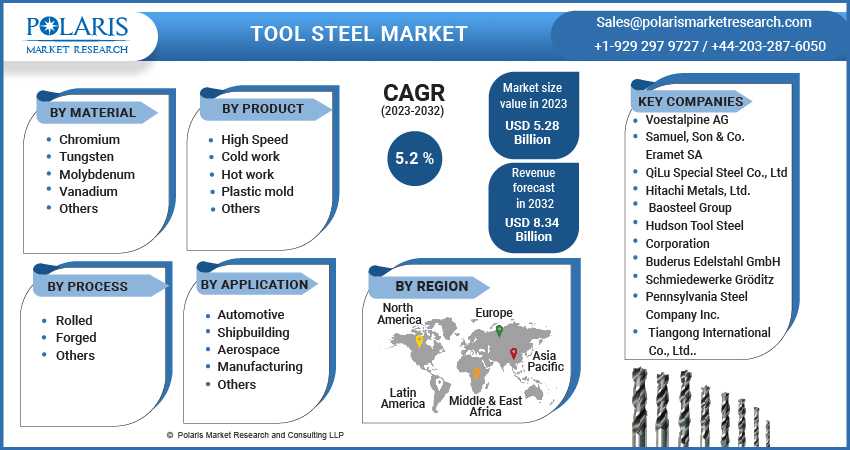 Know more about this report: Request for sample pages
Industry Dynamics
Growth Drivers
Tool steel is used extensively in a variety of industries, including automotive, aerospace, construction, and manufacturing. As these industries continue to grow and evolve, the demand for high-quality tool steel is expected to increase. Also, technological advancements in tool steel production have led to the development of new alloys, heat treatment processes, and surface treatments, which have improved the performance of tool steel. This has increased the demand for high-performance tool steel in various industries.
In addition, to the growing demand for lightweight materials, tool steel is often used to produce lightweight materials, such as aluminum and titanium; as demand for lightweight materials increases in industries such as automotive and aerospace, the need for high-quality tool steel is expected to increase as well.
However, manufacturers of tool steel is investing heavily in research and development to develop new, advanced products with better properties and performance. This investment is expected to lead to the development of new alloys and products, which will drive the growth of the tool steel market.
Report Segmentation
The market is primarily segmented based on material, product, process, application, and region.
By Material

By Product

By Process

By Application

By Region

Chromium

Tungsten

Molybdenum

Vanadium

Others

High Speed

Cold work

Hot work

Plastic mold

Others

Automotive

Shipbuilding

Aerospace

Manufacturing

Others

North America (U.S., Canada)

Europe (France, Germany, UK, Italy, Netherlands, Spain, Russia)

Asia Pacific (Japan, China, India, Malaysia, Indonesia, South Korea)

Latin America (Brazil, Mexico, Argentina)

Middle East & Africa (Saudi Arabia, UAE, Israel, South Africa)
Know more about this report: Request for sample pages
Tungsten segment will witness the highest growth rate over the projected period
The tungsten segment is expected to witness the highest growth rate over the forecast period. Tungsten is categorized into high-speed tool steels and maintains its hardness up to 540 degrees Celsius. Its advantages include high suitability for high-speed machines, resistance to grain growth, high toughness and red hardness, and high-temperature strength. These exceptional properties make tungsten the preferred choice for applications in hot-forming tools and high-speed machines.
Tungsten tools are also used to make high-temperature structural components and high-load components such as aircraft bearings and pump parts. They are also used to make cutting tools such as hobs, broaches, taps, reamers, drills, milling cutters, punches, and dies. Such a wide application portfolio has benefitted the overall segment growth.
Plastic mold segment held the highest market penetration in 2022
The plastic mold segment had the highest market penetration in 2022, and this trend is expected to persist until the end of the forecast period. Key industry participants offer customized manufacturing processes and techniques for tool steels, enabling them to meet the diverse requirements of plastic products and their manufacturing. As a result, the growing demand for plastic products contributes significantly to this segment's overall growth.
However, Hot work segment is expected to grow at high CAGR over the forecast period Hot work type is used in extrusion, drop forging, pressure die casting, and glass manufacturing applications. These are preferred in high-pressure applications because they can sustain fluctuating temperatures and constantly changing thermic loads. They are instrumental in the hot forming of iron and non-ferrous jobs.
Rolled segment is projected to grow at the highest CAGR over forecast period
The rolled segment is expected to grow at the highest CAGR over the forecast period. Companies manufacturing roll types have developed products that can be provided in a single roll without compromising the overall strength, have improved surface finish, and offer greater resistance to fatigue and mechanical damage. Such development of superior products is benefitting the overall segment growth.
Automotive segment is accounted for the largest market share in 2022
Automotive segment is accounted for the largest market share and will likely to continue its dominance over the forecast period. The expansion of the global automotive industry is set to propel the market. The automotive sector is dynamic, with innovations being introduced daily. The increasing customized requirements of automotive applications for tools and dies used in forming and working plastic components contribute to this growth.
The automotive industry demands high reliability, superior strength, and durability from its tools. Tool steel can achieve these properties while maintaining the desired precision of the product. As a result, the high accuracy and durability of the product are expected to drive the demand for tool steel.
North America accounted significant market share in 2022
North America significantly contributes market shares in 2022. The region's growing manufacturing sector drives the market, particularly in the automotive and aerospace industries. The area is home to several key industry players and manufacturers of tool steel, which also contribute to the market growth.
North America is also witnessing a rise in the demand for high-quality tool steel due to the increasing focus on efficient and precise manufacturing processes. Furthermore, the region has strict regulations for manufacturing and using tool steel, driving the market's growth.
The market in North America is expected to continue growing in the coming years, driven by factors such as increasing demand for customized tool steel products, rising investment in research and development, and the growing adoption of advanced manufacturing technologies.
Competitive Insight
Some of the key players operating in the market such as Voestalpine AG, Samuel, Son & Co., Eramet SA, QiLu Special Steel Co., Ltd, Hitachi Metals, Ltd., Baosteel Group, Hudson Tool Steel Corporation, Buderus Edelstahl GmbH, Schmiedewerke Gröditz, Pennsylvania Steel Company, Inc., and Tiangong International Co., Ltd.
Recent Developments
In January 2021, Hitachi Metals, Ltd. announced that it had completed the acquisition of Teikuro Inc., a manufacturer of tool steel and other specialty steel products based in Japan. The purchase is part of Hitachi Metal's strategy to expand its product portfolio and strengthen its global tool steel market position.

In September 2022, Pennsylvania Steel Company, Inc. acquired Nivert Metal Supply to expand its global costumers base with providing its services for metals in northeast.
Tool Steel Market Report Scope
| | |
| --- | --- |
| Report Attributes | Details |
| Market size value in 2023 | USD 5.28 Billion |
| Revenue forecast in 2032 | USD 8.34 Billion |
| CAGR | 5.2% from 2023 – 2032 |
| Base year | 2022 |
| Historical data | 2019 – 2021 |
| Forecast period | 2023 – 2032 |
| Quantitative units | Revenue in USD billion and CAGR from 2023 to 2032 |
| Segments Covered | By Material, By Product, By Process, By Application, By Region |
| Regional scope | North America, Europe, Asia Pacific, Latin America; Middle East & Africa |
| Key Companies | Voestalpine AG, Samuel, Son & Co., Eramet SA, QiLu Special Steel Co., Ltd, Hitachi Metals, Ltd., Baosteel Group, Hudson Tool Steel Corporation, Buderus Edelstahl GmbH, Schmiedewerke Gröditz, Pennsylvania Steel Company, Inc., and Tiangong International Co., Ltd. |