Report Summary
The global tool steel market size was valued at USD 4.4 billion in 2017 and is anticipated to grow at a CAGR of 6.3% during the forecast period. Tool steel is a carbon alloy steel with varying amounts of tungsten, molybdenum, cobalt and vanadium to increase heat resistance and durability. Tool steel is usually used to manufacture, modify, and repair hand tools or machine dies. It is used in shaping of materials through cutting, pressing, coining or extruding owing to features such as hardness, resistance to abrasion and deformation.
Tool Steel is used in a variety of industries such as construction, automotive, packaging, and manufacturing, and shipbuilding among others. Tool steel is divided into six groups on the basis of strength toughness, surface hardness, shock resistance, working temperature, and cost. The groups include water-hardening, cold-work, shock-resisting, high-speed, hot-work, and special purpose.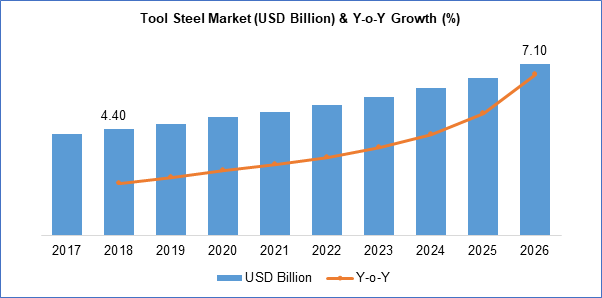 Know more about this report: request for sample pages
The increasing applications of tool steel in automotive industry, and growing demand of tool steel in manufacturing of cutting tools such as drills, taps, gear cutters, saw blades, and others drive the market growth. Tool Steel is used in various industries such as automotive, construction, manufacturing, shipbuilding, and aerospace among others, and growth in these industries worldwide is expected to supplement the growth of the tool steel industry. The rising demand from construction and packaging industries, and growth in forging industry boost the adoption of tool steel.
However, rising demand for carbide-based alternatives, and fluctuating prices of steel hamper the growth of the tool steel industry. Growing demand from emerging economies, and technological advancements are factors expected to provide numerous growth opportunities in the tool steel industry in the coming years.
Segment Analysis
The global Tool Steel market is segmented on the basis of material, product class, process, end-user, and region. Based on material, the tool steel industry is segmented into Chromium, Tungsten, Molybdenum, Vanadium, and others. Tungsten is majorly used for hot forming and high-speed applications that require greater hardness, and toughness.
Based on product class, the market is segmented into High Speed, Cold-Work, Hot-Work, Plastic Mold, and others.
The process segment in the market report is categorized into Rolled, Forged, and others, whereas the end-user segment is categorized into automotive, shipbuilding, aerospace, manufacturing, and others. The automotive segment accounted for the highest share in the global tool steel industry owing to increasing demand for vehicles, especially from developing countries, and growing penetration of electric vehicles.
Tool Steel Market Scope
By Material

By Product Class

By Process

By End User

By Regions

Chromium
Tungsten
Molybdenum
Vanadium
Others

High Speed
Cold-Work
Hot-Work
Plastic Mold
Others

Automotive
Shipbuilding
Aerospace
Manufacturing
Others

North America (U.S., Canada)
Europe (Germany, UK, France, Italy, Spain, Belgium, Russia, Netherlands)
Asia-Pacific (China, Japan, India, Australia, Korea, Singapore, Malaysia, Indonesia, Thailand, Philippines)
Latin America (Brazil, Mexico, Argentina)
Middle East and Africa (UAE, Saudi Arabia, South Africa, Rest of MEA)
Know more about this report: request for sample pages
Regional Analysis
The report comprises a detailed geographic distribution of the market across North America, Europe, Asia-Pacific, Latin America, and MEA. North America is further segmented into U.S., and Canada. Europe is divided into Germany, UK, France, Italy, Spain, Belgium, Russia, Netherlands, and Rest of Europe. Asia-Pacific is bifurcated into China, India, Japan, Korea, Singapore, Malaysia, Indonesia, Thailand, Philippines and Rest of Asia-Pacific. Asia-Pacific accounted for the largest share in the market in 2018. The growth in industries such as manufacturing, construction, and automotive, substantial initiatives in research and development, rapid industrialization supports the market growth in the region.
Competitive Landscape
The leading players in the tool steel industry include Voestalpine AG, Eramet SA, Hudson Tool Steel Corporation, Schmiedewerke Gröditz, Samuel, Son & Co., SeAH Changwon Integrated Special Steel, QiLu Special Steel Co., Ltd, Buderus Edelstahl GmbH, Nachi-Fujikoshi Corp, Hitachi Metals, Ltd., Baosteel Group, and Tiangong International Co., Ltd. among others. The leading players are introducing new innovative products in the tool steel industry to cater to the growing consumer demands. Global players are entering new markets in developing regions to expand their customer base and strengthen presence in the market.