The global tooth regeneration market was valued at USD 4,316.4 million in 2021 and is expected to grow at a CAGR of 5.7% during the forecast period.
The market for tooth regeneration is anticipated to grow over the forecast period due to the recent developments in regenerative medicine that have led to the creation of a revolutionary therapeutic approach for improved restoration of tooth physiological functions. Additionally, the tooth regeneration market is anticipated to grow as dental implants do not provide the required clinical outcome in patients receiving chemotherapy, radiotherapy, persons with severe gum disease, or those who cannot undergo surgery.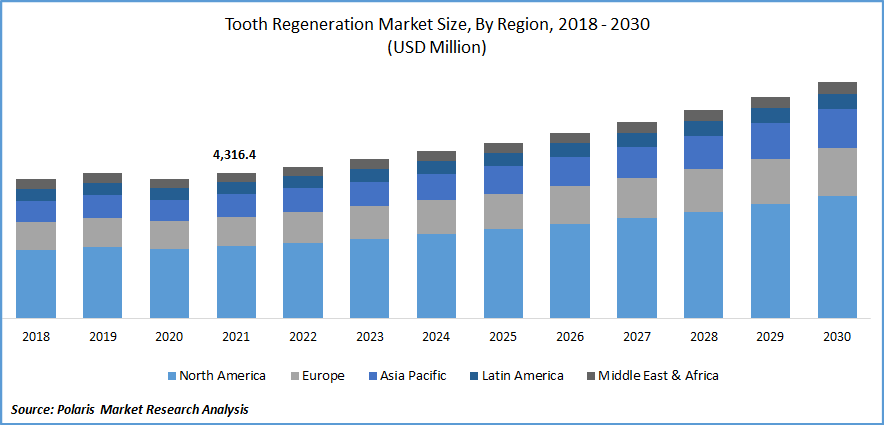 Know more about this report: Request for sample pages
Tooth loss is a worldwide health issue that strains society and the economy. It impacts one's ability to speak, smile, chew, and mental health. Natural tooth amputation is a common occurrence, especially in older individuals. The three main causes of tooth loss are denticle caries, periodontal disease, and hereditary diseases. Regenerative dentistry is a revolutionary idea that pushes contemporary dentistry to increase dental research and apply the latest findings in the lab to brand-new clinical procedures.
The technique is founded on an awareness of the fundamental mechanics of tooth growth as well as the biological processes of healing and repair, resulting in a thorough understanding of principles that might be employed in harnessing the innate healing power of denticle tissues or regenerating the injured tissue or organ.
Additionally, the researchers anticipate starting human trials to incorporate tooth regeneration therapy into contemporary dentistry and d to broaden the therapeutic uses of stem cells, which is expected to advance dental repair significantly. For instance, according to a research paper by Hongbing Lin et al. published in 2021, mesenchymal stem cells (MSCs) have demonstrated a promising ability to regenerate periodontal tissue in a number of preclinical and clinical investigations. In addition to the key signaling pathways governing natural tooth growth, tissue engineering and regenerative medicine and dentistry (TERMD) strategizing are used for critical tooth regeneration.
The COVID-19 pandemic hurt the global tooth regeneration market due to a drop in surgical activities during the pandemic. Dentists are at increased risk of contracting an infection when treating patients due to its transmission route via exposure to droplets and aerosols. Coronavirus significantly impacts the dental community, and oral health status may affect the severity of COVID-19 sickness. Furthermore, dental visits during COVID-19 were reduced, especially in lockdown. For instance, the research paper by Klaudia Migas et al., published in 2022, reports that dental services declined by 37% compared to the year before the COVID-19 pandemic.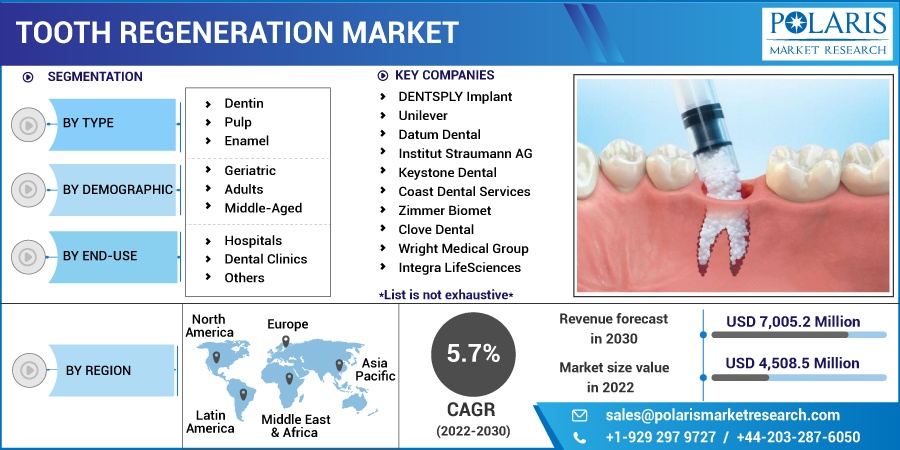 Know more about this report: Request for sample pages
Industry Dynamics
Growth Drivers
The global market for tooth regeneration will be driven by growth in dental issues such as denticle caries, delayed root formation, coronal discolorations, and cavities due to the aging population, rising urbanization, and changes in living environment. For instance, the World Health Organization reported that in November 2022, 3 out of every four people with oral disorders lived in low- and middle-income nations, accounting for 45% of the world's population.
Over the past 30 years, there have been 1 billion more oral disorders worldwide, which is a glaring indication that many individuals lack access to preventative care and effective treatments; additionally, as per WHO Global Oral Health Status Report (2022), up to 514 million kids across the globe suffer with tooth decay, while 2 Bn adults have permanent tooth decay. Every year, around 380,000 new instances of oral cancer are identified.
Report Segmentation
The market is primarily segmented based on type, demographic, End-use, and region.
By Type

By Demographic

By End-use

By Region

Geriatric
Adults
Middle-Aged

Hospitals
Dental Clinics
Others

North America (U.S., Canada)
Europe (France, Germany, UK, Italy, Netherlands, Spain, Russia)
Asia Pacific (Japan, China, India, Malaysia, Indonesia, South Korea)
Latin America (Brazil, Mexico, Argentina)
Middle East & Africa (Saudi Arabia, UAE, Israel, South Africa)
Know more about this report: Request for sample pages
Enamel segment is the industry's largest market segment.
Enamel is anticipated to rule the tooth regeneration industry in 2021. The inadequate calcium consumption might be blamed for the segment's growth, as such conditions may cause tooth decay and eventually cause enamel loss. Tooth enamel is the strongest & mineral-rich tissue in extinct & extant vertebrae, & it provides maximal durability, allowing teeth to operate as weapons and tools and for food processing.
In addition, patients with enamel hypoplasia may experience problems like tooth decay or caries, which will raise the demand for dental enamel regeneration procedures in the future. For this reason, researchers are also creating novel methods for dental procedures that regenerate tooth enamel. For instance, a study by Fatemeh Mohabatpour et al. demonstrated how a novel cross-linkable hydrogel consisting of carboxymethyl chitosan & oxidized alginate serves for dental enamel regeneration.
Geriatric segment will account for a higher share of the market.
Geriatric is anticipated to dominate the market in 2021. The primary driver of the market is the older population's tooth loss, which reduces nutritional intake and is likely to cause systemic health difficulties. For instance, according to the Centers for Disease Control and Prevention's released report for 2021, about one-fifth of persons aged 65 and older had lost all of their teeth. Adults 75 and older (26%) experienced complete tooth loss twice as frequently as those 65 to 74 (13%). Similarly, it is anticipated that by 2060, 98 million people in the US will be 65 or older, or 24% of the population.
Dental clinics are expected to hold the significant revenue share
Dental clinics are expected to dominate the market, in 2021. The segment is anticipated to grow quickly over the study period, keeping its top spot. Due to cost-effectiveness, the availability of specialists, and cutting-edge technology, most patients visit privately operated dental clinics.
Their owners run more than 73.0% of dental clinics. Around the world, there are more independent practices. Additionally, the cost of the dental insurance offered for the procedure is far lower than that of other medical insurance. The majority of the funding comes from private health insurance payments. The growth of the dental sector is constrained by the decrease in patient visits and treatments caused by such low insurance and reimbursement rates.
The demand in Asia-Pacific is expected to witness significant growth
The region with the highest revenue share was Asia-Pacific. It is projected that the Asia-Pacific region will have the fastest development in the market due to the region's rapidly expanding incidence of dental surgery and general prosthetic fixation. Dental implant demand in Asia is driven by the region's rapidly aging population and the associated need for dental care. For instance, according to WHO, China has one of the world's fastest-rising aging populations. As a result of rising life expectancy and falling birth rates, China's population of individuals over 60 is expected to increase to 28% by 2040.
The market will experience profitable expansion as a result of the major players' essential strategies, which include, among others, collaborations, investments, mergers, acquisitions, and technological innovation. For instance, in May 2021, CareCapital, an investment business focusing on the dental care sector, and DeepCare, an artificial intelligence dental care support company, forged a strategic alliance. Therefore, the market will be driven by the nation's embrace of technology in dental.
Competitive Insight
Major players in the global market include DENTSPLY Implant, Datum Dental, Keystone Dental, Coast Dental Services, Zimmer Biomet, Clove Dental, Wright Medical, Integra LifeSciences, CryoLife, BioMimetic Therapeutics, and Rophe Dental Clinic.
Recent Developments
In June 2022, VideaHealth, a top dental artificial intelligence solutions provider, declared that Health Canada had granted it a Medical Device Establishment License for their AI-powered dental caries detection algorithm Video Caries Assist. Efficiency and ethics were considered when creating VideaHealth's AI and software solutions. They let dentists analyze patient X-rays more effectively, get paid more quickly, and provide treatment recommendations with greater precision.
Tooth Regeneration Market Report Scope
| | |
| --- | --- |
| Report Attributes | Details |
| Market size value in 2022 | USD 4,508.5 million |
| Revenue forecast in 2030 | USD 7,005.2 million |
| CAGR | 5.7% from 2022 - 2030 |
| Base year | 2021 |
| Historical data | 2018 – 2020 |
| Forecast period | 2022 – 2030 |
| Quantitative units | Revenue in USD million and CAGR from 2022 to 2030 |
| Segments covered | By Type, By Demographic, By End-use, By Region |
| Regional scope | North America, Europe, Asia Pacific, Latin America; Middle East & Africa |
| Key Companies | DENTSPLY Implant, Unilever, Datum Dental, Institut Straumann AG, Keystone Dental, Coast Dental Services, Zimmer Biomet, Clove Dental, Wright Medical Group, Integra LifeSciences, CryoLife, BioMimetic Therapeutics, and Rophe Dental Clinic. |