The global tungstic acid market was valued at USD 39.52 million in 2022 and is expected to grow at a CAGR of 3.3% during the forecast period.
The exponential rise in the global textile industry and robust presence of tungsten mines and tungsten acid manufacturers, particularly in Asia and North America region, along with the ring product use in various kinds of personal care product formulations, are among the leading factors driving the market. In addition, the significant increase in investment by both government and private institutions across the globe, especially focused on enhancing the performance, purity, and cost-effectiveness of tungstic acid, may open up new opportunities and expand its market potential over the coming years.

To Understand More About this Research: Request a Free Sample Report
For instance, according to a report published by the US Geological Survey, global tungsten production stood at around 84,000 metric tons, with an increase from 83,800 metric tons in 2021, with leading countries including China, Vietnam, Russia, South Korea, and the United Kingdom.
Moreover, the product is also being widely utilized in the production of tungsten oxide nanoparticles, which exhibit unique properties and find applications in diverse sectors. Besides this, the ever-increasing demand for nanoparticles in fields like electronics, energy storage, catalysis, and sensors is driving the growth of tungstic acid as a precursor for their synthesis, which, in turn, further creates lucrative growth opportunities globally at an exponential pace.
However, the prices of tungsten are subject to volatility due to factors such as changes in supply and demand, global economic conditions, and geopolitical factors, which significantly impact the cost of tungstic acid production and make it challenging for manufacturers to maintain stable pricing and profitability and is among the major factors restraining the market growth.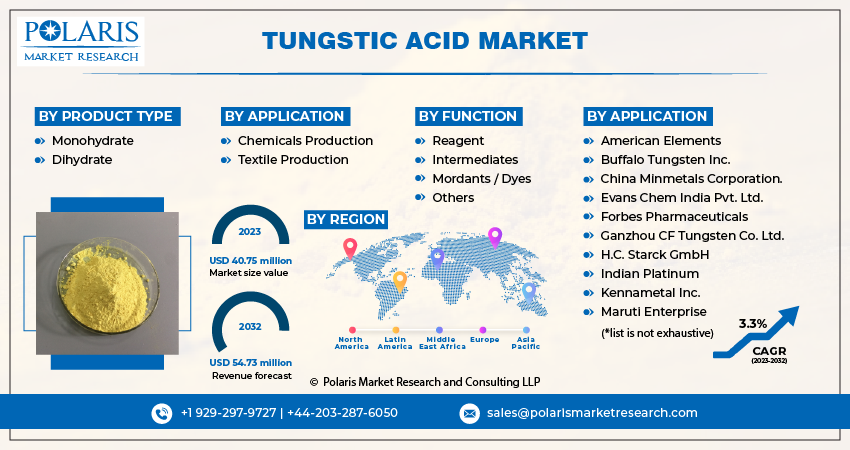 For Specific Research Requirements, Request for a Customized Report
Industry Dynamics
Tungstic Acid Market : Growth Drivers
Rising popularity of tungsten
The growing popularity of tungsten due to its high melting point, exceptional hardness, and excellent corrosion resistance makes it highly desirable for applications such as the manufacturing of cutting tools, drilling equipment, electrical contacts, and high-temperature alloys coupled with the expansion of tungsten mining operations and the development of new mines across the globe, are major factors propelling the growth of the global tungstic acid market.
Furthermore, tungsten compounds are now being widely utilized in various medical and healthcare applications, and tungstic acid may find opportunities in the development of novel drug delivery systems and diagnostic tools. Thereby, continuously ongoing research and development activities focusing on exploring new applications and properties of tungsten-based materials are likely to uncover additional growth potential for the market and allow companies to gain a competitive edge in the market.
Report Segmentation
The market is primarily segmented based on product type, function, application, and region.
By Product Type

By Function

By Application

By Region

Reagent

Intermediates

Mordants / Dyes

Others

Chemicals Production

Textile Production

North America (U.S., Canada)

Europe (France, Germany, UK, Italy, Netherlands, Spain, Russia)

Asia Pacific (Japan, China, India, Malaysia, Indonesia. South Korea)

Latin America (Brazil, Mexico, Argentina)

Middle East & Africa (Saudi Arabia, UAE, Israel, South Africa)
To Understand the Scope of this Report: Speak to Analyst
By Product Type
Monohydrate segment accounted for noteworthy market share in 2022
The monohydrate segment held the largest share, which is mainly driven by widespread use in various industrial applications such as catalysts, pigments, fireproofing agents, and coatings and exponential growth of industries like automotive, construction, electronics, and aerospace fuels, which are the major consumers of the segment market. Ongoing research and development activities mainly aimed at improving the properties and applications of tungstic acid monohydrate and rising penetration for new developments, such as improved production methods, enhanced purity, and novel applications, can create new opportunities for market expansion soon.
The dihydrate segment is likely to exhibit a significant growth rate over the anticipated period, mainly attributable to its growing demand and adoption in various industrial applications because of its exceptional properties, including high melting point, hardness, and density. Moreover, the ability of dihydrate to exhibit several beneficial characteristics, including good solubility, chemical stability, and catalytic activity, makes it an attractive choice for various applications, leading to its growing adoption in industries.
By Function
Mordants / dyes segment held the significant market revenue share in 2022
The mordants/dyes segment held the majority market share in terms of revenue in 2022, which is largely accelerated by rising demand for vibrant and long-lasting colors in various industries, including textiles, automotive, printing inks, and plastics, along with its ability to help fix dyes to textiles and enhance their colorfastness and durability. With increasing environmental concerns and regulations regarding the use of hazardous chemicals in the dyeing process, there has been a growing shift towards eco-friendly and sustainable dyes in recent years. Hence, tungstic acid-based dyes are being considered relatively safe and environmentally friendly compared to other conventional dyes, which is driving the segment market at a rapid pace.
The reagent segment is anticipated to gain a substantial growth rate over the next coming years, owing to the growing proliferation of reagents to be utilized for wastewater treatment and as a coagulant in water purification processes. It is also being employed in chemical processes like oxidation reactions and organic synthesis.
By Application
Chemicals production segment is expected to witness highest growth during forecast period
The chemicals production segment is expected to grow at the highest growth rate during the projected period, which is significantly driven by surging demand for a wide range of sectors including automotive, aerospace, electronics, and energy, coupled with the prevalence of policies promoting the use of tungstic acid in specific industries or setting environmental regulations across the world.
The textile production segment led the industry market with the largest market share in 2022 because of the exponential growth in the textile industry, driven by several factors such as population growth, rising disposable incomes, fashion trends, and the popularity of the product used as a catalyst in the production of various textile dyes, pigments, and finishes.
By Regional Analysis
North America region dominated the global market in 2022
The North America region dominated the global market with considerable revenue share in 2022 and is projected to maintain its dominance throughout the study period. The regional market growth can be mainly accelerated by continuous expansion in the manufacturing and construction sector, along with the number of researchers and manufacturers constantly exploring new applications and formulations for tungsten products, including catalysts, pigments, and electronic components. Additionally, the presence of government initiatives and policies aimed at promoting domestic manufacturing, infrastructure development, and technological advancements have also been propelling the regional market growth.
The Asia Pacific region is anticipated to emerge as the growing region with a healthy CAGR over the study period on account of the rapid rate of industrialization and urbanization leading to extensive infrastructure development and penetration for product use in the production of cemented carbide, which is a critical material for cutting tools and wear-resistant parts used in the construction industry.
Competitive Insight
The Tungstic Acid is fragmented and is anticipated to witness competition due to several players' presence. Major service providers in the market are constantly upgrading their technologies to stay ahead of the competition and to ensure efficiency, integrity, and safety. These players focus on partnership, product upgrades, and collaboration to gain a competitive edge over their peers and capture a significant market share.
Some of the major players operating in the global market include
American Elements

Buffalo Tungsten Inc.

China Minmetals Corporation.

Evans Chem India Pvt. Ltd.

Forbes Pharmaceuticals

Ganzhou CF Tungsten Co. Ltd.

H.C. Starck GmbH

Indian Platinum

Kennametal Inc.

Maruti Enterprise

Merck KgaA

Molycorp Inc.

Muby Chem Group

Otto Kemi

Palladium Chemicals

SRL Chemicals

Trifine Industries

Tungsten Compounds GmbH

Wolfram Company

Xiamen Tungsten Co. Ltd
Recent Developments
In February 2023, Archroma, a global leading company in sustainable specialty chemicals and solutions, announced that the company has successfully acquired the Textile Effects business for the Huntsman Corporation. With this acquisition, the company is expanding its highly complementary product portfolio and providing high-performance products and solutions.

In July 2021, BASF completed the acquisition of Zodiac Enterprise with an aim to expand its chemical recycling capacity, which will also increase the company's smelting capacity. The most recent investment will allow the company to meet the continuously increasing demand for the recycling of used chemical and automotive catalysts.
Tungstic Acid Market Report Scope
| | |
| --- | --- |
| Report Attributes | Details |
| Market size value in 2023 | USD 40.75 million |
| Revenue forecast in 2032 | USD 54.73 million |
| CAGR | 3.3% from 2023 – 2032 |
| Base year | 2022 |
| Historical data | 2019 – 2021 |
| Forecast period | 2023 – 2032 |
| Quantitative units | Revenue in USD million/billion and CAGR from 2023 to 2032 |
| Segments covered | By Product Type, By Function, By Application, By Region |
| Regional scope | North America, Europe, Asia Pacific, Latin America; Middle East & Africa |
| Customization | Report customization as per your requirements with respect to countries, region and segmentation. |