The global Vaccine Adjuvants Market was valued at USD 585.3 million in 2019 and is expected to grow at a CAGR of 10.68% during 2020-2027. The factors boosting the growth of global Vaccine Adjuvants Market include a rapid surge in infectious diseases in last decade such as SARS, Ebola Virus, Middle East respiratory syndrome (MERS), and recently ongoing pandemic of COVID-19, immunization programs by governments, unmet needs of certain diseases, research and innovation on adjuvants, and the increased participation of bio-pharmaceutical companies.
Adjuvants are the ingredient used in the development of vaccines to increase its efficiency by generating a strong immune response in the person. These are made up of weakened germs having naturally occurring adjuvants to create strong immunogenicity. Some of the different adjuvants currently being in use include aluminum salts (amorphous aluminum hydroxyl-phosphate sulfate (AAHS), potassium aluminum sulfate, and aluminum hydroxide, aluminum phosphate), AS04 (mixture of mono-phosphoryl lipid A (MPL) and aluminum salt), MF59 (squalene based oil in water emulsion), AS01 (mixture of MPL and QS-21), and CpG 1018 (Cytosine phospho-guanine).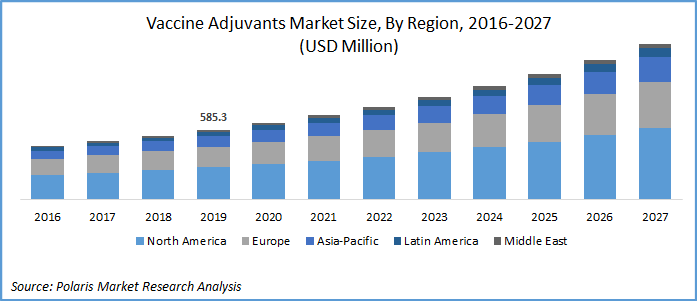 Know more about this report: request for sample pages
Market Dynamics
Growth Drivers
The global market is primarily driven by the continuous spike in infectious diseases outbreaks in the last decade, killing a large section of the world population. Few notable examples in the include:
The severely acquired respiratory syndrome (SARS) which originated from Hong Kong in 2002, had claimed more than 922 lives, with around 8,422 confirmed cases globally, within its one year of the life cycle. It had a mortality rate of 10.9% according to the estimates of WHO.
Swine Flu caused by H1N1 virus pandemic in 2009, took lives of around 284,500 humans. Just other types of flu it also shows symptoms of recurrent fever, sore throat, red eyes, cough, and stuffy nose.
The Ebola outbreak occurred between 2013 to 2016 in West African countries including Guinea, Liberia, and Sierra Leone claimed around 11,300 lives. This outbreak was the deadliest outbreak Ebola outbreak booth in infection rate and mortality rate.
In 2015, North and South America witnessed an outbreak of Zika virus and reported more than 5,168 cases. The transmission was primarily spread North America with travelers returning the outbreak zones at their home places.
More recent ongoing pandemic is although not that lethal as its predecessors but rate of infection is alarming. According to the statistics published by Johns Hopkins University, by 24 June 2020, the virus has infected more than 9 lacs people and took lives of around 4.8 lacs, across the globe. Moreover, according to the International Monetary Fund (IMF), it is expected that the global economy would lose more than USD12 trillion from 2020 to 2021.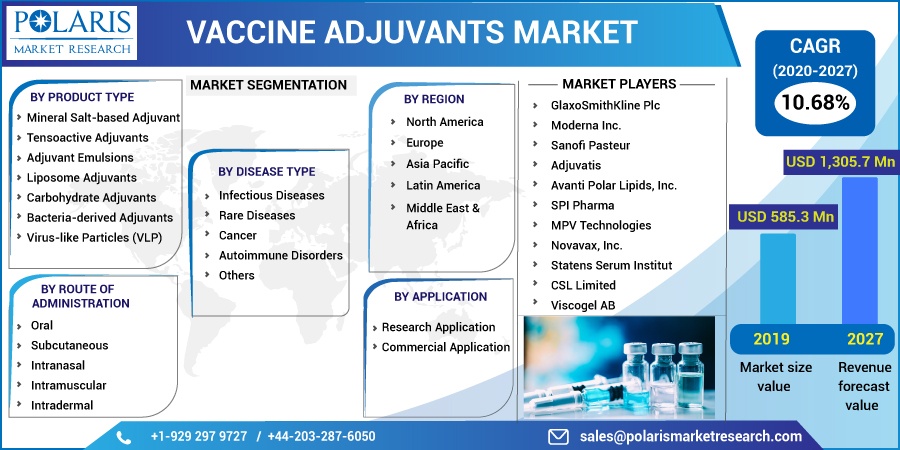 Know more about this report: request for sample pages
Challenges
The global market is marred with few bottlenecks such as side effects associated with the vaccines and low research activities in its development. The adjuvant associated systemic toxicity causes nausea, fever, arthralgia, malaise, diarrhea, headache, myalgia, and lethargy in a few cases. Theoretical risks include tissue hypersensitivity (auto-immune disorders), cross reactions with the human antigens such as glomerular basement membranes causing glomerulo-nephritis, carcinogenesis, and hypoglycemia. Moreover, macrophagic myofasciitis (muscle inflammatory disorder) due to the use of vaccines derived from aluminum hydroxide at the injection site.
Vaccine Adjuvants Market Report Scope
The market is primarily segmented on the basis of Product Type, By Route of Administration, By Disease Type, By Application, and geographic region.
By Product Type

By Route of Administration

By Disease Type

By Application

By Region

Mineral Salt-based Adjuvant
Tensoactive Adjuvants
Adjuvant Emulsions
Liposome Adjuvants
Carbohydrate Adjuvants
Bacteria-derived Adjuvants
Virus-like Particles (VLP)
Other Types

Oral
Subcutaneous
Intranasal
Intramuscular
Intradermal
Others

Infectious Diseases
Rare Diseases
Cancer
Autoimmune Disorders
Others

Research Application
Commercial Application

North America (U.S., Canada)
Europe (France, Germany, UK, Italy, Spain, Belgium, Austria)
Asia Pacific (Japan, China, India, Malaysia, South Korea. Australia)
Latin America (Brazil, Mexico, Argentina)
MEA (Saudi Arabia, UAE, Israel, South Africa)
Know more about this report: request for sample pages
Product Type Outlook
Based upon product type, the global market is categorized into mineral salt-based, tensoactive, adjuvant emulsions, liposome, carbohydrate, bacteria derived, virus like particles (VLP), and other types adjuvants. In 2019, adjuvant emulsion segment accounted for the largest share and is also anticipated to register the highest growth rate over the study timeframe.
This segmental growth is attributed to various factors such as the rising prevalence of allergic reactions, higher efficiency of emulsion based adjuvants, and the strong focus of pharmaceutical companies. Moreover, adjuvant emulsions have higher clinical effectiveness owing to their small droplet size which enables immune cells to react quickly by activating innate immunity of the individual.
Route of Administration Outlook
On the basis of the route of administration, the global market is categorized into subcutaneous, intradermal, intranasal, oral, intramuscular, and others. In 2019, the intramuscular segment accounted for the largest share in the global market. This high share is due to the fact that delivery of most of the current vaccine in use through this mode. Most of the government sponsored immunization programs also prefer this route of administration.
Intradermal segment is expected to register the highest growth rate over the study timeframe. This high growth is due to the fact the skin layer is composed of immunologically supported antigen presenting cells (APCs) which increases the effectiveness of medicine in comparison with skeletal muscles having relatively sparse APCs. APCs are first instigators in activating the antibodies against antigens.
Disease Type Outlook
On the basis of disease type, the global market is categorized into infectious diseases, rare diseases, cancer, autoimmune disorders, and others. In 2019, the infectious diseases segment accounted for the largest share. The rising cases of infectious diseases across the globe and strong government intent towards R&D of autoimmune and cancer diseases driving the segment growth in the future years.
Government sponsored immunization programs are able to prevent deaths associated with infectious diseases such as pneumonia, polio, and measles but still each year, according to the estimates of World Health Organization (WHO) more than 1.5 million kids aged 5 lose their life to the vaccine preventable diseases.
Application Outlook
On the basis of application, the global market is categorized into research application and commercial application. In 2019, the research application segment accounted for the largest share and it is also anticipated to register the highest growth rate over the study timeframe. Growth in this segment is driven by the increasing incidence of zoonotic diseases and the ongoing research projects on adjuvants to further increase effectiveness of medicines.
For instance, in June 20, 2020, the researchers working at the Emory Vaccine Center in collaboration with Yerkes National Primate Research Center developed new adjuvant 3M-052. According to their claim published in the journal, Science Immunology, this adjuvant could increase immunity against HIV. This development might also have implications on successfully developing vaccines for influenza and the ongoing pandemic of COVID-19.
Regional Outlook
Geographically, the global vaccine adjuvants market is bifurcated into North America, Europe, Asia Pacific, Latin America, and Middle East & Africa (MEA). North America region is the largest revenue contributor followed by Europe and the Asia Pacific regions. In 2019, the North America region accounted for more than % of the global market. The presence of bio-pharmaceutical companies involved in R&D of adjuvants, strong government funding, and surge in COVID-19 cases across the U.S were the important factors boosting the market growth in the region.
In May 2020, the U.S. government launched Operation Warp Speed (OWS). OWS is the federal government funded public private partnership to facilitate COVID-19 vaccine development, manufacturing and its distribution. OWS has the aim to support the production of more than 300 million COVID-19 doses by 2021, in collaboration with Johnson & Johnson, Moderna, AstraZeneca, Pfizer, and Merck. Moreover, in December 2019, Sanofi Pasteur, the vaccine business unit of the Sanofi signed an agreement with the U.S department of Health and Human Services (HHS) to invigorate the company's domestic production capabilities for influenza vaccine.
In 2019, Europe accounted for the second largest share in the global market. The major revenue contributors in the region were UK, Germany, France, Italy, and Spain. The growing cases of COVID-19 in the region have made individual regimes to develop cure at a faster pace to reduce the number of casualties. The UK government had set up coronavirus vaccine taskforce for its development and large scale production, as it reported more than 14,576 deaths as of 17 April 2020.
With several European governments in line to develop COVID-19 vaccine, there are chances of "vaccine nationalism". This is the case when an individual country prefers its own citizens over others to monopolize vaccine development. This is done through pre-purchase agreements between the vaccine developer and the individual government. In line with this, the German government in June 2020, had bought 23 percent stake in CureVac, the U.S. based bio-pharmaceutical company leading in the race to develop COVID-19 vaccine through an investment of USD340 million.
Asia Pacific is projected to be fastest growing regional market over the study timeframe. The factors responsible for the market in this region are sudden spike in the COVID-19 cases in India, China, South Korea, and Australia. India and China are the countries with the highest population density. Asian governments providing funding and other initiatives to tackle with the situation.
The government of India (GOI) has allocated INR 100 crores from PM-CARES Fund for the development of COVID-19 vaccine. With this fund, currently, there are around 25 vaccine development work is going on, in association with industry-academia collaboration. Moreover, China in April 2020, announced additional funding of USD 30 million to WHO for handling COVID-19 pandemic.
Competitive Insight
The global market is flooded with small and big players. Some of the key players operating in the market are GlaxoSmithKline Plc, Moderna Inc., Sanofi Pasteur, Adjuvatis, Avanti Polar Lipids, Inc., SPI Pharma, MPV Technologies, Novavax, Inc., Statens Serum Institut, CSL Limited, Viscogel AB, VaxLiant LLC, Aphios Corporation, Vaxine Pty Ltd, CureVac AG, Sergeant Adjuvants, Agenus, Inc., OZ Biosciences, Adjuvants Unlimited Inc., and Adjuvants Euclid Canada Inc.