The global vehicle mounted spotlights market was valued at USD 651.80 million in 2022 and is expected to grow at a CAGR of 5.0% during the forecast period. The rapidly growing adoption of vehicle mounted spotlights in the public transport vehicles like buses and also on airports and surging interest towards the off-road adventure sports, particularly in some major regions coupled with the increasing integration with wireless controls, that allow users to conveniently adjust the brightness, direction, and other features, are the primary factors influencing the market growth.

To Understand More About this Research: Request a Free Sample Report
The rising focus on integrating new advanced features and prevalence for emphasizing the durability as well as weather resistance of their product offerings, that makes them highly suitable to be used in harsh outdoor environments, is also contributing positively towards the market.
For instance, in April 2021, DENSO Corporation, announced that they have developed new advanced driver assistance products for the new Lexus LS. The range of new products include LiDAR for detecting the shapes of various surrounding vehicles and roads, locator telescopic camera, and advanced drive extension electronic control unit among others.
Moreover, with the growing use of lightweight and durable materials such as aluminum and high-strength plastics, manufacturers are now capable to produce more robust and reliable spotlights that are better suited to withstand the rigors of off-road use and some market players are also focusing on featuring smart technology, which allows the operator to control the light using a smartphone app has been pushing the market forward.
The outbreak of the COVID-19 pandemic has significantly impacted the growth of the vehicle mounted spotlights market. The rapid spread of the deadly coronavirus across the globe, has led to huge disruptions in the global supply chains and also led to temporary closure of manufacturing facilities as well as showrooms, which directly affected the vehicles sales and demand for these spotlights during the pandemic.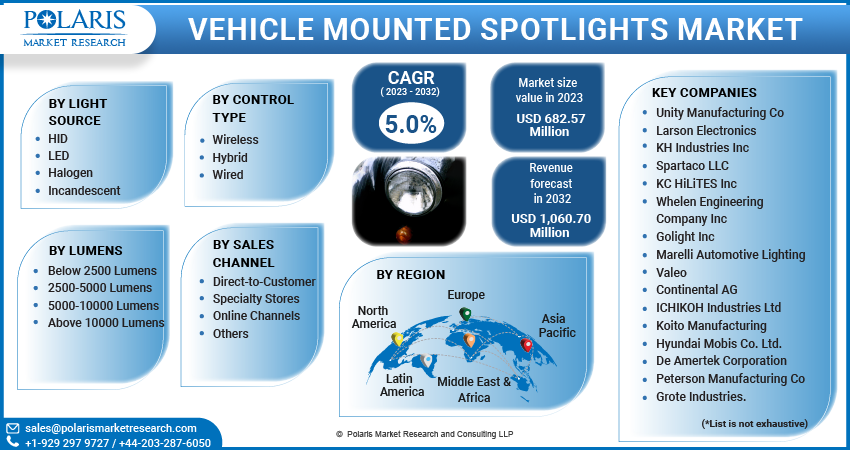 For Specific Research Requirements, Speak to Research Analyst
Industry Dynamics
Growth Drivers
The extensively growing business of the construction industry all over the world has been playing a crucial role in the emergence of market, as the spotlights are being widely used to provide bright and focused illumination of worksites during the construction and also to inspect the construction sites, equipment, and materials for damage. Additionally, the surging use of vehicle mounted spotlights for emergency lighting in law enforcement, firefighting, and other emergency response situations, creating huge growth potential for the vehicle mounted spotlights market.
Furthermore, with the growing incorporation of headlamps on the vehicles, there are several types of advancements in the field of automotive lighting technology have taken place, including 5-chip LEDs, laser automotive lighting, uAFS LED lighting, and flexible OLEDs, that is attracting wide range of audience and being started implemented on almost all new vehicles, which in turn, has fueled the demand and growth of the market at significant pace.
Report Segmentation
The market is primarily segmented based on light source, lumens, control type, sales channel, and region.
By Light Source

By Lumens

By Control Type

By Sales Channel

By Form

HID

LED

Halogen

Incandescent

Below 2500 Lumens

2500-5000 Lumens

5000-10000 Lumens

Above 10000 Lumens

Direct-to-Customer

Specialty Stores

Online Channels

Others

North America (U.S., Canada)

Europe (France, Germany, UK, Italy, Netherlands, Spain, Russia)

Asia Pacific (Japan, China, India, Malaysia, Indonesia. South Korea)

Latin America (Brazil, Mexico, Argentina)

Middle East & Africa (Saudi Arabia, UAE, Israel, South Africa)
To Understand the Scope of this Report: Speak to Analyst
LED Segment accounted for the largest market share in 2022
The LED segment accounted for the largest market share in 2022, and is likely to retain its market position throughout the projected period, which is mainly driven by widespread usage and adoption of energy-efficient, solid-state, and compact LEDs by major automotive manufacturers in order to design the vehicle mounted spotlights for various types of applications. Additionally, the longer lifespan of LED-based vehicle mounted spotlights as compared to others available in the market and its easy availability across both developed and developing economies, has also become one of the crucial factors influencing the segment market growth.
The HID segment is also expected to gain substantial growth rate over the next coming years, on account of its wide range of beneficial characteristics including longevity, durability, high brightness, and availability of customization options. HID spotlights also provide enhanced visibility and safety on the road or in outdoor activities, making them popular among adventurers, emergency responders, and law enforcement personnel.
5000-10000 lumens segment held the significant market share in 2022
The 5000-10000 lumens segment held the significant market share in terms of revenue in 2022, which is largely attributed to continuous rise in the adoption of electric vehicles globally, which fuels the need for high-performance lighting solutions, consumes less power and provide longer battery life along with the growing prevalence due to their ability to provide better visibility and help drivers to see the obstacles, hazards, and other vehicles more clearly.
The 2500-5000 lumens segment is expected to exhibit significant growth rate over the next coming years, mainly due to their growing popularity and proliferation among consumers, who are looking for high-quality and reliable lighting solutions for their vehicles, which results in higher adoption for these lumens, as they offer improved visibility and safety, while driving in the low-light conditions.
Wireless segment is expected to hold considerable market share
The wireless segment is anticipated to hold considerable market share during the forecast period. The growth of the segment market can be highly accelerated to growing demand for wireless spotlights across both developed and developing nations, as they can be easily installed without the need for complicated wiring, that makes them a popular choice among vehicle owners who are looking for simple and hassle-free solution for their lighting needs coupled with the significant advances in technology which have made these spotlights more efficient and longer-lasting and increased their appeal among consumers.
Online channels segment is projected to witness highest growth
The online channels segment is projected to grow at a healthy CAGR throughout the anticipated period. Online channels offer a convenient way for customers to purchase vehicle-mounted spotlights from the comfort of their own homes or offices without the need to physically visit a brick-and-mortar store and also offers offer wider range of selection of vehicle-mounted spotlights than traditional retail stores, which can be especially helpful for customers looking for specific brands or models.
Additionally, with the continuous increase in the internet penetration and access to fast internet facilities worldwide and emergence of several online shopping channels offering these products at very competitive prices along with several other benefits, resulted in more customer attraction towards online shopping, thereby propelling the segment market growth.
Asia Pacific region dominated the global market in 2022
The Asia Pacific region dominated the global market with substantial market revenue share in 2022, and is projected to maintain its dominance throughout the forecast period, which is mainly driven by rapidly growing rate of urbanization and industrialization in developing countries like India and China, that led to increased demand for commercial and construction vehicles across the region. In addition, the emerging trend and popularity of several outdoor recreational activities such as camping, hiking, and fishing, has also positively impacted the demand for these spotlights for outdoor lighting and safety.
The North America region is likely to be the fastest growing region with substantial growth rate over the coming years, owing to rapid adoption of high technological advancements such as wireless connectivity and LED lighting and higher demand for off-road vehicles, which requires durable and high-quality lights to easily navigate rough terrain and obstacles. Moreover, several safety regulations in the region has mandated the use of certain types of lighting on vehicles including headlights and spotlights, which has significantly contributed to the regional market growth.
Competitive Insight
Some of the major players operating in the global market include Unity Manufacturing, Larson Electronics, KH Industries, Spartaco, KC HiLiTES, Whelen Engineering., Golight, Marelli Automotive Lighting, Valeo, Continental, ICHIKOH Industries, Koito Manufacturing, Hyundai Mobis, De Amertek Corporation, Peterson Manufacturing, and Grote Industries.
Recent Developments
In June 2022, HELLA, introduced work lamps & flood-light, which will be used to improve the work safety. These lamps are developed by the LED technology and also complement the Modul 70, 90, & Power Beam, and it also provides homogeneous illumination with color temperature of around 6,500 Kelvin.

In September 2021, Oracle Lighting, introduced its new "Flush Mount Tail Lights", designed for the "Jeep Gladiator". The new lights offer enhanced features & OEM factory styling and is designed in the way to avoid damage while trail riding.
Vehicle Mounted Spotlights Market Report Scope
| | |
| --- | --- |
| Report Attributes | Details |
| Market size value in 2023 | USD 682.57 million |
| Revenue forecast in 2032 | USD 1,060.70 million |
| CAGR | 5.0% from 2023 – 2032 |
| Base year | 2022 |
| Historical data | 2021– 2021 |
| Forecast period | 2023 – 2032 |
| Quantitative units | Revenue in USD million and CAGR from 2023 to 2032 |
| Segments covered | By Light Source, By Lumens, By Control Type, By Sales Channel, By Region |
| Regional scope | North America, Europe, Asia Pacific, Latin America; Middle East & Africa |
| Key companies | Unity Manufacturing Co., Larson Electronics, KH Industries Inc., Spartaco LLC, KC HiLiTES Inc., Whelen Engineering Company Inc., Golight Inc., Marelli Automotive Lighting, Valeo, Continental AG, ICHIKOH Industries Ltd., Koito Manufacturing, Hyundai Mobis Co. Ltd., De Amertek Corporation, Peterson Manufacturing Co., and Grote Industries. |