The global wearable technology Market was valued at USD 38.91 billion in 2021 and is expected to grow at a CAGR of 15.4% during the forecast period. Several companies, including Noise, Samsung, Fitbit, and Fossil Group, Inc., are releasing wearable technology products that include health monitoring solutions. This feature is expected to appeal to consumers because it allows them to check their health status, paving the way for industry growth.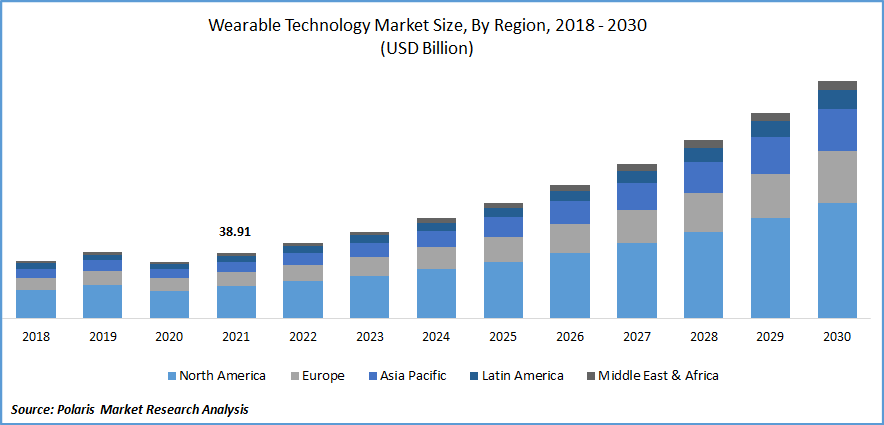 Know more about this report: Request for sample pages
With the advancement of technology, smart wearables, also known as smart clothing, have been integrated into clothing. Smart wearables, also known as IoT-enabled garments, are electronic devices embedded in clothing that provide intelligent services that can be accessed by larger smart systems via communication protocols. Electronic displays that have been introduced to the market are both flexible and affordable, leading to an increase in the adoption of wearable devices. Another factor that will contribute to the market's growth in the coming years is the connectivity provided by these wearable devices with mobile phones.
The COVID-19 pandemic outbreak has brought about several unexpected changes in the world economy, and its repercussions have been felt across all industries. The COVID-19 pandemic had a significant impact on the wearable devices market. Manufacturing of such devices had declined in the Asia Pacific region. Lockdowns in both developing and developed countries significantly disrupted the supply chain and logistics of this industry.
During the pandemic, both sales volume and revenue generated by sales were affected. Due to the COVID-19 pandemic, the use of wearable devices in healthcare was increased because it provides several advantages and benefits to both patients and healthcare providers, including earlier detection of disease or risk of a significant health event and real-time health monitoring of vital statistics.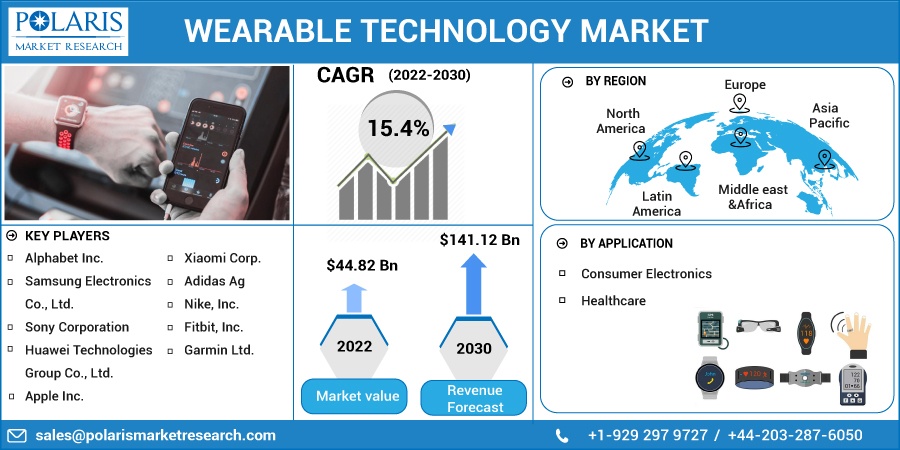 Know more about this report: Request for sample pages
Industry Dynamics
Growth Drivers
The wearable technology market is expected to grow rapidly during the forecast period due to increased adoption of the Internet of Things and increased population use of technology. There is a growing demand for connected devices among both developing and developed nations. Increased technological literacy has led to market growth in recent years, and it is expected to continue in the coming year.
Increased cases of chronic diseases such as cardiovascular disease and obesity will result in a greater demand for wearable devices in the coming years. These products are used on a large scale by such patients as they help in monitoring the individual's activity. It also aids in the tracking of other useful information. It also aids in keeping track of physiological data and various activities carried out on a daily basis. It also monitors the patient's heart rate, blood pressure, the number of calories burned per day, sleep quality, and oxygen level in the blood.
These devices are becoming increasingly popular, particularly among fitness enthusiasts and athletes. Increased consumption of these products among the younger population will also drive market growth. As people become more aware of the benefits of using these devices, the market will expand rapidly. As a result of rising purchasing power, even in developing countries, the market for wearable technologies or devices is expected to expand significantly during the forecast period.
Small sensors are used in smartwatches and fabrics to aid in understanding and monitoring the various aspects of an individual's health. These devices also facilitate payment service through the use of various devices. Smartwatches are multifunctional watches that are worn by people all over the world. Constant research and development activities in this industry have been instrumental in developing innovative products and solutions that have contributed to the market's growth in recent years. Advanced features available with the use of these variable devices will contribute to the market's growth in the coming years.
Report Segmentation
The market is primarily segmented based on application and region.
By Application

By Region

Consumer Electronics
Healthcare

North America (U.S., Canada)
Europe (Germany, UK, France, Italy, Spain)
Asia Pacific (Japan, China, India, Australia, South Korea)
Latin America (Brazil, Mexico, Argentina)
Middle East & Africa (South Africa, Saudi Arabia, UAE)
Know more about this report: Request for sample pages
The consumer electronics segment accounted for the maximum revenue
The consumer electronics segment is anticipated to grow at the fastest rate in terms of revenue during the forecast period. Rising adoption of wearable devices individually, such as wearable technologies, fitness bands, and AR/VR headsets, can be attributed to the segment's growth. Several manufacturers, including Apple Inc., Garmin Ltd., Omron, and Nemaura, are focused on developing devices that provide clinical and non-clinical data. For example, Nemaura's sugarBEAT Wearable Technology enables frequent blood glucose monitoring in diabetic patients, removing the need for daily finger-prick calibration.
From 2022 to 2030, the healthcare sector is expected to grow at a rapid pace. Wearable device application scope expansion in the healthcare segment will contribute to segment growth over the forecast period. Doctors can communicate with their patients via mobile applications and telehealth solutions due to digital health technology. This enables doctors to monitor patients without physically visiting them. AR and VR advancements are gaining traction in the healthcare sector. In medical practice, virtual reality technology is used to aid in surgical training and procedures.
North America accounted for the largest revenue in 2020
North America dominated the global industry in 2021, accounting for considerable revenue, followed by the Asia Pacific and Europe regions. The easy availability of newly launched products, as well as the high level of technology adoption, have been key driving factors in market growth. In the region, there is an increasing demand for devices that provide health benefits, facilitate preventive care, and aid in the management of chronic illnesses. For instance, according to the National Library of Medicine, approximately 30% of adults in the United States use wearable healthcare devices.
The Asia-Pacific region is expected to grow at the fastest rate due to an increase in the number of vendors offering competitive products. China is expected to be one of the most important countries in the Asia-Pacific regional market. Wearable technology demand in China is also expected to be fueled by lower smartphone prices and increased production volumes, manufacturers can also lower product prices in response to rising demand from various target customer groups.
Competitive Insight
Key players in the market are, Alphabet Inc., Samsung Electronics Co., Ltd., Sony Corporation, Huawei Technologies Group Co., Ltd., Apple Inc., Xiaomi Corp., Adidas Ag, Nike, Inc., Fitbit, Inc., and Garmin Ltd.
Recent Developments
FitBit Inc., for example, announced the launch of Luxe, a new fashion-forward wellness and fitness tracker with stress and sleep monitoring features, in April 2021.
Xiaomi Corp. released the latest Xiaomi Watch S1 Series in March 2022.
Wearable Technology Market Report Scope
| | |
| --- | --- |
| Report Attributes | Details |
| Market size value in 2022 | USD 44.82 billion |
| Revenue forecast in 2030 | USD 141.12 billion |
| CAGR | 15.4% from 2022 - 2030 |
| Base year | 2021 |
| Historical data | 2019 - 2021 |
| Forecast period | 2022 - 2030 |
| Quantitative units | Revenue in USD billion and CAGR from 2022 to 2030 |
| Segments covered | By Application, By Region |
| Regional scope | North America, Europe, Asia Pacific, Latin America; Middle East & Africa |
| Key companies | Alphabet Inc., Samsung Electronics Co., Ltd., Sony Corporation, Huawei Technologies Group Co., Ltd., Apple Inc., Xiaomi Corp., Adidas Ag, Nike, Inc., Fitbit, Inc., Garmin Ltd. |