The global wound cleanser products market was valued at USD 1.61 billion in 2021 and is expected to grow at a CAGR of 3.4% during the forecast period. Products that efficiently treat wounds and control infection are referred to as wound care products. Collagen products, hydrocolloids, foam dressings, antimicrobial dressings, gauze, and film dressings are a few of the types of wound care treatments that are frequently utilized. Products for wound care are used to treat a variety of wound types, including surgical wounds, chronic wounds, and acute wounds.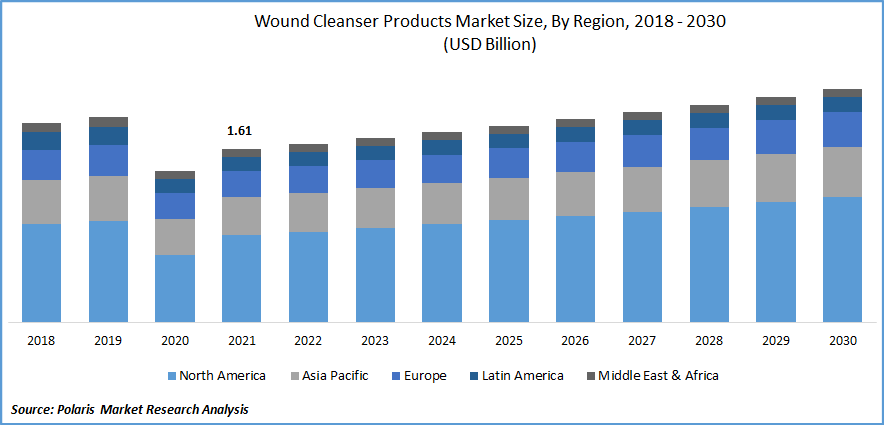 Know more about this report: Request for sample pages
The increasing prevalence of chronic illnesses and the rise in surgical procedures worldwide drive the need for wound cleaner solutions. The increasing prevalence of diabetes brought on by inactive lifestyles is one of the primary factors driving market development.
Diabetic foot ulcers are common in diabetic people and can be treated using wound-cleansing treatments. For instance, according to ScienceDirect, 20% of people with diabetic foot ulcers may require amputation of their foot. More than 25% of people with diabetes may develop diabetic foot ulcers. A simple and efficient technique to maintain moisture surrounding the lesion and expedite the healing of diabetic foot ulcers is to use wound-cleaning solutions.
As a consequence of factors like the increased emphasis on awareness initiatives by various healthcare institutions for the inclusion of wound care facilities, the market is anticipated to continue expanding over the next years. It is also projected that methods including product launches, acquisitions, FDA approvals, and Medicaid reimbursements would accelerate market growth.
The COVID-19 pandemic outbreak has brought about a number of unexpected changes in the world economy, and its repercussions have been felt across all industries. Numerous hospitals and departments have had their patient profiles for COVID-19 patients revised due to the increased demand brought on by the rising incidence of COVID-19 hospitalizations. To reserve or redirect the limited capabilities and resources (such as hospital beds and patient care experts) toward COVID-19 patient care, many elective procedures were canceled or postponed globally.
Industry Dynamics
Growth Drivers
Growing elderly populations and higher healthcare spending are the main factors fueling the growth of the worldwide market. Due to busy lives and bad diets, chronic diseases, including diabetes and cardiovascular disease, are becoming more common, likely to drive market expansion substantially throughout the study period. The major market players are anticipated to place more attention on the creation of sophisticated wound care products, which will likely lead to profitable market expansion chances.
Additionally, a rise in ambulatory surgical centers (ASCs) is predicted to propel the market expansion for wound cleaner products. ASCs offer a variety of medical services, including as surgery, diagnostic procedures, and wellness examinations. Additionally, ambulatory surgical facilities offer operations for the GI system, urology, orthopedics, and restorative, reconstructive, or alternative plastic surgery.
Furthermore, there are more ASCs everywhere. As of March 2021, there were 6,023 ASCs in the United States, according to projections from Advancing Surgical Care. The number of surgical operations in these surgical centers is anticipated to expand, which will raise the usage of wound cleanser products and fuel the expansion of the wound cleanser products market throughout the projected period.
Report Segmentation
The market is primarily segmented based on product type, form type, end-use, and region.
By Product Type

By Form Type

By End-Use

By Region

Wetting Agents
Antiseptics
Moisturizers
Others

Sprays
Solutions
Wipes
Foams
Others

Hospitals
Ambulatory Surgery Centres
Pharmacies and Clinics
Homecare Settings

North America (U.S., Canada)
Europe (France, Germany, UK, Italy, Netherlands, Spain, Russia)
Asia Pacific (Japan, China, India, Malaysia, Indonesia, South Korea)
Latin America (Brazil, Mexico, Argentina)
Middle East & Africa (Saudi Arabia, UAE, Israel, South Africa)
Know more about this report: Request for sample pages
The wetting agents held the majority of the market share in 2021
Wetting agents have a wide range of applications that may be found in hospitals and regulatory clinics. The segment's growth is also fueled by the segment's accessibility. They may be purchased over the counter and through legitimate internet pharmacies.
However, due to its superior capacity to remove microorganisms from skin wounds more quickly than other medications, the antiseptics category is predicted to expand at the highest CAGR throughout the expected period.
Additionally, antiseptics are easy to obtain and have a high availability rate. Because they are crucial throughout the post-recovery phase, the moisturizer market has grown over the years. Moisturizers aid in skin nourishing after wounds have healed, which is the main driver fueling the segment's growth.
The sprays segment held the majority of the market share 2021
Because most product types are available in spray form, the sprays category held the bulk of the market share in 2019. Sprays make applying medication to wounds simple, promoting a quicker healing process. Sprays are also simpler to transport and use when it comes to self-care, which helps boost demand for the product category.
The solutions market sector had a 21% market share in 2019, which may be ascribed to the vast range of applications they have in medical offices and hospitals. Due of the simplicity of their application, foams are likewise growing in popularity. The cost issue, however, has been preventing the foams market from expanding recently.
The hospitals segment held the highest market share in 2021
Hospitals are the major sites people choose to see after identifying a certain illness, thus, it makes sense that they held the largest market share in 2019. One of the main drivers of the end-use segment's growth is the growing patient population. Other important drivers include the development of improved diagnostic tests and an increase in the medical reimbursement for clinical tests carried out in hospitals.
However, the category of pharmacies and clinics, which had a market share of 18% in 2019, has grown over time as more doctors choose to employ wound cleaners of different kinds before diagnosing a specific injury. This is primarily fueling the segment's expansion. Ambulatory surgical centers are expected to experience the highest CAGR of 3.9% throughout the estimated period, as customers frequently choose to go to these facilities due to their accessibility and cost. Ambulatory surgical facilities are fairer and more economical than hospitals for treating small wounds.
In terms of revenue, North America held the largest market share in 2021
North America commanded the greatest revenue market share in 2019 and is anticipated to maintain its position of strength during the anticipated time frame. Road accidents are happening more often in a number of the region's nations. The accident fatalities are evenly distributed between severe and minor ones, and both require urgent attention.
Asia Pacific is fastest because of the rising population, particularly in China and India, and the seriousness of the illnesses connected with it. It is predicted to rise at the highest CAGR of 4.4% throughout the course of the anticipated time. The market for wound cleaner products in Europe is primarily driven by expanding dressing innovation and rising rates of chronic injuries like diabetes and thrombosis.
Competitive Insight
Some of the major players operating in the global market include 3M, Angelini Acraf S.p.A., Integra LifeSciences, DermaRite Industries, LLC., Johnson & Johnson Services, Inc., Hollister Incorporated, Smith & Nephew Healthcare Pvt. Ltd., Coloplast Ltd., DeRoyal Industries, Inc., Mölnlycke Health Care AB, Cremer, BSN Medical, Medline Industries, Inc., B. Braun Melsungen AG, NovaBay Pharmaceuticals, Inc., Winner Medical Group Inc. and others.
Recent Developments
In June 2019, Sanara MedTech Inc. declared the official debut of BIAKOS Antimicrobial Skin & Wound Cleanser. The recently created spray destroys extracellular polymeric materials to get rid of biofilm.
In October 2018, Nexodyn AOS, a revolutionary wound cleaner technology, was introduced in the UAE and Saudi Arabia by Cigalah Medpharm.
In July 2018, Oculus and Genetix Biotech reached a strategic collaboration agreement to create and commercialize wound care solutions internationally.
Wound Cleanser Products Market Report Scope
| | |
| --- | --- |
| Report Attributes | Details |
| Market size value in 2022 | USD 1.65 billion |
| Revenue forecast in 2030 | USD 2.2 billion |
| CAGR | 3.4% from 2022 - 2030 |
| Base year | 2021 |
| Historical data | 2019 - 2021 |
| Forecast period | 2022 - 2030 |
| Quantitative units | Revenue in USD billion and CAGR from 2022 to 2030 |
| Segments Covered | By Product Type, By Form Type, By End-use, By Region |
| Regional scope | North America, Europe, Asia Pacific, Latin America; Middle East & Africa |
| Key Companies | 3M, Angelini Acraf S.p.A., Integra LifeSciences, DermaRite Industries, LLC., Johnson & Johnson Services, Inc., Hollister Incorporated, Smith & Nephew Healthcare Pvt. Ltd., Coloplast Ltd., DeRoyal Industries, Inc., Mölnlycke Health Care AB, Cremer, BSN Medical, Medline Industries, Inc., B. Braun Melsungen AG, NovaBay Pharmaceuticals, Inc., Winner Medical Group Inc. and others. |