The global yogurt drink market was valued at USD 49.33 billion in 2021 and is expected to grow at a CAGR of 6.4% during the forecast period. Factors such as rising milk production, population, urbanization, consumer shift towards probiotic-rich foods, development of new flavors, changing lifestyles, and increasing research & development activities in the food industry are expected to drive the revenue growth of this market during the forecast period.
These contain nutrients like vitamin B12, zinc, and B5. These nutrients are essential to make the body healthy, hence a large percentage of the population is now preferring yogurt drinks over other types of drinks. Also, after the outbreak of COVID-19, many people started consuming these as it helps boost immunity and can help the individual fight the virus.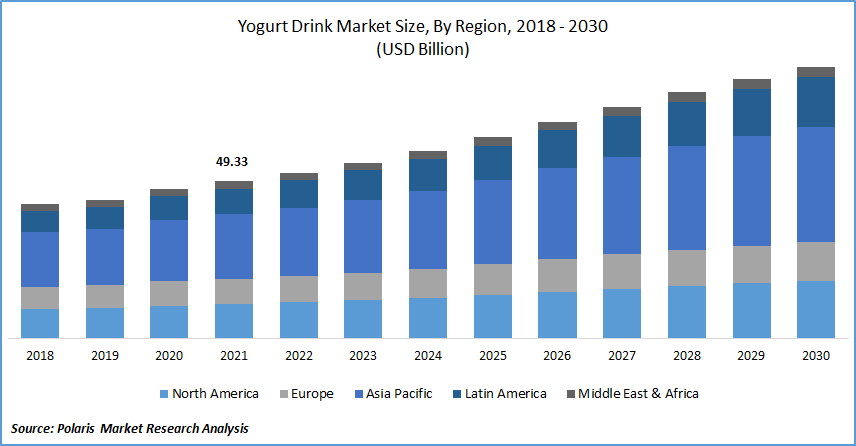 Know more about this report: Request for sample pages
During the peak period of the pandemic, most retailers and grocery stores started stockpiling yogurt; hence, this drink was a shortage. As per the report published by Dairyreporter.com, in the year 2021, yogurt sales increased by more than 4% in the lockdown phase. But due to the disrupted supply chain of the dairy market and restrictions on the movement of the workforce, several producers witnessed a fall in the production of yogurt drinks.
Industry Dynamics
Growth Drivers
Consumer inclination toward probiotic-rich food products and drinks has increased recently. Hence, these are a good source of various probiotics; hence, there is a surge in market demand for the drink. Global milk production has also increased at a rapid rate in recent years. With more than 22% of global milk production market, India leads the world, followed by the USA, China, and Brazil. More milk guarantees a higher volume of yogurt drinks.
The demand for yogurt drinks market with different flavors like strawberry, blueberry, pina colada, mango, etc., is rising rapidly. Therefore, most manufacturers are focusing on developing yogurt drinks with new flavors. In August 2021, Lactalis India launched Lactel Turbo Yogurt in strawberry and mango flavors. According to the company, this is the first drink of its kind in India. Also, many companies and dairy organizations focus on several research & development activities to develop better quality yogurt drinks.
For example, the IDFA (International Dairy Foods Association) organized a Yogurt and Cultured Innovation Summit in March 2022 to discuss how manufacturers might develop new concepts for yogurt and cultured dairy products. Also, many companies are collaborating with dairy farms to ensure an undisrupted supply of milk and other raw materials. All these factors are anticipated to propel yogurt drink market growth over the forecast period.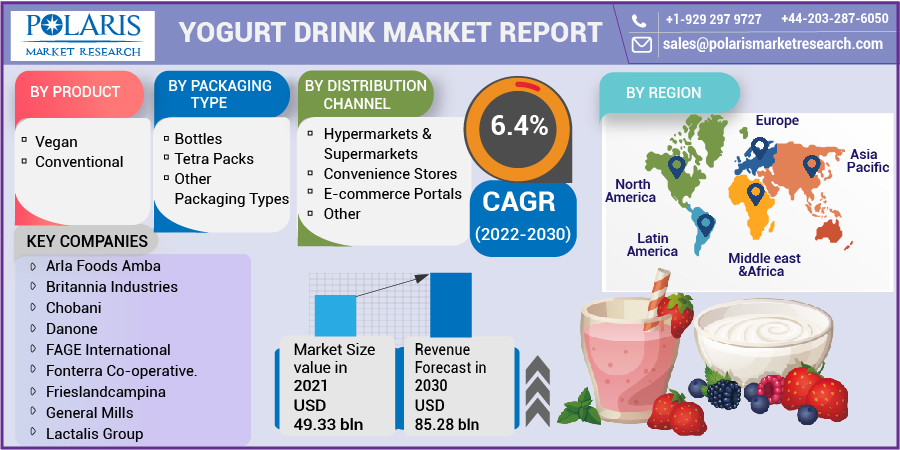 Know more about this report: Request for sample pages
Report Segmentation
The market is primarily segmented based on form, product, packaging type, distribution channel and region.
By Product

By Packaging Type

By Distribution Channel

By Region

Bottles
Tetra Packs
Other Packaging Types

Hypermarkets & Supermarkets
Convenience Stores
E-commerce Portals
Other

North America (U.S., Canada)
Europe (France, Germany, UK, Italy, Netherlands, Russia, Spain)
Asia Pacific (Japan, China, India, Malaysia, Indonesia. South Korea)
Latin America (Brazil, Mexico, Argentina)
Middle East & Africa (Saudi Arabia, UAE, Israel, South Africa)
Know more about this report: Request for sample pages
The conventional segment is estimated to garner the largest revenue share.
The conventional drink segment is anticipated to capture the largest revenue share. Conventional drinks contain nutrients like phosphorus and calcium that improve the overall bone density of the human body. Also, this drink type is readily available across all stores, unlike vegan drinks that are available in a limited number of stores.
The vegan segment is anticipated to grow at a high CAGR during the forecast period. Consumers are increasingly inclined towards vegan food products as they provide several advantages, such as lower cholesterol levels, reduced digestion issues, and animal welfare. According to a Health Careers post released in January 2020, more than 35% of Americans have already added vegan food and drinks to their daily meals.
The tetra pack segment estimated to account largest market share over the forecast period.
Among different packaging types, the tetra pack segment accounts for the largest market share over the forecast period owing to rising consumer preference for on-the-go products. On-the-go products offer easy consumption and disposal. Also, in 2019, Tetra Pak introduced a variety of packaging options, including drinking, stirred, set, ambient, and concentrated yogurt.
The bottle market segment is anticipated to grow at a steady CAGR over the forecast period. Plastic bottles are more harmful to the environment than tetra packs. Also, it is difficult to recycle plastic waste. But as the plastic bottles can be found in different shapes and sizes, it provides an excellent alternative to the manufacturers where tetra packaging is unavailable. Also, companies like Epigamia provides specific-sized bottles like 180 ml and 200 ml for smoothies.
Among all the distribution channels, the hypermarket and supermarket segment accounts for the largest revenue share in 2021
Large retail companies like Walmart, Costco, Target, and 7-Eleven are expanding their chains in developing regions like India, Indonesia, Thailand, Malaysia, South Africa, etc. Due to this, a variety of drinks are made available under one roof. Also, supermarkets and hypermarkets have large purchase orders for drinks that provide a high profit to the producers.
The E-commerce platform market segment is anticipated to grow at a high CAGR over the forecast period. Online purchases of dairy products are increasing at a rapid rate. Hence, manufacturers of drinks are launching their e-commerce/online stores. In 2021, Drums Food International, a smoothie and yogurt brand, switched to selling its products through e-commerce platforms. Also, as the pandemic pushed more buyers to e-commerce platforms and fueled the increase in at-home food consumption, Epigamia, a yogurt and smoothie business turned to sell more products online.
Asia Pacific is estimated to capture the highest revenue share among all regions
Asia Pacific market is anticipated to grow at the fastest pace owing to population growth and an increasing inclination of consumers towards probiotic-rich food products. India, China, and Pakistan are the largest milk-producing nations. Moreover, the presence of major yogurt drink market players like Yakult and Epigamia is responsible for the growth of the target market in this region.
Over the forecast period, the Latin America market is expected to grow at a high CAGR. The demand for yogurt is increasing rapidly in countries like Brazil and Argentina. Also, in this region, yogurt is considered a favorite snack for adults and children. Hence, most major players are expanding their business in the Latin American region. Chobani, an American yogurt company, has already grown its regional footprints.
Competitive Insight
Some of the major players operating in the global yogurt drink market include Arla Foods Amba, Britannia Industries, Chobani, Danone, FAGE International, Fonterra Co-operative., Frieslandcampina, General Mills, Lactalis Group, Meiji Holdings, Muller UK & Ireland, Nestlé, Parmalat., Yakult Honsha, and Yoplait USA.
Recent Developments
In February 2022, Starbucks introduced its debut Vegan Yogurt Drink in Korea. The name of this drink is 'Pine Coco Green,' and its plant-based.
Also, In February 2022, Chobani adopted paper packaging for its yogurt and other dairy products. Chobanis paper cups are made of 80% paperboard and renewable resources.
The IDFA (International Dairy Foods Association) hosted a Yogurt & Cultured Innovations Conference in Mid-2021 to discuss how businesses might develop new concepts for yogurt and cultured milk products.
Horizon Organic Growing will widen its portfolio of milk-based products aimed at overall health and welfare in March 2021. The company launched new low-fat yogurt pouches, fermented dairy smoothies, lowered milk half-gallons, and only one whole-milk carton was designed in collaboration with pediatricians and is supplemented with DHA and several other nutrients.
Yogurt Drink Market Report Scope
| | |
| --- | --- |
| Report Attributes | Details |
| Market size value in 2021 | USD 49.33 billion |
| Revenue forecast in 2030 | USD 85.28 billion |
| CAGR | 6.4% from 2022 - 2030 |
| Base year | 2021 |
| Historical data | 2018 - 2020 |
| Forecast period | 2022 - 2030 |
| Quantitative units | Revenue in USD billion and CAGR from 2022 to 2030 |
| Segments covered | By Product, By Packaging Type, By Distribution Channel, By Region |
| Regional scope | North America, Europe, Asia Pacific, Latin America; Middle East & Africa |
| Key companies | Arla Foods Amba, Britannia Industries, Chobani, Danone, FAGE International, Fonterra Co-operative., Frieslandcampina, General Mills, Lactalis Group, Meiji Holdings, Muller UK & Ireland, Nestlé, Parmalat., Yakult Honsha, and Yoplait USA |