The global automotive lightweight material market was valued at USD 63.2 billion in 2019 and is expected to grow at a CAGR of 7.2% during the forecast period. The factors attributed to the market growth are enhanced strength, fuel efficiency, improved control, and better shelf life of vehicles with reduced CO2 emissions. Lightweight materials have enhanced strength, improved handling, and low corrosion rate. Carbon fiber is one such material used by global automotive manufacturers, in decreasing vehicle weight while maintaining strength.
However, the market growth is limited owing to its technical complexity, high cost of raw materials, and complex manufacturing processes. For instance, commercial-grade carbon fiber costs an average of 45 to 50 dollars per kilo, which can lead to higher cost of the vehicle leading to lower demand.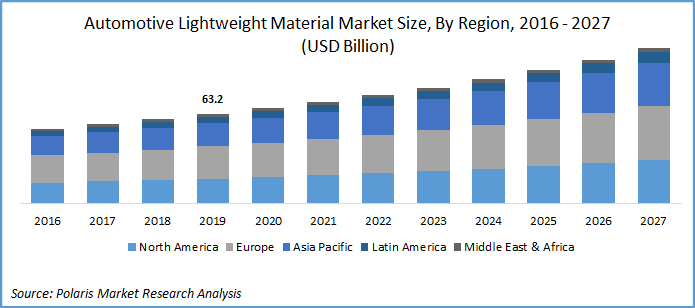 Know more about this report: request for sample pages
Industry Dynamics
Growth Drivers
Government across the world have taken measures to have stricter vehicle norms to contain global warming and to achieve fuel economy. The automotive OEMs are investing in research & development to reduce the weight of automotive components. These OEMs prefer composite-based materials over traditional ones, which aids in reducing vehicle weight.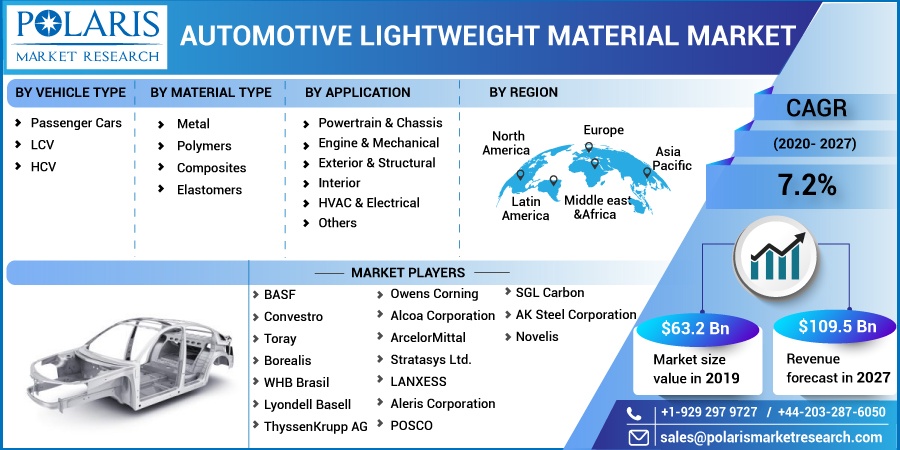 Know more about this report: request for sample pages
Moreover, stringent vehicle emission norms in the North American and European countries such as Canada, Germany, the UK, and the U.S. are compelling the manufacturers to develop fuel efficient vehicles. The automotive manufacturers play an important role in procuring lightweight components used in vehicle manufacturing. For instance, the lighter automotive brakes use carbon ceramics, which improves durability and vehicle performance.
Automotive Lightweight Material Market Report Scope
The automotive lightweight material market is primarily segmented on the basis of vehicle type, material type, application, and region.
By Vehicle Type

By Material Type

By Application

By Region

Metal
Polymers
Composites
Elastomers

Powertrain & Chassis
Engine & Mechanical
Exterior & Structural
Interior
HVAC & Electrical
Others

North America (U.S., Canada)
Europe (France, Germany, UK, Italy, Spain, Netherlands, Russia)
Asia Pacific (Japan, China, India, Malaysia, Indonesia. South Korea)
Latin America (Brazil, Mexico, Argentina)
Middle East & Africa (Saudi Arabia, UAE, Israel, South Africa)
Know more about this report: request for sample pages
Insight by Vehicle Type
Based on vehicle type, the global automotive lightweight material market is bifurcated into passenger cars, LCVs, and HCVs. In 2019, the passenger cars segment dominated the market and expected to continue to do so over the forecast period. This can be attributed to the increasing demand for cars across the developing economies and growing need for fuel efficient vehicles. In addition, technological advancements in lightweight materials has resulted in the increased adoption in the automotive industry.
Insight by Material Type
On the basis of material, the automotive lightweight material market is categorized into metal, polymers, composites, and elastomers. In 2019, the metal segment accounted for the largest revenue share. The increasing adoption of lightweight metals such as aluminum, titanium, steel, and magnesium is expected to drive the market growth. Furthermore, high strength offered by metals is also likely to complement demand.
Insight by Application
The increasing demand for lightweight materials in automotive application can be attributed to rising adoption of plastics and composites for powertrain, chassis, and interiors. Plastics are being used for interiors and HVAC & electrical applications use of less durable plastics does not compromise the strength and integrity of the vehicle. In addition, the automotive manufacturers are using plastics for non-structural applications to reduce vehicle weight to improve fuel efficiency.
Geographic Overview
The implementation of Euro 6 norms coupled with the support from members of the European Union, resulted in knock-out effect on containing pollutants such as carbon dioxide and nitrogen oxide. Moreover, lightweight material manufacturers and concerned suppliers have invested heavily in research & development to manufacture advanced lightweight materials. With the increased demand for vehicles in the region, it is expected to hold dominance over the forecast period.
Asia Pacific is expected to witness fastest growth over the forecast period. The surge in the production of cars and electric vehicles, new standards sets by the regulatory bodies in Japan, China, and India in improving fuel efficiency, and shift in consumer preference towards high performance vehicles. Increasing OEMs' focus towards developing economies is likely to result in rapid adoption of lightweight materials in automotive manufacturing. India being one of the key markets for automotive manufacturing is further expected to have greenfield investment which will further offer novel opportunities in the market.
Competitive Insight
Key players operating in the global automotive lightweight material market include BASF, Convestro, Toray, Borealis, WHB Brasil, Lyondell Basell, ThyssenKrupp AG, Owens Corning, Alcoa Corporation, ArcelorMittal, Stratasys Ltd., LANXESS, Aleris Corporation, POSCO, SGL Carbon, AK Steel Corporation, and Novelis.