The global digital map market was valued at USD 19.16 billion in 2021 and is expected to grow at a CAGR of 14.2% during the forecast period. The act of compiling and formatting a data set into a digitized image is known as a "digital map" or "digital mapping." Its main job is to create maps that accurately depict a certain location while highlighting important thoroughfares and other tourist attractions.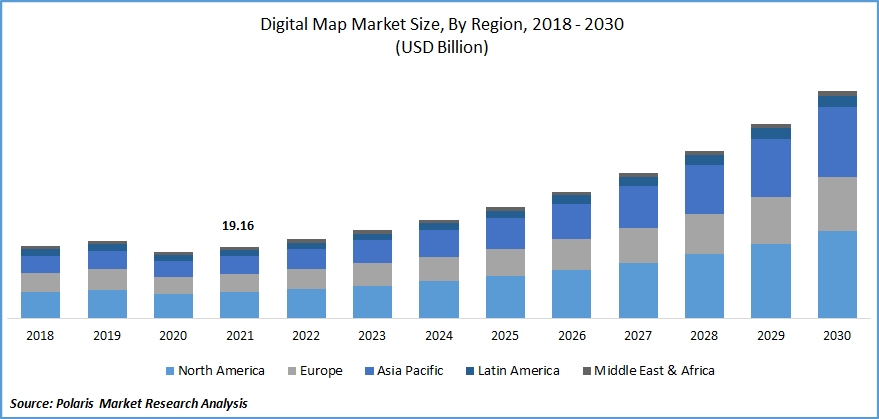 Know more about this report: Request for sample pages
The international digital mapping market size is anticipated to generate significant advantages during the forecast period due to technological advancements and the rising usage of computerized maps across a broad range of domains. Advance planning has recently received a lot of attention and helped many new opportunities become available.
This mapping technology may also be used to determine the distance between various localities. The implementation of cutting-edge technologies like artificial intelligence (AI) & machine learning (ML), as well as the shifting nature of consumer intelligence, are the main factors expected to propel the expansion of the digital map market over the forecast period.
Many software firms are concentrating on creating technologically advanced digital map solutions. For instance, the Qatar Computing Research Organization (QCRI) & the Massachusetts Institute of Technology (MIT) developed a model in January 2020 that uses satellite photography to annotate road elements in virtual maps in order to enhance GPS navigation. Another factor that is projected to boost the use of map services and technologies and, in turn, the expansion of the market is the development of consumer channels.
The rising use of mobile computing devices is another factor contributing to the market's expansion. The increasing technical sophistication of smartphones has encouraged people to utilize mapping programs for navigation & driving assistance. Users may search for local eateries, movie theatres, and other landmarks by using mapping programs in conjunction with Geographic Information Systems (GIS) and GPS applications.
The COVID-19 epidemic has had a significant influence on the world market for virtual maps. By May 2020, the pandemic had affected 212 nations, & the governments of these nations had imposed nationwide lockdowns, forcing people to remain in their homes and having an adverse effect on the travel and transportation sectors, which in turn had an adverse effect on the market for digital maps. In addition, several companies, including those in the automobile, building, and construction sectors, had to stop operating, which reduced the demand for and usage of maps globally.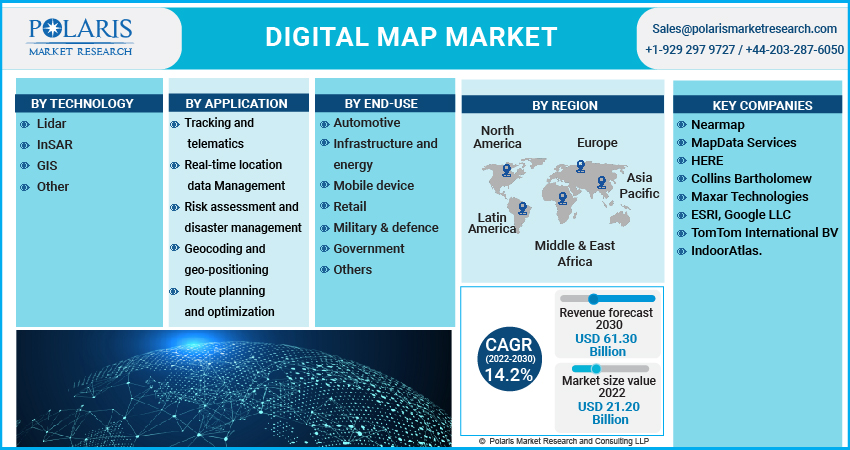 Know more about this report: Request for sample pages
Industry Dynamics
Growth Drivers
Along with an increase in smartphone usage, the market for digital maps is expanding at a fast rate due to the quick development of navigational apps for smartphones. The majority of devices with navigation software that uses maps give users precise locations and the best routes with a high degree of precision, resilience, and dependability.
It is believed that the fact that these devices are utilized for real-time asset tracking, delivery tracking, and other applications in addition to navigation would propel the market for digital maps. As a result, the widespread use of smart gadgets that incorporate digital mapping software is a major driver fueling the market for digital maps from 2020 to 2030.
Report Segmentation
The market is primarily segmented based on technology, application, end-use, and region.
By Technology

By Application

By End-Use

By Region

Tracking and telematics
Real-time location data Management
Risk assessment and disaster management
Geocoding and geo-positioning
Route planning and optimization

Automotive
Infrastructure and energy
Mobile device
Retail
Military & defence
Government
Others

North America (U.S., Canada)
Europe (France, Germany, UK, Italy, Netherlands, Spain, Russia)
Asia Pacific (Japan, China, India, Malaysia, Indonesia. South Korea)
Latin America (Brazil, Mexico, Argentina)
Middle East & Africa (Saudi Arabia, UAE, Israel, South Africa)
Know more about this report: Request for sample pages
InSAR segment is expected to witness the fastest growth
Over the projection period, this InSAR segment is anticipated to have substantial revenue growth. By using InSAR technology, it is possible to create precise, three-dimensional elevation maps of the Earth's surface that are derived directly from SAR picture data.
The segment's revenue growth is also anticipated to be fueled by improvements in fundamental techniques like Differential InSAR, which enables the identification of minute variations in land surface characteristics (on the order of centimeters).
In 2021, the LiDAR market accounted for a sizeable portion of total revenue. LiDAR is a type of remote sensing that employs light as just a laser pulse to map the height, density, & other properties of plants in a given area. These light pulses produce precise 3D information on the Earth's structure and surface features when coupled with other data captured by the aerial system.
Tracking and telematics accounted for significant market share in 2021
Tracking and telematics, real-time location data processing, risk assessment, and disaster management, geocoding and geo-positioning, & route planning and optimization are the application-based segments of the worldwide digital map market. In 2020, the tracking & telematics segment contributed significantly to revenue.
Applications for digital maps include vehicle tracking, oil and gas fleets management to improve worker security and safety, and construction fleet management using GPS tracking to accurately and automatically record labor hours.
By employing GPS monitoring, fleet owners can keep a constant eye on the activities and movements of their vehicles, keeping an eye out for things like abrupt acceleration, speeding, and other poor driving habits that reduce fuel efficiency and raise costs. Through calendar templates & time-of-use limits, a GPS monitoring system may also notify fleet owners about every unlawful usage of cars.
Over the projected period, it is anticipated that the route optimization and planning segment will have quicker revenue growth. In order to determine the most cost-effective route, route optimization applications are increasing the need for digital maps.
Retail sector is expected to hold the significant revenue share
The automotive, infrastructure and energy, mobile device, retail, military & defense, government, and other end-use segments make up the worldwide digital map market. Over the projected period, a strong rate of revenue growth in the retail category is anticipated. Shopping centers and other major retail establishments may distribute their location venue map across a variety of platforms with the use of a digital map, including mobile applications, expansive digital directory displays, and adaptable web browsers.
Additionally, a digital map of the mall helps visitors easily comprehend the layout of the retail space. An interactive map enables customers to access zoom, revolve, and pan to examine all businesses as well as the goods and services offered in the mall. Shopping centers may also enhance the experience of their patrons by displaying pertinent activities taking place nearby.
The demand in North America region is expected to witness significant growth
Due to its early embrace of technological advances and significant investment in research & development operations, North America is predicted to lead the worldwide market for digital maps. Due to the region's quick deployment of high-speed communications systems, increased usage of connected automobiles, and expanding oil and gas and other natural resource sectors, the Asia Pacific is predicted to have the fastest development in this market.
The market for 5G-enabled interconnected automobiles is emerging as real-time cloud technology and quick cloud-car connectivity becomes more and more necessary. For instance, since 2018, agriculture has employed over 50% of the Indian labor force and made about 17–18% of the GDP of the nation. The digital map industry is anticipated to be dominated by North America.
Competitive Insight
Some of the major players operating in the global market include Nearmap, MapData Services, HERE, Collins Bartholomew, Maxar Technologies, ESRI, Google LLC, TomTom International BV, and IndoorAtlas.
Recent Developments
Launched in June 2021, Inpixon Asset Tag was designed to track elevated things such as transportable chambers, medical equipment, repair field gear, confidential products, electronics, cars, robots, and other items that need to be tracked.
A platform called RTLS Anchor Board was introduced by Inpixon in February 2021 with the goal of encouraging the use of substantial real-time location system (RTLS) in commercial operations.
ServiceNow introduced Kiosk in February 2020, a software that allows any iPad tablet to be transformed into an interactive kiosk. It has features that create a wonderful experience and functions both online and offline.
Digital Map Market Report Scope
| | |
| --- | --- |
| Report Attributes | Details |
| Market size value in 2022 | USD 21.20 billion |
| Revenue forecast in 2030 | USD 61.30 billion |
| CAGR | 14.2% from 2022 - 2030 |
| Base year | 2021 |
| Historical data | 2018 - 2020 |
| Forecast period | 2022 - 2030 |
| Quantitative units | Revenue in USD billion and CAGR from 2022 to 2030 |
| Segments covered | By Technology, By Application, By End-User, By Region. |
| Regional scope | North America, Europe, Asia Pacific, Latin America; Middle East & Africa |
| Key companies | Nearmap, MapData Services, HERE, Collins Bartholomew, Maxar Technologies, ESRI, Google LLC, TomTom International BV, and IndoorAtlas. |