The light therapy market was valued at USD 1.04 billion in 2022 and is expected to grow at a CAGR of 4.5% during the forecast period. Light therapy is a treatment involving exposure to an artificial light source, used for major depressive disorders, SAD, and skin conditions such as acne, psoriasis, skin disorders, vitiligo, and eczema drive the market growth and an urge to look beautiful, particularly in females. The use of handheld laser devices by dermatologists also boosts the market. Concern for physical appearance, sedentary lifestyle, seasonal depression, and disposable income are further market drivers.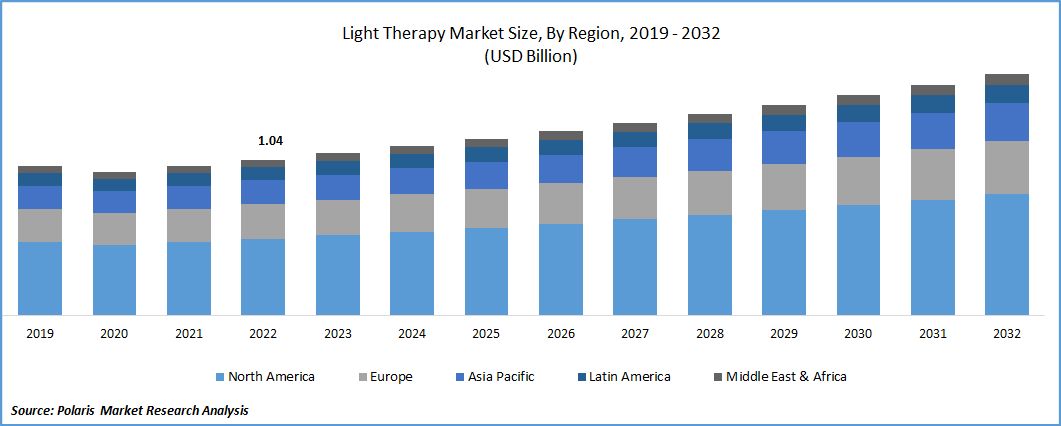 To Understand More About this Research: Request a Free Sample Report
However, side effects such as skin itching, insomnia, and headache and the increasing frequency of psychological illnesses and dermatological problems are key drivers enhancing the light therapy market. Light therapy is a proven method to regulate the circadian rhythm of patients, leading to better sleep outcomes. Several prominent market players provide light therapy solutions to address insomnia and aid night shift workers. These factors, among others, contribute to the growth of the light therapy market in the projected period.
In February 2022, STRATA Skin Sciences has recently launched its latest excimer laser system, XTRAC Momentum 1.0, designed to supply precisely targeted UVB light therapy for treating inflammatory skin conditions like psoriasis, vitiligo, and atopic dermatitis in both pediatric and adult patients. The advanced excimer laser technology delivers accurate and efficient treatment to specific areas of the skin, promoting faster and more effective healing.
The light therapy market was moderately affected by the COVID-19 pandemic due to strict lockdowns, disrupted supply chains, cuts in consumer spending, & reduced production and availability of light therapy devices. However, increase in the online retail & e-commerce has positively impacted market growth. The pandemic caused a rise in depressive disorders, with around 50% of the youth population affected, the global depression related cases increased by around 25% worldwide, led to an increase in demand for light therapies.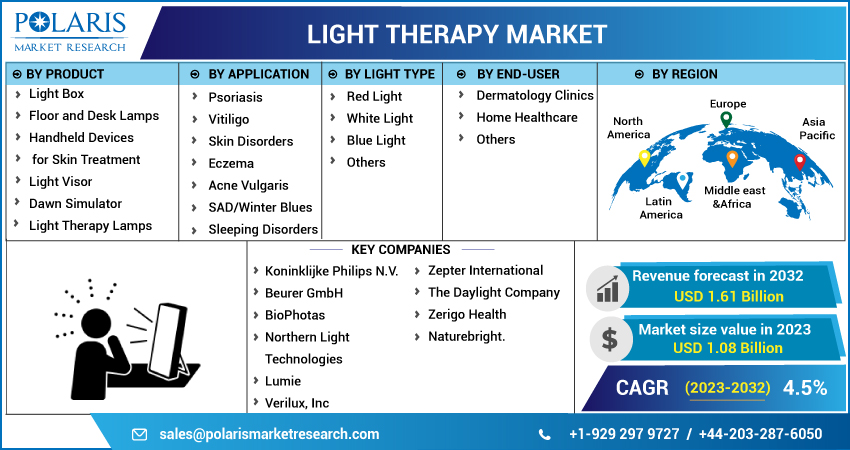 For Specific Research Requirements, Request For Customized Report
Industry Dynamics
Growth Drivers
Patients' preference for non-invasive procedures like LED therapy and low-level laser therapy has increased in recent years and have become popular due to their safety, effectiveness, minimal discomfort and downtime, which makes them an ideal way for patients who look for convenient and effective treatment options without requiring surgery or invasive procedures with busy schedules anticipating the market growth.
Moreover, developed economies offer a more favorable compensative scenario for medical procedures due to established healthcare infrastructure and greater emphasis on supplying access to advanced medical treatments. This encourages the development of innovative medical technologies and treatments, particularly in oncology, cardiology, and neurology. Favorable reimbursement is expected to remain a crucial driver of growth and innovation in the healthcare industry as demand for advanced treatments continues to rise.
In February 2022, Mito Red, partnered with the Arizona Coyotes. The partnership aims to support the team's recovery and overall health by using red light therapy. The growing adoption of red-light therapy in various industries is expected to contribute to the market's significant growth.
Report Segmentation
The market is primarily segmented based on product, application, light type, end-use, and region.
By Product

By Application

By Light Type

By End-Use

By Region

Light Box

Floor and Desk Lamps

Handheld Devices for Skin Treatment

Light Visor

Dawn Simulator

Light Therapy Lamps

Psoriasis

Vitiligo

Skin Disorders

Eczema

Acne Vulgaris

SAD/Winter Blues

Sleeping Disorders

Red Light

White Light

Blue Light

Others

Dermatology Clinics

Home Healthcare

Others

North America (U.S., Canada, Mexico)

Europe (France, Germany, UK, Italy, Netherlands, Spain, Russia)

Asia Pacific (Japan, China, India, Malaysia, Indonesia, Thailand, Australia, South Korea)

Latin America (Brazil, Argentina)

Middle East & Africa (Saudi Arabia, UAE, Israel, South Africa, Qatar)
To Understand the Scope of this Report: Speak to Analyst
The Hand-Held devices segment held the significant market revenue share in 2022
The hand-held devices segment held the highest market revenue share in 2022 and is likely to keep its position over the expected period by becoming popular because of its versatile properties like portability, efficient technology, and user-friendliness and used by dermatologists which is driving the growth of the light therapy market. These products are used for skin treatment and incorporate technologies like ultrasonic waves and micro currents, which aid in enhancing the appearance of the skin.
Moreover, the light visor segment is expected to grow fastest CAGR during the expected period because of the high advancement and extensively growing investment in R&D activities to develop more advanced and innovative software to check eye fatigue, insomnia, and jet lag, primarily caused by changes in sleep patterns and time zones. These types of therapy are key factors driving the growth of the segment market.
Sleeping disorder segment accounted for the largest market share in 2022
These disorders have a negative impact and affect a massive part of the global population. As Light therapy is a commonly used treatment, bright light therapy being the most widely used form. With the rising prevalence of sleeping disorders, the demand for light therapy devices is expected to grow significantly in the coming years. Moreover, the psoriasis segment is expected to register significant market growth during the expected period. The growth of the segment market is mainly driven by rising incidence, which can cause joint inflammation and arthritic symptoms, fueling the market's expansion.
Blue Light segment is expected to witness fastest growth
The blue light segment is projected to grow fastest at CAGR during the expected period owing to its wide range of beneficial features and factors to treat various conditions such as acne, skin disorder, depression, melanoma, and SAD is expected to increase the market growth. However, the white light segment is also expected to led the market and accounted for a healthy market share, which is accelerated by growing adoption of its versatility and effectiveness make it popular among healthcare professionals and patients. Increased awareness and innovation are expected to drive the market's growth.
The Home Healthcare segment dominated the market
The home healthcare dominated the global market in 2022 and is likely to grow significantly over the anticipated period as the market is being driven by growing consumer awareness and technological advancements, such as remote patient monitoring. Moreover, the COVID-19 pandemic has led to an increase in demand due to the convenience of home treatments and advancements in portable light therapy devices, which make it easier for patients to receive treatment at home, which has further boosted the growth of this segment.
Furthermore, dermatology clinics specialize in treating a range of skin-related conditions, including acne, eczema, psoriasis, and vitiligo. According to the World Health Organization (WHO), nearly 900 million people suffer from skin diseases, which is expected to drive the demand for dermatology clinics. The market is also expected to grow during the forecast period.
North America accounted for the maximum market revenue share in 2022
North America held the largest revenue share in the market, primarily due to an increase in cases of SAD/Winter blues symptoms acne vulgaris, psoriasis, and vitiligo condition is expected to boost the market growth, as light therapy can effectively treat these disorders. The growing burden of mental health and skin-related disorders, increasing investments, R&D activities, and rising product launches are the main drivers of the market growth.
The Asia Pacific region is projected to witness a high CAGR due to several factors, including the increasing awareness and the rising adoption of light therapy devices in hospitals, clinics, and home health care, and the growing investments in telemedicine. The region's high growth rate can also be attributed to the people suffering from skin disorders, particularly acne and an increasing number of pre-term births out of which mostly occurs in this region. These factors are expected to drive the demand for phototherapy equipment in the region.
Competitive Insight
Some of the major players operating in the market include Koninklijke Philips, Beurer; BioPhotas; Northern Light Technologies; Lumie; Verilux, Zepter International; Daylight Company; Zerigo Health; and Naturebright.
Recent Developments
In March 2022, 10X Health System and DaVinci Medical have teamed up to launch the Superhuman Protocol, a comprehensive whole-body solution that aims to restore long-term neglect and naturally improve health and performance. It is a three-step process that includes the use of the Thera Light therapy bed, which can accelerate ATP production and promote faster recovery. This partnership highlights the increasing trend towards developing innovative products and services in the health and wellness industry, which is expected to drive market growth in the future.

In February 2022, The UFC Performance Institute has partnered with Game Day Ready Recovery Zone to provide red light therapy to all UFC athletes, with the aim of improving their performance. Red light therapy has been shown to boost ATP production and reduce oxidative stress, which can help the body recover at a cellular level after intense workouts. This partnership highlights the growing interest in the use of light therapy among professional athletes and the potential benefits it can offer in perfecting their performance.

In January 2022, Bilihome has secured new funding led by the Health Innovations & Oost NL to support the launch of wearable light therapy equipment to treat jaundice in new-borns. The condition, which affects 10% of all newborns, can now be treated with this innovative device, which stands for a significant step forward in the field of neonatal care.
Light Therapy Market Report Scope
| | |
| --- | --- |
| Report Attributes | Details |
| Market size value in 2023 | USD 1.08 billion |
| Revenue forecast in 2032 | USD 1.61 billion |
| CAGR | 4.5% from 2023– 2032 |
| Base year | 2022 |
| Historical data | 2019 – 2021 |
| Forecast period | 2023– 2032 |
| Quantitative units | Revenue in USD billion and CAGR from 2023 to 2032 |
| Segments covered | By Product, By application, By Light Type, By End-Use, By Region |
| Regional scope | North America, Europe, Asia Pacific, Latin America; Middle East & Africa |
| Key companies | Koninklijke Philips N.V.; Beurer GmbH; BioPhotas; Northern Light Technologies; Lumie; Verilux, Inc.; Zepter International; The Daylight Company; Zerigo Health; Naturebright. |