The global 5G Fixed Wireless Access (FWA) market was valued at USD 389.05 million in 2019 and is expected to grow at a CAGR of 99.3% during the forecast period. The growth of this market is attributed to the rising demand for high speed internet connectivity coupled with superior broadband coverage that has minimal power consumption and latency. In addition, the growing adoption of superior technologies including, Internet of Things (IoT)/ machine-to-machine (M2M) millimetre-wave deployed across the 5G FWA also contributes to the global market growth.
Since a long time, 5G Fixed Wireless Access (FWA) has remained a highly interesting growth prospects for the telecommunications service providers. Actually, it can be considered as an alternative to fixed line broadband for providing high-speed data connectivity to the rural and far flung areas where laying fibre is very expensive. Thus, the introduction of advanced 5G technology is increasingly becoming highly competitive with several telecommunication service providers in the race to provide optimal 5G Fixed Wireless Access (FWA) services at cost-effective rates.
COVID-19 is expected to have significant negative impact on the deployment of 5G fixed wireless access (FWA) such as delays in the spectrum auction and delay in other standard activities. In addition, it offers notable constraints on developing network and negatively impacts the investment decisions of the telecommunication operators. Although, the COVID-19 pandemic is also expected to have major positive impact on consumer demand for high-speed data services. Since, the advent of COVID-19 global pandemic both the public sector and private sector organizations have permitted their employees to do work from home. Hence, there's substantially high demand for super speed data services which creates notable growth opportunity for 5G fixed wireless access.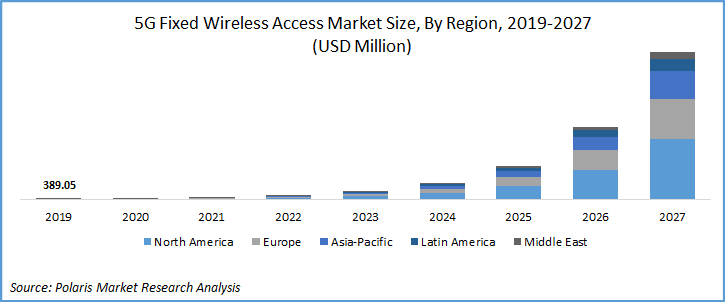 Know more about this report: request for sample pages
The emerging advanced 5G network has several key features such as greater bandwidth, higher capacity, and lower latency as compared to the traditional 4G network. These network betterments are expected to have notable and long-term impacts on the way children play, people work and live across the globe. The advanced 5G fixed wireless access is expected to be extremely fast as compared to the 4G and 3G technologies. The 5G fixed wireless access would enable people to make super-clear video calls over the distance and that too without any latency or disconnection problems.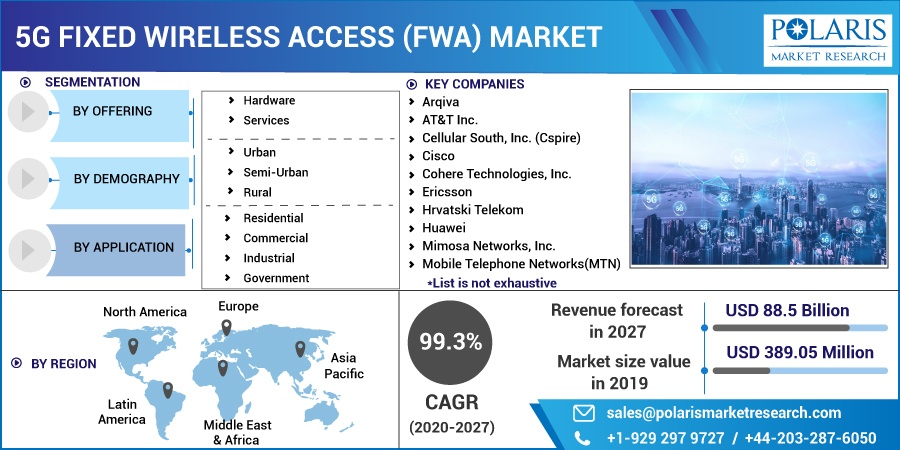 Know more about this report: request for sample pages
Industry Dynamics
Growth Drivers
Substantial investments targeted for the development of 5G infrastructure is expected to drive the 5G fixed wireless access market growth. Some of the key companies that are best positioned to benefit from the development of 5G technology includes Qualcomm, Nokia and Ericsson. For instance, Ericsson that has a market capitalization of nearly $25 billion is at the forefront of investments and developing 5G hardware. Ericsson is also proactively participating in the research programs and field trials with key mobile operators worldwide such as SK Telecom Company Ltd. from South Korea, China Mobile (CHL) from China, and Verizon, AT&T from the United States. In addition, Nokia and Qualcomm, Inc. that have market capitalization of approximately $18.5 billion and $81 billion respectively are also focused on investing extensively into developing the 5G infrastructure worldwide that is also expected to contribute to the global market.
5G Fixed Wireless Access Market Report Scope
The market is primarily segmented on the basis of Offering, by Demography, by Application and geographic region.
By Offering

By Demography

By Application

By Region

Residential
Commercial
Industrial
Government

North America (U.S., Canada)
Europe (France, Germany, UK, Italy, Spain, Netherlands, Austria)
Asia Pacific (Japan, China, India, Malaysia, Indonesia. South Korea)
Latin America (Brazil, Mexico, Argentina)
MEA (Saudi Arabia, UAE, Israel, South Africa)
Know more about this report: request for sample pages
Insight by Offering
Based upon offering, the global market is categorized into hardware including, access units & CPE and services. Services is expected to hold the highest share in global market in 2019, owing to the availability of several types of services including, connection of several devices required for smart and safe vehicles, smart homes, smart schools, smart cities, improve education and healthcare while also providing a highly efficient and more safe place to reside.
Nearly over 1 billion homes globally still do not have regular broadband connection. 5G fixed wireless access seems to be a robust way of providing seamless internet connectivity to household users by deploying the wireless mobile-based network facility rather than using the conventional fixed line services. Safe and secure high-speed internet connectivity is crucial for the transport industry because the much-required materials such as grocery supply, hardware items, new vehicles via road needs to be delivered on time. The on-time delivery service is ensured by the ultra-fast internet connectivity through 5G fixed wireless access services.
Insight by Demography
Based upon demography, the global market is categorized into urban, semi-urban and rural. Semi-urban demography is expected to dominate the market primarily driven by the availability of high power transmission or reception technologies along with sophisticated antenna technology, extensive adoption of ultra-fast 5G-enabled fixed wireless access.
High adoption of 5G is mainly due to the availability of advanced smartphones and handheld devices with people and these devices have the required hardware to support the 5G technology. Next, the major adoption is expected to be in rural demography driven by craze for ultra-high speed among the youngsters in the rural areas. On the other hand, urban demography is expected to slowly adopt 5G technology because of the availability of advanced 4G technology supporting devices with people in these regions.
Insight by Application
Based upon application, the global market is categorized into residential, commercial, industrial and government. The residential application is expected to dominate the global market primarily attributed to the fact that the residential customers receive gigabits of speed at the best competitive price, with no installation issues. The government as customer is expected to develop and utilize private wireless high-speed network to be deployed as public network. In order to achieve the deployment of private network as public high-speed network, the industrial and enterprise customers would just need seamless communications and connectivity with the already operational public communications internet service providers while using their own telecommunications infrastructure.
Geographic Overview
Geographically, North America is the largest revenue contributor to the regional market and holding a majority of the market share. In North America, the U.S. is expected to have the highly engaged user base, and the same trend is again believed to continue through the addition of novel subscribers. With extensive implementation of 5G across the U.S. and Canada, it is expected to drive growth for on-demand video services. Presently, the market for such services is expanding at a fast rate.
Several key companies including, Verizon and AT&T are contributing to notable growth of the telecom sector, however, both these companies are actively looking to expand their business from providing just the key mobile services to offering high-speed internet services and competing more effectively in the internet services vertical. For instance, in October 2018, Verizon already introduced the 5G FWA services across 4 major cities in the United States.
Europe global market growth is primarily attributed to the rising government funding to boost the development of 5G infrastructure for fast and simple usage of 5G high-speed and low-latency network. Several key countries in European Union that contribute to the global market share includes, United Kingdom, Germany, France, Belgium, Italy, among other. Germany is anticipated to account for dominant global market share primarily driven by proactive government initiatives to boost the deployment of 5G infrastructure across the government and private offices in the country. In addition, the rising demand for ultra-high speed internet required to perform overseas ultra-high definition video calling.
Competitive Insight
Key players operating in the global market are primarily focused on product innovation, development and strategic acquisitions in order to strengthen their capabilities for research and development of new products. These key strategies enable the companies to strengthen their market position while also boosting their geographical presence.
A number of key companies are already operational in the global market including, Arqiva, AT&T Inc., Cellular South, Inc. (Cspire), Cisco, Cohere Technologies, Inc., Ericsson, Hrvatski Telekom, Huawei, Mimosa Networks, Inc., Mobile Telephone Networks(MTN), Nokia, Orange S.A., Qualcomm Technologies, Samsung Electronics, Siklu Communication, Swisscom, Telefónica S.A., Telus Corporation, United States Cellular Corporation, and Verizon Communications Inc.