The global alkyl polyglucoside market was valued at USD 1,024.7 million in 2019 and is expected to grow at a CAGR of 7.8% during the forecast period. The pivotal factors responsible for the market growth are an upsurge in the demand for home care and personal care products, growing adoption of plant-based surfactants, increased use of biomaterials, and on-going research & development investments in the concerned industry.
With the growing emphasis on the health of the environment, regulatory bodies such as CEFIC and ECHA have laid stringent regulations on the use of inorganic surfactants as they have a negative impact on environmental health. This has significantly influenced the development and use of organic surfactants, for instance, alkyl polyglucosides as they are plant-derived sugar surfactants that reflect a quicker bio-degradability quotient and are non-toxic in nature. Characteristics such as emulsifiers, foaming capabilities, skin compatibility, soil removal, cleansing, and wetting have proliferated their adoption across several industries as surface cleaners, bath products, dishwashing agents, detergents, oral care, and other bath products.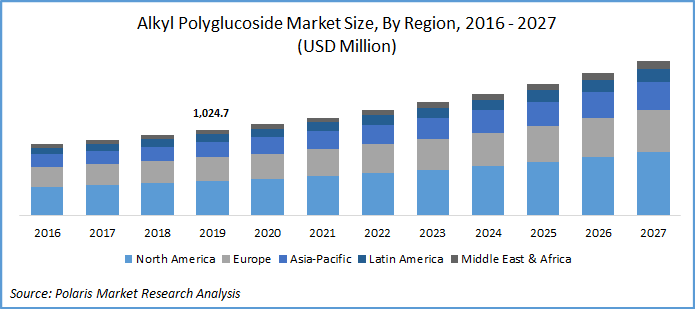 Know more about this report: request for sample pages
Industry Dynamics
Growth Drivers
The use of green and natural ingredients is on the rise. It has a profound impact on consumer lifestyle on the global environment, norms in Europe towards the development of sulfate-free surfactants, and increasing focus of the manufacturers on green surfactants. According to a survey at the end of 2017, 66% of respondents would pay more for a product or service if the company was committed to positive social and environmental change. This surge in consumer awareness started with an increasing realization of the impact of lifestyle on the environment.
Manufacturers like Croda, SEPPIC, LG Household & Healthcare Ltd, BASF, Dow, and others are shifting their focus towards alkyl polyglucosides on account of the changing trends in both established and emerging economies. Alkyl polyglucoside manufacturers such as BASF SE and SEPPIC has shown tremendous growth over the past few years. Being natural, less toxic nature, and superior surfactant properties over traditional surfactants have boosted the growth of green surfactants and the usage of alkyl polyglucosides.
Know more about this report: request for sample pages
In November 2019, BASF increased the production capacity of alkyl polyglucosides at its manufacturing plant located in China. BASF expanded the production capacity to fulfill the local domestic needs and to relieve pressure on the German plant. Moreover, several personal care and consumer products manufacturing companies have a keen interest in converting to 100% bio-based surfactants, and with the growing consumer awareness pertaining to product ingredients, the consumers are willing to pay the premium prices over competitor products in the market space.
Alkyl Polyglucoside Market Report Scope
The market is primarily segmented on the basis of product, functionality, application, and region.
By Product

By Functionality

By Application

By Region

Coco
Lauryl
Decyl
Capryl
Others

Cleansing Agent
Emulsifying Agent
Wetting Agent
Degreasing Agent
Solubilizing Agent
Hydrotope
Foaming Agent
Others

Homecare

Surface Cleaners
Dishwashing Detergents
Laundry Detergents
Others

Personal Care

Bath Products
Cleansers & Wipes
Oral Care
Others

Industrial & Institutional Cleaners
Agricultural Chemicals
Oil Fields
Admixtures for Cement, Concrete & Plaster
Others

North America (U.S., Canada)
Europe (France, Germany, UK, Italy, Spain, Netherlands, Austria)
Asia Pacific (Japan, China, India, Malaysia, Indonesia. South Korea)
Latin America (Brazil, Mexico, Argentina)
Middle East & Africa (Saudi Arabia, UAE, Israel, South Africa)
Know more about this report: request for sample pages
Insight by Product
On the basis of product, the global market is bifurcated as Coco, Lauryl, Decyl, Capryl, and Others. In 2019, the coco polyglucosides segment is anticipated to register the fastest growth over the forecast period owing to its application as a conditioner, emulsifier, surfactant, and foaming agent. The product enhances the foaming capacity and is useful in hair-based products. Capryl polyglucoside segment is expected to witness sluggish growth over the forecast period since it is used as a cleansing agent and finds its application in homecare cleaning products. The rising demand for alkyl polyglucosides in personal care, agrochemicals, and I&I cleaners is likely to complement alkyl polyglucoside market growth.
Insight by Functionality
Based on functionality, the global market is segmented into cleansing agents, emulsifying agents, wetting agents, degreasing agents, solubilizing agents, hydrotrope, foaming agents, and others. The demand for alkyl polyglucosides is expected to increase in the oil & gas industry along with the agriculture and construction industry resulting in the growth of alkyl polyglucosides for degreasing, solubilizing, and as wetting agents.
A large portion of alkyl polyglucosides is used as detergent resulting in creating opportunities for the growth of alkyl polyglucosides as cleansing and emulsifying agents. Alkyl polyglucoside is increasingly being used as a cleansing and wetting agent in laundry and dishwashing detergents. In addition, the demand for alkyl polyglucosides is increasing in personal care, and agro-based products are expected to witness growth owing to the superior characteristics of the product.
Geographic Overview
Based on the region, the global market has been segmented into North America, Europe, Asia Pacific, Latin America, and MEA. North America's alkyl polyglucosides market is ruled by the homecare sector. The U.S. cleaning products industry contributed around USD 58 million in 2018 and is expected to witness growth owing to the initiatives taken by various associations such as ISSA, ARCSI, and ACI, among others to increase awareness for cleaning products.
The production of fatty alcohols in North America was around 750 kilotons in 2019 and is expected to grow annually by 2% to 3%. North America is the second-largest producer of fatty alcohols, which is a major raw material used in the production of alkyl polyglucosides. U.S. spends USD 6.7 billion on laundry detergent each year and around 86% of the detergent sold in the U.S. is in liquid form, which requires plastic jugs, and the recycling rate is less than 30%. These inorganic factors are likely to negatively impact the growth of the alkyl polyglucoside market in the region.
The personal care and cosmetics industry in Asia Pacific has witnessed a significant boost on account of the increasing use of personal care products coupled with the rising population in emerging economies. For instance, in India, according to IBHA (Indian Beauty and Hygiene Association), the personal care industry is estimated to reach USD 10 billion by the end of 2021. In China, according to China's national statistical bureau, the retail sales of cosmetic products in 2017 reached USD 38.45 billion, which was an increase of 13.5% from 2016. This said, manufacturers operating in the industry have enhanced their production capacities to cater to the growing demand for personal care products, the growing proliferation of which is likely to push the adoption of alkyl polyglucosides over the forecast period.
Competitive insights
Some of the major players operating in the market include Croda International PLC, BASF SE, Huntsman Corporation, Dow Chemical Company, Akzo Nobel NV, SEPPIC S.A., LG Household & Health Care Ltd., Galaxy Surfactants, Pilot Chemical Company, and Shanghai Fine Chemical Co Ltd.