The global animal feed enzymes market was valued at USD 2.97 billion in 2022 and is expected to grow at a CAGR of 8.1% during the forecast period. The animal feed enzymes market is expected to expand due to an anticipated increase in the consumption of dairy and meat products. As people become more health conscious, the demand for protein-rich foods, including meat and dairy, will likely rise. This trend towards increased protein consumption is expected to drive the demand for processed meat and meat products, which will, in turn, positively impact the market for animal feed enzymes.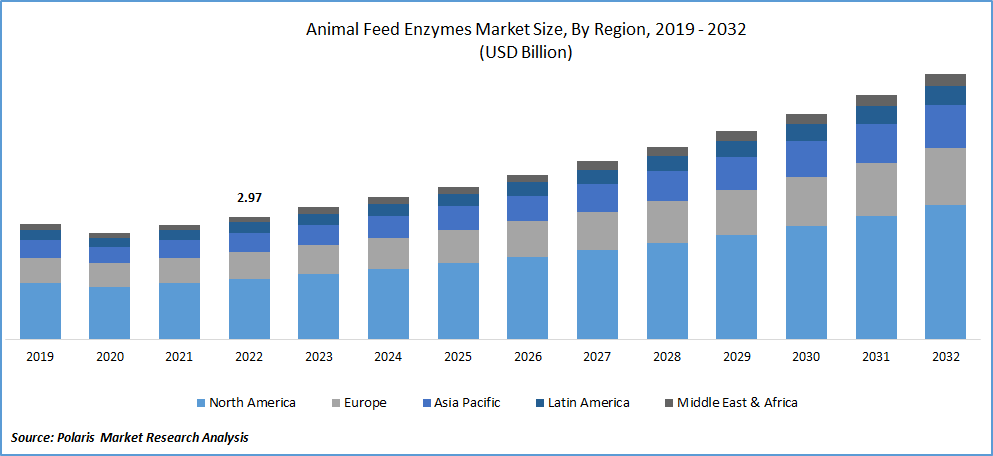 Know more about this report: Request for sample pages
The animal feed enzymes industry may face hurdles due to the absence of consistent regulations by federal and state authorities. Various sources across different countries, such as the U.S., Canada, and Latin America, govern rules for feed enzymes. However, the regulatory frameworks for these enzymes vary from country to country, creating inconsistencies and challenges for the animal feed enzymes industry.
Incorporating phytase enzymes in animal feed products facilitates the rapid absorption of phosphorus and other essential micronutrients, thus improving digestibility and reducing the antinutritional effect of phytate. Additionally, phytase can enhance pelleting, prolong premix stability, and increase shelf life. As demand for meat, a primary source of protein continues to grow, the application of phytase in animal feed is expected to increase. Phytase breaks down Myo-inositol hexakisphosphate (phytate), releasing phosphate and improving overall digestibility, thereby playing a crucial role in enhancing metabolism. Organic feeds are increasingly recommended due to the heightened risk of hemangioendothelioma, a low-grade cancer.
The animal feed industry has recognized dry-formulated enzymes as a vital format owing to their convenience and ease of use. These enzymes can endure high temperatures during feed processing and display superior thermal stability. Employing dry-form animal feed enzymes provides various benefits, including effortless handling, spill-free storage, and easy transportation.
Advancements in swine production technology and genetics have enabled the absorption of previously indigestible nutrients. Feed enzymes are commonly used in animal feed to simplify digestion and break down proteins. The increasing swine production is expected to drive the demand for animal feed enzymes.
Bovine spongiform encephalopathy, a disorder that affects cattle and can spread to humans, can cause brain disorders. In addition, the market is poised for growth as they promote animal health and reduce mortality rates. The rising health consciousness among consumers to increased consumption of dairy products, meat, eggs, and other poultry items, is a major factor driving the market's growth.
The animal feed enzyme industry encountered significant setbacks in the initial stages of the COVID-19 pandemic due to travel restrictions and lockdown measures. Global exports of meat products such as chicken and beef decreased. Nonetheless, with the relaxation of rules and economic revival, the market is anticipated to exhibit substantial growth in the forthcoming years.
Industry Dynamics
Growth Drivers
The rising global demand for animal protein, including meat, eggs, and dairy products, is driving the growth of the animal feed enzymes market. Using feed enzymes in animal nutrition improves the efficiency of feed utilization and reduces the cost of animal production, making it a more attractive option for producers.
With the increasing awareness of animal health and nutrition, there is a growing demand for animal feed enzymes that improve digestion, increase nutrient absorption, and reduce the negative impact of antinutritional factors in animal feed. Enzymes are biological catalysts that can break down complex molecules into simpler forms that animals absorb more easily. As a result, using enzymes in animal feed can improve animal health and productivity to increase demand for animal feed enzymes.
Advances in enzyme production and processing technology have improved the effectiveness of animal feed enzymes and made them more cost-effective, driving demand for these products. Enzyme production technologies, such as recombinant DNA technology and fermentation technology, have allowed for producing highly purified and specific enzymes that can be used in animal feed. Additionally, new processing technologies, such as microencapsulation and spray-drying, have improved the stability and bioavailability of feed enzymes, making them more effective and easier to use.
Report Segmentation
The market is primarily segmented based on form, source, type, livestock, and region.
By Form

By Source

By Type

By Livestock

By Region

Plants

Animals

Microorganism

Protease

Carbohydrase

Phytases

others.

Poultry

Swine

Aquaculture

others.

North America (U.S., Canada)

Europe (France, Germany, UK, Italy, Netherlands, Spain, Russia)

Asia Pacific (Japan, China, India, Malaysia, Indonesia. South Korea)

Latin America (Brazil, Mexico, Argentina)

Middle East & Africa (Saudi Arabia, UAE, Israel, South Africa)
Know more about this report: Request for sample pages
The phytase

segment accounted for the largest revenue share in 2022
In 2022, the phytase segment accounted for the largest revenue share. This growth can be attributed to the effectiveness of phytase in addressing deficiencies of minerals such as zinc and calcium in animal feed. Phytase breaks down Myo-inositol hexakisphosphate (phytate) and releases phosphate content to overcome nutritional deficiencies. The digestive power of animals can decrease due to unhygienic and inhumane conditions in farms, poultry, and households. Therefore, enzymes like phytase promote animal health and increase overall yield.
In addition to phytase, carbohydrates are also commonly used as feed additives to enhance the quality of animal feed. Carbohydrates are known for improving digestion by facilitating the hydrolysis of polysaccharides. Both the phytase and carbohydrate segments are expected to experience growth over the forecast period, driven by the increasing demand for dairy and meat products.
The poultry segment dominated the market

in 2022
In 2022, the poultry segment dominated the market with the highest share. This growth can be attributed to chickens and poultry being more susceptible to digestive issues. As a result, animal feed enzymes such as phytase are added to their feed to improve mineral absorption (such as zinc and calcium) and aid in breaking down phytate to release phosphate content.
The growth in the poultry segment is attributed to the increasing consumption of meat from chicken, turkey, ducks, and eggs due to the rising health consciousness among people. The emergence of food service retailers such as McDonald's has revolutionized the use of chicken by introducing products such as Chicken McNuggets. Additionally, chicken's nutrient-dense, delicious, and cost-effective nature has made it the most popular form of meat globally.
The Asia Pacific is expected to dominate the market during forecast period
The Asia Pacific is expected to dominate the market during the coming years due to huge consumption of dairy products and broiler meat in India, Australia, China, and Japan. Notably, China's annual poultry consumption has surpassed 20 million tons.
The Asia-Pacific market is projected to offer significant growth opportunities for marketers in the forecast period. With higher purchasing power, people can increasingly buy more protein-rich food items. Additionally, the rising prevalence of chronic illnesses pushes people towards a greater focus on nutrient intake, resulting in an overall increase in dairy and meat consumption. India, for instance, has the highest annual milk consumption in the world.
The market growth is expected to receive significant contributions from Europe and North America. The general awareness regarding the quality of meat, the usage of additives, and the ban on antibiotics in these regions are among the factors expected to boost market growth. The strong presence of industry participants has also benefited the market growth in these regions.
Competitive Insight
Some of the major global market players include Royal DSM N.V, Chr. Hansen A/S, Novozymes, AB Enzymes, Adisseo, BASF, Enzyme Innovation, Novus International, Lumis Biotech and Lonza Group. Companies are investing heavily in product launches and other development strategies.
Recent Developments
In January 2023, Novus International completed the acquisition of Agrivida, a biotech company, intending to create new feed additives.

In September 2022, DSM acquired Prodap, a prominent animal nutrition and technology firm based in Brazil. This move allows the company to integrate technology solutions, expert consulting services, and specialized nutritional products to enhance animal farming sustainability and productivity.

In July 2022, Innovafeed's partnership with Cargill was expanded to offer aquafarmers a range of innovative and nutritious ingredients, including additives.

In November 11, 2020, Adisseo, a China-based animal feed additive manufacturer, announced the successful acquisition of FRAmelco Group, a feed additive company based in the Netherlands. The acquisition aimed to consolidate Adisseo's position in the animal additives market. FRAmelco Group operates three plants in the Netherlands, Spain, and Thailand and generates annual revenue of approximately 30 million pounds.
Animal Feed Enzymes Market Report Scope
| | |
| --- | --- |
| Report Attributes | Details |
| Market size value in 2023 | USD 3.19 billion |
| Revenue forecast in 2032 | USD 6.42 billion |
| CAGR | 8.1% from 2023 - 2032 |
| Base year | 2022 |
| Historical data | 2019 - 2022 |
| Forecast period | 2023 - 2032 |
| Quantitative units | Revenue in USD million/billion and CAGR from 2022 to 2030 |
| Segments covered | By Form, By Source, By Type, By Livestock, By Region |
| Regional scope | North America, Europe, Asia Pacific, Latin America; Middle East & Africa |
| Key companies | Royal DSM N.V, Chr. Hansen A/S, Novozymes, AB Enzymes, Adisseo, BASF, Enzyme Innovation, Novus International, Lumis Biotech and Lonza Group |