The global annatto market was valued at USD 205.07 million in 2022 and is expected to grow at a CAGR of 5.2% during the forecast period. Annatto, frequently used in the food sector as a natural food grade, is one of the first natural colors humans use. Due to the rising utilization in the economy's food and non-food sectors, future business expansion prospects are projected. The product has received approval from the European Food Safety Authority (EFSA), the U.S. Food & Drug Administration (FDA), and several regional food safety agencies. The escalating government restrictions on the usage of annatto in the different verticals support the market growth over the anticipated period.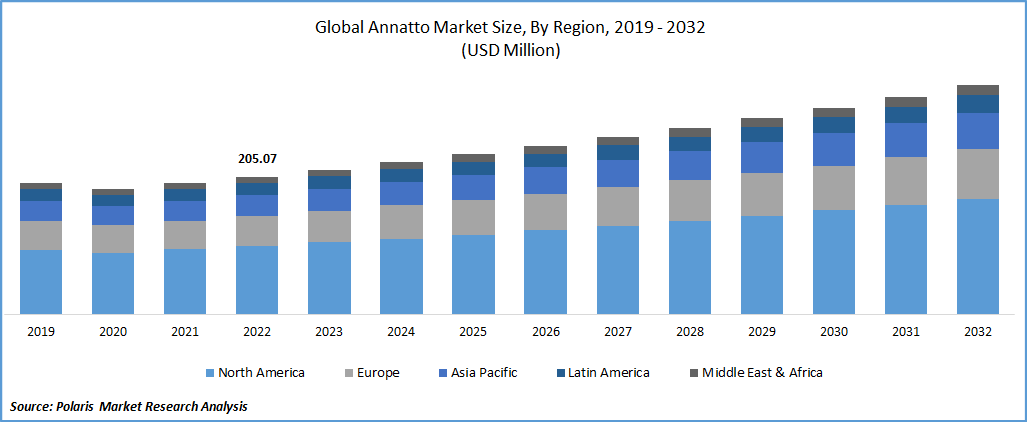 Know more about this report: Request for sample pages
The worldwide business is thriving as consumers' awareness of the value of clean labeling in promoting wise purchases grows. It is claimed that ethical and ingredient-sourcing principles would propel clean-label ideas to later phases of development. Companies are actively making more effort to have their ingredients and additives certified as clean-label products.
In February 2019, International Flavors & Fragrances gained an organic label from the European Organic Certifiers Board and the United States Department of Agriculture for its natural annatto color. The second most economically significant natural colorant worldwide, annatto seeds and extracts give foods and beverages a yellow to crimson hue. Due to qualities like low processing, simplicity in reformulation, non-GMO certification, and safety, natural food colorants like bixin will continue to be in higher demand.
The COVID-19 pandemic's unexpected emergence has severely influenced nearly all industries since it compelled workers in various regions of the world to halt operations without proper supervision. The disruptions in the product's supply chains brought on by manufacturing restrictions, higher transport costs, and higher delivery costs affect the whole market. Restrictions are also impacting the expansion of the annatto market on the export and import of non-essential goods due to temporary border closure circumstances in some countries.
The food service business, which depends heavily on food colorants like annatto, has been badly impacted by several governments' physical separation and home quarantine orders. However, food additive manufacturing companies are persistently attempting to restore smooth operations and supply chains in response to the pandemic's chaotic scenario. In the next months, goods sales are anticipated to soar.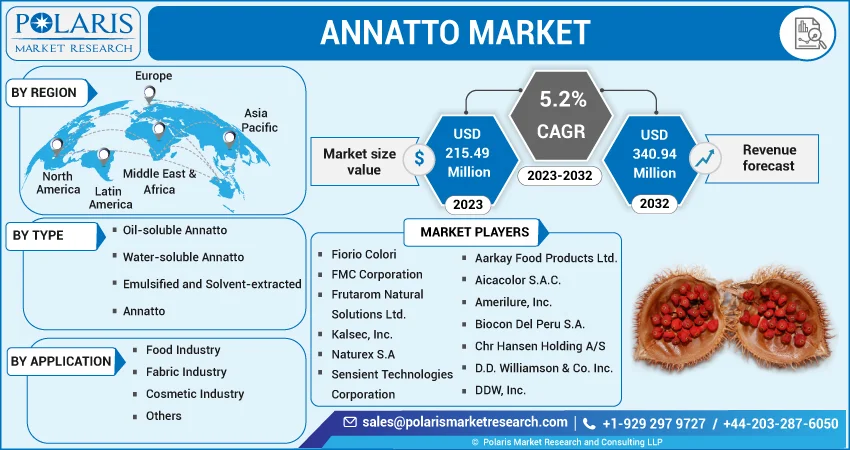 Know more about this report: Request for sample pages
Industry Dynamics
Growth Drivers
The great emphasis that food manufacturers place on using healthier natural alternatives to artificial colorings and synthetic dyes is what essentially drives the global industry. Given the efforts made by ingredient manufacturers to capitalize on optimized, practical, and personalized products that are ideally suited for particular food applications, the product's growth trajectory in the future looks optimistic. A testament to the favorable consumption pattern for artificial colors is the gradual decrease in their use across new product introductions.
Customers' interest in natural ingredients for personal care and cosmetic goods is rising due to the natural and plant-based industry's phenomenal expansion. The demand for natural cosmetics is also growing as people become more aware of the many advantages of natural beauty products. In November 2022, Six natural colorants for cosmetics and personal care were added to Sun Chemical's SunPuro range as part of the company's portfolio expansion.
The components supplied are SunPuro Natural Annatto O and SunPuro Natural Annatto A, permitted for use in color cosmetics and personal care products. As a result, manufacturers of cosmetics are starting to use natural colorants. The use of natural components in various industry cosmetics is anticipated to be supported by the trend toward chemical-free and natural cosmetics, which could increase the product's sales.
Report Segmentation
The market is primarily segmented based on type, application, and region
By Type

By Application

By Region

Oil-soluble Annatto

Water-soluble Annatto

Emulsified and Solvent-extracted Annatto

Food Industry

Fabric Industry

Cosmetic Industry

Others

North America (U.S., Canada)

Europe (France, Germany, UK, Italy, Netherlands, Spain, Russia)

Asia Pacific (Japan, China, India, Malaysia, Indonesia. South Korea)

Latin America (Brazil, Mexico, Argentina)

Middle East & Africa (Saudi Arabia, UAE, Israel, South Africa)
Know more about this report: Request for sample pages
The food industry segment is expected to witness the fastest growth during forecast period
The achiote tree's seeds are the source of annatto, a natural culinary color used for ages in many cultures. The food and beverage industries employ this vivid red-orange pigment in various ways, principally to color goods. Annatto has many health advantages in addition to its aesthetic value.
Annatto is most frequently used as a coloring agent in the food sector for cheese, butter, margarine, and processed meats, including sausages, beans, and hot dogs. It can also make other dishes look better, like salad dressings or soups. Because of its antioxidant characteristics, annatto can help keep these products fresh by preventing oxidation, which can cause spoiling and rancidity over time. Additionally, it has antibacterial qualities that aid in limiting bacterial growth in prepared foods.
Fabric segment industry accounted for the largest market share in 2022
To dye textiles sustainably and environmentally responsible, natural dyes made from plant leaves, roots, bark, insect secretions, and minerals are now replacing synthetic dyes in the world's industrial markets. Recently, there has been a rise in interest in natural resources, ecologically friendly products, and novel tactics due to environmental awareness and rising disagreements over the dangers of synthetic dyes. Designing, creating, and using chemical products and procedures in a way that minimizes or completely avoids the use of compounds that are harmful to the environment and human health.
One of the biggest pollutants in the environment is the textile processing sector. By producing an effluent corresponding to this amount, 230–270 tonnes of water are used to process one tonne of textiles. The development and adaptation of natural dyeing to the requirements of contemporary textile industries have been hampered by the dominance of synthetic dyes in recent decades. Because naturally colored cotton is considered a replacement material for ornamenting textiles without using highly harmful dyes and chemicals, annatto seeds (Bixa Orellana) were chosen as a natural dye source for cotton knitted fabric in this approach.
The demand in North America is expected to witness significant growth in 2022
North America garnered the largest revenue share. Additionally, the United States is one of the biggest markets for annatto. The region uses annatto oil extensively, and the need for ready-to-eat, fresh meals, including fish, beef, and poultry products, is rising due to the expanding population. The region is projected to develop due to the expanding government support for using natural food colors in various food and beverage applications. Additionally, Europe is a sizable location in the annatto market and is anticipated to keep the top spot during the expected time frame.
During the projection period, the highest CAGR is anticipated for the Asia Pacific area. This is a result of rising annatto oil demand in the food and cosmetics sectors and increasing approval rates from various food authorities encouraging the introduction of new products. The market for the product's use as flavorings and colorants is exploding due to the continual rise in the consumption of meat, poultry, and other non-vegetarian food products. The most developed markets in the area are India, China, and Japan, which greatly contribute to their expansion.
The rising consumer desire for natural products and the expanding cosmetics market is credited with the region's success. China will overtake the United States as the world's second-largest market for beauty and personal care products. According to data from the U.S. Department of Commerce, the U.S. exported $838 million worth of personal care and cosmetic products to China in 2020, an increase of 2.2% from the previous year. The aforementioned facts hence encourage the market's expansion.
Competitive Insight
Some of the major players operating in the global market include Aarkay Food Products, Aicacolor, Amerilure, Biocon Del Peru., Chr Hansen Holding, D.D. Williamson, DDW, Inc., Fiorio Colori, FMC Corporation, Frutarom Natural, Kalsec, Naturex, Sensient Technologies, and Wild Flavors.
Recent Developments
In February 2020, A new range of juices created in collaboration with Whole Foods Market has been introduced by Suja, a manufacturer and distributor of organic, cold-pressed, and non-GMO beverages. For the manufacture of juice, the company used natural coloring components such as annatto.
Annatto Market Report Scope
| | |
| --- | --- |
| Report Attributes | Details |
| Market size value in 2023 | USD 215.49 million |
| Revenue forecast in 2032 | USD 340.94 million |
| CAGR | 5.2% from 2023- 2032 |
| Base year | 2022 |
| Historical data | 2019 - 2021 |
| Forecast period | 2023- 2032 |
| Quantitative units | Revenue in USD million and CAGR from 2023 to 2032 |
| Segments Covered | By Type, By Application, By Region |
| Regional scope | North America, Europe, Asia Pacific, Latin America; Middle East & Africa |
| Key Companies | Aarkay Food Products Ltd., Aicacolor S.A.C., Amerilure, Inc., Biocon Del Peru S.A., Chr Hansen Holding A/S, D.D. Williamson & Co. Inc., DDW, Inc., Fiorio Colori, FMC Corporation, Frutarom Natural Solutions Ltd., Kalsec, Inc., Naturex S.A, Sensient Technologies Corporation, and Wild Flavors, Inc. |