The global anti-aging market was valued at USD 20.2 billion in 2019 and is expected to grow at a CAGR of 5.1% during the forecast period. The growth of the market is attributed to the increase in the consciousness and awareness particularly in the middle-aged regarding their physical appearance, and innovations in the new anti-aging treatment procedures. Moreover, the rising disposable income and growing working female population, coupled with rise in cosmetic centers.
The market is also favored by the innovation and the investments in start-up engaged in the concerned market activities. For instance, Yuva Biosciences, a startup based on anti-aging technology which is developed at UAB (University of Alabama at Birmingham), is utilizing its science for the development of products in comprising of mitochondria, which plays to reverse skin aging and hair loss. The startup aimed to develop cosmetics with medical properties, pharmaceuticals and cosmaceuticals. Similarly, Juvenescence Limited, a biotech company announced that the company has raised USD 165 million in the span if 18 months to fund the longevity projects to extend human lifespan. This amount will allow the company to headway all their products in addition to having 12 programs based on rigorous science to modify aging.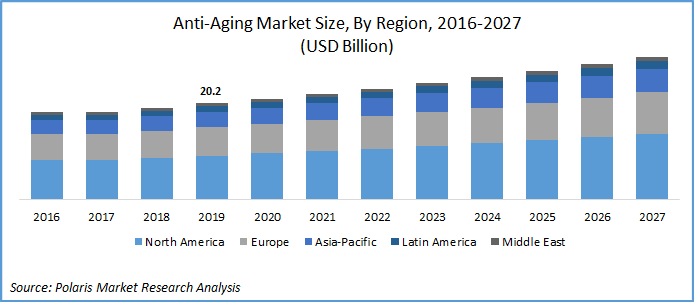 Know more about this report: request for sample pages
Industry Dynamics
Growth Drivers
The growth of the global anti-aging market is substantially driven by the growing demand for natural and organic products to face signs of aging. Over the past few years there has been a prominent shift in focus of the consumers for the use of natural and safe products. Therefore, to meet this demand numerous market players have aimed to enhance their research and development to introduces natural and organic anti-aging skincare products. For instance, in April 2018, ARC Endeavors, the U.S. based firm, one of the leading brands in anti-aging moisturizer 'Ali and Shay', launched a new product. Ali and Shay 'Ultra Nourishing Day and Night Cream is an organic moisturizer for having natural ingredients that have antioxidants which fights the effects of stress, sun-damage and time.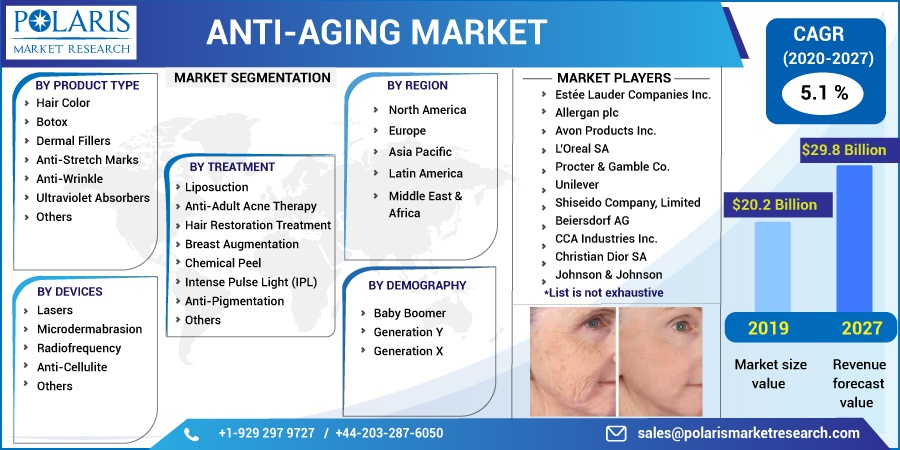 Know more about this report: request for sample pages
In July 2020, Amorepacific Group, a South Korean beauty company, announced to launch its brand Sulwhasoo in India with Nykaa. The brand is set to expand its vision of beauty that is inspired through timeless wisdom in the Indian market through one of the leading beauty retailer Nykaa. According to NCBI, changes in skin are the most visible aging signs. Young fibroblast cells secrete high level of extracellular matrix (ECM) consisting of various proteins. The most extremely secreted was HAPLN1, which was lost in aged fibroblast. Therefore, current research relating to HAPLN1 protein has been carried out which has effect on reversing and alleviating aging skin including wrinkles.
Moreover, the rapidly growing e-commerce industry is expected to open business opportunities for players in the market. Generation Y are the most promising buyers and users of anti-aging products and services. According to the World Bank (WB), female population aged 40-44 was 6.1% of the total world population in the year 2000 which increased to 6.5% in 2018. This is further anticipated to enhance the overall demand of anti-aging products and services and thereby, enhance the market growth.
Challenges
However, the high cost of cosmetic products such as serums, creams and others might hamper the uptake of these products. In addition to this, owing to COVID 19 pandemic, the demand for concerned products and treatment is anticipated to decline in the coming years, therefore restraining the market growth.
Anti-aging Market Report Scope
The market is primarily segmented on the basis of Product, By Devices, By Treatment, By Demography, and by geographic region.
By Product Type

By Devices

By Treatment

By Demography

By Region

Hair Color
Botox
Dermal Fillers
Anti-Stretch Marks
Anti-Wrinkle
Ultraviolet Absorbers
Others

Lasers
Microdermabrasion
Radiofrequency
Anti-Cellulite
Others

Liposuction
Anti-Adult Acne Therapy
Hair Restoration Treatment
Breast Augmentation
Chemical Peel
Intense Pulse Light (IPL)
Anti-Pigmentation
Others

Baby Boomer
Generation Y
Generation X

North America (U.S., Canada)
Europe (France, Germany, UK, Italy, Spain, Netherlands, Austria)
Asia Pacific (Japan, China, India, Malaysia, Indonesia. South Korea)
Latin America (Brazil, Mexico, Argentina)
MEA (Saudi Arabia, UAE, Israel, South Africa)
Know more about this report:request for sample pages
Insight by Product Type
Based upon product type, the global market is categorized into hair color, botox, dermal fillers, anti-stretch marks, anti-wrinkle, ultraviolet absorbers and others. Of all, anti-wrinkle segment held the largest share in the global market in 2019, owing to the rising consciousness specifically amongst the women for having younger or youthful appearance.
Anti-wrinkle creams are mainly moisturizers having active ingredients which offer benefits to the skin. These ingredients intend to improve texture, fine lines, wrinkles and skin tone of the consumer. Due to the continuously rising demand for anti-wrinkle products, major players in the market are focusing on introducing new products. For instance, in February, 2020, Perricone MD, one of the global leader in anti-aging skincare launched an anti-aging hand treatment. The product is a part of the company's Cold Plasma Plus+ Collection which moisturizes with promoting signs of younger looking hands.
Insight by Devices
On the basis of devices, radiofrequency devices held a significant market share in 2019 and is projected to have a remarkable growth rate over the study period. The growth of this segment is attributed owing to the implementation of advanced technologies for the improvement of the quality of skin - particularly skin tone, elasticity and texture. The increase market activities responsible for such growth. For instance, in April 2019, Lumenis Ltd., launched 'The Legend Pro+' which uses radiofrequency energy that can improve the user's fine lines, loose aging skin, blemishes, wrinkles and sun damage.
Geographic Overview
Geographically, North America accounts for one of the largest revenue holder in global market due to rising demand for anti-aging products and services in this region. Moreover, presence of major market players in this region and the rising strategies to establish their market place together, is projected to augment the market growth in the region. For instance, in January 2019, Gryphon Investors, a San Francisco based private equity firm acquired RoC Skincare, Manhattan based anti-aging skincare brand of Johnson & Johnson Inc. Previously, in January 2018, Estée Lauder Companies Inc., launched Perfectionist Pro collection, two anti-aging products. Perfectionist Pro Rapid Firm + Lift Treatment Acetyl Hexapeptide-8, which allows the skin to repair itself naturally and Perfectionist Pro Instant Wrinkle Filler Tri-Polymer Blend which fills spheres that decreases fine lines and promote cell turnover.
Asia-Pacific is expected to have the fastest growth rate in the global market owing to the growing elderly population and substantial rise in R&D, medical tourism and the cosmetic industry in this region. Adoption of modern lifestyle with rising disposable income of the population has given market players opportunities to introduce new products and services, which is further anticipated to enhance the anti-aging market growth in Asia-Pacific. In regards to this, in January 2018, Shiseido bought a wrinkles and lines eliminating technology from Olivo Laboratories based in Massachusetts. The technology is known as second-skin, the material when rubbed onto the user's skin, forms a clear film which instantly conceals wrinkles and lifts sagging.
Japan and South Korea are the leading countries in anti-aging beauty and personal care launches in Asia Pacific followed by China, together contributing for the regions total market growth. The above mentioned countries have the most graying population which is establishing opportunities for the personal and beauty care brands to launch new product and services to concur the rising demand.
Competitive Insight
Some of the major players operating the global market include Estée Lauder Companies Inc., Allergan plc, Avon Products Inc., L'Oreal SA, Procter & Gamble Co., Unilever, Shiseido Company, Limited, Beiersdorf AG, CCA Industries Inc., Christian Dior SA, Johnson & Johnson, Chanel SA, Neutrogena Corporation, Oriflame Cosmetics, La Prairie Group AG, Clarins, Ella Bache, NeoStrata Company Inc., Unity Biotechnology, Inc., Beauty Counter, Lumenis Ltd. and Revlon Inc.