The global brain implants market was valued at USD 4.73 billion in 2020 and is expected to grow at a CAGR of 9.1% during the forecast period. The rising prevalence of neurological ailments is a major market driving factor. The increased registered cases for Parkinson's disease, Alzheimer disease, and other neurological disorder have made governments all over the world to invest in research trials and medical facilities in order to find a cure for all of these conditions.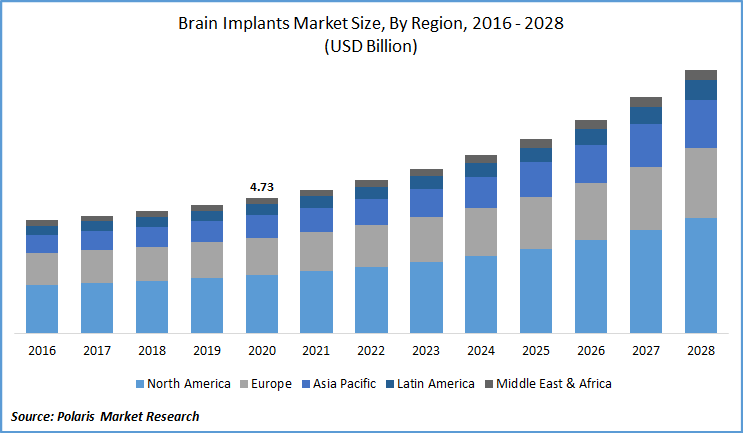 Know more about this report: Request for sample pages
The increasing geriatric population across the globe has also escalated the demand for brain implants. In addition, the launch of cost-effective and technologically advanced treatment technologies could result in substantial market expansion in the coming years.
The rising prevalence of neurological diseases is a significant market driver for implants. According to the World Health Organization, neurological disorders account for 6.3% of the global disease burden and its one of the top causes of death, with 13.2% of deaths in developed economies and 16.8% in low-income countries.
Industry Dynamics
Growth Drivers
Brain implants have undergone an enormous transformation in recent years with the advent of new technologies such as brain implants enabled with MRI safety which was launched by Medtronic recently. Neuralink, a startup launched by Elon musk in 2019 is trying to develop implants that promise to incorporate human brains with computer interfaces through AI, and all these developments will propel the growth of brain implants in the coming decades.
Many new devices are getting launched across the globe after getting approval from the regulatory agencies. For instance, WaveWriter Alpha Spinal Cord Stimulator Systems received CE approval for its launch in Europe, in 2020. The system is developed by Boston Scientific and is used in the treatment of chronic pain and in stimulating the peripheral nerve of the trunk.
There is also an increase in the collaborations and acquisitions related to brain implants owing to its increasing demand to bring new technologies to the market. The University of Washington has entered into collaboration with Medtronic to develop deep brain stimulation treatment for numerous neurological disorders. The research team is trying to develop a new treatment method where the neural signals and biomechanical feedback from the patient are used to control the amount of stimulation a patient's brain receives at any one time.
Researchers at The Korea Advanced Institute of Science and Technology have developed brain implants controlled by smartphones. The important feature of this device is that it can be recharged wirelessly which will help in avoiding periodic surgeries for replacing the batteries. The study was published in Nature Communications, in January 2021.
The increasing number of aging people is also one of the important factors driving the growth of the global market for implants across the globe. According to estimation, globally there are more than 700 million persons aged above 65 and this number is expected to rapidly rise to 1.5 billion in 2050.
Aging is associated with several neurological disorders such as Parkinson's and Alzheimer's. Globally over 10 million people are suffering from Parkinson and more than 90% of these people are aged above 50. There is also an estimated 50 million people suffering from Alzheimer's worldwide.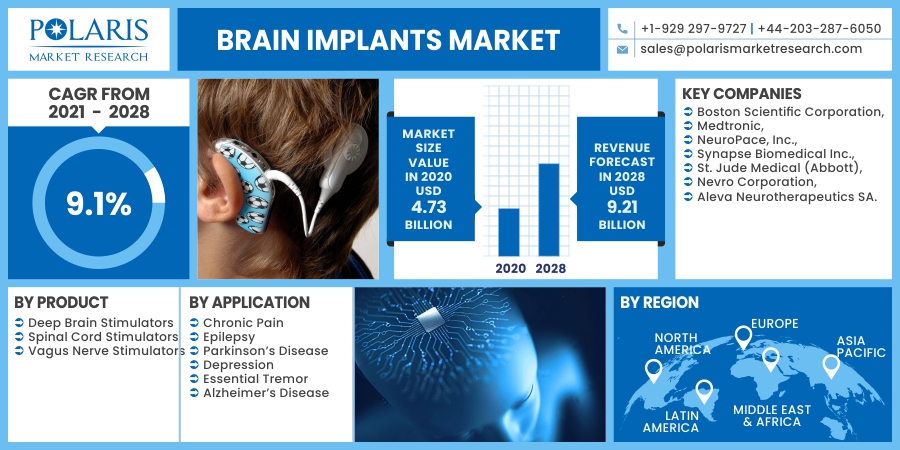 Know more about this report: Request for sample pages
Challenge
The COVID-19 pandemic is expected to slightly hinder the global market growth for implants in the short term due to the postponements of neurosurgeries globally. Since there is an increased risk of Covid-19 in older patients and many who undergo neurosurgeries are above 50 years of age, many of the surgeries have been delayed keeping the safety of patients in the mind. It will take few more months for things to normalize even with the approval of vaccines globally.
Brain Implants Market Research Scope
The market is primarily segmented on the basis of product, application, and region.
By Product

By Application

By Region

Deep Brain Stimulators
Spinal Cord Stimulators
Vagus Nerve Stimulators

Chronic Pain
Epilepsy
Parkinson's Disease
Depression
Essential Tremor
Alzheimer's Disease

North America (U.S., Canada)
Europe (France, Germany, Italy, Spain, UK, Netherlands, Austria)
Asia Pacific (China, India, Japan, Malaysia, Indonesia, South Korea)
Latin America (Argentina, Brazil, Mexico)
Middle East & Africa (Saudi Arabia, UAE, Israel, South Africa)
Know more about this report: request for sample pages
Insight by Product
The deep brain stimulator dominated the global brain implants market in 2020 and is expected to continue its domination during the forecast period. The increased usage in treating various neurological disorders makes the segment the highest shareholder of the global market as it offers a high rate of patient satisfaction and increased rate of patient survival.
The vagus nerve market segment is anticipated to witness the highest market growth rate during the forecast period. The introduction of new products with innovative technology and greater use in the treatment of various diseases including anxiety, migraines, obesity, and others is expected to drive the market segment growth in brain implants industry over the forecast period.
Insight by Application
The chronic pain market segment accounted for the highest revenue share in 2020. A rise in the prevalence of chronic pain has heightened the need for long-lasting solutions in clinical practice. The use of medications to alleviate chronic pain is decreased by the use of a brain implant, as well as the improvement of neurological disorders.
Stimulators are used when surgery or other procedures have failed to alleviate severe neck or back pain. The need for these stimulators is growing due to the surge in chronic pain caused due to various conditions, which is further expected to fuel the market growth for brain implants.
Parkinson's disease segment is expected to be the fastest-growing segment during the forecast period due to the growing geriatric population who are susceptible to Alzheimer's and Parkinson's disease. As per the United Nations Department of Economic and Social Affairs, the world population currently is 7.7 billion and is projected to rise to 9.7 billion by 2050, encouraging segment growth over the coming years.
Geographic Overview
North America is expected to dominate the global market in 2020 and is projected to maintain its dominance, owing to the increasing adaptation of new technologies and higher incidence of neurological disorders.
Currently, the estimated aged population in the U.S. is more than 50 million and is expected to reach nearly 100 million by 2060. The country has 5.5 million people suffering from Alzheimer's. All these factors are expected to play a significant role in the region's market growth for brain implants.
Asia Pacific brain implants demand is expected to witness substantial growth in the global market with increased affordability among patients with a significant rise in disposable income and rapidly evolving patient-centric healthcare facilities. Some of the fastest-growing economies such as China and India are expected to significantly propel the market growth for brain implants in the region.
Competitive Insight
There is a major increase in the research & development activities in brain implant devices since many major players are focusing to bring new devices to fulfill the unmet needs in neurological disorders. The companies are also trying to penetrate developing economies where there is huge revenue potential by launching new brain implant products.
Some of the major players operating in the global brain implants market include Boston Scientific Corporation, Medtronic, NeuroPace, Inc., Synapse Biomedical Inc., St. Jude Medical (Abbott), Nevro Corporation, and Aleva Neurotherapeutics SA.