The global Carbon Nanotubes (CNT) market was valued at USD 831.4 million in 2020 and is expected to grow at a CAGR of 14.3% during the forecast period. The increasing demand from automotive and construction businesses for the polymer is the key factor driving growth across the globe. Government projects to reduce carbon emissions by using CO2 for Carbon Nanotubes (CNT) manufacturing are anticipated to fuel the industry development in the coming years.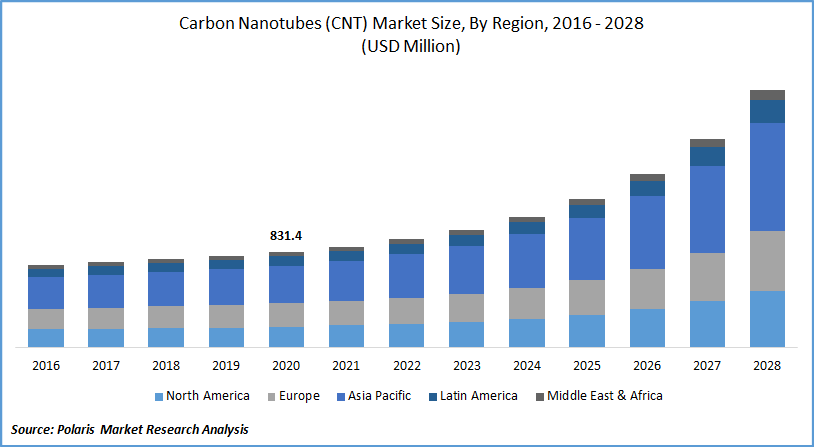 Know more about this report: request for sample pages
The need for carbon nanotubes in end-use industries such as healthcare, energy, electric & electronics is escalating which acts as a catalyst for market advancement. Easily available raw material in nations such as China, Brazil, and India are projected to drive the industry over the forecast period.
High investment needs in R&D along with manufacturing cost acts as a major challenge creating an entry barrier for new market players which is expected to hamper growth. The process involves in its production is toxic and formulates health hazards that harm its adoption. Metal oxides are emerging as a new less toxic alternative for the product imposing a potential threat in Carbon Nanotubes (CNT) market expansion in the projected period.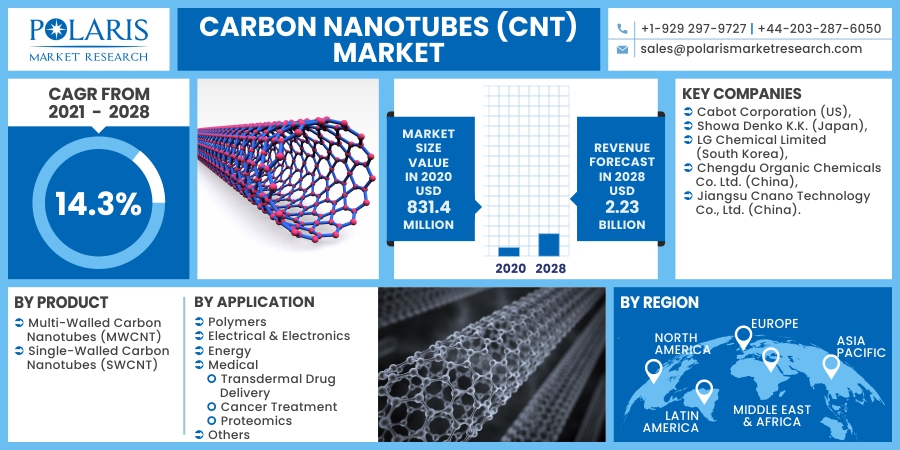 Know more about this report: request for sample pages
Carbon Nanotubes (CNT) Market Report Scope
The market is primarily segmented on the basis of product, application, and geographic region.
By Product

By Application

By Region

Multi-Walled Carbon Nanotubes (MWCNT)
Single-Walled Carbon Nanotubes (SWCNT)

Polymers
Electrical & Electronics
Energy
Medical

Transdermal Drug Delivery
Cancer Treatment
Proteomics

Others

North America (U.S., Canada)
Europe (France, Germany, UK, Italy, Spain, Netherlands, Austria)
Asia Pacific (Japan, China, India, Malaysia, Indonesia, South Korea)
Latin America (Brazil, Mexico, Argentina)
Middle East & Africa (Saudi Arabia, UAE, Israel, South Africa)
Know more about this report: request for sample pages
Insight by Product
The product segment for Carbon Nanotubes (CNT) is bifurcated into Single-walled Carbon Nanotubes (SWCNT) and Multi-walled Carbon Nanotubes (MWCNT). In the year 2020, single-walled nanotubes have growth opportunities accounted for their increasing usage in various applications considering their low cost. However, the industry expansion for the product has a major threat in the coming years due to its high elongation of breakage.
Single-walled Carbon Nanotubes (SWCNT) are used in several end-use industries such as energy, electrical & electronics and plays a crucial role in solar cells owing to their high-performance capabilities at low density compared to the Multi-walled Carbon Nanotubes (MWCNT). Rising demand for energy with a key focus on clean energy sources solar energy has a gain attraction in recent years which is expected to create growth opportunities for the product.
Multi-walled Carbon Nanotubes (MWCNT) dominated the industry in the year 2020 in terms of revenue owing to its use in electronics industries and polymers as it consists of high tensile strength due to the high molecular complexity of graphene. It is highly used in engineering polymers as it delivers increasing repellency for airborne contamination.
Energy storage has been a major concerned for several industries which can be achieved using multi-walled carbon nanotubes as it has a large surface area and high electrical conductivity which aids in improving electrochemical accessibility. Increasing energy-storing demand to make the power industry more effective is anticipated to boost the market development over the forecast period.
Insight by Application
In 2020 the polymer segment was the industry leader with over 50.0% of the market share, accounted for the escalating demand for engineered polymers from automotive and construction industries. The nano-composites are gaining market demand in energy storage devices, flexible conductors, liquid sensors, radio frequency indicators, etc. which is expected to drive the market growth in the coming years.
The growing demand for clean energy and reduce carbon emission is likely to support market growth. The need to generate energy through renewable sources such as wind or solar energy is expected to act as a key market driver for the growth of CNT in the forecast period.
Government norms to promote energy conservation and reduce pollution aids in the market adoption of carbon nanotubes in energy storage using lithium-ion battery and other effective solutions which is expected to generate emerging market opportunities across the globe.
Geographic Overview
Asia Pacific registered significant market growth in terms of revenue in the year 2020 owing to the presence of major players in the region along with significant growth in the polymer industry in India and China. Japan, Singapore, China, and South Korea witnessed the growth in electronics manufacturing in the past few years which is projected to have an encouraging effect on the CNT market growth. Polymer industry in India and China
Indian government initiatives such as CPSU scheme phase two and solar rooftop phase two, Pradhan Mantri Kisan Urja Suraksha Evam Utthan Mahabhiyan Yojana, are specifically designed to promote the production and storage of solar energy in the nation. These programs are expected to fuel the growth of carbon nanotubes for solar cell production in the forecast period.
North America is projected to gain a larger market share over the forecast period as it has well-established production based on engineered polymers such as PEI and PEEK. Increasing demand for CNT in healthcare for gene delivery to organs or cells, biosensors diagnosis, and tissue regeneration is expected to contribute to market growth in the region owing to rising healthcare investment.
Competitive Insight
The prominent players operating in the market for Carbon Nanotubes (CNT) are Cabot Corporation (US), Showa Denko K.K. (Japan), LG Chemical Limited (South Korea), Chengdu Organic Chemicals Co. Ltd. (China), and Jiangsu Cnano Technology Co., Ltd. (China).
Key industries are focusing on new product launches, mergers, partnerships, and acquisitions for new market opportunities and strategic expansion across the globe. In March of 2021, Cabot Corporation announced the launch of ENERMAX 6 an extension of its carbon nanotubes series. It can improve battery performance at low loads which creates a larger energy density of the battery.
In the April of 2021, LG Chemical Limited completed its 1200 metric tons expansion of Yeosu CNT second plant and started its operation on commercial grounds. The company focus on designing and developing competitive products using vertical integration from ethylene as raw material to catalyst developed with production technologies and proprietary technologies.