The global cardiac rhythm management (CRM) devices market was valued at USD 19.62 billion in 2018 and is anticipated to grow at a CAGR of 7.5% during the forecast period. Cardiac Rhythm Management Device belongs to a class of devices that monitors heart beats. Uneven heart beats are an indicator to cardiac ailments that could further develop into cardiac arrests or heart failure. Heart beats are a measure of heart function. The cardiac rhythm management device essentially monitors heart function through a device. The reasons for heart failure could be as diverse as high cholesterol levels, smoking and alcohol consumption. 30% deaths are cardiovascular in nature and caused by cardiovascular diseases globally.
Cardiac rhythm management devices market is driven by cardiac devices that are sole life-givers and exemplify a longer and better life. The death toll arising from cardiac failure is big reason enough for driving the Market positively.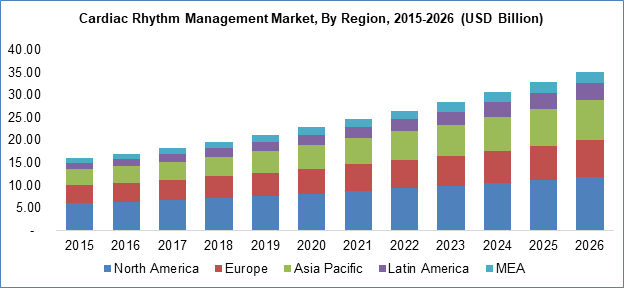 Know more about this report: request for sample pages
A rise in life-span, increasing awareness regarding cardiac disorders, Government initiatives, high prevalence of cardiac disorders and technological advancements are unique factors responsible to drive cardiac management devices market. Market restraints include inept use of devices, downward economic slide and reimbursement complexities that are bringing the market down.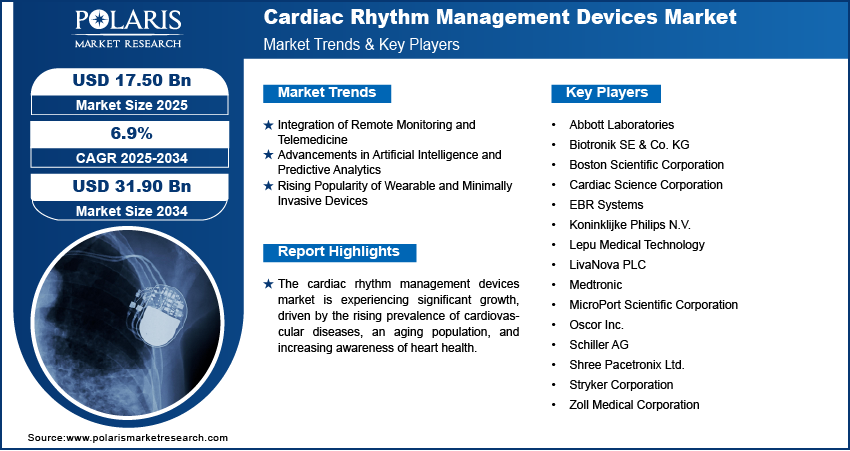 Know more about this report: request for sample pages
Product Outlook
The CRM devices market based on product is characterized into Pacemakers, Cardiac Resynchronization Therapy and Defibrillators. The Pacemakers are further listed into external pacemakers and implantable pacemakers. Cardiac Resynchronization Therapy is yet marked into CRT-Defibrillators (CRT-D) and CRT-Pacemakers (CRT-P). The defibrillators segment is further categorized into implantable cardioverter defibrillators (ICDs) and external defibrillator (ED). The class of distinction breaks down into External defibrillators covering manual ED, Automatic ED and Wearable Cardioverter Defibrillator.
Rising cases of heart failure and cardiac disorders along with a sedentary lifestyle are estimated to thrust market potential upwards in forecast period. Technological prowess in products and product delivery is a key aggregator for the market as observed. Data collated from weeklies are proof that every week 12 people age 35 and below die from an unidentified heart disorder in UK. The heart disorders strike children and young players in sporting arenas. On an average a young athlete dies every three days in US, 90% of who are males. This gives CRM Devices reason for high growth in sports arena, gyms and schools during forecast period.
Technological pursuits such as Swedish Transport Agencies' program will deliver AED's using a drone. Still under implementation, this is ample proof that technological advancements will bolster growth of CRM Devices. The adoption of MRI safe S-ICD over T-ICD by Boston Scientific Company clears the confusion over the device. A validated theory that 60 years of age people and above are more prone to developing CVD's and hence growth of CRM Devices is absolutely essential for the 60 years and above demographic to sustain life for them. Thus, aged people are a vital link for growth of CRM Devices market.
The CRM devices market on the basis of product is broken into pacemakers, defibrillator and cardiac resynchronization therapy (CRT). External defibrillators are boosting demand in forecast period as they had done in 2018 and implantable defibrillators in collusion with Automated External Defibrillators (AED's) are expected to boost demand in CRM Devices. The pacemakers held second largest market share which is sub-divided into implantable pacemakers and external pacemakers. Implantable pacemakers held the largest market share in 2016 as they restore normal functioning of heart with minimal complications. The CRT segment has been credited with CRT Defibrillators (CRT D) and CRT Pacemakers (CRT P). CRT D was able to report weak heart conditions in a timely manner and increased patient's longevity. LIVANOVA has come to speed with a product called Platinum which extends life-span of patients for over ten years.
Cardiac Rhythm Management Devices Market Scope
Product Outlook

By Region

Pacemakers

Implantable Pacemakers
External Pacemakers

Defibrillator

Implantable Cardioverter Defibrillators (Subcutaneous ICD,Transvenous ICD)
External Defibrillator (Manual ED, Automated ED (AED), Wearable Cardioverter Defibrillator)

Cardiac Resynchronization Therapy (CRT)

CRT-Defibrillators (CRT-D)
CRT-Pacemakers (CRT-P)

North America (U.S., Canada)
Europe (Germany, UK, France, Italy)
Asia-Pacific (India, China, Japan)
Latin America (Brazil, Mexico)
Middle East and Africa
Know more about this report: request for sample pages
Regional Outlook
North America has held largest market share in Cardiac Rhythm Management Devices Market in 2018 and is anticipated to do so in forthcoming years also due to highly conducive factors such as favorable reimbursement schemes, sound infrastructure, high health awareness and copious expenditure in healthcare. Asia pacific is likely to witness a surge in cardiac rhythm management market revenue in forecast period owing to healthcare cover coming into realizable force in India and China. Furthermore, China has thrown open doors to an open economy and will shape the future of country's investment climate with multinational players holding landmark key positions.
Competitive Landscape
The key players operating in Cardiac Rhythm Management Devices Market include Medtronic, BIOTRONIK, Inc. Boston Scientific Corporation, St. Jude Medical, ZOLL Medical Corporation, Koninklinjke Philips. N.V., LivaNova and Schriller AG.