The cell counting market was valued at USD 7.52 billion in 2021 and is expected to grow at a CAGR of 8.1% during the forecast period. Cell counting is the method of quantifying cells in life science, including medical diagnosis and treatment. It is a significant division of cytometry with applications in clinical practice and research. Cell counts are essential for monitoring cell health and proliferation rate, seeding cells for subsequent experiments, assessing immortalization or transformation, transfection or infection, and preparing for cell-based assays.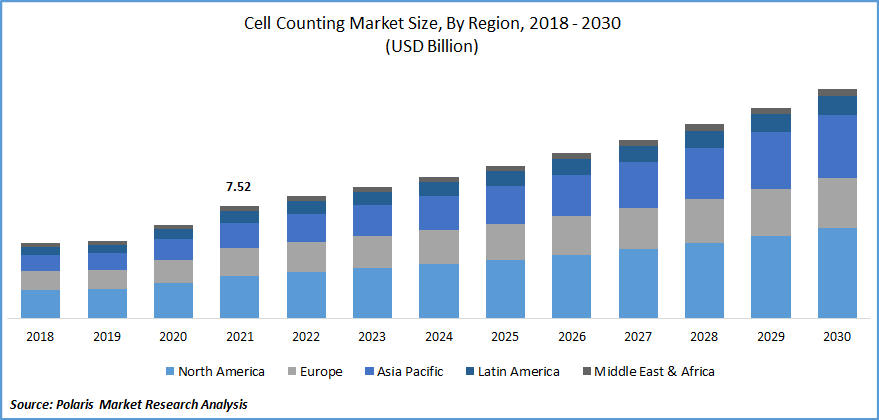 Know more about this report: Request for sample pages
Cell counting plays a crucial role in determining the concentration of white blood cells and red blood cells, the presence of pathogens, and the toxicity effects of specific drugs on model cells. Also, it helps determine the amounts of chemicals and reagents to be added to a solution. These benefits of cell counting and increasing global research activities have driven the cell counting market's growth.
Cell counting eases intra-tumor heterogeneity, an essential step in determining cancer progression in the patient's body. Additionally, it identifies metastatic cancers, primary tumors, and circulating malignancies, which helps in monitoring and therapeutic targeting and deciding on future treatment approaches. An increase in cancer and acquired immunodeficiency syndrome have resulted in increasing demand for cell counts.
The Covid-19 pandemic has positively impacted the cell counting market as cell count and function of T cells and cytokines concentrations in COVID-19 patients were diagnosed by cell counting. Increased chronic and infectious diseases, development of enhanced solutions, growing use of high-throughput flow cytometry and automated hematology analyzers, investment in cell-based research, and growing biotechnology and biopharmaceutical industries are some of the factors contributing to the cell counting market's growth.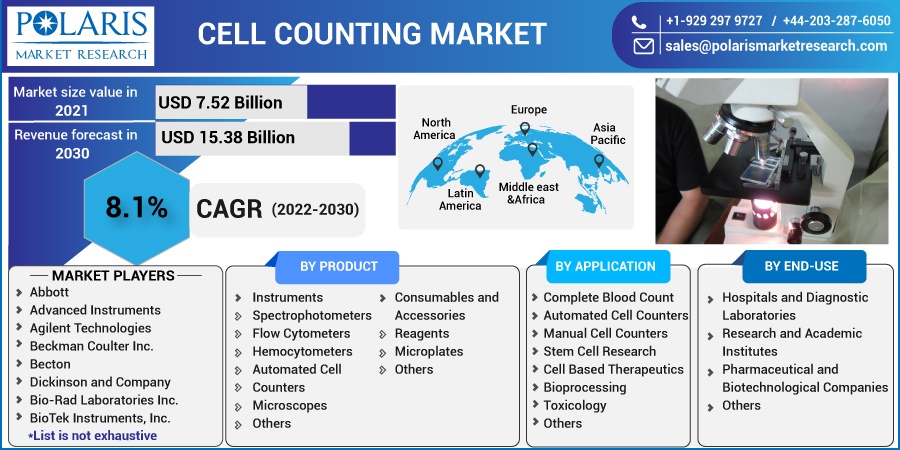 Know more about this report: Request for sample pages
Industry Dynamics
Growth Drivers
Rapid technological developments of cell counting reagents and equipment have resulted in more product innovation and growing sales and production, thus anticipating market growth. For instance, CellDrop, an automatic cell counter by DeNovix Inc. that allows counting cells without slides, was awarded Best New Life Science Product of the Year in 2020.
High expenses of the equipment, apparatus, and procedures are not allowing to spend the costs on cell counting methods for medical or research purposes. In several economies across the globe, they have outdated equipment and undeveloped healthcare infrastructure, which restrict the growth of cell counting.
Cell counting is vital to diagnostics for several chronic diseases, including cancer and AIDS. The increasing prevalence of these diseases is leading to a worldwide demand for cell counting products. Growing governmental initiatives and investments in stem cell research also encourage promoting these products to augment the cell counting market.
Report Segmentation
The market is primarily segmented based on product, application, end-use, and region.
By Product

By Application

By End-Use

By Region

Instruments

Spectrophotometers
Flow Cytometers
Hemocytometers
Automated Cell Counters
Microscopes
Others

Consumables and Accessories

Reagents
Microplates
Others

Complete Blood Count

Automated Cell Counters
Manual Cell Counters

Stem Cell Research
Cell Based Therapeutics
Bioprocessing
Toxicology
Others

Hospitals and Diagnostic Laboratories
Research and Academic Institutes
Pharmaceutical and Biotechnological Companies
Others

North America (U.S., Canada)
Europe (France, Germany, UK, Italy, Netherlands, Spain, Russia)
Asia Pacific (Japan, China, India, Malaysia, Indonesia. South Korea)
Latin America (Brazil, Mexico, Argentina)
Middle East & Africa (Saudi Arabia, UAE, Israel, South Africa)
Know more about this report: Request for sample pages
Consumables & accessories accounted for the largest market share in 2021
Based on product, the cell counting market is categorized into instruments, and consumables & accessories, which consumables & accessories accounted most significant revenue share in 2021 as they are highly used with microplates, chamber slides, reagents, and magnetic beads.
Additionally, the launching of novel products drives segment growth. For instance, in December 2020, eNuvio launched a 3D cell culture reusable microplate that allows the developing embryoid bodies, an essential step to increasing larger organoids or spheroids from stem cells.
Reagents, the sub-segment of consumables & accessories, holds the most considerable revenue, and the reason behind it is repeated purchases of these products for use during spectrophotometry, automated cell counting, and cytometry. Furthermore, spectrophotometers are expected to grow over the forecast as it accurately measures various intensities.
Complete blood count is expected to grow at the highest rate during the forecast period
Based on applications, the market has been segmented into complete blood count, stem cell research, cell-based therapeutics, bioprocessing, and toxicology. The complete blood count application segment accounted for the largest market share in 2021 and is one of the most common tests used to evaluate an individual's overall health.
The complete blood cell test measures various blood components, including WBC, RBC, hematocrit, hemoglobin, and platelets. Increasing blood disorders such as anemia and leukemia are anticipated for segment growth as complete blood count is commonly used to monitor these conditions.
Stem cell research is expected to grow fastest over the forecast period. These are highly imperative in cancer therapy, regenerative medicine, and transplantation. The growth of this segment results from the increasing need for mass production of human stem cells for clinical and research applications.
Automated devices accurately and efficiently determine stem cell viability and concentration of nucleated cells in cord blood or human bone marrow. Additionally, growing features such as fluorescence imaging are being utilized to quantify GFP efficiency for transfecting stem cell applications.
Research and Academic Institute account for largest market
Based on end-use, the market is segmented into hospitals & diagnostic labs, research & academic institutes, and pharmaceutical and biotechnological companies. Research and educational institutes account for the largest market share due to the extensive adoption of cytometers in cell biology research studies.
Cytometers find applications in measuring parameters such as type, physical properties, and lineage that are used to study the progression of pathogens, viruses, and bacteria. Strategic activities by the market players further fuel the segment growth. For instance, Alliance Global installed an Automated Cell Counter system in March 2021 at the United Arab Emirates University in Al Ain.
Hospital & diagnostic laboratories segment is expected to grow fastest over the forecast due to increasing investment in pharmaceutical research and development activities, regulatory approvals for cell culture-based vaccines, and commercial expansion of multiple pharmaceutical firms. Additionally, growing patients of AIDS and cancer rely on hospitals and diagnostic laboratories for proper treatment and assessment owing to the highly developed infrastructural facilities installed with advanced technologies.
North America is projected to grow at the highest growth rate during the forecast period
The increased emphasis on cancer research, stem cells, and biomedical, the advanced healthcare sector, the increasing prevalence of chronic diseases such as AIDS and cancer, and government-initiated R&D activities are driving market expansion in North America.
Furthermore, the region's growth is attributed to the widespread availability of significant competitors and the early acceptance of cell counting technologies in the market. The accessibility of experienced personnel, less detailed guidelines for drug advancement, low expansion costs, and vast genome pool are factors anticipating market growth.
Competitive Insight
Some of the major players operating in the global market include Abbott, Advanced Instruments, Agilent Technologies, Beckman Coulter Inc., Becton, Dickinson and Company, Bio-Rad Laboratories Inc., BioTek Instruments, Inc., Boule Diagnostics AB, ChemoMetec A/S, Cole-Parmer Instrument Company LLC (US), Corning Incorporated, Danaher, DeNovix Inc., Diconex, GE Healthcare, HORIBA Ltd, Logos Biosystems Inc, Merck KGaA, Nexcelom Bioscience LLC, Olympus Corporation, PerkinElmer, Inc., R&D Systems, Inc., Siemens Healthcare Private Limited, Sysmex Corporation, Tecan Trading AG, ThermoFisher Scientific, Inc., Tip Biosystems.
Recent Developments
In May 2021, PerkinElmer, Inc. expanded its Cell biology capabilities by acquiring Nexcelom Bioscience. The acquisition offers PerkinElmer access to Nexcelom Bioscience's cell counting product portfolio and boosts its QA/QC capacity.
In December 2020, Merck launched Scepter 3.0 an automated handheld cell counter that counts thousands of cells per measurement with extreme accuracy.
Cell Counting Market Report Scope
| | |
| --- | --- |
| Report Attributes | Details |
| Market size value in 2021 | USD 7.52 billion |
| Revenue forecast in 2030 | USD 15.38 billion |
| CAGR | 8.1% from 2022 - 2030 |
| Base year | 2021 |
| Historical data | 2018 - 2020 |
| Forecast period | 2022 - 2030 |
| Quantitative units | Revenue in USD billion and CAGR from 2022 to 2030 |
| Segments covered | By Product, By Application, By End-use, By Region |
| Regional scope | North America, Europe, Asia Pacific, Latin America; Middle East & Africa |
| Key companies | Abbott, Advanced Instruments, Agilent Technologies, Beckman Coulter Inc., Becton, Dickinson and Company, Bio-Rad Laboratories Inc., BioTek Instruments, Inc., Boule Diagnostics AB, ChemoMetec A/S, Cole-Parmer Instrument Company LLC (US), Corning Incorporated, Danaher, DeNovix Inc., Diconex, GE Healthcare, HORIBA Ltd, Logos Biosystems Inc, Merck KGaA, Nexcelom Bioscience LLC, Olympus Corporation, PerkinElmer, Inc., R&D Systems, Inc., Siemens Healthcare Private Limited, Sysmex Corporation, Tecan Trading AG, ThermoFisher Scientific, Inc., Tip Biosystems. |