The global cell therapy technologies market was valued at USD 3.86 billion in 2021 and is expected to grow at a CAGR of 14.5% during the forecast period. The primary factors propelling the growth of this market are the rising government investments in cell-based research, the rising prevalence of infectious and chronic diseases, the large number of oncology-related cell therapy clinical trials, and the rising GMP certifications for cell therapy production facilities.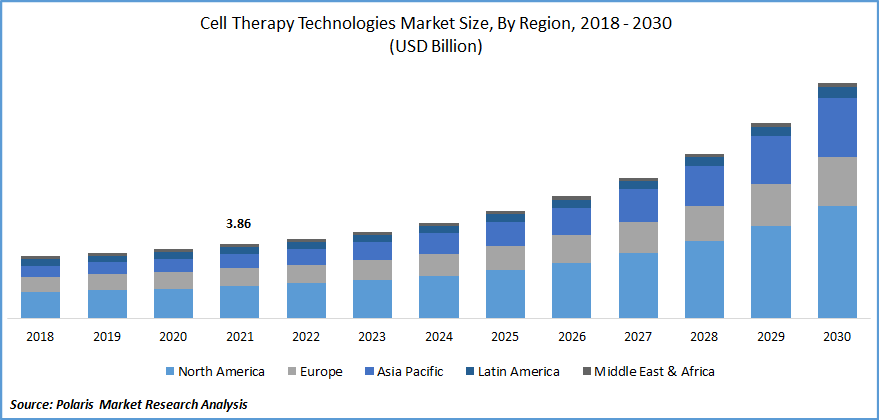 Know more about this report: Request for sample pages
The cell therapy technologies market has a wide range of uses in clinical research for HIV/AIDS, cancer, and numerous infectious diseases, as well as for providing diagnostic and prognostic data. The threat of new virus epidemics has grown as a result of a number of variables, including population growth, climate change, and more human-animal contact. This has increased the use of cell therapy treatments, which is boosting the market's expansion.
Some of the key drivers predicted to propel market expansion are the rising prevalence of chronic diseases across the globe, the growing geriatric population, and the concern about diseases among these age groups.
Additionally, factors like the expanding research and advancements in cell-based immunotherapies, like CAR-T therapy, and the growing demand for better, more advanced treatments for diseases like cancer and cardiovascular diseases (CVDs), among others, are also anticipated to propel the market growth during the forecast period.
The absence of a skilled workforce to operate complicated instruments has had an impact on the market despite technological advancement and product development over the past ten years. A report by the Gatsby Foundation estimates that the UK will need an additional 700,000 technicians to support the economy by 2030.
One of the main challenges impeding the acceptance and application of the cell therapy technologies market in a number of nations throughout the world is the lack of qualified specialists. Smaller players and newcomers have a hard time competing with established players as a result. Additionally, because R&D and the introduction of innovative items into the market demand significant financial commitments, it is challenging for smaller firms to maintain their operations and compete with larger companies.
The outbreak of the COVID-19 pandemic has significantly impacted the growth of the cell therapy technologies market. Because there are few effective treatments available, the coronavirus disease continues to be a health burden. The virus has the ability to harm organ systems other than the lungs, such as the neurological and cardiovascular systems, despite most patients only experiencing mild symptoms.
Numerous research investigations on prospective treatments, including cell therapies, are being done to lessen acute lung injury and cell-mediated consequences in patients. Since cell therapies have regenerative capabilities, their prospective use in the treatment of COVID-19 may influence the dynamics of the cell therapy technologies market as a whole in the near future.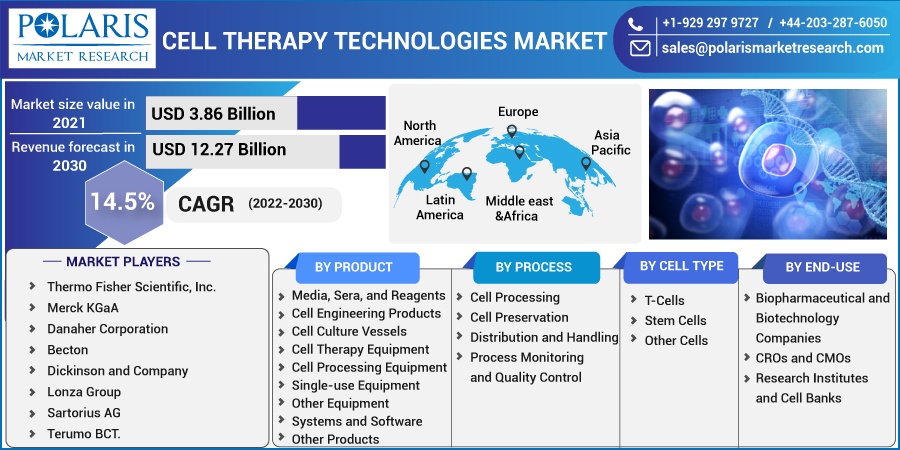 Know more about this report: Request for sample pages
Industry Dynamics
Growth Drivers
In the coming years, industry demand will be further boosted by growing research and development efforts as well as the potential application of this therapy to replace damaged heart muscle and enhance cardiac function. Cell therapy is a technique that swaps out unhealthy or damaged cells for ones that are healthy and functional. Cancer and neurological illnesses can both be treated with cell therapy, bone marrow transplants, and whole blood transfusions.
One of the key factors driving the cell therapy technologies market outlook during 2022–2028 is the high emphasis on end–to–end research and development activities to produce novel therapeutics. For instance, Takeda Pharmaceutical opened a 24,000-square-foot cell therapy manufacturing facility for research and development in Boston, Massachusetts, in 2020.
The acceptance of tailored medicines for a variety of indications is a result of biotechnology breakthroughs. Cancer, neurological illnesses, and genetic disorders are just a few of the chronic diseases that are being treated with stem cell therapy.
The use of diverse products is further encouraged by the benefits of cell therapy, including tailored treatment, quick and effective recovery, and fewer side effects. Cell therapy treatments are frequently used in North America because there are several medications that have received FDA approval.
Report Segmentation
The market is primarily segmented based on product, process, cell type, end-use, and region.
By Product

By Process

By Cell Type

By End-Use

By Region

Media, Sera, and Reagents
Cell Engineering Products
Cell Culture Vessels
Cell Therapy Equipment
Cell Processing Equipment
Single-use Equipment
Other Equipment
Systems and Software
Other Products

Cell Processing
Cell Preservation
Distribution and Handling
Process Monitoring and Quality Control

T-Cells
Stem Cells
Other Cells

Biopharmaceutical and Biotechnology Companies
CROs and CMOs
Research Institutes and Cell Banks

North America (U.S., Canada)
Europe (France, Germany, UK, Italy, Netherlands, Spain, Russia)
Asia Pacific (Japan, China, India, Malaysia, Indonesia, South Korea)
Latin America (Brazil, Mexico, Argentina)
Middle East & Africa (Saudi Arabia, UAE, Israel, South Africa)
Know more about this report: Request for sample pages
Cell therapy equipment segment is expected to witness fastest growth
In 2021, the cell therapy equipment segment, which accounted for the biggest revenue share of 60.9%, dominated the market for cell therapy. The primary purpose of stem cells is for research initiatives, which has resulted in a significant revenue share for the research-use segment. This segment is anticipated to maintain its supremacy.
For replacing, mending, restoring, or regenerating damaged tissues, cells, and organs, cell-based therapies have significant potential. To develop such efficient and secure medicines as an alternative to traditional treatment modalities, researchers are investing a lot of money.
Cell processing accounted for the largest market share in 2021
Viral vectors are now the primary delivery modality among end users, as seen by the exponential rise in the number of viral vector-based R&D initiatives. However, a number of clinical difficulties related to viral systems have encouraged the use of chemical techniques. The physical method has the lowest penetration since it has lower transfection effectiveness than the biological and chemical approaches.
Another significant drawback of electroporation-based physical techniques is low cell viability. The market participants looking to increase their revenue share might take advantage of these shortcomings by addressing the high transfection efficiency and cell viability-related problems in this market.
Stem Cells is expected to hold the significant revenue share
The need for biologics is on the rise, stem cell treatments are developing technologically, and the development of tailored medications is becoming more and more of a priority. The treatment of neurological illnesses is receiving more attention, which helps the industry grow.
The World Health Organization (WHO) estimates that cerebrovascular diseases and neurological disorders account for around 7.1% of the overall global burden of disease. As a result, businesses are carrying out fundamental research and preclinical studies to examine the ability of stem cells to regenerate in the context of treating neurological diseases.
Research institutes and cell banks segment accounted for the largest market share in 2021
As part of the Horizon 2020 calls, numerous fresh collaborative research and innovation initiatives were unveiled. Trials of gene therapy using viral vectors are included in the program. The usage of gene delivery technology is anticipated to increase across Europe as a result. On the other hand, Asia Pacific nations are starting to emerge as formidable competitors in this field.
Large populations and low operational costs are factors in drug manufacturers' acceptance of Asia as a desirable target market. Additionally, China is known as the center for the development of cell and gene therapies and has been ranked second globally in terms of clinical trials, with more than 1,000 clinical trials either completed or in progress between 2020 and 2022.
The demand in North America is expected to witness significant growth
The region's significant market share can be ascribed to the existence of numerous centers and institutes working on stem cell treatment research and development. The Institute for Stem Cell Biology and Regenerative Medicine at Stanford University, the Harvard Stem Cell Institute at Harvard University, the Yale Stem Cell Center, and the Institute for Stem Cell Biology and Regenerative Medicine are among the top eight universities in the world.
Asia Pacific is expected to grow at a significant market share over the forecast period. Revenue from the emerging economies of this region is expected to increase as a result of the rising investments made by both innovators and consumers in educating themselves about sophisticated medical therapies. A number of stem cell consortiums exist in Asian nations with the goal of assuring coordinated and targeted R&D initiatives. Due to the accommodating legal systems, patients from western nations are also known to travel to Asia for medical treatment.
Competitive Insight
Some of the major players operating in the global market include Thermo Fisher Scientific, Inc., Merck KGaA, Danaher Corporation, Becton, Dickinson and Company, Lonza Group, Sartorius AG, and Terumo BCT.
Recent Developments
Stemedica Cell Technologies, Inc. was given permission by the FDA to start phase II trials using intravenously administered allogeneic MSCs in covid-19 patients in September 2020. Ischemic-tolerant MSCs are an appealing novel biological therapy for COVID-19 due to their immunomodulatory effects, minimal immunogenicity, and ability to reduce too pro-inflammatory responses, among other characteristics.
RepliCel is funding numerous regenerative medicine projects. For instance, the business revealed plans in February 2021 to commercialize and test three new innovations in Japan. Among them are two cell-based treatments, one for tendon regeneration and the other for skin rejuvenation.
Celavie Biosciences' five-year exploratory study on Parkinson's disease was progressed in May 2020. For the treatment of Parkinson's disease and conditions of the central nervous system, the business is developing regenerative stem cell therapies. Successful outcomes from Celavie Biosciences' exploratory clinical trials using OK99 stem cells for Parkinson's disease have been announced.
NoveCite and Novellus Therapeutics Limited partnered to develop and market NoveCite iPSCs for treating COVID-19-associated acute respiratory distress syndrome in October 2020. (ARDS). Its multimodal immunomodulatory methods of action make the procedure a promising therapy for the treatment of acute respiratory illnesses.
Cell Therapy Technologies Market Report Scope
| | |
| --- | --- |
| Report Attributes | Details |
| Market size value in 2021 | USD 3.86 billion |
| Revenue forecast in 2030 | USD 12.27 billion |
| CAGR | 14.5% from 2022 - 2030 |
| Base year | 2021 |
| Historical data | 2019 - 2021 |
| Forecast period | 2022 - 2030 |
| Quantitative units | Revenue in USD billion and CAGR from 2022 to 2030 |
| Segments covered | By Product Type, By Process, By Cell Type, By End-Use, By Region |
| Regional scope | North America, Europe, Asia Pacific, Latin America; Middle East & Africa |
| Key companies | Thermo Fisher Scientific, Inc., Merck KGaA, Danaher Corporation, Becton, Dickinson and Company, Lonza Group, Sartorius AG, and Terumo BCT. |