The global chromatography resin market size was valued at USD 2.19 billion in 2020 and is expected to grow at a CAGR of 8.3% during the forecast period. Chromatography resins are used for capturing and polishing mAbs, antibody fragments, and vaccines through a stationary phase. The different types of chromatography include affinity, ion exchange, hydrophobic interaction, and size exclusion. The selection of chromatography resin determines the purification efficiency, influenced by flow resistance, selectivity, and binding capacity differ between resins.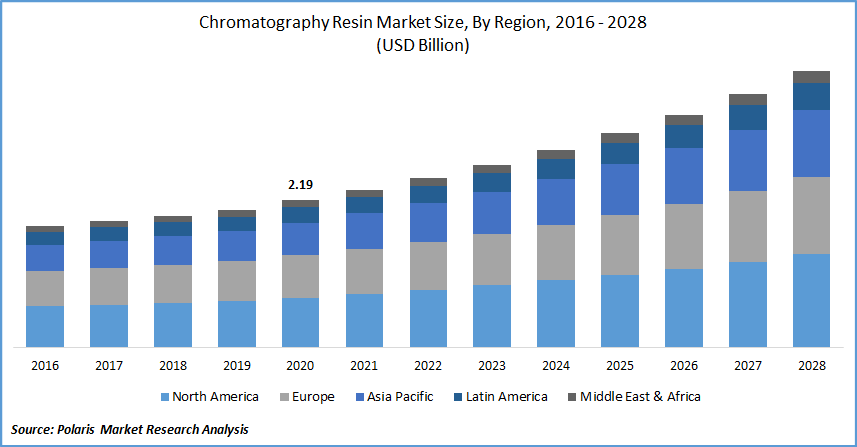 Know more about this report: request for sample pages
The demand for chromatography resin has increased during the pandemic. There has been a significant rise in the use of the resin in vaccine development during the pandemic. Growth in research to study and analyze the impact of COVID-19 has further boosted the chromatography resin market growth. Research organizations and laboratories are utilizing chromatography resin for approval of drugs against the virus. Significant investments in research and development, strengthening the pharmaceutical sector during the pandemic, and technological advancements would supplement the resin growth.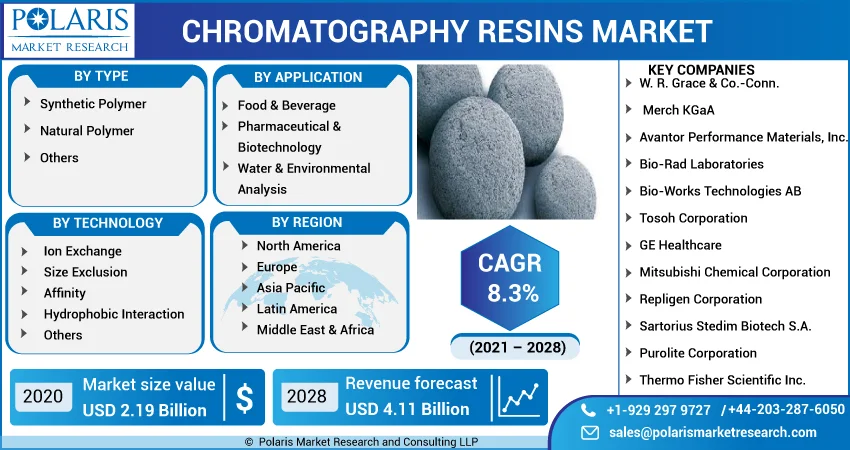 Know more about this report: request for sample pages
Industry Dynamics
Growth Drivers
Increasing demand from the pharmaceutical sector and application in therapeutic antibodies have increased the demand for chromatography resin. Growing application in drug discovery and advancements in research and development have further boosted the market growth. There has been increasing demand from applications such as water & environment analysis and food & beverages sector. Rising industrialization, growing urbanization, and increasing concerns regarding food safety have resulted in greater demand for chromatography resin. Growing demand from technological advancement developing economies and significant investments in pharmaceutical research by leading players are expected to offer growth opportunities for the resin during the forecast period.
Market players are introducing new products to cater to the growing market demands. In April 2020, Avantor, Inc. introduced a new recombinant Protein A affinity resin. A new product is developed to purify antibodies during mAbs production. This new addition offers high performance and purification in the critical Protein A affinity step of mAbs manufacturing. In November 2019, TriAltus Bioscience introduced its new offering, activated Im7 affinity resin for the CL7/Im7 protein purification system. This product leverages the strong binding affinity between bacterial toxins and their specific immunity proteins. This new launch improves the company's offerings in the market and strengthens its market placement.
Report Segmentation
The market is primarily segmented on the basis of type, application, technology, and region.
By Type

By Application

By Technology

By Region

Synthetic Polymer
Natural Polymer
Others

Food & Beverage
Pharmaceutical & Biotechnology
Water & Environmental Analysis
Others

Ion Exchange
Size Exclusion
Affinity
Hydrophobic Interaction
Others

North America (U.S., Canada)
Europe (Germany, UK, France, Italy, Spain, Netherlands, Austria)
Asia Pacific (China, India, Japan, South Korea, Indonesia, Malaysia)
Latin America (Brazil, Mexico, Argentina)
Middle East & Africa (Saudi Arabia, South Africa, Israel, UAE)
Know more about this report: request for sample pages
Insights by Type
On the basis of type, the market is segmented into synthetic polymer, a natural polymer, and others. The natural polymer sector accounted for a major share of the market in 2020. Some common natural resins include dextran and cellulose. These resins are used in size exclusion and paper chromatography. The market demand for natural polymers has increased owing to their wide application and cost-effectiveness.
Insights by Application
The application segment has been divided into food & beverage, pharmaceutical & biotechnology, water & environmental analysis, and others. The pharmaceutical and biotechnology sector accounted for a major share of the market in 2020. Some factors driving the growth of this segment include advancements in biotechnology, research associated with diseases such as cancer. There has been an increase in clinical trial projects coupled with the growing application of monoclonal antibodies in therapeutic areas, supporting the growth of this segment.
Insights by Technology
The technology segment has been divided into ion-exchange chromatography, size exclusion chromatography, affinity chromatography, hydrophobic interaction chromatography, and others. Affinity chromatography is liquid chromatography developed for the separation and purification of components. It offers high specificity while resulting in highly purified products with high yields.
It involves a single-step purification and can also be used to remove specific contaminants, such as proteases. This technology is used in enzyme assays, detection of substrates, and in vitro antigen-antibody reactions. Some other applications include the separation of the mixture of compounds and the investigation of the binding sites of enzymes.
Geographic Overview
The demand for chromatography resin is expected to increase from North America during the forecast period. Rising healthcare expenditure, the presence of leading players in the region, and technological advancements are some factors attributed to the growth of this region. The rising demand from the pharmaceutical sector, growing application in drug discovery, and increasing demand for monoclonal antibodies further drive the market growth in this region.
Competitive Landscape
The leading players in the chromatography resin market include Merch KGaA, Inc., Bio-Rad Laboratories, Avantor Performance Materials, W. R. Grace & Co.-Conn.,Tosoh Corporation, GE Healthcare, Mitsubishi Chemical Corporation, Repligen Corporation, Sartorius Stedim Biotech S.A., Purolite Corporation, Bio-Works Technologies AB, and Thermo Fisher Scientific Inc.
To expand their customer base and strengthen their market presence, these players are expanding their presence across various regions and entering new markets in developing regions. In order to meet the growing consumer demand, the companies are also introducing new innovative products to the market.
Chromatography Resin Market Report Scope
| | |
| --- | --- |
| Report Attributes | Details |
| Market size value in 2020 | USD 2.19 billion |
| Revenue forecast in 2028 | USD 4.11 billion |
| CAGR | 8.3 %from 2021 - 2028 |
| Base year | 2020 |
| Historical data | 2016 - 2019 |
| Forecast period | 2021 - 2028 |
| Quantitative units | Revenue in USD million/billion and CAGR from 2021 to 2028 |
| Segments covered | By Type, By Application, By Technology, and By Region |
| Regional scope | North America, Europe, Asia Pacific, Latin America, Middle East & Africa |
| Key companies | W. R. Grace & Co.-Conn., Merch KGaA, Avantor Performance Materials, Inc., Bio-Rad Laboratories, Bio-Works Technologies AB, Tosoh Corporation, GE Healthcare, Mitsubishi Chemical Corporation, Repligen Corporation, Sartorius Stedim Biotech S.A., Purolite Corporation, and Thermo Fisher Scientific Inc. |