The global citrus extract market was valued at USD 7.25 billion in 2021 and is expected to grow at a CAGR of 4.3% during the forecast period.
The citrus extract is a potent flavoring agent in bakery items and fruit beverages, as an immunity booster, maintaining healthy skin, and treating constipation. Increasing these extracts in numerous hair and skin care product formulations, such as creams, lotions, facial cleansers, face packs, scrubs, shampoos, conditioners, and hair packs, further drives the market. Because of the nutritional and health benefits of natural coloring and flavoring ingredients in foods and beverages such as soft drinks, confectionary, herbal tea, and packaged fruit drinks, there is a growing awareness among people about the harmful effects of artificial synthetic coloring and flavoring agents on health.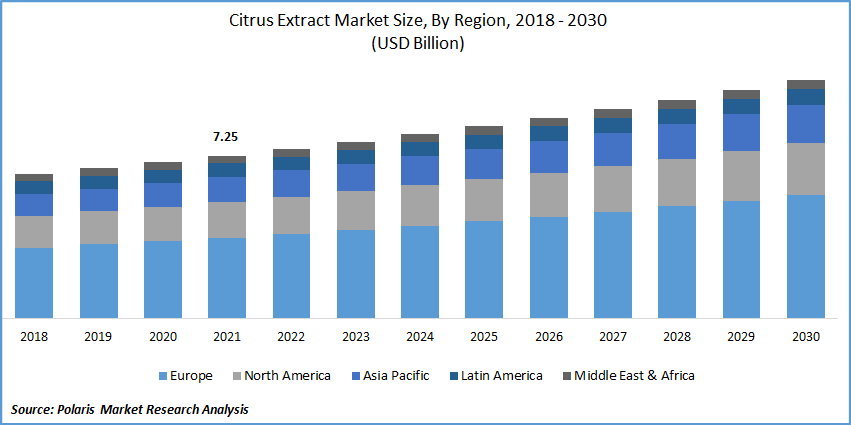 Know more about this report: Request for sample pages
Several companies are expanding their food and beverage lines to meet market demand by incorporating natural citrus extracts. For example, in April 2022, TREATT, a natural extracts and ingredient manufacturer, expanded its TreattClear, natural citrus extracts for the beverages industry, as citrus is a top trending ingredient-driven by an increasingly health-conscious population. The United States is North America's largest consumer of citrus extracts. Because of the population's increasing health consciousness, the product market is expected to grow significantly over the forecast period, owing to the increasing demand for natural flavoring and fragrance agents in carbonated soft drinks, sports & energy drinks, fruit beverages, foods, and confectionery.
Because the confectionery industry is one of the major applications of citrus extracts in the food segment, demand for the same is increasing in the United States. Because of the extensive food and beverage market, the United States imports many citric fruits from Mexico, Chile, South Africa, and Peru. There are approximately 2,445 companies in the country, including NESTLÉ SA, COCA-COLA CO., and PEPSICO INC. This increase in imports is due to increased demand for citrus extracts in beverages. As a result, the region's increased demand for this product is rising.
The COVID-19 pandemic outbreak has brought about several unexpected changes in the world economy, and its repercussions have been felt across all industries. The emergence of the COVID-19 pandemic had a positive impact on the market because citrus was thought to be an important component in boosting the body's immunity against various infections. As a result, the demand for citrus-based foods and beverages increased, raising the extracts market demand. For Instance, citrus fruit prices in the European Union during the pandemic rose by 15-20%. In contrast, prices in Italy and Greece rose by 24% and 27%, respectively, due to increased demand and disrupted supply chains.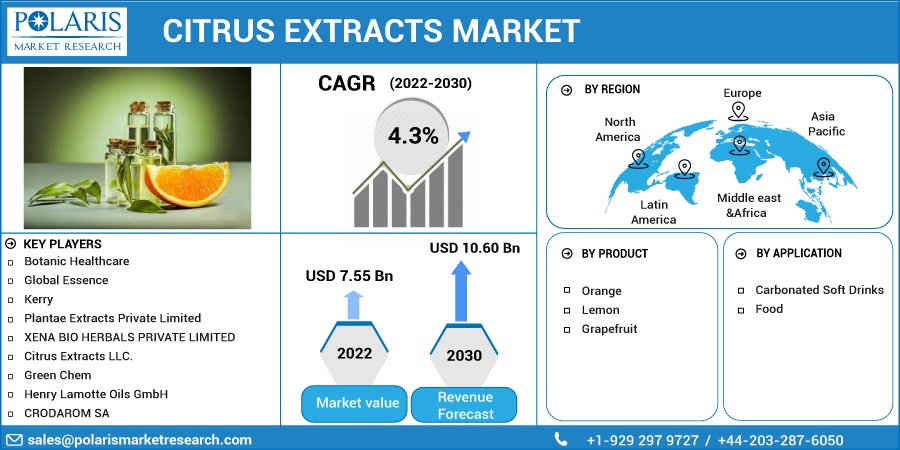 Know more about this report: Request for sample pages
Industry Dynamics
Growth Drivers
Increased product use in various applications such as beverages, food, personal care and cosmetics, and pharmaceuticals is driving industry growth. The market is expected to grow during the forecast period due to rising demand for natural extracts in food and beverage items with higher nutritional value. The abundance of raw materials available across geographies and ease of access are expected to drive citrus extract market growth in the near future. Citrus extract consumption will likely increase over the forecast period due to rising customer preference for natural food ingredients and their numerous health benefits.
Citrus extracts have grown in popularity due to their nutritional properties and health and personal care products such as weight control, immune system strengthening, skin and hair care, and aroma and taste. Demand for end-use products such as pharmaceutical companies, air conditioning, personal care products, cosmetics, and food and beverages supports these benefits. Furthermore, it is expected that shortly, consumers will prefer natural components based on biological principles over synthetic ones.
Report Segmentation
The market is primarily segmented based on type, application, and region.
By Type

By Application

By Region

Carbonated Soft Drinks
Food

North America (U.S., Canada)
Europe (Germany, UK, France, Italy, Spain)
Asia Pacific (Japan, China, India, Australia, South Korea)
Latin America (Brazil, Mexico, Argentina)
Middle East & Africa (South Africa, Saudi Arabia, UAE)
Know more about this report: Request for sample pages
Orange segment accounted for the maximum revenue in 2021
This is because oranges have more vitamins and minerals than other fruits. Furthermore, concentrated orange extracts contain a significant amount of alcohol, which helps to extend their shelf life.
The carbonated soft drinks segment is accounted for the maximum revenue
People's health consciousness is driving an increase in the beverage industry for chemical-free, naturally flavored carbonated drinks. Kerry, a food company, launched a new non-thermal liquid extraction process in October 2020 to extract citrus from fruits more efficiently. This new method will produce highly concentrated extracts that can be used in place of citrus oils. It can be applied to a wide range of citric fruits, which have a variety of applications in flavored waters, herbal tea, juices, energy drinks, alcoholic beverages, and flavored spirits. This new technology will aid in the increased use of citrus extracts in the food and beverage industries, thereby increasing demand for the product.
The growing demand for the product in the food industry due to its strong flavoring properties, aroma, and nutritional benefits prompted several companies to enter this market. Major corporations such as Mars Wrigley, Ferrero Group, and Nestlé SA have launched product lines containing citrus extracts to meet rising market demand.
Europe accounted for the largest revenue in 2021
Europe dominated the market in 2021 owing to the expanding food and beverage industries in countries such as Germany, France, and the United Kingdom. Germany is the largest market for non-alcoholic beverages such as fruit and sports drinks. Europe is one of the largest markets for bakery products, with Germany, France, the United Kingdom, and Italy leading the way. Despite being a citric fruit producer, Europe imports approximately 40% of South Africa's total citric fruit production due to increased demand for citrus extracts as a natural strong flavoring agent in bakery items while adding nutritional value to the bakery products.
China is the world's largest producer and consumer of citric fruit. As of 2020, China's citric fruit production accounted for approximately 25-30% of the world's total citric fruit production. This is due to the increased consumption of citric fruits and extracts in cosmetics, non-alcoholic beverages, and confectionery items. China is the third largest confectionery and non-alcoholic beverage market.
India's food processing and beverage industry thrive due to rising consumer demand for natural, sustainable, and high-quality products. According to FnB, India's food processing sector ranks sixth globally, accounting for 70% of total sales, 13% of exports, and 6% of industrial investment. As a result of this thriving food and beverage industry.
According to the World Data Atlas, the production of citric fruits in 2020 was 158 million tons, with oranges, lemons, and tangerines accounting for the majority of this total. According to the United States Department of Agriculture Foreign Agricultural Service, global orange production is expected to rise by 1.4 million to 48.8 million tons in 2021-2022, with Brazil, Turkey, and Mexico leading the way. This increased output is due to increased demand for orange citrus extracts in various industries due to their low cost and easy availability.
Competitive Insight
Key players in the market are Botanic Healthcare, Global Essence, Kerry, Plantae Extracts Private Limited, XENA BIOHERBALS PRIVATE LIMITED, Qingdao Vital Nutraceutical Ingredients BioScience Co., Ltd (VNI), Citrus Extracts LLC., Green Chem, Henry Lamotte Oils GmbH, CRODAROM SA, HUNAN HUACHENG BIOTECH INC.
Recent Developments
Twist Bioscience will launch clonal-ready gene fragments in December 2020 to round out its gene offering. The fragments launched can be used with or without adapters to construct perfect clones. The clonal-ready gene fragments work with protein expression pathways, enzyme engineering, and gene expression, among other things.
According to an article published in an ACS journal, 19.3 million new cancer cases and nearly 10.0 million cancer deaths were reported globally in 2020. This implies that cancer coverage is suboptimal, and there is an urgent need to implement high coverage globally.
Citrus Extract Market Report Scope
| | |
| --- | --- |
| Report Attributes | Details |
| Market size value in 2022 | USD 7.55 billion |
| Revenue forecast in 2030 | USD 10.60 billion |
| CAGR | 4.3% from 2022 - 2030 |
| Base year | 2021 |
| Historical data | 2019 - 2021 |
| Forecast period | 2022 - 2030 |
| Quantitative units | Revenue in USD billion and CAGR from 2022 to 2030 |
| Segments Covered | By Type, By Application, By Region |
| Regional scope | North America, Europe, Asia Pacific, Latin America; Middle East & Africa |
| Key Companies | Botanic Healthcare, Global Essence, Kerry, Plantae Extracts Private Limited, XENA BIO HERBALS PRIVATE LIMITED, Qingdao Vital Nutraceutical Ingredients BioScience Co., Ltd (VNI), Citrus Extracts LLC., Green Chem, Henry Lamotte Oils GmbH, CRODAROM SA, HUNAN HUACHENG BIOTECH INC. |