The global cloning and mutagenesis market was valued at USD 2.00 billion in 2021 and is expected to grow at a CAGR of 18.7% during the forecast period.
The market's promising growth potential is attributed to the adoption of cloning and mutagenesis technologies, such as PCR, which is anticipated to increase soon due to the rising demand for personalized medicine. Globally, the prevalence of genetic abnormalities and chronic diseases is rising. The market's growth prospects are increasing due to the increasing attention paid to protein engineering for therapeutic development. The fundamental techniques used in protein engineering during medication development include cloning and mutagenesis.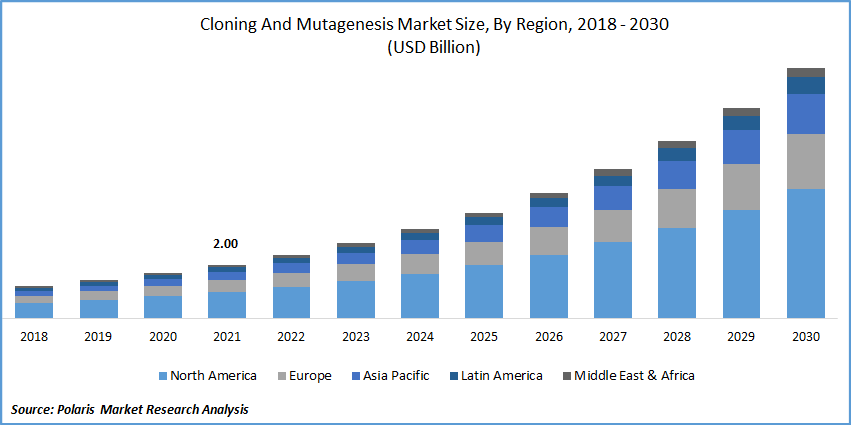 Know more about this report: Request for sample pages
Cloning is a procedure wherein the same organism, biological entity, tissue, or cell is made using natural or synthetic methods. A biotechnology technique is used to carry out the artificial clone technology. Mutagenesis is a process that modifies or changes an organism's DNA, which causes the genes to mutate. To confirm the impact of mutations in vitro and in vivo and to investigate the structure and functionality of proteins, cloning and mutagenesis techniques are performed
The market for cloning and mutagenesis is anticipated to expand significantly over the forecast period due to the rising popularity of reproductive cloning. Further, the industry's numerous product launches and innovations promote market expansion. Global market expansion is also anticipated to be aided by the increasing use of personalized drugs and the rise in diseases.
The rising incidence of diseases like cancer and HIV and the rising investment in the study increases for genetic diseases drives the market demand. The expansion of the biotechnology industry, along with the expanding government efforts, such as funding medical research, are fostering the industry's future growth.
Additionally, the market's growth prospects are intensifying due to the increased attention paid to protein engineering for therapeutic development. The fundamental techniques used in protein engineering during medication development include cloning and mutagenesis. These methods support the development of therapeutic proteins by enabling the insertion, deletion, or replacement of nucleotides in protein sequences.
Additionally, these methods support the creation of cheaper, more easily accessible, and safer medications. For instance, the FDA has approved over 200 peptide and protein medications. Thus, it is anticipated that greater attention will be paid to protein engineering for medication discovery during the forecasted time.
Cloning and mutagenesis products have been used more frequently during the past two years as a result of the COVID-19 outbreak. By implementing revolutionary strategies for creating medicines, kits, and vaccines for COVID-19, several significant biotechnology and pharmaceutical businesses and makers of cloning and mutagenesis kit products have increased their R&D operations globally.
For instance, CanSino Biologics Inc. was granted permission by China's National Medical Products Administration to utilize an inhalable form of the adenovirus-vectored COVID-19 vaccine for emergency purposes in September 2022. It is created by cloning the full-length gene for the S protein combined with an optimized plasminogen activator signal peptide gene in the Ad5 vector.
Know more about this report: Request for sample pages
Industry Dynamics
Growth Drivers
A few key elements anticipated to significantly contribute to the growth of the worldwide cloning and mutagenesis market are the increasing prevalence of hereditary and chronic disorders and the rising desire for personalized medication. The need for cloning and mutagenesis technologies is rising due to increased funding for research and development aimed at curing genetic problems and other diseases, including cancer and HIV.
The rise in the incidence of chronic and inherited diseases, the rise in the desire for personalized treatment, and the increase in the number of businesses joining the market are the main drivers of the global market. In addition, a favorable funding environment for gene synthesis and cloning services, technological advancements in cloning services, and increased synergistic industry activities accelerate industry growth. Leading businesses in the market are working to create cutting-edge, efficient DNA and gene cloning services.
Report Segmentation
The market is primarily segmented based on product, technology, end-use, and region.
By Product

By Technology

By End-Use

By Region

Cloning Kits
Mutagenesis Kits

TOPO PCR Cloning
Site-directed Mutagenesis

Biopharmaceuticals and pharmaceutical companies
CROs and CMOs

North America (U.S., Canada)
Europe (France, Germany, UK, Italy, Netherlands, Spain, Russia)
Asia Pacific (Japan, China, India, Malaysia, Indonesia, South Korea)
Latin America (Brazil, Mexico, Argentina)
Middle East & Africa (Saudi Arabia, UAE, Israel, South Africa)
Know more about this report: Request for sample pages
The cloning kits segment dominated the market in 2021
Cloning kits are used in various fields, including biopharmaceuticals, gene therapy, and gene analysis. Biopharmaceuticals commonly use these kits to create human proteins with biological uses. A tissue plasminogen activator (tPA) is employed to treat and prevent strokes. Similar to this, cloning kits are employed in gene analysis to create recombinant and synthetic versions of genes that aid biologists in comprehending the role of the normal gene in an organism's function. Thus, using these kits in the biotechnology industry is projected to fuel segment growth over the forecast period.
Over the projected period, the mutagenesis kits are anticipated to expand faster. Mutagenesis kits are used to clone DNA, study the effects of mutagens, and design proteins. Additionally, these kits are utilized in medical settings to treat and research conditions like cancer and HIV, as well as to assist individuals who are immunocompromised. As a result, the market is driven by the growing use of mutagenesis kits in biomedical research, boosting kit usage in R&D activities.
The TOPO PCR segment will account for a higher share of the market.
The TOPO PCR cloning category dominated the market in 2021. This method uses DNA topoisomerase I's biological activity to clone DNA fragments into particular vectors. This method has a number of benefits over conventional TA cloning, including ligation and restriction-free cloning, straightforward primer design, no need for post-PCR steps, and higher efficiency. Because of this, TOPO PCR cloning is seeing increased use across a variety of end users, including pharmaceutical and biotech corporations, as well as academic and research institutions.
The DNA sequence of a gene can be intentionally and specifically modified through site-directed mutagenesis technology. By enabling precise gene and protein modification, this approach has applications in genetic research, gene technology, and protein engineering. Furthermore, leading market companies are offering innovative site-directed mutagenesis-based kits that streamline and expedite the process.
One effective and adaptable technique for introducing point mutations, insertions, or deletions into any plasmid DNA is the Phusion Site-Directed Mutagenesis Kit provided by Thermo Fisher Scientific, Inc. Such site-directed mutagenesis-based product offers are anticipated to promote market expansion during the coming years.
Pharmaceutical and biopharmaceutical companies segment expected to hold the significant revenue share
The pharmaceutical and biopharmaceutical segment dominated the market in 2021. Due to the increased prevalence of diseases, pharmaceutical and biopharmaceutical businesses are concentrating on drug discovery and development. The therapeutic manipulation of disease-associated genes is facilitated by cloning and mutagenesis techniques. In the preclinical stage of drug discovery, cloning is most appropriate for pharmacologic compounds. Growth hormone, erythropoietin, synthetic insulin, and vaccination are successful therapeutic products derived via cloning.
Additionally, by supplying fresh cells for tissue engineering and transplantation, these methods profoundly impact human therapies. The category is driven by the biopharmaceutical and pharmaceutical industries' extensive use of cloning and mutagenesis.
Further, CROs and CMOs are anticipated to experience the fastest growth. Pharmaceutical and biopharmaceutical businesses are outsourcing cloning and mutagenesis to CROs and CMOS for various reasons. These outsourcing strategies may result in time savings and increased output. Pharmaceutical and biopharmaceutical firms can get cloning and mutagenesis services from several CROs and CMOS.
The demand in North America is expected to witness significant growth.
North America emerged as the largest regional market in 2021. The rising demand for biotechnology methods can be blamed for this significant percentage. Additionally, the region's increased acceptance of platforms based on genomic and proteomic data has increased the use of cloning and mutagenesis techniques. The presence of leading innovators and market participants has led to greater product penetration in the area.
Due to the increasing need for innovative treatments in the region, the Asia Pacific market is anticipated to expand at the highest rate. Additionally, a more robust economy, increased government investment in R&D, and rapid infrastructure development are some drivers driving regional prosperity. Further, funding is being provided to a number of local players to work on creating a cure for several chronic illnesses, including cancer.
Competitive Insight
Some of the major players operating in the global market include Agilent Technologies, Inc., Thermo Fisher Scientific, Inc., New England Biolabs, Takara Bio Inc., Merck KGaA, Promega Corporation, Bio-Rad Laboratories, Inc., Danaher, Jena Bioscience GmbH, Assay Genie, TransGen Biotech Co., Ltd.
Recent Developments
The U.S. business Telesis Bio, Inc. stated in May 2021 that its BioXp technology now supports long fragment cloning. With the aid of this endeavor, researchers can create multivariant, error-corrected vectors and clone them into bespoke vectors hand-free overnight.
Cloning And Mutagenesis Market Report Scope
| | |
| --- | --- |
| Report Attributes | Details |
| Market size value in 2022 | USD 2.36 billion |
| Revenue forecast in 2030 | USD 9.29 billion |
| CAGR | 18.7% from 2022 - 2030 |
| Base year | 2021 |
| Historical data | 2018 - 2020 |
| Forecast period | 2022 - 2030 |
| Quantitative units | Revenue in USD billion and CAGR from 2022 to 2030 |
| Segments Covered | By product, By Technology, By End-use, By Region |
| Regional scope | North America, Europe, Asia Pacific, Latin America; Middle East & Africa |
| Key Companies | Agilent Technologies, Inc., Thermo Fisher Scientific, Inc., New England Biolabs, Takara Bio Inc., Merck KGaA, Promega Corporation, Bio-Rad Laboratories, Inc., Danaher, Jena Bioscience GmbH, Assay Genie, TransGen Biotech Co., Ltd. |