The global connected car market was valued at USD 24.93 billion in 2022 and is expected to grow at a CAGR of 22.3% during the forecast period.
Connected car market expansion is fueled by rising consumer demand for enhanced features, growing safety concerns, advancements in autonomous driving technology, regulatory mandates, and the widespread rollout of 5G networks. Connected cars can access the internet, facilitating real-time data transmission and communication. Additionally, these vehicles offer advanced infotainment systems, streaming services, navigation, and seamless smartphone integration. Passengers enjoy the convenience of accessing music, videos, apps, and various content through in-car screens.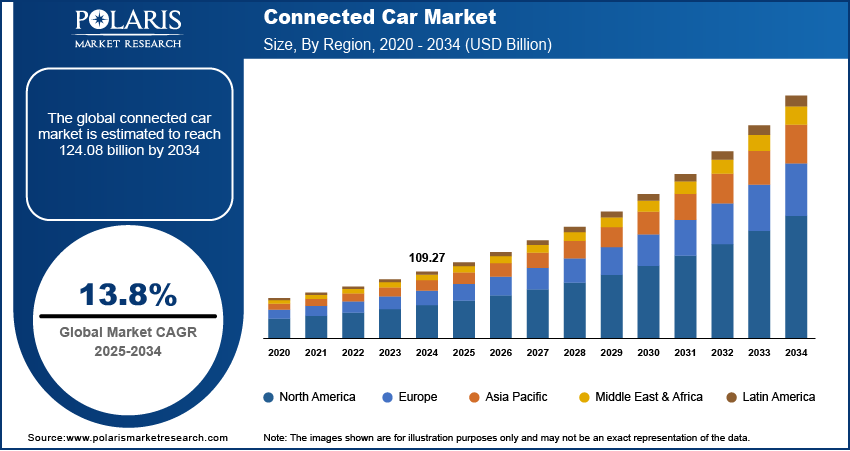 To Understand More About this Research: Request a Free Sample Report
In addition, companies operating in the connected car market are collaborating to address issues such as traffic congestion and carbon emissions.
For instance, in February 2023, NTT DATA unveiled its initiative known as the Connected Car Data Initiative, with the primary objective of reducing both traffic congestion and carbon dioxide (CO2) emissions. NTT DATA is actively engaged in the development of a proof of concept (POC) using the wealth of connected car data provided by Toyota Motor Corporation. This POC is conducted within a parking facility situated in a shopping mall managed by the Mitsui Fudosan Group. Its primary focus is to verify the effectiveness of processing and analyzing historical and real-time driving data to assist parking lot users in minimizing CO2 emissions.
An increase in the development of autonomous vehicles is expected to offer growth opportunities during the forecast period. Connected cars provide real-time data and communication capabilities, which are essential for the operation and safety of autonomous vehicles. Connected cars can share valuable data, such as traffic conditions and road incidents, with autonomous vehicles, aiding in their navigation and decision-making processes.
The COVID-19 pandemic brought both challenges and opportunities to the connected car industry. It accelerated the adoption of certain features and innovations in response to changing consumer needs and safety considerations. The industry continues to evolve, with a strong focus on enhancing safety, convenience, and connectivity features in the post-COVID era.
Industry Dynamics
Growth Drivers
Increased demand for connectivity, safety, and advanced features in vehicles
There's a rising consumer desire for in-car entertainment, connectivity, and access to streaming services during travel. Connectivity features, such as remote vehicle control, keyless entry, and personalized settings, are enhancing convenience and user-friendliness. Real-time navigation with traffic updates and route optimization is a significant driver for connected car adoption.
Businesses are adopting connected car technology for efficient fleet management, tracking, and analyzing driver behavior. Telematics data assists in predicting maintenance needs, reducing downtime and operational costs.
Governments and regulatory bodies may mandate safety features like eCall and V2X communication, driving the adoption of connected car technology. Regulations related to emissions and fuel efficiency encourage the use of connected systems for optimizing vehicle performance.
Report Segmentation
The market is primarily segmented based on connectivity, technology, application, sales channel, and region.
By Connectivity

By Technology

By Application

By Sales Channel

By Region

Embedded

Tethered

Integrated

Driver Assistance

Infotainment

Mobility Management

Telematics

Others

North America (U.S., Canada)

Europe (France, Germany, UK, Italy, Netherlands, Spain, Russia)

Asia Pacific (Japan, China, India, Malaysia, Indonesia. South Korea)

Latin America (Brazil, Mexico, Argentina)

Middle East & Africa (Saudi Arabia, UAE, Israel, South Africa)
To Understand the Scope of this Report: Speak to Analyst
By Technology Analysis
The 5G segment is expected to witness the highest growth rate during the forecast period.
The 5G segment is expected to witness the highest growth rate during the forecast period. 5G provides the high-speed, low-latency connectivity required for seamless communication between connected cars and external networks and services. Connected cars equipped with 5G can access and transmit real-time data more efficiently, enabling features such as live traffic updates, instant remote vehicle control, and high-quality streaming services. Vehicle-to-everything (V2X) communication is a critical component of connected cars. 5G networks facilitate V2X communication, allowing cars to exchange information with other vehicles, traffic lights, and road infrastructure to improve safety and traffic management.
By Application Analysis
Driver Assistance segment held the largest market share in 2022
In 2022, the driver assistance segment held the largest market share. These features harness the power of connectivity technology and advanced sensors to augment driver safety and convenience. ADAS technologies are an integral component of connected cars. They encompass functionalities such as automatic emergency braking, pedestrian detection, and traffic sign recognition, all aimed at elevating driver safety. Certain connected cars feature driver monitoring systems that utilize sensors and cameras to assess the driver's attentiveness and detect signs of fatigue. These systems can issue alerts if the driver appears distracted or drowsy.
The telematics segment is expected to experience significant growth during the forecast period. Connected cars are equipped with the necessary hardware and connectivity to facilitate the transmission of telematics data. Telematics systems integrated into connected cars can gather a wealth of data, which is then transmitted to remote servers or cloud platforms for analysis and utilization. The data collected via telematics plays a pivotal role in providing various connected car services, such as real-time traffic updates, remote vehicle control, and proactive maintenance alerts. For automakers, insurance companies, and fleet operators, telematics data offers valuable insights into vehicle performance, driver behavior, and overall vehicle health.
By Sales Channel Analysis
The OEM segment held a significant revenue share in 2022
In 2022, the OEM segment held a significant revenue share, which involve vehicles that come equipped with integrated connectivity features and services directly provided by the vehicle manufacturer. OEMs incorporate a range of connectivity features into the vehicle during the manufacturing process. These features typically encompass infotainment systems, GPS navigation, smartphone integration, and telematics for data collection and analysis. Many OEMs offer safety and security services as part of their connected cars, including features like automatic crash notifications, stolen vehicle tracking, and remote locking and unlocking. Some OEMs offer flexible subscription-based models for premium connectivity services, empowering customers to select the level of features and services that align with their preferences beyond basic connectivity.
Regional Insights
North America dominated the largest market share in 2022
In 2022, North America dominated the largest market share. The region focused on connected cars that involved automakers, tech companies, and service providers. It is expected to maintain a significant position in the future due to its emphasis on safety, convenience, and technological advancements. Key players in the industry, like Tesla, General Motors, and Google, among others, are actively driving innovation.
The ongoing deployment of 5G networks throughout North America is expected to accelerate the adoption of connected cars. The availability of speed and low latency connectivity is crucial for integrating advanced features such as autonomous driving.
The proliferation of connected cars in the Asia-Pacific region will experience the fastest market in the upcoming future. Rapid urbanization across the region has resulted in congested cities and an amplified need for intelligent transportation solutions. Connected cars are positioned to mitigate traffic congestion, enhance traffic management, and elevate the overall urban mobility landscape. In parallel, numerous governments within the region are actively endorsing the adoption of connected vehicles as integral components of their smart city endeavors. These comprehensive initiatives are geared toward diminishing traffic accidents, reducing emissions, and enhancing transportation efficiency.
Key Market Players & Competitive Insights
The connected car market exhibits fragmentation, characterized by a competitive landscape shaped by the presence of multiple key players. Prominent participants within this market are continually unveiling novel products as part of their strategic efforts to bolster their market positioning. These industry players prioritize partnerships, product enhancements, and collaborative ventures as key strategies to gain a competitive advantage over their counterparts and secure a substantial portion of the market share.
Some of the major players operating in the global market include:
ALE International

Apple Inc.

Aptiv

AUDI AG

BMW AG

Continental AG

Denso Corporation

Ford Motor Company

General Motors

Google LLC

Harman International

Infineon Technologies

NXP Semiconductors

Robert Bosch GmbH

Visteon Corporation
Recent Developments
In November 2022, Google and Renault extended their partnership to strengthen offerings related to connected cars. The partnership would enable Renault to offer over-the-air software updates to its vehicles and accelerate its end-to-end digital transformation.

In October 2020, Airbiquity introduced the OTAmatic Vehicle Configurator, a tool designed for the definition and administration of connected vehicle software. This innovative tool offers automakers the capability to gain a comprehensive understanding of the precise hardware and software configurations within a vehicle.
Connected Car Market Report Scope
| | |
| --- | --- |
| Report Attributes | Details |
| Market size value in 2023 | USD 30.44 billion |
| Revenue forecast in 2032 | USD 186.49 billion |
| CAGR | 22.3% from 2023 – 2032 |
| Base year | 2022 |
| Historical data | 2019-2021 |
| Forecast period | 2023 – 2032 |
| Quantitative units | Revenue in USD billion and CAGR from 2023 to 2032 |
| Segments covered | By Connectivity, By Technology, By Application, By Sales Channel, By Region |
| Regional scope | North America, Europe, Asia Pacific, Latin America; Middle East & Africa |
| Customization | Report customization as per your requirements with respect to countries, region and segmentation. |