The global container as a service market was valued at USD 1.73 billion in 2021 and is expected to grow at a CAGR of 22.5% during the forecast period.
The market's promising growth potential is attributed to the awareness of the advantages of cost-effectiveness and increased productivity and the growing adoption of containers as a service to help IT departments and developers build, manage, and run containerized applications. The market is impacted by an increase in the need for the services from organizations to shorten shipment times due to hosted applications and the high demand for the services due to their high popularity and lightweight.

Know more about this report: Request for sample pages
IT organizations can upload, organize, execute, grow, and manage containers using containers as a service (CaaS), which uses container-based virtualization. A container is software that can run on any host system and contains all necessary parts, such as runtime, code, configuration, and system libraries.
Containerized apps should be easy to build, maintain, and execute utilizing containers-as-a-service for both IT departments and developers. The containers-as-a-service idea, which may be deployed on-premises or in the cloud, offers clusters and containers as a service. For designers, a container-as-a-service demo makes creating scaled-out apps and deploying containers simpler. CaaS gives IT administrators complete control over container deployment, including governance and security measures.
These elements will drive the container as a service market. The entire market will advance during the projection period due to the rising demand for containers as a service. There is enormous commercial potential where many new businesses are entering the market and working with established players to offer various services and items.
For instance, Red Hat, Inc. launched the Red Hat OpenShift Practice Builder Program in the Asia-Pacific area in 2018. The program's objective for system integrators was to use Red Hat OpenShift and Red Hat JBoss middleware to design and deliver modern cloud-native applications (SIs). These advancements are anticipated to drive growth in the regional CaaS market.
New businesses are entering the market with new services and products and projecting expansion over the coming years. Additionally, a concerted effort and merger and acquisition activities are anticipated to be carried out. For the container as a service industry, there is a roadblock in the form of data security worries.
Since SMEs typically operate on a small budget and have few options for marketing and visibility, cost-effectiveness is a crucial consideration. To reach their target audience, SMEs are investing in CaaS due to the very competitive market environment. In the UK, small firms lag in using modern technology.
Customers' sensitive data, such as account numbers, card details, and transaction passwords, are handled by the BFSI vertical and must be protected at all costs. Customer data must be kept accessible and secure as well as kept for more extended periods to satisfy regulatory requirements. Traditional businesses in the BFSI vertical must adapt to cutting-edge technologies to meet the growing regulatory requirements for the financial industry. As a result, the BFSI sector is accelerating its adoption of cloud-based container services and is expected to adhere to rigorous security standards to protect sensitive data.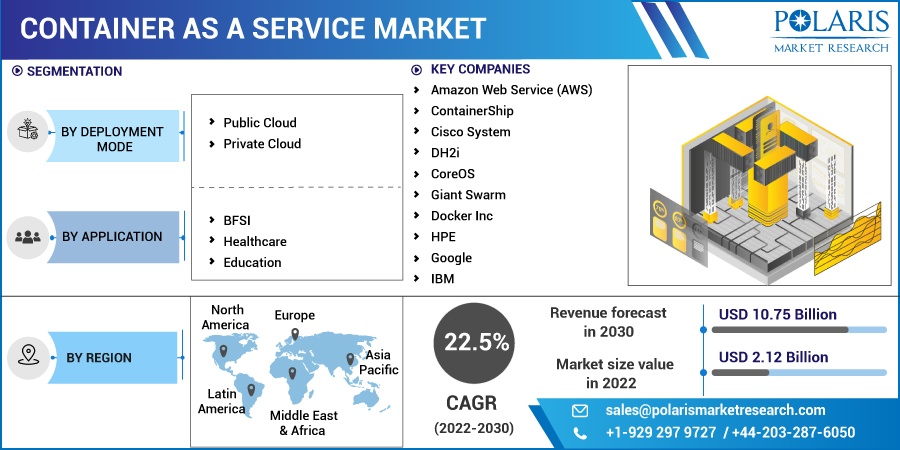 Know more about this report: Request for sample pages
Industry Dynamics
Growth Drivers
CaaS uses container technology, which sets it apart from platform as a service (PaaS). Compared to PaaS, which is focused on explicit "language stack" installs like Ruby on Rails or Node.js, CaaS supports the deployment of many stacks per container. CaaS stands for containerized software package hosting and deployment as a service. Software development teams would have to deploy, manage, and keep an eye on the infrastructure that supports containers if they didn't use CaaS.
The idea of a hybrid cloud combines aspects of both public and private clouds. In this strategy, businesses simultaneously employ private and public clouds. Enterprises use public clouds to store data of less importance, but private clouds store substantial importance. Scalability and security are simultaneously addressed, which is challenging when utilizing solely public or private cloud deployment frameworks. The hybrid cloud is a one-stop shop for businesses with vital budgets and substantial security requirements.
Because of their flexibility and lower infrastructure costs, containers are increasingly being used by application development teams. The security of containers is still a major worry, however. Security for containers is quite similar to security for any active process. Before deploying and running the container, the layers of the solution stack must be secured. The OS that runs the container environment is the layer of the stack that needs to be secured the most since a breach in the host environment could provide attackers access to the stack's other layers.
Report Segmentation
The market is primarily segmented based on deployment mode, application, and region.
By Deployment Mode

By Application

By Region

Public Cloud
Private Cloud

BFSI
Healthcare
Education

North America (U.S., Canada)
Europe (France, Germany, UK, Italy, Netherlands, Spain, Russia)
Asia Pacific (Japan, China, India, Malaysia, Indonesia, South Korea)
Latin America (Brazil, Mexico, Argentina)
Middle East & Africa (Saudi Arabia, U.A.E., Israel, South Africa)
Know more about this report: Request for sample pages
The public cloud segment dominated the market in 2021
The public cloud dominates the CaaS market. The CaaS market for the public cloud has expanded due to the rising demand for storage and computing resources. The hybrid cloud also significantly impacts infrastructure management within an organization. Furthermore, hybrid cloud models with complete infrastructure are becoming more popular as advanced container systems are used by many users. As the number of microservices and management services increases, hybrid clouds are becoming more and more popular because they provide improved flexibility, security, and scalability.
The public cloud segment will hold the greatest market share during the projected period. The public cloud offers a public shared platform with internet connectivity. Commercial organizations, academic institutions, governmental organizations, or a combination maintain, manage, and operate public clouds. The increased demand for storage and computing resources has contributed to the CaaS market's desire for public cloud services. The public cloud also profoundly impacts an organization's ability to manage its infrastructure. Furthermore, the widespread use of cutting-edge container platforms in many enterprises leads to implementation of this cloud model with complete infrastructure.
The BFSI segment will account for a higher share of the market.
During the forecast period, the BFSI (Banking, Financial Services, and Insurance) segment is anticipated to hold the most significant market share. Fintech has drastically changed the banking industry due to the widespread usage of cloud computing and the diversification of cloud providers by BFSI firms. Particularly in developing countries like China and India, the banking industry is evolving as a result of technology like mobile banking and digital payments. Consequently, the use of CaaS models is expanding.
The IT & Telecom category dominated the market in 2021. Government, IT & Telecom, Media & Entertainment, and Healthcare. The IT & Telecom applications generate the most significant income in the global CaaS market. The CaaS is crucial for IT departments and developers that want to create safe containerized apps.
The demand in North America is expected to witness significant growth.
In 2021, North America dominated the global market for containers as a service, and it is anticipated that it will do so in the future. The market for containers as a service has grown due to the region's expanding demand for managed data centers, virtual private cloud services, and sophisticated technology accessibility. Additionally, the existence of IT companies in North American nations like Google, Microsoft Corporation, and Amazon Web Service has dramatically boosted the market. North America dominates because of regional technology breakthroughs in the market for containers as a service.
The integration of artificial intelligence (AI) and machine learning (ML) technologies with applications for container services, the demand for an automated business process to reduce manual errors, and improved IT systems to satisfy the wide range of customer requirements are all expected to contribute to the growth of the container-as-a-service market in North America.
Asia-Pacific will expand significantly faster than other regions. The expansion is related to the growing economies of China and India, which have faster economic development because of greater industrial output. Factors like growing usage of microservices, technical advancements, and rising demand for microservices are also driving the market in the area. To capture the region's vast prospects and the maximum possible market share, the major CaaS solution providers are likewise expanding and improving their operations.
Competitive Insight
Some major players operating in the global market include Amazon Web Service (AWS), ContainerShip, Cisco System, CoreOS, DH2i, Giant Swarm, Docker Inc, HPE, Google, and IBM.
Recent Developments
Twistlock and Palo Alto Networks agreed on May 2021. The estimated cost of purchasing Twistlock, located in Portland, Oregon, is between USD 450 million and USD 500 million.
DigitalOcean has now announced that all developers will be able to use Kubernetes-as-a-Service starting in December 2020. The early access version of the service already had most of the fundamentals, including node provisioning, managing durable storage, firewalls, load balancing, and other utilities. This new version is compatible with the most recent versions of Kubernetes and offers open APIs for interacting with existing developer tools.
In 2022, AWS Wickr was introduced by Amazon Web Services. It is a secure phone and video calling, messaging file sharing, and screen sharing workplace communication solution with end-to-end encryption
Container as a Service Market Report Scope
| | |
| --- | --- |
| Report Attributes | Details |
| Market size value in 2022 | USD 2.12 billion |
| Revenue forecast in 2030 | USD 10.75 billion |
| CAGR | 22.5% from 2022 - 2030 |
| Base year | 2021 |
| Historical data | 2018 - 2020 |
| Forecast period | 2022 - 2030 |
| Quantitative units | Revenue in USD billion and CAGR from 2022 to 2030 |
| Segments covered | By Deployment Mode, By Application, By Region |
| Regional scope | North America, Europe, Asia Pacific, Latin America; Middle East & Africa |
| Key Companies | Amazon Web Service (AWS), ContainerShip, Cisco System, DH2i, CoreOS, Giant Swarm, Docker Inc, HPE, Google, and IBM. |