The cooling tower market was valued at USD 3.82 billion in 2021 and is expected to grow at a CAGR of 4.3% during the forecast period.
The driving factors that propel the market's growth are the increasing construction of residential and commercial areas in developing countries, the rising demand for electricity which leads to the manufacturing of many power plants, and rapid industrialization.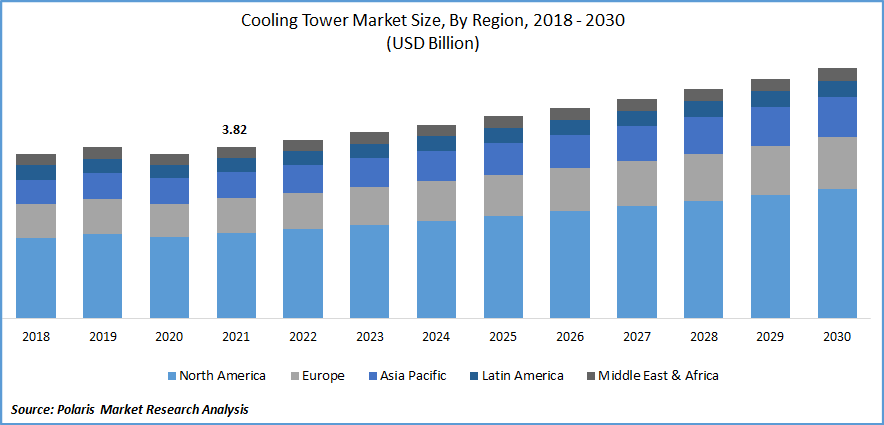 Know more about this report: Request for sample pages
A cooling tower is a particular heat exchanger through which hot water is passed and mixed with cooler air. The water temperature began to fall, thus evaporating a small volume of water. This creates a cooling action. The cooled water was once again pumped to the equipment to absorb heat. Thus, the water becomes hot and is returned to the cooling tower. Hence the process repeats. Coolant towers are used in power plants. It provides comfortable cooling in big commercial buildings such as schools, hospitals, hotels, airports, etc.
Cooling towers provide efficient cooling, and it is cost saving process. These towers are also widely used in thermoelectric power facilities to remove extra heat. New power plants are being built as a result of rising electricity demand, which is anticipated to drive cooling tower market expansion.
Covid 19 has moderately affected the market. The temporary shutdown of the industrial and manufacturing unit has increased the risk of legionnaires disease from cooling towers caused by water stagnation in the building's water systems. This has increased the growth and spread of legionella bacteria. But the adoption of new nuclear plants when several countries went through strict government rules increased the market growth during covid 19.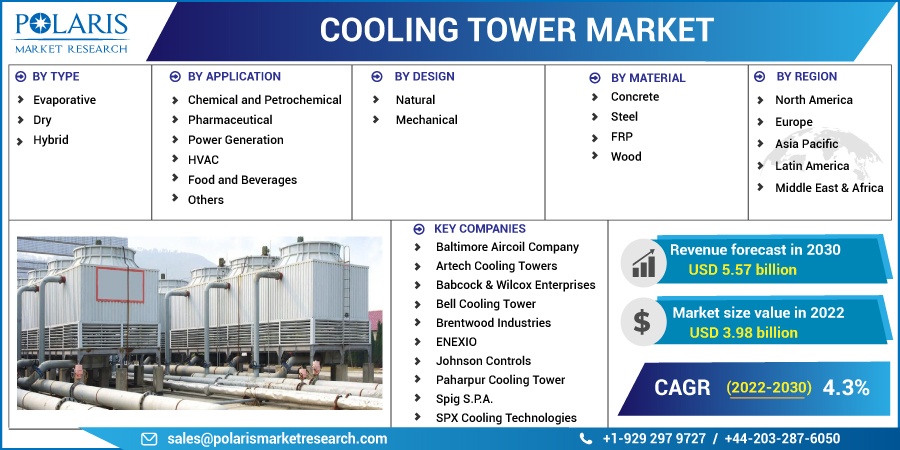 Know more about this report: Request for sample pages
Industry Dynamics
Growth Drivers
The cooling tower is an important equipment for many energy-efficient industries and refrigeration systems. The energy-efficient drives are steel mills, power plants, aluminum forest products, mining chemical processing, and many manufacturing companies where cooling is essential. Big commercial buildings like hotels, airports, hospitals, and schools also require coolant towers for comfortable cooling. Heat absorbed in the systems used in oil refineries, power plants, processing plants, petrochemical plants, food processing industries, and other industrial facilities provides a cooling environment.
With the growth of the global population, the rate of the world's needs and requirements for manufactured goods has significantly expanded. This has made the industrial sector produce more goods daily, increasing the heat produced during manufacturing. Cooling must be provided continuously for heat-generating machinery and processes in industrial settings to continue operating effectively. The installation of a coolant tower is the most practical, cost-effective, and efficient way to remove this heat.
Report Segmentation
The market is primarily segmented based on type, application, design, material, and region.
By Type

By Application

By Design

By Material

By Region

Chemical and Petrochemical
Pharmaceutical
Power Generation
HVAC
Food and Beverages
Others

North America (U.S., Canada)
Europe (France, Germany, UK, Italy, Netherlands, Spain, Russia)
Asia Pacific (Japan, China, India, Malaysia, Indonesia, South Korea)
Latin America (Brazil, Mexico, Argentina)
Middle East & Africa (Saudi Arabia, UAE, Israel, South Africa)
Know more about this report: Request for sample pages
Evaporative Cooling is expected to witness the fastest growth
In evaporative, air and water are brought into direct contact in a cooling tower to lower the temperature of the water. It provides better energy efficiency in smaller surface areas as compared to dry cooling. Therefore, evaporative cooling is expected to grow at the fastest CAGR.
Dry cooling towers are heat exchangers, but the water and air are not in direct contact. The air is entered through a natural draft or mechanical draft. The ambient air circulating the hot water tubes is exposed to them. The water cools to the desired temperature by absorbing heat from the low-temperature air. These towers can be used for the plastic industry, solar industry, factory cooling, data center cooling, power plant, etc. The water consumption in this type of cooling tower is less because of no evaporation.
Based on application, HVAC accounted for the largest market share in 2021
The HVAC system is a heating, ventilation, and air conditioning system that controls temperature and air quality inside a building. The rise in disposable income and increasing construction activities in both residential and commercial sectors leads to the market's growth.
The effectiveness and efficiency with which the cooling water is used depend on the functioning of cooling towers, which are frequently a crucial part of pharmaceutical industry processes. In the pharmaceutical industry, many of the most important processes produce heat and often require an effective cooling system.
Batch processing in multifunctional reactors is one method in the pharmaceutical business that needs a reliable cooling system. Some others are cooling creams before mixing them, heating and then cooling during the sterilization of liquid pharmaceuticals, cooling water used in the wet granulation process for tablet making, managing the molding process temperature while forming gelatin for capsules, and cooling ointment before packaging.
The mechanical segment is expected to hold the significant revenue share
The most popular building cooling towers are mechanical draft cooling towers, which draw or push air through the tower using powered fans. They typically stand outside the structure. In the HVAC industry, forced draft and induced draft are the two types of mechanical draft tower most frequently used. The mechanical draft is compact in size and has low construction cost. Because of that, they are widely used in power generation and HVAC industries.
Asia Pacific is expected to hold the largest market share
Several factors, including the developing infrastructural issues in China and India, urbanization, industrialization, and population growth in these countries, will influence the global market in this area. Another contributor to the rise is the government's significant outlays on industrial development. The rising demand pushed the market expansion in the APAC region for food and beverage products as well as energy-efficient industries. The increasing population and the rising need for electricity led to constructing of new power plants, fueling the market's growth.
North America holds a significant market share due to the presence of major market players. The growth in the power generation sector increases the development of cooling towers in this region.
Competitive Insight
Key players in the global market include Baltimore Aircoil Company, Artech Cooling Towers, Babcock & Wilcox, Bell Cooling Tower, Brentwood Industries, ENEXIO, Johnson Controls, Spig S.P.A., SPX Cooling Technologies, Hamon and CIE International and Star Cooling Tower among others.
Recent Developments
In July 2021, the Italian-based company Eurocoil SPA was purchased by Baltimore Aircoil Company (BAC), a global pioneer in cooling solutions for the industrial, commercial, and refrigeration markets. They are a top producer of heat exchangers for Europe's commercial and refrigeration sectors.
In June 2022, John Cockerill acquired Hamon Group's "Cooling" activities. This acquisition relates to systems for cooling water, including nuclear power plants. It also relates to the design, production, installation, commissioning, and maintenance of these systems
In November 2021, Babcock and Wilcox Enterprises declared that their B&W Environmental segment had been given a 5 USD million contract. This amount delivers a cooling system to SPIG S.P.A for a new petrochemical industry in the Middle East. This cooling tower reduces liquid discharge and conserves water. This cools the propylene production and propane dehydrogenation equipment.
Cooling Tower Market Report Scope
| | |
| --- | --- |
| Report Attributes | Details |
| Market size value in 2022 | USD 3.98 billion |
| Revenue forecast in 2030 | USD 5.57 billion |
| CAGR | 4.3% from 2022 - 2030 |
| Base year | 2021 |
| Historical data | 2018 - 2020 |
| Forecast period | 2022 - 2030 |
| Quantitative units | Revenue in USD billion and CAGR from 2022 to 2030 |
| Segments Covered | By Type, By Application, By Design, By Material, By Region |
| Regional scope | North America, Europe, Asia Pacific, Latin America; Middle East & Africa |
| Key Companies | Baltimore Aircoil Company, Artech Cooling Towers, Babcock & Wilcox Enterprises, Bell Cooling Tower, Brentwood Industries, ENEXIO, Johnson Controls, Paharpur Cooling Tower, Spig S.P.A., SPX Cooling Technologies, Hamon and CIE International and Star Cooling Tower Pvt among others. |