The global coronary stent market was valued at USD 8.4 billion in 2019 and is expected to grow at a CAGR of 7.7% during the forecast period. The factors boosting the growth of the market include increasing prevalence of cardio-vascular diseases, favorable government initiatives, rise in cardiac surgeries, and old age people suffering with heart related ailments. Moreover, most of the people suffering with diabetes requires continuous medical attention, this increases the hospitalization, which contributes to the increase in demand of coronary stents. According to the International Diabetes Federation (IDF), the number of people suffering from diabetes were 415 million in 2015, which is expected to reach approximately 640 million by 2040.
An ideal stent should be possessing different properties such as it should be good expandability ratio, flexibility, radiopacity, non-toxicity, excellent drug delivery capabilities, and radial loop strength, high thrombo-sensitivity with negligible recoil.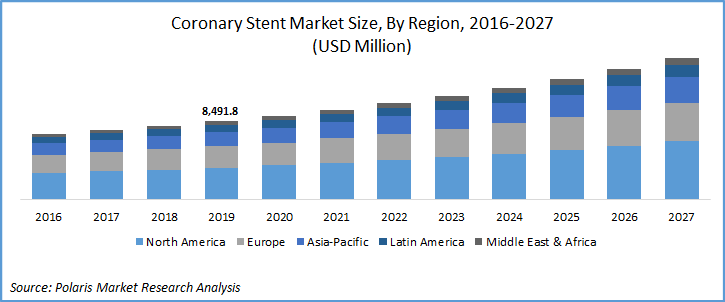 Know more about this report: request for sample pages
Industry Dynamics
Growth Drivers
Medical device manufacturers outsource their activities and other work clinical trials to the contract research organization. These could be individual contract research companies or academic universities to conduct research activities.
The processes of development to marketing PCI systems such as embolic protection devices can be lengthy and tedious. These processes involve significant financial support, manpower, and intellectual investment for device approval by regulatory agencies. CROs help manufacturers by reducing the duration of these processes involved in developing and launching PCI devices from the laboratory to market.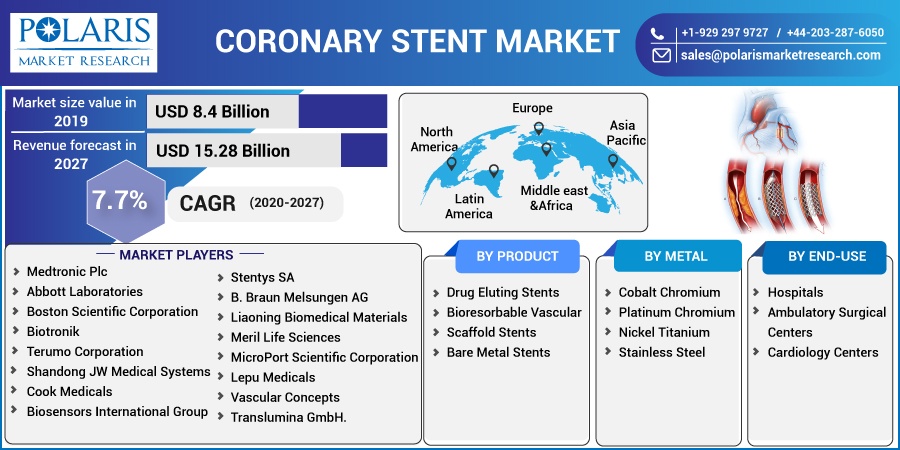 Know more about this report: request for sample pages
CROs used to only conduct clinical trials to evaluate the safety and efficacy of coronary stents. However, these organizations are now helping manufacturers in developing these devices. They are also engaged in agreement with regulatory agencies for market approvals of the concerned product coronary stents, which helps to minimize the duration of regulatory approval. For example, B Braun and vascular system has their research and development activities with Clinical Research Institute, and Center of Cardiovascular Diseases, Rotenburg an der Fulda, Germany for "The Paclitaxel-Eluting Corofle DES Study II" Acute and six-month clinical trial to be extended for 1 year.
Challenges
However, the market is contained due to the presence of product substitutes, product recalls, and in-efficiency of the current product in the market. In 2016, a study performed by Department of Cardiology, Kurashiki Central Hospital, Japan which states between 2003 to 2012, 5456 patients (11,712 lesions) underwent DES implantation and angiography observed 80 per cent stent recoil (SR) of the stent diameter and separation of stent segment called (SF). The outcome observed was (SF) in 494 lesions and (SR) in 138 of SF lesions leading to target lesion re-vascularization.
Coronary Stent Market Report Scope
The market is primarily segmented on the basis of Product, By Metal, By End-Use, and geographic region.
By Product

By Metal

By End-Use

By Region

Drug Eluting Stents
Bioresorbable Vascular Scaffold Stents
Bare Metal Stents

Cobalt Chromium
Platinum Chromium
Nickel Titanium
Stainless Steel

Hospitals
Ambulatory Surgical Centers
Cardiology Centers

North America (U.S., Canada)
Europe (France, Germany, UK, Italy, Spain, Netherlands, Austria)
Asia Pacific (Japan, China, India, Malaysia, Indonesia. South Korea)
Latin America (Brazil, Mexico, Argentina)
MEA (Saudi Arabia, UAE, Israel, South Africa)
Know more about this report: request for sample pages
Insight by Product
Based upon the product, the global market is categorized into drug eluting, Bioresorbable Vascular Scaffold, and bare metal stents. In 2019, the drug eluting stent segment accounted for the largest share among all. This high share is attributed to its ability to contain risks and infections associated with the stenting procedure. There are two types of coronary stent, first generation and second-generation coronary stents. Owing to complications associated to first-generation stents such as risk of late thrombosis, especially after discontinuation of dual antiplatelet therapy, the adoption of first-generation coronary stents such as paclitaxel-eluting stent (PES) Taxus (developed by Boston Scientific) decreased. Hence, companies such as Abbott Laboratories developed Xience V, a second-generation coronary stent, which have low complications rate.
Insight by End Use
Based on end use, the global coronary stent market is bifurcated into hospitals, ASCs, and others. In 2019, the hospital segment accounted for the majority of share. In these hospitals, monitoring and diagnosis of cardiac events are conducted in the out-patient settings. The sales of coronary stents for PCI procedures in hospitals will increase slowly due to the increased number of hospital admittance of people with cardiac disorders.
Geographic Overview
Geographically, North America is the largest contributor in the vascular access devices market, followed by Europe and Asia Pacific. In 2019, North America accounted for more than 40.5% of the global market. The US was the largest contributor to the market in terms of revenue. However, the US market is slowly falling and is expected to lose its market share in terms of revenue because of increasing competition and declining prices of drug-eluting stents. Europe was the second-largest revenue contributor to the global market.
In the region, CVDs are a leading cause of death. In 2014, the American Heart Association (AHA) estimated that about 85.6 million people in the U.S. had CVD. The direct and indirect costs, including health expenditure and loss in productivity, was around USD 318 billion. To assess the complexity of these diseases, physicians perform angiography that involves the insertion of catheters in the femoral and radial sites along with coronary stents if required.
The adoption of coronary stents in APAC is expected to increase at a higher rate than in other regions because of the increasing dominance of the local vendors. Countries such as India, Japan, and China are the major revenue contributors to the market in APAC. The major drivers of the coronary stent market in APAC are the increase in cardiovascular procedures such as stenting because of the increase in the older population and the availability of stents at a lower cost and capping the prices of coronary stent by Indian government.
Countries such as India, China, Thailand, Singapore, and South Korea are hotspots for medical tourism. This has led many players to focus on these countries to expand their operations. These countries are rapidly emerging and are likely to dominate the market during the forecast period.
Competitive Insight
The market is highly competitive with the presence of well-established players These players rely on the advanced technology, high quality products and their brand image to increase their revenue. Companies use research and development, mergers and acquisition, technological innovations to extend their product portfolio.
Key players in the market include Medtronic Plc, Abbott Laboratories, Boston Scientific Corporation, Biotronik, Terumo Corporation, Shandong JW Medical Systems, Cook Medicals, Biosensors International Group (acquired by Blue Sail Medical Co., Ltd), Stentys SA, B. Braun Melsungen AG, Liaoning Biomedical Materials, Meril Life Sciences, MicroPort Scientific Corporation, Lepu Medicals, Vascular Concepts, and Translumina GmbH.