The global cross-laminated timber (CLT) market was valued at USD 1.11 billion in 2021 and is expected to grow at a CAGR of 14.54% during the forecast period.
Cross-laminated timber has been termed "future concrete." CLT is altering how we view design and architecture today as a very robust engineered wood manufactured by gluing layers of solid-sawn hardwood together. Unlike concrete, CLT must experience significant deformations to shatter and collapse because of its high flexibility. It was chosen for its comfort and inherent qualities, in turn. CLT was first created in Europe during the early 1990s. However, it was not included in the International Building Code (IBC) until 2015. The International Code Council (ICC) has approved 14 code modifications as elements of 2021 that would enable mass wood constructions of up to 18 stories.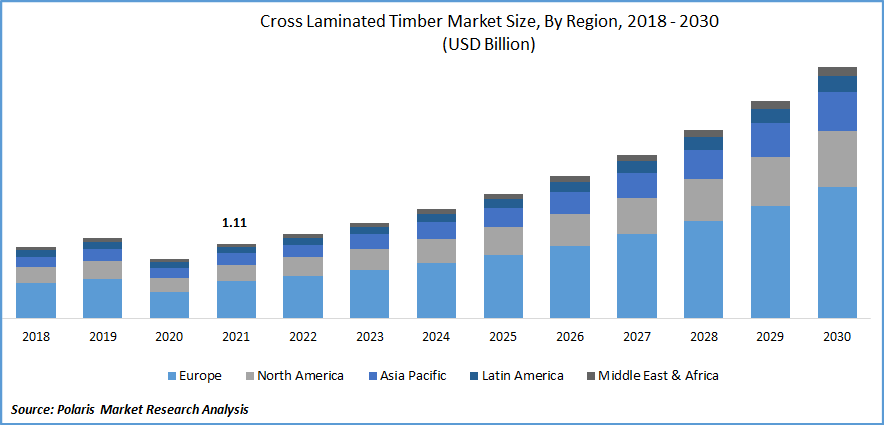 Know more about this report: Request for sample pages
Laminated wood is made by connecting boards together to create a single structural unit. CLT enables the fabrication of plates, surfaces, or walls by mounting boards in perpendicular slabs. It is plywood constructed of boards with exceptionally huge proportions. The rise in mass timber and prefabricated wood building is predicted to reduce not only developers' costs but also spur new employment and economic growth creation. Through a collection of projects completed in the previous six years, the following designs investigate the usage of cross-laminated wood.
Softwood species are currently the most often utilized for CLT. Norway spruce is the dominant species. Other species, notably Maritime pine, are used in CLT and solid timber construction across the world. Hardwood species for aesthetic grade and system utilization may optimize CLT's mechanical capabilities. To meet expanding demand, mass wood production capacity must be greatly expanded. A new generation of companies with less expertise may enter the CLT business. Transportation and building supplies storage and management require just-in-time shipment of bulk wood products and panels intended for phasing in deployment in a project.
Industry Dynamics
Growth Drivers
With freshly installed production capacity coming online and a strong market view in the future, the enterprises anticipate a demanding yet lucrative market position. The timber-based building is gaining popularity in Europe and North America, while other countries are progressively becoming more amenable to timber construction. These variables will thus assist the market in quickly resuming its development trajectory.
The growing market for CLT, an environmentally friendly building material, is attributed to increased consumer awareness of the environmental harm caused by the concrete and brick production processes. As a result, customers and professionals are changing their emphasis on the use of ecological materials. Because CLT is made of wood, several governments favor its use in building and offer financial and space-liberty incentives to users.
Report Segmentation
The market is primarily segmented based on type, end-use, industry and region.
By Type

By End-Use

By Industry

By Region

Adhesive Bonded CLT
Mechanically Fastened CLT

Structural
Non-structural

North America (U.S., Canada)
Europe (France, Germany, UK, Italy, Netherlands, Spain, Russia)
Asia Pacific (Japan, China, India, Malaysia, Indonesia, South Korea)
Latin America (Brazil, Mexico, Argentina)
Middle East & Africa (Saudi Arabia, UAE, Israel, South Africa)
Know more about this report: Request for sample pages
The adhesive-bonded CLT is the largest segment in 2021
The adhesive bonded CLT segment accounted for a major market revenue share in 2021 and is projected to show similar dominance over the forecast period. The manufacturing cost of adhesive bonded CLT is less costly in comparison to mechanical fastened CLT because of fewer machinery requirements. However, treating CLTs with preservatives can have a negative impact on the adhesive bonding at a microscopic level and is projected to affect the bonding strength leading to delamination.
Owing to the superior mechanical qualities and bond performance of Eucalyptus CLT, PUR adhesive is projected to be the optimum solution for manufacturing CLT made from Eucalyptus. Key adhesives used in the bonding of CLT include emulsion polymer isocyanate (EPI), Epoxy Resin (EP), Phenol Resorcinol Formaldehyde (PRF), and Polyurethane (PUR).
The residential segment accounted for a major market application
The residential segment dominated the global CLT market in 2021 and is projected to show a similar trend over the forecast period. Non-residential building applications are also substantial, owing to the widespread use of CLT in constructing office buildings in North America and the Asia Pacific. The use of CLT in commercial construction is also growing throughout Europe, contributing to the rise of the non-residential building market.
On the other hand, due to the large-scale consumption of this type of timber for constructing multi-family structures in growing countries, commercial buildings are projected to witness tough competition from the housing segment. Furthermore, CLT is widely utilized in residential structures in Europe due to its superior heat insulation properties that have resulted in the development of the residential sector and the use of CLT in the worldwide market.
Nonstructural end-use is the fastest-growing application
The growing urban residential sector positively impacts the global nonstructural application of CLTs. Panels of CLT can be utilized for non-load bearing and both loads bearing in the constructions for floor, wall, and roof applications. The materials were originally used to build low and mid-rise buildings, but in recent times it, has emerged as a popular choice for high-rise buildings.
The demand in the Asia Pacific is expected to witness significant growth
Europe dominated the market with more than 50% revenue share in 2021 and is projected to show a similar trend over the forecast period. However, North America is also a trending market owing to favorable green building codes for the product. The demand for cross-laminated wood in North America is mostly driven by demand from the United States. Strong expansion in application industries in Canada and Mexico is expected to boost regional demand for cross-laminated wood products. However, different wood product laws have been enacted in the region, which may impede market expansion.
The implementation of green building rules by various governments across the Asia Pacific region is expected to boost the market growth. Because the region is characterized by high temperatures and adverse climatic conditions, customers choose concrete buildings over timber construction, which is anticipated to limit market expansion.
Demand from Australia, Japan, China, and India will drive the Asia Pacific market, where it will be used to create wood-based structures with increased seismic performance characteristics. The market in China is predicted to develop because of research being conducted to integrate locally produced bamboo into the product's manufacture, which would lower the cost of the product, making it cheaper than conventional construction materials. The market in the Rest of the World is still in its infancy, but it will acquire market share soon as the region's use of wood material grows.
Demand for CLT is increasing because of the rising development of buildings and infrastructure in developing nations, where numerous projects are planned in distant regions without concrete or steel. Manu manufacturers believe that the key factor behind the success of the timber industry is CLT which provides several extraordinary benefits over mineral-based and steel construction materials. Furthermore, the development of hybrid technology that utilizes a mix of various materials is further projected to uplift the CLT market over the foreseeable future.
Competitive Insight
Major corporations are the most significant participants in the worldwide cross laminated wood industry. These firms have played an important role in modifying the rules of competition in this industry and steering the market toward long-term growth. To enhance their market share, several corporations are boosting their investments and seeking new partners. The market is consolidated in nature owing to dominance from European players.
Some of the major players operating in the global market include B&K Structures, Stora Enso, Eugen Decker & WebMan, Structurlam Mass Timber Corporation, SmartLam NA
Recent Developments
In 2022, Stora Enso launched a new production site for CLT in Czech Republic for an investment of EUR 79 million. The new location will significantly increase CLT manufacturing capacity to fulfill the growing demand for cost-effective, ecological, and recyclable construction materials.
In 2021, Bergkvist Siljan, a Swedish sawmill group, was purchased by Mayr-Melnhof Holz Holding Firm. This keeps the Austrian wood processing group's expansion and growth strategy on track.
Cross Laminated Timber Market Report Scope
| | |
| --- | --- |
| Report Attributes | Details |
| Market size value in 2022 | USD 1.26 billion |
| Revenue forecast in 2030 | USD 3.72 billion |
| CAGR | 14.54% from 2022 - 2030 |
| Base year | 2021 |
| Historical data | 2018 - 2020 |
| Forecast period | 2022 - 2030 |
| Quantitative units | Revenue in USD billion and CAGR from 2022 to 2030 |
| Segments Covered | By Wallet Type, Industry, End-User, By Region |
| Regional scope | North America, Europe, Asia Pacific, Latin America; Middle East & Africa |
| Key Companies | Stora Enso, Pfeifer Group, HASSLACHER Holding GmbH, Mayr-Melnhof Holz, Binderholz GmbH |