The global development to operations market was valued at USD 11.69 billion in 2022 and is anticipated to grow at a CAGR of 16.7% during the forecast period. The rising need for digital transformation, automation, agile methodologies, CI/CD, cloud computing, containerization, and DevOps as a service is fueling the growth of the DevOps industry. According to a survey by Coleman Parks in January 2023, in 90% of the organization, the speed of digital change has increased during the last 12 months. As they invest more in continuously evaluating software quality, securing production environments, automatic vulnerability detection, and automated release validation, organizations across the globe are expected to invest in automation across development, security, & operations by 2024.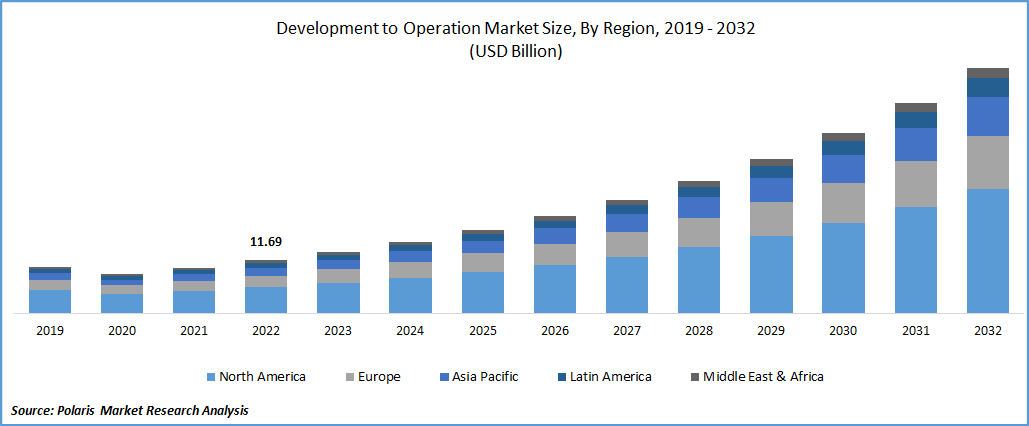 To Understand More About this Research: Request a Free Sample Report
DevOps strongly emphasizes cooperation and communication across teams working on software development and delivery, including operations, development, and other groups. To create and deploy software rapidly and effectively, it is crucial to foster cooperation and break down silos. Adopting DevOps principles may provide businesses a competitive edge by enabling them to produce software more rapidly and cost-effectively while increasing customer satisfaction. This is crucial in the current digital economy as customers need a smooth and tailored experience across all channels. This is especially significant in highly competitive businesses where success depends on innovation. These factors are augmenting the demand for DevOps in large Organizations.
Another factor driving the market's growth is the rising adoption of cloud computing. With tools for continuous integration and development, most public & private cloud computing providers enable DevOps holistically on their platforms. This close connection makes a good DevOps process possible and minimizes the cost of on-premises automation technologies.
Industry Dynamics
Growth Driver
The development to operations market is driven by the increasing demand for digital transformation, automation, cloud computing, artificial intelligence, and the Internet of Things (IoT). High investment in IT infrastructure is driving the need for faster and more efficient software development and delivery. DevOps provides a way to achieve this by enabling companies to automate their development and delivery processes and increase team collaboration. Agile methodologies are becoming increasingly popular in the IT and telecom sectors. DevOps complements these methodologies by streamlining the development and delivery processes, reducing the time to market, and improving quality. This factor is driving the market growth.
Report Segmentation
The market is segmented based on deployment, enterprise size, end-use and region.
By Deployment

By Enterprise Size

By End-use

By Region

IT

BFSI

Retail

Manufacturing

Healthcare

Energy & Utilities

Others

North America (U.S., Canada)

Europe (France, Germany, UK, Italy, Netherlands, Spain, Russia)

Asia Pacific (Japan, China, India, Malaysia, Indonesia. South Korea)

Latin America (Brazil, Mexico, Argentina)

Middle East & Africa (Saudi Arabia, UAE, Israel, South Africa)
To Understand the Scope of this Report: Speak to Analyst
On-premise segment is expected to grow at a high CAGR during the forecast period
The cloud segment was leading the market in 2022. Working in the cloud gives DevOps teams faster access to scalable hardware resources that may speed up the development, testing, and deployment of new updates and services. Increased cloud computing use, the demand for quicker software delivery and deployment, and the growing significance of automation and collaboration in software development and operations all contribute to the market expansion.
For instance, in February 2023, Akamai Technologies launched a cloud computing solution Akamai Connected Cloud that combines its capacity for edge application deployment with the cloud platform. A new generation of contemporary apps that require access to cloud core infrastructure resources and highly dispersed edge computing services will be able to run on the Akamai Connected Cloud platform.
The on-premise segment is expected to grow substantially during the forecast period. The nature of on-premises deployment has evolved; it now possesses many aspects of the cloud, such as a high level of virtualization and a degree of relative freedom from hardware restrictions due to abstraction. Customers typically opt for an on-premises deployment when they need their data to remain on their network, for security reasons, to comply with regulatory standards, or for other factors.
SMEs segment is anticipated to exhibit high CAGR during the forecast period
The large enterprise segment accounted for the largest market share in 2022. Large businesses are increasingly adopting DevOps strategies and ideas to increase the effectiveness, efficiency, and speed of their software development and delivery processes. The DevOps approach is automating away the manual tasks that snarl crucial projects. Large firms frequently have the resources (people, time, and money) to implement automated technologies like CI/CD pipelines, unit and integration test suites, and configuration management systems. DevOps is becoming increasingly popular among major organizations due to its advantages, including shorter time to market, better software quality, and improved teamwork and communication.
The SMEs segment is anticipated to grow at a high CAGR during the forecast period. Deployment of DevOps in SMEs may enhance the organization's performance, productivity, and profitability when the IT and DevOps teams collaborate and streamline the delivery of technological solutions that meet business goals. SMEs are leveraging various DevOps tools and technologies that are affordable, easy to use, and scalable, such as open-source tools, cloud-based solutions, and containerization, which can prove critical for their success in today's fast-paced and competitive business environment.
IT & Telecom segment dominated the market during 2022
The IT & Telecom segment accounted for the largest market share globally. DevOps provides a way for companies in the IT & Telecom sector to address various challenges, including rapid technological change, intense competition, and the need for continuous innovation and improvement, and remain competitive by accelerating software development and delivery, improving quality and reliability, and enhancing operational efficiency. According to a survey by GitLab in 2021, approximately 40% of DevOps teams are employed in the IT sector, and 60% of developers are releasing code faster using DevOps Technology, which increases their productivity and helps them meet deadlines.
The manufacturing segment is anticipated to grow at a high CAGR during the forecast period. With DevOps, the manufacturing sector gains more productivity, quicker reaction times, and the ability for all teams inside the company to work together to develop and improve production methods. To improve management and guarantee that diverse groups are on the same page, the numerous software tools and technologies used in manufacturing must cooperate. DevOps makes this feasible. By boosting productivity, the industrial sector can do away with costly, time-consuming procedures and compete in the fast-paced, cutthroat competition.
North America region is expected to lead the market growth during the forecast period
North America is expected to dominate the market growth during the forecast period. The rising need for digital transformation, automation, and cloud computing fuels the adoption of DevOps in North America. Many businesses in the area are quickly implementing digital technology to enhance their operational effectiveness and customer experience. The region's market is expanding mostly due to the United States.
In January 2023, B. Braun selected Cognite's "Manufacturing Data Management" system. B. Braun uses digital twins and AI-powered apps to achieve operational excellence in production, maintenance, & sustainability by combining Cognite's Industrial DataOps platform with its manufacturing domain expertise. All operational data from systems used for product development, quality management, & enterprise systems are integrated and contextualized into one data layer using Cognite Data Fusion.
The Asia-Pacific region is anticipated to expand throughout the projection period at a high CAGR. Organizations in the area have increased their agile development efforts to stay competitive and utilize cutting-edge developing technologies like DevOps. Players in the market are working with IT firms to hasten the uptake of DevOps technologies in the region, fostering a favorable environment for the sector. DevOps deployment in India is almost at the mature level.
Competitive Insight
Some of the major players operating in the global development to operations market include Amazon Web Services, Atlassian Corporation, Dell Technologies, Microfocus, Broadcom, Cisco Systems, Docker, Rackspace Technologies, Oracle Corporation, Hewlett Packard, IBM Corporation, GitLab, Parasoft, Progress Software, and Puppet.
Recent Developments
In February 2023, Procyon announced to invest around USD 6.5 Mn to develop its access management technology, which it claims will revolutionize how DevOps teams & developers access cloud services. The company's "Multi-Cloud Privilege Access Management" platform offers a solution that enables password-less technology, rapid access to developers' needs, and sufficient privileges to perform their tasks.

In January 2023, GitLab unveiled the "GitLab Remote Development" to access a more secure continuous integration/continuous delivery platform & to add a dashboard to make monitoring the overall progress of application development projects easier. GitLab is also introducing a "GitLab Value Streams Dashboard," which provides executives access to progress indicators of undergoing development projects.
Development To Operations Market Report Scope
| | |
| --- | --- |
| Report Attributes | Details |
| Market size value in 2023 | USD 13.61 billion |
| Revenue forecast in 2032 | USD 54.53 billion |
| CAGR | 16.7% from 2023– 2032 |
| Base year | 2022 |
| Historical data | 2019 – 2021 |
| Forecast period | 2023- 2032 |
| Quantitative units | Revenue in USD billion and CAGR from 2023 to 2032 |
| Segments covered | By Deployment, By Enterprise Size, By End-use, By Region |
| Regional scope | North America, Europe, Asia Pacific, Latin America; Middle East & Africa |
| Key companies | Amazon Web Services, Atlassian Corporation Plc., Dell Technologies, Microfocus, Broadcom Inc., Cisco Systems, Inc., Docker, Inc., Rackspace Technologies, Oracle Corporation, Hewlett Packard Enterprise, IBM Corporation, GitLab, Parasoft, Progress Software Corporation, Puppet Inc |