The global electric transporters market was valued at USD 50.55 billion in 2022 and is expected to grow at a CAGR of 8.5% during the forecast period.
Electric transporters are vehicles designed for short-distance transportation due to compact and efficient. They've gained popularity recently due to their eco-friendly nature, ease of use, and versatility in urban environments. Electric transporters come in various forms, including electric scooters, bikes, skateboards, and hoverboards. They're powered by rechargeable lithium-ion batteries, offering zero-emission transportation and reducing the carbon footprint compared to traditional gasoline-powered vehicles. These vehicles are often lightweight and compact, making them ideal for navigating congested city streets and narrow pathways.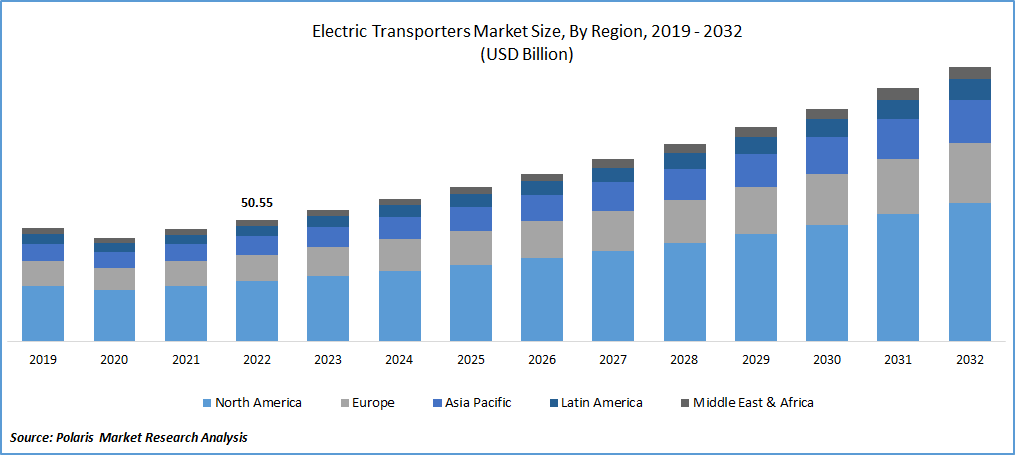 To Understand More About this Research: Request a Free Sample Report
One of the key advantages of electric transporters is their ease of use and maneuverability. They usually feature intuitive controls, such as handlebars or handheld remotes, allowing riders to learn and operate the vehicle quickly. Electric scooters and bikes often have adjustable speed settings and regenerative braking systems, enhancing user safety and control.
Electric transporters provide a practical solution for short-distance commuting and leisure activities. They're commonly used for short trips to work, school, or nearby destinations, offering a convenient and efficient alternative to cars or public transportation. Electric bikes, in particular, provide an opportunity for active commuting, combining the benefits of exercise with eco-friendly vehicles.
Moreover, electric transporters reduce traffic congestion and improve air quality in urban areas. By providing a sustainable mode of transportation, they offer a viable solution to the last-mile transportation challenge, efficiently connecting public transit stops to final destinations.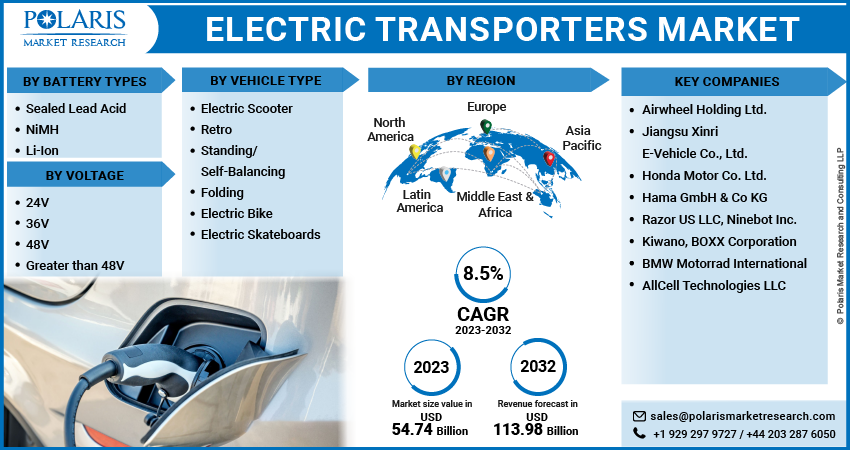 For Specific Research Requirements, Request for a Customized Report
Industry Dynamics
Growth Drivers
People are becoming more aware of environmental issues and the need to reduce carbon emissions, they turn to cleaner transportation options. Electric transporters are particularly appealing because they operate with zero emissions, contributing to better air quality in urban areas. People who want to reduce their carbon footprint choose electric transporters as a greener alternative to gasoline-powered vehicles.
The increasing population in urban areas has resulted in congestion and mobility challenges. Electric transporters offer a practical solution for short-distance travel and "last-mile" connectivity from transportation hubs to final destinations. They are compact and efficient, allowing individuals to navigate through crowded streets, access narrow pathways, and avoid traffic congestion.
The development of advanced lithium-ion battery technology has greatly improved the performance and range of electric transporters. Lightweight, high-capacity batteries have increased efficiency and extended the range of electric scooters, bikes, and skateboards. This has addressed one of the key concerns of consumers regarding the limitations of early electric transportation options.
Report Segmentation
The market is primarily segmented based on vehicle type, battery type, voltage and region.
By Vehicle Type

By Battery Types

By Voltage

By Region

Retro

Standing/ Self-Balancing

Folding

Electric Bike

Electric Skateboards

Sealed Lead Acid

NiMH

Li-Ion

24V

36V

48V

Greater than 48V

North America (U.S., Canada)

Europe (France, Germany, UK, Italy, Netherlands, Spain, Russia)

Asia Pacific (Japan, China, India, Malaysia, Indonesia, South Korea)

Latin America (Brazil, Mexico, Argentina)

Middle East & Africa (Saudi Arabia, UAE, Israel, South Africa)
To Understand the Scope of this Report: Speak to Analyst
Electric Scooter is expected to grow significantly during the forecast period
The popularity of electric scooters is expected to increase significantly in the coming years. These vehicles offer a practical and efficient mode of transportation for short distances in urban areas. They are designed with user-friendliness and are lightweight and foldable for easy portability. Electric scooters are powered by rechargeable batteries and feature handlebar-mounted controls for speed and acceleration. They are ideal for navigating through congested city streets and narrow pathways, making them a practical choice for commuting or running errands. Electric scooters are cost-effective and require minimal maintenance, making them a practical and economical option for transportation.
48V is expected to witness considerable growth during the forecast period
Over the forecast period, the 48V segment is expected to grow significantly. This is due to high-voltage batteries', high performance and hybridization opportunities. Consumers are demanding higher performance output, driving the demand for these batteries. Scooters would benefit from high-voltage batteries as they improve acceleration, but their performance may decrease as the battery discharges. On the other hand, low-voltage batteries like 24V and 36V are used in electric skateboards and low-end electric bikes, resulting in a smaller market share. The greater than 48V segment is predicted to capture a considerable electric transporters market share, but it is classified as a "High Voltage Electronic," requiring additional safety certification.
The demand in North America is expected to witness significant growth during forecast period
Electric transporters, such as electric scooters, bikes, and skateboards, have become increasingly popular in North America in recent years. This trend is fueled by a growing emphasis on sustainable transportation, rising urbanization, and the need to address traffic congestion and air pollution.
The United States has introduced shared electric scooter programs, which allow people to rent electric scooters for short trips. These programs offer a convenient and eco-friendly alternative to traditional modes of transport, reducing reliance on cars and lessening traffic congestion. Electric scooters are well-suited for navigating crowded city streets and reaching destinations quickly due to their compact size and maneuverability. They have embraced the concept of micro-mobility, promoting the use of electric scooters and other small electric vehicles to enhance urban mobility and reduce the environmental impact of transportation.
In Asia Pacific, China dominates the regional as well as the worldwide e-bike market, with estimates of approximately 85 percent of the bikes sold global sales in the country. The country manufactures around 37 million new e-bikes every year and it is expected to increase in the near future.
However, production might experience slower growth as several European countries have been actively participating in the industry. Demand for these products in Europe has grown significantly in the recant years.
Competitive Insight
Some of the industry participants include Airwheel Holding Ltd., Jiangsu Xinri E-Vehicle Co., Ltd., Honda Motor Co. Ltd., Hama GmbH & Co KG, Razor US LLC, Ninebot Inc., Kiwano, BOXX Corporation, BMW Motorrad International, and AllCell Technologies LLC. These leading players in the market are introducing innovative products in the market to cater to the growing demand of consumers. Global players are entering new markets in developing regions to expand their customer base and strengthen market presence.
Recent Developments
In June 2023, Mercedes will launch EQT electric transporter in Germany that includes a range of sector – specific electric mobility solutions.
In May 2022, Tata motors launched e-cargo transport solutions that is most advanced transporter including zero – emission, four wheel small commercial vehicle (SCV) to serve a wide cariety of intra-city applications
Electric Transporters Market Report Scope
| | |
| --- | --- |
| Report Attributes | Details |
| Market size value in 2023 | USD 54.74 billion |
| Revenue Forecast in 2032 | USD 113.98 billion |
| CAGR | 8.5% from 2023 – 2032 |
| Base year | 2022 |
| Historical data | 2019 – 2021 |
| Forecast period | 2023 – 2032 |
| Quantitative units | Revenue in USD million/billion and CAGR from 2023 to 2032 |
| Segments Covered | By Vehicle Type, By Battery Type, By Voltage, By Region |
| Regional scope | North America, Europe, Asia Pacific, Latin America; Middle East & Africa |
| Key Companies | Airwheel Holding Ltd., Jiangsu Xinri E-Vehicle Co., Ltd., Honda Motor Co. Ltd., Hama GmbH & Co KG, Razor US LLC, Ninebot Inc., Kiwano, BOXX Corporation, BMW Motorrad International, and AllCell Technologies LLC |