The global electrical steel market was valued at USD 24.23 billion in 2022 and is expected to grow at a CAGR of 4.8% during the forecast period.
Market is primarily driven by the increasing electricity demand across the globe. Electrical steel, known for its exceptional electrical properties, including high permeability, electrical resistivity, low hysteresis loss, & low magneto-striction, is widely sought after in applications related to electricity consumption, distribution, & generation.

To Understand More About this Research: Request a Free Sample Report
Despite the challenges posed by the pandemic and its impact on global economic growth, plug-in vehicle sales demonstrated remarkable resilience, reaching approximately 3.24 million units in 2020, which was a substantial increase of over 43% compared to 2019. Notably, Europe emerged as the frontrunner in the EV market in 2020, surpassing China with a remarkable 137% growth in EV sales. This surge in electric vehicle production is driving the demand for electric motors, consequently leading to a significant increase in the consumption of electrical steel. In response to the increasing demand for electrical steel, manufacturers are taking proactive steps to expand their production capacities.
Collaboration between JSW Steel & JFE Steel Corp., who signed a Memorandum of Understanding (MoU) in May 2021 to conduct a feasibility study to establish a JV company within India. The primary focus of this venture would be the manufacturing and sales of electrical steel sheets within the country.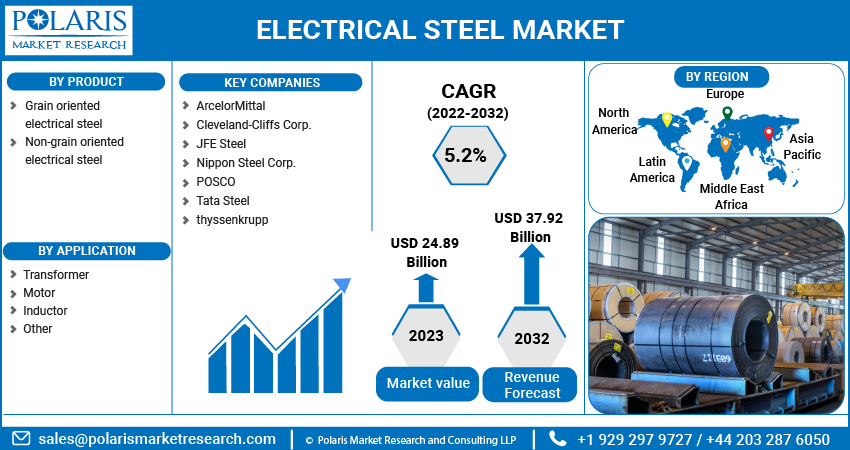 For Specific Research Requirements, Request for a Customized Report
Industry Dynamics
Growth Drivers
Increasing usage in power distribution systems and related applications
Electrical steel plays a crucial role in various electromagnetic devices, including generators, electric motors, relays, solenoids, and others, which are extensively used in power distribution systems and related applications. The United States ranks as the second-largest electricity generator globally, producing approximately 4,000 TWh of electricity from utility-scale generators in 2020, with renewables contributing to a significant 16.7% increase in power generation compared to the previous year. Another significant driver for the electrical steel market is the growth of the electric vehicles (EVs) industry. The specific magnetic properties of electrical steel make it essential for the construction of rotors and stators in EV motors. By reducing core energy losses, electrical steel enhances motor efficiency, leading to improved vehicle range and performance.
Report Segmentation
The market is primarily segmented based on product, application, and region.
By Product

By Application

By Region

Grain oriented electrical steel

Non-grain oriented electrical steel

Transformer

Motor

Inductor

Other

North America (U.S., Canada)

Europe (France, Germany, UK, Italy, Netherlands, Spain, Russia)

Asia Pacific (Japan, China, India, Malaysia, Indonesia. South Korea)

Latin America (Brazil, Mexico, Argentina)

Middle East & Africa (Saudi Arabia, UAE, Israel, South Africa)
To Understand the Scope of this Report: Speak to Analyst
By Product Analysis
Non-grain Oriented Electrical Steel (NGOES) segment accounted for the largest share in 2022
NGOES is widely utilized across the entire energy value chain, including generators, electric motors, and appliances. It is available in various grades, each tailored to specific properties, compositions, and applications. It is primarily used in the transformers and the charging infrastructure of electric vehicles (EVs). It exhibits high magnetic induction & stacking factor, allowing for a more efficient use of the material in core winding. These magnetic properties also lead to reduced core losses, providing cost-effective & energy-efficient solutions for transformers.
GOES segment is likely to register highest growth rate. The growth in this segment is primarily driven by the increasing production of transformers. However, GOES holds a smaller market share compared to NGOES due to its higher cost.
By Application Analysis
Transformers segment held substantial share in 2022
Transformers segment is projected to hold significant market share. Increasing complexity in the electrical grids, the growing adoption of electric vehicles (EVs), the rise in the digital loads, and the expansion of decentralized generation have significantly driven the demand for transformers. To meet this rising demand, companies have been expanding their production capacities. For instance, in February 2021, a new transformer plant was commissioned in the Kerala, India, with investment of around INR 12.5 crores (~USD 1.7 million). The plant's annual production capacity for manufacturing power transformers up to 25 MVA, 132kV class, is expected to reach 1,500 MVA.
Motor segment witnessed steady growth. Electrical steel's desirable characteristics, such as high frequency, high permeability, & magnetic properties, make it a preferred material for electric motors. With the increasing focus on electric vehicle (EV) production, there is a growing demand for electric motors, which is expected to drive market growth. Electric motors used in EVs offer four times higher speed compared to motors used in industrial machinery. However, high speed can generate significant heat, impacting the vehicle's performance by enhancing core losses & extreme mechanical stress on the motor components. Electrical steel addresses this challenge with its properties, providing reliability and enhancing the durability of the motor.
Regional Insights
North America region dominated the global market in 2022
North America region dominated the global market. The increasing focus on power generation and electric vehicle (EV) production in the region has led to a surge in demand for electric motors and charging stations, consequently driving the market for electrical steel. For instance, in March 2021, Foxconn revealed plans to manufacture EVs in North America by 2023. To support its EV-related and other operations, the company intends to invest NTD 10 billion (~USD 354 million) over the next three years.
As investments in the electric vehicle (EV) industry continue to rise, companies are placing a strong emphasis on electric motors. For example, in April 2021, Exro Technologies, unveiled its plan to establish a 37,000 Sqf manufacturing facility in the Canada.
The company has developed an innovative class of power electronics featuring its patented coil driver technology, designed to enhance the performance of electric motors and batteries. By establishing this new facility, Exro Technologies aims to meet the increasing demands of the consumer EV market.
Europe expected to gain substantial share. The rapid growth of the electric vehicle (EV) market has been a significant driving force for the increased consumption of electrical steel in the region. With approximately 1.4 million EVs sold, Europe accounted for a substantial 45% share of the global EV sales in the same year. The promising growth of the EV market has also attracted foreign companies to invest in the region.
In November 2020, Nidec unveiled plans to establish an electric vehicle (EV) factory in Serbia, making a significant investment of JPY 200 billion (~USD 1.9 billion) to strengthen its presence in Europe and effectively compete with Chinese counterparts. The new facility is projected to have an annual production capacity of 300,000 motors by the year 2023.
This move showcases Nidec's commitment to expanding its operations in Europe and capitalizing on the growing demand for electric motors in the region.
Key Market Players & Competitive Insights
Leading industry players possess a competitive advantage through their utilization of advanced technologies, extensive research endeavors, and well-established presence in regional markets. However, the COVID-19 pandemic had profound effects on supply chain operations and sales, resulting in losses for several manufacturers. To regain competitiveness and mitigate losses, companies within the industry are implementing various strategies, including upgrading their production facilities to deliver high-quality products that meet customer demands.
Some of the major players operating in the global market include:
ArcelorMittal

Cleveland-Cliffs Corp.

JFE Steel

Nippon Steel Corp.

POSCO

Tata Steel

thyssenkrupp.
Recent Developments
In April 2023, Posco and Honda have joined forces to accelerate their journey towards achieving carbon neutrality. Through this strategic partnership, they intend to leverage each other's expertise to achieve their carbon-neutral goals. Additionally, the collaboration will foster future cooperation in environmental and electric technology initiatives.

In July 2022, JFE Steel complated acquisition of the EcoLeaf, a company known for its tin-plate products, Universal Brite, & tin-free steel, in Japan. Through this acquisition, JFE aims to leverage the "SuMPO EPD program" & benefit from EcoLeaf's data visualization capabilities to enhance the transparency of their goods' environmental factors.
Electrical Steel Market Report Scope
| | |
| --- | --- |
| Report Attributes | Details |
| Market size value in 2023 | USD 24.89 billion |
| Revenue forecast in 2032 | USD 37.92 billion |
| CAGR | 4.8% from 2023 – 2032 |
| Base year | 2022 |
| Historical data | 2019 – 2021 |
| Forecast period | 2023 – 2032 |
| Quantitative units | Revenue in USD billion and CAGR from 2023 to 2032 |
| Segments covered | By Product, By Application, By Region |
| Regional scope | North America, Europe, Asia Pacific, Latin America; Middle East & Africa |
| Key companies | ArcelorMittal, Cleveland-Cliffs Corp., JFE Steel, Nippon Steel Corp., POSCO, Tata Steel, and thyssenkrupp |