The global electroencephalography (EEG) devices market size was valued at USD 754.4 Million in 2021 and is expected to grow at a CAGR of 7.2% during the forecast period.
An electroencephalogram is a test that uses small metal discs (electrodes) connected to your scalp to detect electrical activity in your brain. Even when you are sleeping, your brain cells communicate with each other via electrical impulses. On an EEG recording, this activity appears as wavy lines.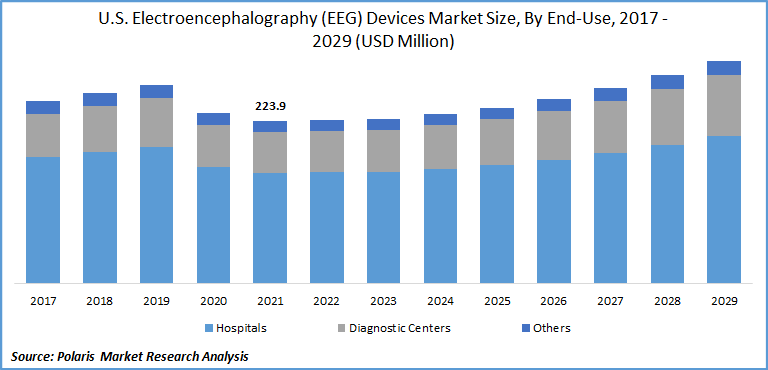 Know more about this report: request for sample pages
Electroencephalography devices can detect variations in brain activity that can aid in the diagnosis of several brain illnesses, including epilepsy and other seizure disorders. Electroencephalography can also be used to diagnose or treat a brain tumor, brain damage from the head injury, brain dysfunction that can have a variety of causes, inflammation of the brain, stroke, and sleep disorders.
An EEG can also be used to confirm brain death in people who have been in a coma for a long time. In a medically induced coma, continuous electroencephalography is utilized to help determine the appropriate level of anesthesia. With the rising healthcare sector, increasing R&D investment, technological advancement, and increasing prevalence of neurological disorders is fueling the electroencephalography devices market growth.
Industry Dynamics
Growth Drivers
In India, stroke, headache disorders, and epilepsy are the leading causes of neuropathic disease. The aging population is the key factor behind the rise in non-communicable neurological disease. According to research published in The Lancet Global Health, the majority of neurological disorders identified in 2019 were non-communicable (82.8%), including stroke, epilepsy, cerebral palsy, Alzheimer's disease, Parkinson's disease, and other diseases. Electroencephalography devices are widely used for the analysis of neurological diseases, therefore, fueling the market demand of the electroencephalography devices market.
The high incidence of Alzheimer's cases is further fueling the demand for the market. Dementia affects more than 25 million people worldwide, the majority of whom have Alzheimer's disease. Alzheimer's disease has had a huge influence on affected people, caregivers, and society in both developed and developing countries. Europeans are affected by mental and neurological ailments, with about 165 million people, or 38 % of the population, suffering from a brain disorder such as depression, insomnia, anxiety, or dementia each year, therefore, increasing the growth of the electroencephalography devices market.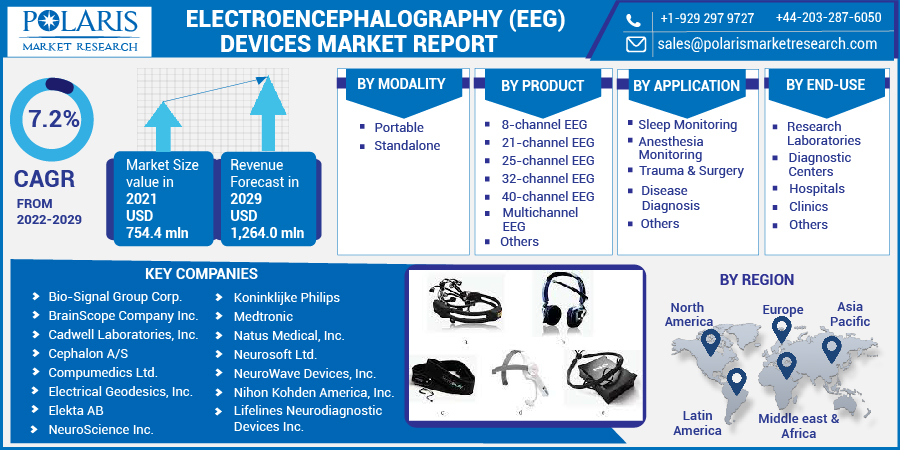 Know more about this report: Request for sample pages
Report Segmentation
The market is primarily segmented on the basis of modality, product, application, end-use, and region:
By Modality

By Product

By Application

By End-Use

By Region

8-channel EEG
21-channel EEG
25-channel EEG
32-channel EEG
40-channel EEG
Multichannel EEG
Others

Trauma & Surgery
Disease Diagnosis
Anesthesia Monitoring
Sleep Monitoring
Others

Hospitals
Clinics
Diagnostic Centers
Research Laboratories
Others

North America (U.S., Canada)
Europe (Germany, UK, France, Italy, Spain, Netherlands, Austria)
Asia Pacific (China, India, Japan, South Korea, Indonesia, Malaysia)
Latin America (Brazil, Mexico, Argentina)
Middle East & Africa (Saudi Arabia, South Africa, Israel, UAE)
Know more about this report: request for sample pages
Insight by Modality
On the basis of modality, the standalone devices segment dominated the global electroencephalography devices market in 2020. EEG systems that are fixed or implanted at a specific location are known as standalone electroencephalography systems. With the rising geriatric population, increasing prevalence of Alzheimer, epilepsy, dementia, multiple sclerosis, Parkinson's disease, and stroke, the demand for standalone devices is increasing.
Insight by Product
On the basis of product, 32 channel electroencephalography devices dominated the market in 2020 owing to their efficiency, ease of use, high output, technological advancement, and high acceptance by healthcare workers. The key elements driving growth are technological advancements in 32-channel EEG equipment and their widespread acceptance by healthcare professionals.
Insight by End-Use
The hospital segment dominated the global electroencephalography systems market in 2020 owing to the growing number of patients suffering from neurological diseases. The significant market share of hospitals is due to factors such as well-resourced diagnostic rooms, higher purchasing power, and the presence of highly skilled healthcare personnel. Additionally, the growing geriatric population, as well as the availability of innovative medical devices and the creation of hospitals in developing nations, all contribute to the segment's growth.
Geographical Overview
North America dominated the global electroencephalography systems market in 2020 due to rising healthcare sectors, advancing technology, and increasing investment in R&D activity. For millions of people of all ages in the U.S, neurological illnesses and ailments have serious and sometimes fatal implications. The Centers for Disease Control and Prevention (CDC) was given permission by Congress in 2016 to initiate developing a National Neurological Conditions Surveillance System (NNCSS) due to the rising prevalence of neurological diseases in the region.
Stroke is a leading cause of death in the U.S and is a major cause of serious disability for adults. According to the data provided by the Centre for Disease Control and Prevention, every year, more than 795,000 people in the U.S have a stroke. Between 2014 and 2015, the cost of stroke in the U.S was almost $46 billion. This covers the cost of healthcare services and stroke-treatment medications.
Competitive Landscape
Some of the major players operating in the market are Bio-Signal Group Corp., BrainScope Company Inc., Cadwell Laboratories, Inc., Cephalon A/S, Compumedics Ltd., Electrical Geodesics, Inc., Elekta AB, NeuroScience Inc., Koninklijke Philips, Lifelines Neurodiagnostic Devices Inc., Medtronic, Natus Medical, Inc., Neurosoft Ltd., NeuroWave Devices, Inc., Nihon Kohden America, Inc. The demand for electroencephalography equipment has increased globally as a result of new product releases and acquisitions by market leaders.
For instance, in 2019, Ceribell, based in the U.S, has launched an FDA-approved rapid response electroencephalography system that provides continuous bedside EEG monitoring with quick seizure identification and alert.
In 2019, Nihon Kohden, a global leader in precision medical products and services in the U.S, announced the launch of its VitalEEGTM wireless electroencephalogram (EEG) headset for quick examination of unconscious patients brain-wave information. VitalEEG is ready to use in five minutes, due to its quick setup and effective electrode placement. This allows doctors to immediately assess brain health and select the next steps in the treatment of an unconscious patient.
Electroencephalography (EEG) Devices Market Report Scope
| | |
| --- | --- |
| Report Attributes | Details |
| Market size value in 2021 | USD 754.4 Million |
| Revenue forecast in 2029 | USD 1,264.0 Million |
| CAGR | 7.2 % from 2022 - 2029 |
| Base year | 2021 |
| Historical data | 2017 - 2020 |
| Forecast period | 2022 - 2029 |
| Quantitative units | Revenue in USD million and CAGR from 2022 to 2029 |
| Segments covered | By Modality, By Product, By Application, By End-Use, By Region. |
| Regional scope | North America, Europe, Asia Pacific, Latin America; Middle East & Africa |
| Key Companies | Bio-Signal Group Corp., BrainScope Company Inc., Cadwell Laboratories, Inc., Cephalon A/S, Compumedics Ltd., Electrical Geodesics, Inc., Elekta AB, NeuroScience Inc., Koninklijke Philips, Lifelines Neurodiagnostic Devices Inc., Medtronic, Natus Medical, Inc., Neurosoft Ltd., NeuroWave Devices, Inc., Nihon Kohden America, Inc. |