The global sleep disorder market size was valued at USD 1.31 billion in 2017 and is anticipated to grow at a CAGR of 8.0% during the forecast period. Sleep Disorders is a condition that affects the ability to sleep well on a regular basis, which is caused by a health problem by much stress. Similarly, it can be occasionally experience sleeping problems due to hectic schedules, stress, and another outsider influence. Sleep disorder can lead to further lead to further health consequences. This disorder is characterized by difficulty in falling asleep, daytime fatigue, lack of concentration, anxiety, and depression.
This disorder may cause severe health issues such as allergies and respiratory problem, chronic pain, nocturia, and stress & anxiety. The frequency of sleep disorders has been expressively increasing over the years, which is estimated to be the key factor driving the market growth. According to an industry report, approximately 75% population in the United States that are between 20 and 60 years old have frequent sleeping difficulties.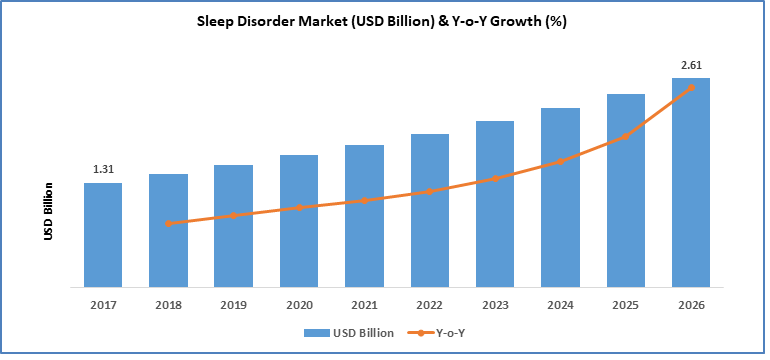 Know more about this study, request a sample pages
At present, the marketed drugs for the treatment of sleep ailments include Somaxon Pharmaceuticals, Inc.'s Silenor (doxepine), Takeda Pharmaceutical's Rozerem (ramelteon), Sunovion Pharmaceuticals Inc.'s Lunesta (eszopiclone), Sanofi-Aventis manufactured Ambien (zolpidem), and others. In addition, sleeping ailment OTC (Over-the-Counter) Drugs are also available, which include, Unisom, Nytol, Compoz, and Sominex. Moreover, a Merck product - Suvorexant is an orexin receptor agonist which is in Phase III clinical trial.
The global market for sleep disorder is majorly driven by the rising prevalence of depression, anxiety, and other disorders. For instance, according to World Health Organization (WHO) depression is a common illness worldwide, with more than 300 million people affected. Furthermore, light night working schedule, lack of quality sleep, and rising geriatric population are also the factors that boost the market growth. Moreover, introduction of home sleep test kits, and utilization of wearable monitors & increasing opportunities for the sleep disorder treatment therapy. However, increasing number of patient expiry of major sleep disorder drugs and related side effects of these drugs would impede the market growth during the forecast period.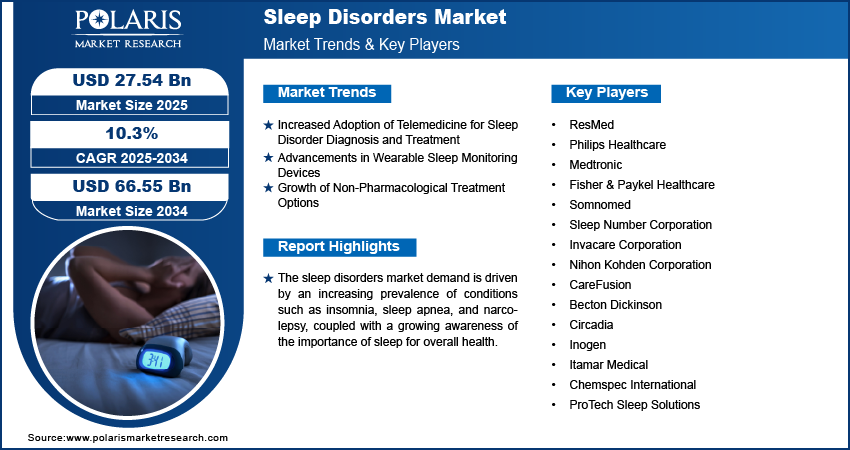 Know more about this study, request a sample pages
Segment Analysis
The global sleep disorder market is segmented on the basis of disorder type, device, treatment, and geography. Based on disorder type, the market is bifurcated into sleep apnea, sleep breathing disorders, insomnia, hypersomnia, circadian rhythm disorders, parasomnia, and sleep movement disorders. The hypersomnia is further classified into insufficient sleep syndrome and narcolepsy. The parasomnia is further divided into sleep eating disorder, sleep terror, REM sleep behavior disorder, and others. The sleep movement disorder is further segmented into restless leg syndrome and sleep leg cramps.
Similarly, on the basis of devices, the market is segmented into sleep apnea devices, sleep laboratories, and mattresses & pillows. Based on the devices, sleep apnea devices are estimated to share the highest market in terms of revenue. Growing demand for early treatment and increasing patient awareness are the major factors estimated to boost the demand for such devices. In addition, large number of patient pool seeking for effective diagnosis and treatments are expected to generate lucrative market growth opportunities.
By Treatment, the market is further bifurcated as psychiatric treatment, behavioral treatment, cognitive behavioral therapy, and medication therapy. The medication therapies are further classified as prescription drugs, OTC drugs, and herbal drugs.
Sleep Disorder Market Scope
By Disorder

By Device

By Treatment

By Region

Insomnia
Hypersomnia (Insufficient Sleep Syndrome, Nacolepsy)
Sleep Apnea
Sleep Breathing Disorders
Circadian Rhythm Disorders
Parasomnia (Sleep Eating Disorder, Sleep Terror, REM Sleep Behavior Disorder, Others)
Sleep Movement Disorders

Sleep Apnea Devices
Sleep Laboratories
Mattresses & Pillows

Psychiatric Treatment
Behavioral Treatment
Cognitive Behavioral Therapy
Medication Therapy (Prescription Drugs, OTC Drugs, Herbal Drugs)

North America (U.S.,Canada)
Europe (Germany, UK, France, Italy, Spain, Belgium, Russia, Netherlands, Rest of Europe)
Asia Pacific (China, India, Japan, Korea, Singapore, Malaysia, Indonesia, Thailand, Philippines)
Latin America (Brazil, Mexico, Argentina, Rest of LATAM)
Middle East & Africa (UAE, Saudi Arabia, South Africa, Rest of MEA)
Know more about this study, request a sample pages
Regional Analysis
Geographically, the sleep disorder Industry is segmented across North America, Europe, Asia Pacific, Latin America, and Middle east & Africa. The market for sleep disorder in North America market is estimated to dominate with highest market shares in terms of revenue. The growth of this region is majorly driven by the developed healthcare infrastructure, increasing awareness between among the people, and rising number of people suffering from various mental disorders causing sleep apnea.
Asia Pacific was observed to be the fastest growing region in the market in terms of revenue. APAC has high number of people suffering from sleeping disorder. Thus, increasing demand for effective treatment is expected to provide lucrative growth opportunity in the region. Additionally, increasing awareness about sleep disorders, developing healthcare infrastructure, and changing lifestyle preferences of the population are some of the other factors anticipated to provide robust growth opportunities for the market during the forecast period.
Competitive Landscape
The major players operating in the industry include GlaxoSmithKline plc, Becton Dickson and Company, Cardinal Health, Natus Medical Incorporated Takeda Pharmaceutical Company Limited, Koninklijke Philips N.V., and Teva Pharmaceutical Industries Ltd. These leading players in the market are introducing innovative products in the market to cater to the consumers. Global players are entering new markets in developing regions to expand their customer base and strengthen market presence.