The global epigenetics market was valued at USD 1.56 billion in 2021 and is expected to grow at a CAGR of 18.0% during the forecast period. The growing application of epigenetics market is projected to boost the epigenetics market forward. In addition, increased incidences of cancer, cardiovascular disease, and genetic disorder with growing R&D activities in DND sequencing drive the market.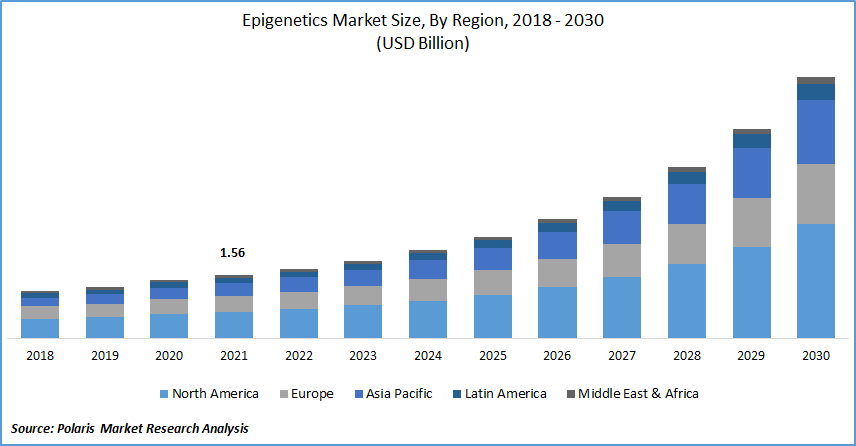 Know more about this report: Request for sample pages
Epigenetics refers to structural alterations in chromosomal areas that communicate or maintain gene expression changes by turning them on or off. Oncology, systems biology, drug research, and non-oncological illnesses like Alzheimer's disease and respiratory sickness all use epigenetics. In forensic research, epigenetics offers applications for paternity testing, differentiating between identical twins, identifying tissue origin, and estimating postmortem interval.
Several malignancies, respiratory infections, cardiovascular diseases, reproductive problems, autoimmune disorders, or cognitive dysfunction issues may have a direct or indirect relationship with epigenetic pathways. Agents such as heavy metals, pesticides, cigarette smoke, hormones, radiation, viruses, environmental variables, or basic nutrition that contribute to such diseases are also on the rise, bolstering market expansion.
Furthermore, the growing emphasis on studying epigenetic changes at the genetic and molecular levels, as well as the development of epigenetics-based medicinal solutions, is projected to affect the financing environment for research projects favorably.
Moreover, the Epidemiology and Genomics Research Group (EGRP) provides an endowment to research-related activities, and the need for personalization in healthcare due to genetic variations, trying to expand application in non-oncology diseases, and target therapy is expected to provide growth opportunities to market players in the coming years.
Private institutions and biopharmaceutical firms are undertaking several financing and R&D projects to identify biomarkers for medication development and disease, driving market expansion.
Additionally, the rising elderly population in various countries is likely to support the expanding market. However, the high upfront and ongoing expenses of the equipment prove to be a substantial impediment to market expansion. The epigenetics market has significant hurdles, such as a dearth of skilled specialists and worries over antibody quality.
The Covid 19 epidemic highlighted the importance of epigenetics. It suggests that Covid 29 has a significant beneficial influence on the epigenetics market growth. Epigenetics might be employed in the coronavirus infection treatment. This could be used to lessen the severity of coronavirus disease. Although there are other options, epigenetics is preferable since it is less dangerous and has fewer risk factors than pharmaceutical medications. These are more effective and safer ways to battle the viral epidemic.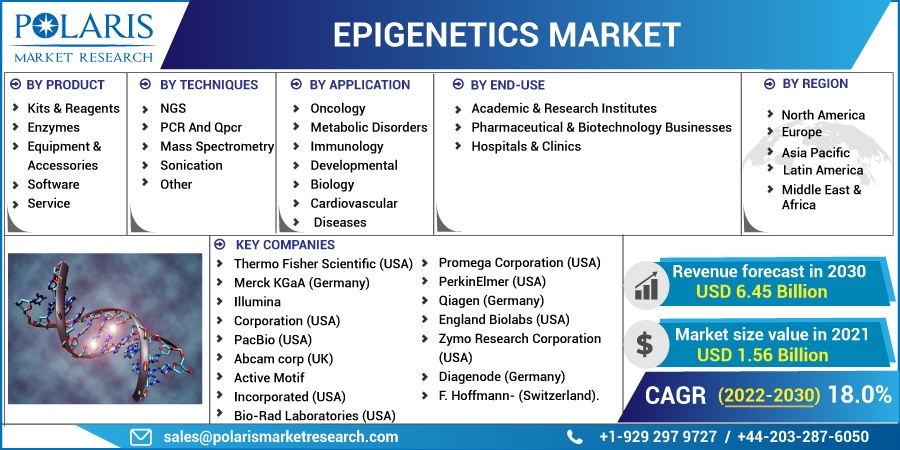 Know more about this report: Request for sample pages
Industry Dynamics
Growth Drivers
Epigenetics opens up new avenues for developing therapeutic treatments to counteract cancer deregulation. Several cancer research projects utilizing epigenetics techniques are now active, with major expenditures made to support such studies. For instance, in January 2016, the Universities of Southampton & University Hospitals Southampton Hospital Nhs Trust (UK) got USD 1.57 million for cancer and infectious disease genetics and genomics research.
Increased investments in epigenetics research to discover innovative treatments to treat and prevent cancer by healthcare organizations such as IHEC (Global Human Epigenetic Modification Collaboration), NCI (National Cancer Institute), & NIH (Ministry Of health) are likely to fuel market expansion. For instance, the National Institutes of Health (NIH) funds epigenetics research through the epigenomics program, which was established to promote epigenetic research on a worldwide basis actively.
The growing need to understand epigenetic changes at the molecular level in order to find therapeutic treatments is likely to motivate healthcare businesses to invest in development and research. Furthermore, the EGRP (Epidemiology & Genomics Research Program) funds research to learn about and comprehend the factors influencing cancer prevalence and outcomes.
Report Segmentation
The market is primarily segmented based on product, techniques, application, end-use, and region.
By Product

By Techniques

By Application

By End-Use

By Region

Kits & Reagents
Enzymes
Equipment & Accessories
Software
Service

NGS
PCR And Qpcr
Mass Spectrometry
Sonication
Other

Oncology
Metabolic Disorders
Immunology
Developmental Biology
Cardiovascular Diseases
Others

Academic & Research Institutes
Pharmaceutical & Biotechnology Businesses
Hospitals & Clinics

North America (U.S., Canada)
Europe (France, Germany, UK, Italy, Netherlands, Spain, Russia)
Asia Pacific (Japan, China, India, Malaysia, Indonesia, South Korea)
Latin America (Brazil, Mexico, Argentina)
Middle East & Africa (Saudi Arabia, UAE, Israel, South Africa)
Know more about this report: Request for sample pages
Kits and reagents accounted for the largest market share in 2021
The global market is divided into kits and reagents, enzymes, equipment and accessories, software, & service. The kits and reagents category has produced the greatest revenue share of the market, owing to the increased development of simple-to-use, low-cost, and sophisticated epigenetics kits and reagents. This is aided by the exponential growth in the no. of epigenetics research studies conducted throughout the years.
During the projection period, the software sector is predicted to increase at the fastest CAGR. The need for software solutions has increased significantly in the epigenetics sequencing market arena. Epigenetics software solutions aid in the investigation of complicated epigenetic changes.
NGS technique is expected to witness fastest growth
The worldwide market is divided into NGS, PCR, and qPCR, mass, spectrometry, sonication, & other methods. Increased demand for NGS amongst research experts seeking clinically informative and comprehensive datasets has contributed to the NGS category generating the most revenue in the market in 2021.
Furthermore, due to their capacity to swiftly sequence epigenomes, NGS technologies are gaining popularity in mutational & epigenetic research activities. The PCR and qPCR category are predicted to develop rapidly, with the greatest CAGR throughout the forecast period.
Technological advances in this market sector are projected to drive segment expansion even more.
Oncology application is expected to witness significant growth
The market is divided into applications such as Oncology, metabolic disorders, immunology, developmental biology, heart diseases, and many others. In 2021, oncology applications led the market, owing to the rising prevalence of cancer worldwide. Also, rising opportunities are provided by epigenetic processes, including histone modification & DNA methylation, to create innovative cancer therapy techniques.
The relevance of epigenetics in studying the genesis of CVDs is expanding, and research into treatment options for these illnesses is likely to drive epigenetics product uptake. A study on the importance of DNA methylation markers in coronary heart diseases was released in October 2021. (CHD).
The researchers looked at the relationship between iCHD (incident CHD) & DNA methylation level in the genome. This study found that the introduction of epigenome-wide technologies has given researchers a chance to examine iCHD at an epigenetic level.
Academic and research institutes is witnessing significant growth
The market is divided into academic and research institutes, pharmaceutical and biotechnology businesses, and hospitals and clinics. The increased usage of epigenetics products throughout government research institutions & university laboratories is the primary revenue contributor to the academic and or research institutes sector.
Pharmaceutical and biotechnology firms are expected to expand quickly throughout the projection period. Start-ups and SMEs are investing in the epigenetics business to develop novel treatment techniques. Chroma Medicine, a firm, revealed ambitions to produce an epigenetic editor with the potential to change how genes make proteins in November 2021. This startup firm has received funding from Newpath Partners, Atlas Venture, and other investors totaling USD 125 million.
The startup intends to use gene-editing techniques to create pharmaceuticals. The business intends to use gene-editing techniques to create medications that can change the epigenome, which will be a revolutionary way to treat hereditary disorders.
North America is expected to dominate and witness the fastest growth over the forecast period
In revenue, the North American market ranked first in 2021, while Asia Pacific emerged as the fastest-expanding regional market for epigenetics. The US market is the largest revenue contributor to the North American epigenetics sector; this area is home to several significant product and service providers, including Pacific Bioscience (US), Thermo Fisher Scientific (US), & Illumina, Inc. (US).
The Asia - Pacific region epigenetics industry's profitable growth is attributable to increasing healthcare infrastructure in emerging nations, which is expected to create new avenues for commercial expansion for regional leading market participants.
Competitive Insight
Some of the major players operating in the global market include Thermo Fisher Scientific (USA), Merck KGaA (Germany), Illumina, Corporation (USA), PacBio (USA), Abcam corp (UK), Active Motif, Incorporated (USA), Bio-Rad Laboratories (USA), Promega Corporation (USA), PerkinElmer (USA), Qiagen (Germany), England Biolabs (USA), Zymo Research Corporation (USA), Diagenode (Germany), & F. Hoffmann- (Switzerland).
Recent Developments
Element Biosciences, Inc. has teamed with Dovetail Genomics to showcase the value and effectiveness for Dovetail's proximity ligation-based NGS collection preparation solutions on Element's AVITI System.
In December 2021, Agilent Technologies collaborated with Lonza. This collaboration intends to transform the way personalized cell therapies are developed.
Epigenetics Market Report Scope
| | |
| --- | --- |
| Report Attributes | Details |
| Market size value in 2022 | USD 1.72 billion |
| Revenue forecast in 2030 | USD 6.45 billion |
| CAGR | 18.0% from 2022 – 2030 |
| Base year | 2021 |
| Historical data | 2018 – 2020 |
| Forecast period | 2022 – 2030 |
| Quantitative units | Revenue in USD billion and CAGR from 2022 to 2030 |
| Segments covered | By Product, By technique, By Application; By End-use, By Region |
| Regional scope | North America, Europe, Asia Pacific, Latin America; Middle East & Africa |
| Key companies | Thermo Fisher Scientific (USA), Merck KGaA (Germany), Illumina, Corporation (USA), PacBio (USA), Abcam corp (UK), Active Motif, Incorporated (USA), Bio-Rad Laboratories (USA), Promega Corporation (USA), PerkinElmer (USA), Qiagen (Germany), England Biolabs (USA), Zymo Research Corporation (USA), Diagenode (Germany), and F. Hoffmann- (Switzerland). |