The global extracellular matrix patches market was valued at USD 27.14 million in 2022 and is expected to grow at a CAGR of 8.2% during the forecast period.
Extracellular matrix (ECM) patches, also known as ECM grafts or matrices, are medical devices or materials used in regenerative medicine and tissue engineering. These patches are created from natural or synthetic extracellular matrix materials, which serve as a framework for repairing, regenerating, or reconstructing damaged or injured tissues in the human body. The ECM is the non-cellular component of tissue that provides structural and biochemical support for the surrounding cells.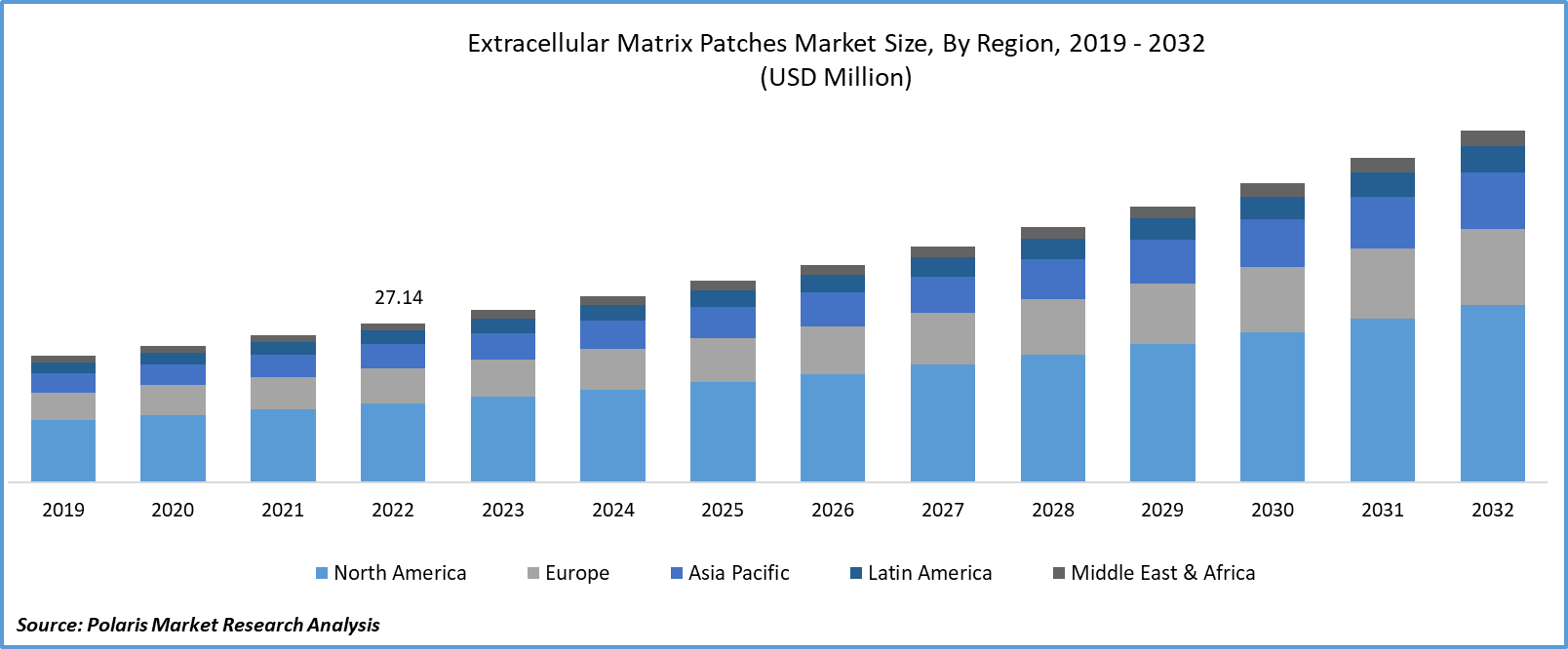 To Understand More About this Research: Request a Free Sample Report
The increasing prevalence of trauma-related injuries and congenital heart disease (CHD), many of which necessitate repair and reconstruction procedures, are the primary drivers of the extracellular matrix patches market.
For instance, according to the 2022 report from the Centers for Disease Control and Prevention (CDC), 18.2 million people were affected by coronary artery disease, and 70% of these patients underwent surgery. Additionally, approximately 40,000 newborns are diagnosed with CHD in the U.S. annually.
The United Kingdom faced a substantial burden of cardiovascular diseases in 2021, with over 7.6 million individuals affected, as indicated by the British Heart Foundation's August 2022 Factsheet. Among them, 4 million were males, and 3.6 million were females. This high prevalence of cardiovascular conditions underscores the demand for Extracellular Matrix (ECM) for cardiac repair, driving the growth of related medical technologies.
Increased recognition of the advantages offered by biological patches compared to synthetic alternatives is a key factor driving the growth of ECM patches. However, in recent years, several of these products have faced recalls, due to limitations in their adoption. Additionally, the utilization of extracellular matrix grafts comes with potential complications such as allergies, chronic inflammation, pain, swelling, and redness, which could negatively affect its expansion in the extracellular matrix patches market.
The elevated expenses associated with ECM grafts could pose a challenge to market expansion. Nevertheless, government reimbursement support is expected to sustain demand. To illustrate, the American Medical Association has designated eight Current Procedural Terminology (CPT) codes specifically for diverse applications of OASIS Matrix products produced by Smith & Nephew.
Industry Dynamics
Growth Drivers
Growing Use of Extracellular Matrix (ECM) in Pelvic Reconstruction Surgeries
The growing use of extracellular matrix (ECM) in hernia and pelvic reconstruction surgeries is driving the market for these products. Abdominal wall hernia surgeries are among the most common procedures globally. In the U.S., over 1 million abdominal wall hernia surgeries are performed each year, according to Medscape. Several companies are dedicated to developing extracellular matrix products for pelvic reconstruction and hernia repair. For instance, in April 2021, Aroa Biosurgery, a soft tissue regeneration company, introduced Myriad Morcells, a morselized format of Myriad Matrix.
Recent technological progress in the extracellular matrix for soft tissue repair and wound healing procedures is driving the demand for these products. One such advancement is AltiPly, developed by Aziyo Biologics. AltiPly is a ready-to-use patch that does not require rehydration and is easy to handle at room temperature. It finds applications in treating conditions like venous leg ulcers, diabetic foot ulcers, and pressure wounds. The proprietary processing of AltiPly enhances growth factors and accelerates the healing process.
Report Segmentation
The market is primarily segmented based on raw material, application, and region.
By Raw Material

By Application

By Region

Cardiac Repair

Vascular Repair & Reconstruction

Pericardial Repair

Dural Repair

Soft Tissue Repair

Wound Healing

North America (U.S., Canada)

Europe (France, Germany, UK, Italy, Netherlands, Spain, Russia)

Asia Pacific (Japan, China, India, Malaysia, Indonesia. South Korea)

Latin America (Brazil, Mexico, Argentina)

Middle East & Africa (Saudi Arabia, UAE, Israel, South Africa)
To Understand the Scope of this Report: Speak to Analyst
By Raw Material Analysis
The porcine segment held the largest market share in 2022
In 2022, the porcine segment held the largest market share due to its extensive utilization in repair and reconstructive surgeries. These grafts, derived from pigs, are like human collagen, reducing the risk of allergic reactions. They offer advantages like durability, flexibility, and minimal scarring, enhancing their demand. Additionally, their widespread availability and high adoption rates contribute significantly to the growth of this segment.
ECM will grow at a rapid pace. The increasing availability of bovine-based products and their expanding applications in pericardial repair, vascular repair, soft tissue repair, dural repair, and other medical procedures have elevated their demand. These patches are favored over alternative materials due to their excellent biocompatibility, reduced infection risk, and ease of handling in surgeries. Moreover, the abundant supply of cattle and their comparatively lower cost are further fueling the growth of this segment.
Growing research efforts by private firms, coupled with substantial investments in research and development, have facilitated the exploration of various raw materials for ECM patch production. Additionally, both public and private entities are backing the development of ECM grafts by contributing human dermis donations. MTF Biologics, a non-profit organization, is actively involved in supplying human allograft tissue. Among its offerings, AlloPatch HD Acellular Dermis stands out as a human allograft sourced from donated human tissue.
By Application Analysis
The soft tissue repair segment held the highest market share in 2022
In 2022, the soft tissue repair segment held the highest share in extracellular matrix patches market. This dominance is attributed to a surge in hernia repair surgeries, specifically inguinal hernia procedures, a higher incidence of trauma surgeries, and increased treatment rates. Inguinal hernia repair stands out as one of the most frequently conducted surgical interventions worldwide, with over 20 million patients undergoing the procedure annually. Moreover, the rising acceptance and understanding of extracellular matrix among healthcare providers, particularly in developed nations, are anticipated to boost this specific application segment.
The vascular repair & construction segment will grow at a substantial pace. This growth is attributed to the escalating volume of vascular surgeries, a higher incidence of vascular diseases, and the growing elderly population. As per data from Medical Travel Brand Management: Success Strategies for Global Healthcare, approximately 13.2 million vascular surgeries were conducted globally in 2022, underscoring the substantial demand for vascular repair procedures.
Moreover, both public and private organizations are actively endorsing research endeavors focused on extracellular matrix applications for vascular conditions. This support is poised to drive the segment even further. Notably, the European Society for Vascular Surgery is championing high-quality research initiatives and advising regulatory entities on vascular disease matters. Additionally, in June 2021, Axio Biosolutions obtained FDA clearance for its Axiostat Patch, designed to manage moderate to severe bleeding during vascular procedures, puncture sites, surgical debridement, and more.
Regional Insights
North America region held the largest market in 2022
In 2022, the North American region held the largest market. The escalating prevalence of cardiovascular diseases, defects, sports-related injuries, and trauma cases has been the driving force behind the rising demand in this region. Disturbingly, annual reports from the American Association for the Surgery of Trauma indicated approximately 150,000 deaths in the U.S. attributable to injuries. Furthermore, the National Institute of Health (NIH) highlighted that half of Americans aged 45 to 84 have atherosclerosis. The presence of numerous market participants further enhances the accessibility and availability of ECM patches in this region.
The presence of advanced research facilities, substantial research funding, and significant healthcare expenditure propels the growth of this regional market. Additionally, the heightened adoption and awareness of sophisticated ECM patches among healthcare providers and patients are driving the demand. Furthermore, favorable reimbursement policies are expected to augment market growth further.
APAC will grow at the fastest rate. This growth is attributed to the high prevalence of cardiovascular diseases, increasing trauma cases, and a rising number of surgeries. For instance, approximately 200,000 infants are born in India annually with congenital cardiac disease, with a birth frequency of 9 per 1000. Among them, one-fifth are likely to have significant defects that require treatment within the first year of life. The escalating healthcare expenditure and the increasing disease burden are expected to drive demand in the coming years. However, the high cost of the product might adversely affect growth in this region.
Key Market Players & Competitive Insights
There are several key market players and competitive insights shaping the landscape of this industry. These companies are at the forefront of research, development, and commercialization of ECM patch products. Research and development activities are crucial for gaining a competitive edge. Companies are investing in innovation to develop ECM products with improved features and applications. The competitive dynamics in the ECM patches market are driven by technological advancements, patient outcomes, and the ability to meet the evolving needs of healthcare professionals. As research in regenerative medicine continues to progress, competition is expected to intensify, further shaping the market landscape.
Some of the major players operating in the global market include:
Cook Group

Coloplast Group

Smith & Nephew

Koninklijke DSM N.V.

MTF Biologics

Aroa Biosurgery

Medtronic

Baxter

Aziyo Biologics

Integra LifeSciences
Recent Developments
In September 2021, Terumo Corporation conducted PANTHER, a graft study. This study, which includes both retrospective and prospective analyses, investigates a diverse range of knitted & woven grafts along with the cardiovascular patches.

In June 2021, Axios Biosolutions obtained clearance from the United States Food and Drug Administration for its product, the Axiostat Patch, designed to manage moderate to severe bleeding during vascular procedures.

In February 2022, CorMatrix Cardiovascular obtained FDA approval to include 20 more patients and extend the adult arm of the feasibility study for the Cor TRICUSPID ECM valve, catering to both adult and pediatric patients.
Extracellular Matrix Patches Market Report Scope
| | |
| --- | --- |
| Report Attributes | Details |
| Market size value in 2023 | USD 29.32 million |
| Revenue forecast in 2032 | USD 59.85 million |
| CAGR | 8.2% from 2023 – 2032 |
| Base year | 2022 |
| Historical data | 2019 – 2021 |
| Forecast period | 2023 – 2032 |
| Quantitative units | Revenue in USD million and CAGR from 2023 to 2032 |
| Segments covered | By Raw Material, By Application, By Region |
| Regional scope | North America, Europe, Asia Pacific, Latin America; Middle East & Africa |
| Customization | Report customization as per your requirements with respect to countries, region and segmentation. |