The global filter needles market was valued at USD 2.14 billion in 2022 and is expected to grow at a CAGR of 6.2% during the forecast period.
Filter needles are specialized hypodermic needles designed for a specific purpose – to draw up medication or fluids from a vial or ampule and pass them through a filter before administering them to a patient. They are typically used in healthcare settings, including hospitals and clinics, to ensure the purity and sterility of medications and fluids.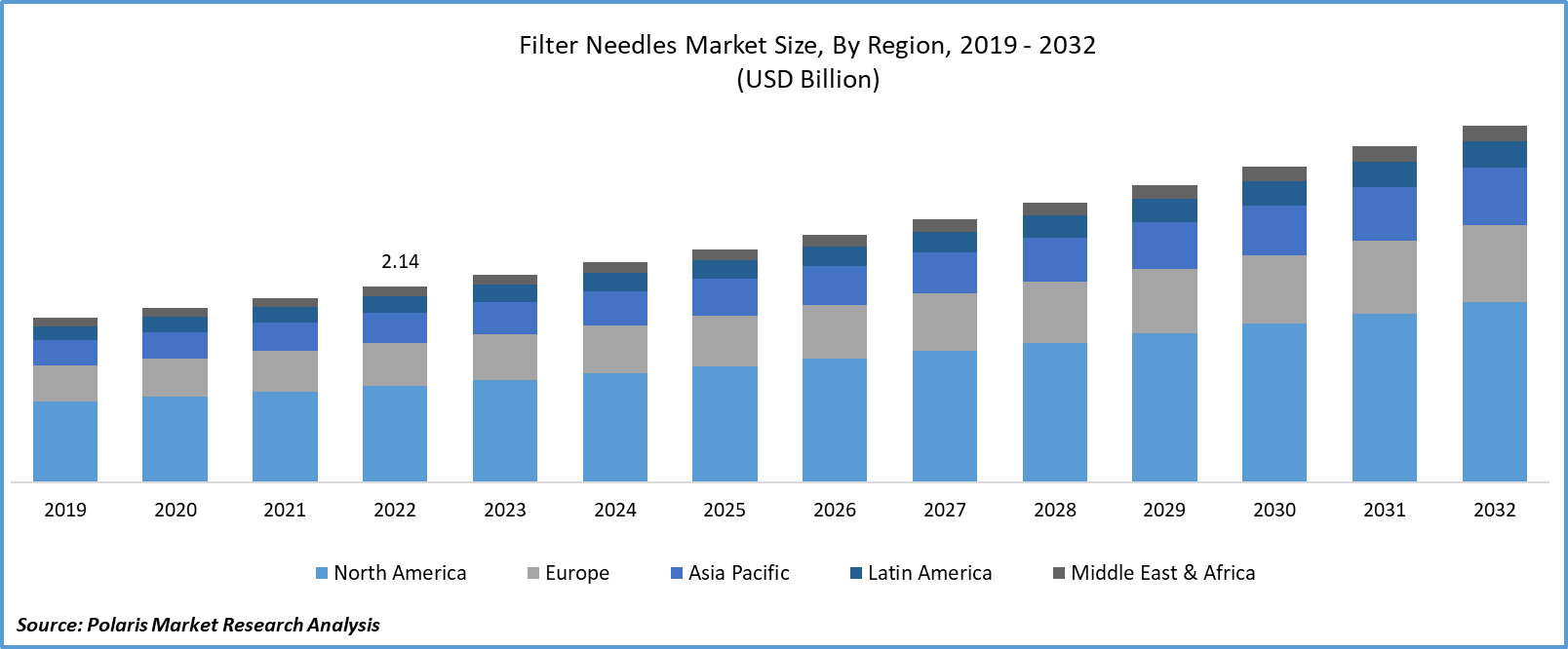 To Understand More About this Research: Request a Free Sample Report
Key factors responsible for the market growth include the rising incidence of road accidents, the growing prevalence of diabetes, the expanding geriatric population, and the increasing number of surgical procedures. Additionally, the global rise in accidents, including burns and trauma events, is significantly contributing to market growth.
For instance, the World Health Organization (WHO) reported that approximately 180,000 deaths occur globally each year due to burns. In India alone, the same source noted that about 1 million individuals suffer severe or moderate burns annually.
Glass ampoules are commonly utilized in the parenteral administration of medication due to their specific properties. They offer excellent chemical resistance, impermeability, ease of cleaning, and administration. Additionally, they can be sterilized vacuum-sealed and are suitable for storing photosensitive substances and precisely measuring medication. However, using glass ampoules comes with certain risks, primarily the potential introduction of glass particles into the medication. The presence of particles in parenteral injections can lead to complications for patients.
The growing elderly population worldwide is expected to drive the expansion of the filter needles market. Elderly individuals are more susceptible to chronic diseases and persistent ulcers compared to other age groups. According to the World Population Prospects 2022 released by the United Nations (UN) Department of Economic and Social Affairs, the proportion of the population aged 65 years or older was approximately 10% of the total population, a figure expected to rise to approximately 16% by 2050.
Choosing the right needle is crucial as it ensures the immunizing agent reaches the appropriate tissue site, whether it is the dermis, subcutaneous tissue, or muscle. This optimization is essential for an effective immune response and to minimize the risk of reactions at the injection site. When selecting needle length, it is important to choose one that is long enough to reach the intended tissue site but not so long that it reaches the underlying bone. Longer needles for intramuscular (IM) injections have been associated with reduced redness and swelling at the injection site compared to shorter needles. Suppose needles are too short and do not reach the muscle. In that case, the vaccine might be injected into shallower tissue layers like dermis and subcutaneous tissue, due to increased inflammation or granuloma formation.
The global rise in the number of surgeries is expected to lead to an increase in the incidence of surgical site infections. According to a 2018 report from the Health Research Educational Trust (HRET), approximately 15 million surgeries are conducted annually in the U.S., with around 2 to 5% of patients developing surgical site infections. Filter needles play a crucial role in draining pus and blood from infected wounds, facilitating the injection of medication for effective wound healing. These factors are likely to drive the market growth for filter needles in the foreseeable future.
Industry Dynamics
Growth Drivers
Increasing Prevalence of Diabetes
The rising global prevalence of both type I and type II diabetes is set to fuel the demand for filter needles. For instance, the International Diabetes Federation (IDF) reveals that in 2021, around 537 Mn adults aged between 20 and 79 were diagnosed with diabetes. It is also indicating an increase to 643 Mn by 2023 and a staggering 783 Mn by 2045. Considering the association between prolonged diabetes and the development of diabetic foot ulcers, this trend is expected to contribute significantly to the market's growth over time.
Also, according to the Centers for Disease Control and Prevention (CDC) data from January 2023, road accidents claim the lives of around 1.35 million individuals worldwide annually, equating to nearly 3,700 deaths daily. Low and middle-income nations bear a more substantial burden of these incidents compared to high-income countries. Given that filter needles are essential for draining pus-filled wounds resulting from accidents, the increasing frequency of such incidents is anticipated to drive the demand for filter needles. Consequently, this trend is expected to contribute to market growth throughout the forecast period significantly.
Report Segmentation
The market is primarily segmented based on raw material, end use, and region.
By Raw Material

By End Use

By Region

Stainless Steel

Glass

Others

Hospitals

Clinics

Ambulatory Surgery Centers

Others

North America (U.S., Canada)

Europe (France, Germany, UK, Italy, Netherlands, Spain, Russia)

Asia Pacific (Japan, China, India, Malaysia, Indonesia. South Korea)

Latin America (Brazil, Mexico, Argentina)

Middle East & Africa (Saudi Arabia, UAE, Israel, South Africa)
To Understand the Scope of this Report: Speak to Analyst
By Raw Material Analysis
The stainless-steel segment held the largest market share in 2022
In 2022, the stainless-steel segment held the largest share of the filter needle industry. This dominance is attributed to the presence of numerous key players providing stainless-steel filter needles and the corrosion resistance property associated with this material, making it ideal for filter needle production. Stainless steel also stands out due to its affordability in comparison to other materials. Additionally, the increasing prevalence of chronic wounds worldwide is expected to drive the growth of this segment further.
The glass segment will grow at a rapid pace. It is primarily due to its ability to offer numerous advantages, including minimal volume error, suitability for precision tasks, and cost-effectiveness, which are anticipated to fuel market growth. These attributes make glass needles particularly suitable for applications in medical technology. However, it's important to note that there are also drawbacks associated with using glass needle systems, including the potential for surface reactivity and breakage.
By End-Use Analysis
The hospital segment accounted for the fastest market during the forecast period.
The hospital segment accounted for the fastest market during the forecast period. It is driven by the increasing rate of hospitalizations worldwide. For instance, according to the Canadian Institute of Health Information (CIHI) report released in February 2023, Canada witnessed a rise in acute inpatient hospitalizations from about 2.7 million during the initial year of the pandemic (2020-2021) to approximately 2.9 million in 2021-2022.
Ambulatory surgical centers will grow at a rapid pace. These are often referred to as outpatient surgery centers and are popular choices for patients undergoing fewer complex procedures with shorter recovery times. The global trend towards minimally invasive procedures, known for reduced scarring, minimal tissue damage, high precision, and shorter hospital stays, is driving the demand for surgical care and diagnostics in these centers.
Regional Insights
North America region held the largest market in 2022
In 2022, the North American region held the largest filter needles market. The positive reimbursement scenario, well-developed healthcare infrastructure, increasing health awareness, and presence of key players fuel the region's market growth. Regulatory bodies such as the Food and Drug Administration (FDA) in this region enforce laws governing the reimbursement of medical devices.
APAC will grow at the fastest pace. The region benefits from the presence of numerous local players, increasing healthcare expenditures, and the high population densities in countries like India and China, all contributing to the market's growth. Additionally, middle and low-income countries in the region are witnessing a rise in accidents, such as burns and road accidents. For instance, in 2021, India reported a total of 412,432 road accidents, foremost to 153,972 fatalities and injuries to 384,448 individuals, as per the Ministry of Road Transport and Highways of the Government of India (GOI). This trend is expected to propel the market in the coming years further.
Key Market Players & Competitive Insights
Companies in the industry are emphasizing research and development to create advanced products, aiming to gain a competitive advantage. Additionally, market players are engaging in mergers and acquisitions to enhance their market presence.
Some of the major players operating in the global market include:
Dickinson and Company (BD)

Cardinal Health

Myco Medical

Stryker

B. Braun

Sol-Millennium

Terumo Corporation

ICU Medical

Boston Scientific Corporation

Thermo Fisher Scientific
Recent Developments
In July 2022, Sharps Technology completed the acquisition of Safeguard Medical's syringe production facility. This strategic move is anticipated to shift the company's focus from research and development of its commercial operations.

In March 2022, ICU Medical completed the acquisition of Smiths Medical. This strategic move is set to bolster the company's competitiveness and broaden its range of products with filtered needles.
Filter Needles Market Report Scope
| | |
| --- | --- |
| Report Attributes | Details |
| Market size value in 2023 | USD 2.27 billion |
| Revenue forecast in 2032 | USD 3.91 billion |
| CAGR | 6.2% from 2023 – 2032 |
| Base year | 2022 |
| Historical data | 2019 – 2021 |
| Forecast period | 2023 – 2032 |
| Quantitative units | Revenue in USD billion and CAGR from 2023 to 2032 |
| Segments covered | By Raw Materials, By End-Use, By Region |
| Regional scope | North America, Europe, Asia Pacific, Latin America; Middle East & Africa |
| Customization | Report customization as per your requirements with respect to countries, region and segmentation. |