The global flow battery market was valued at USD 299.31 million in 2022 and is expected to grow at a CAGR of 15.6% during the forecast period.
The primary driver behind the market's growth is the escalating global demand for energy storage systems. According to the U.S. Department of Energy, the energy storage market is expected to exceed 2,500 gigawatt-hours (GWh) by 2030. Additionally, the proliferation of electric vehicle (EV) charging stations worldwide is fueling market expansion.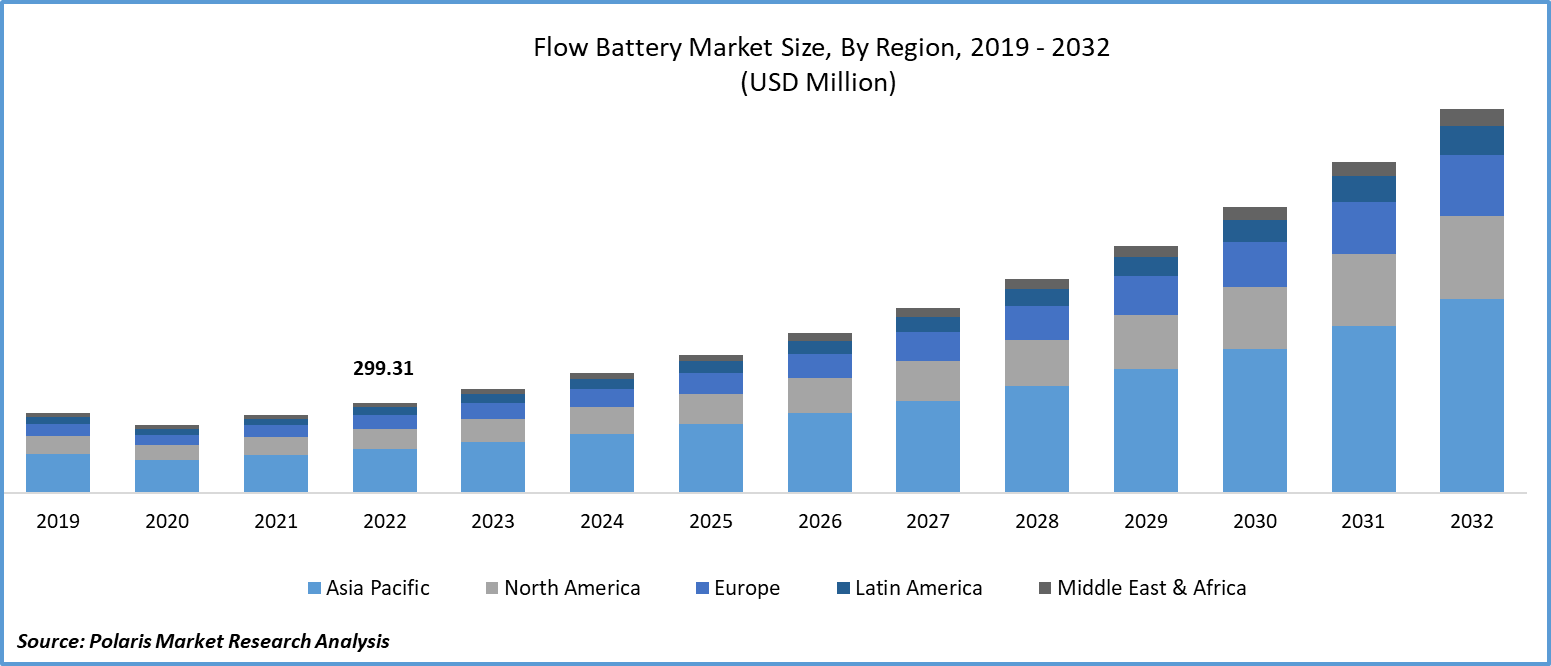 To Understand More About this Research: Request a Free Sample Report
For instance, The International Energy Agency (IEA) reported that by the end of 2022, the global count of public EV charging points had reached 2.7 million units. Notably, 900,000 of such charging points were recently installed in 2022. This surge underscores the significant growth in the flow battery market.
A flow battery is a re-chargeable energy system in which electrolyte flows through one or more electro-chemical cells originating from the reservoirs or the tanks. These batteries are specifically used in stationary applications and are typically water-based. Flow batteries are particularly well-suited for storing energy generated from renewable sources like wind and solar power. They enable efficient storage of excess energy produced during periods of high generation, allowing for its use during times of low production or high demand. This capability helps stabilize the grid and enhance the reliability of renewable energy sources. Moreover, these batteries serve as backup power sources during power outages. They can be rapidly deployed and provide continuous power for extended periods, making them highly valuable for critical infrastructures and grid operators.
Several factors, such as electrolyte volume, active species concentration, cell voltage, and stack count, play a crucial role in determining the performance of Redox Flow Batteries (RFBs). These variables significantly influence the overall characteristics of RFBs. Increasing the volume of electrolyte tanks and adding more battery cells can boost the power and energy density of RFBs. Achieving a high energy density in RFBs is essential, requiring a high solubility of redox species in the electrolyte. Moreover, RFBs with the high voltage benefit from a low potential for the anolyte & high potential for catholyte. Optimizing these factors enhances the efficiency and performance of RFBs, enabling more effective utilization of their energy storage capacities.
The evolving technology of redox flow batteries (RFBs) is centered around the exploration of alternative materials for electrodes and electrolytes, along with inventive designs for flow cells and membranes. These innovations aim to enhance energy efficiency and cost-effectiveness. Organic compounds like quinones are being investigated as substitutes for costly metal ions in the electrolyte solution, providing a more economical and sustainable choice. Optimization of flow cell design can increase power density and efficiency, while employing specific membranes with improved selectivity and reduced resistance further boosts performance.
Industry Dynamics
Growth Drivers
Renewable Energy Integration
The increasing penetration of renewable energy sources, such as wind and solar, has created a need for energy storage solutions like flow batteries. They can store excess energy when generation is high and release it when needed, helping to stabilize the grid.
The demand for flow batteries is on the rise because of their distinct advantages over traditional batteries. Key benefits include scalability, extended cycle life, minimal maintenance, eco-friendliness, energy optimization, and peak load management, among others. In the realm of electric vehicle (EV) charging stations, flow batteries are gaining popularity due to their quick charging capabilities, scalability, efficient energy usage, and eco-friendly features. However, the high manufacturing and installation costs pose a significant challenge to market expansion. Flow batteries tend to be pricier than alternative energy storage technologies like lead-acid and lithium-ion batteries.
Report Segmentation
The market is primarily segmented based on type, material, storage, application, and region.
By Type

By Material

By Storage

By Application

By Region

Vanadium

Zinc Bromine

Iron

Others

Grid/Utility

Commercial & Industrial

EV Charging Stations

Residential

North America (U.S., Canada)

Europe (France, Germany, UK, Italy, Netherlands, Spain, Russia)

Asia Pacific (Japan, China, India, Malaysia, Indonesia. South Korea)

Latin America (Brazil, Mexico, Argentina)

Middle East & Africa (Saudi Arabia, UAE, Israel, South Africa)
To Understand the Scope of this Report: Speak to Analyst
By Type Analysis
Redox segment accounted for the largest market share in 2022
Redox segment held the largest revenue share. This substantial share is attributed to the extensive applications of redox flow batteries. In various industries, the predominant type of flow batteries used is vanadium flow batteries, which fall under the category of redox flow batteries. The functioning of flow batteries revolves around redox reactions, which refer to reduction-oxidation reactions. Flow batteries are commonly known as redox flow batteries (RFBs) because of the chemical processes integral to their operation.
Hybrid batteries are designed with two distinct materials integrated into a single battery system. Various examples of these batteries include Zn-Br, Fe-Cr, Zn-Ce, bromine-polysulfide, & manganese-hydrogen peroxide batteries. In these hybrid systems, the anode & cathode are composed of dissimilar materials. For instance, a Zn-Ce flow battery features a Zn based anode & a Ce-based cathode.
By Storage Analysis
Large scale storage segment held the significant market share
Large scale storage segment held the majority market share. This supremacy is due to the scalability of these batteries. Flow batteries enjoy economies of scale; as the size increases, the cost/unit of energy decreases. Hence, they become more economically viable for significant installations, where the initial investment is justified by the increased capacity and extended cycle life. These batteries find extensive applications in the grid & utility sector, providing benefits such as enhanced grid stability, management of the energy fluctuations, & supplying power during periods of peak demand.
Small scale batteries will grow at the rapid pace. These batteries are compact and portable, making them suitable for various applications including electric vehicle (EV) charging stations, residential buildings, & the telecommunications sector.
By Application Analysis
Grid/utility segment held the largest share over the forecast period
Grid/utility segment held the largest share. This is primarily due to crucial role of flow batteries in integrating with the grid, enhancing grid resilience, cutting down energy transmission costs, delivering environmental benefits, and demonstrating remarkable scalability. Flow batteries serve as a dependable and effective solution for storing electrical energy. They have the capability to absorb surplus electricity during periods of excess supply and release it when demand arises, thereby aiding in stabilizing the electrical grid.
EV charging stations segment will grow rapidly. This growth is linked to the rising global production and adoption of electric vehicles. Furthermore, government backing for renewable resources and electric vehicles is expected to drive demand, thereby leading to a surge in the installation of EV charging stations. Flow batteries are well-suited for EV charging stations due to their compact size, high scalability, and eco-friendly nature.
Regional Insights
Asia Pacific dominated the global market in 2022
APAC emerged as the largest region. This strong presence can be attributed to the widespread adoption of flow batteries in major economies like China, Australia, & Japan. These countries have rapidly embraced these batteries, particularly in utility, industrial, and commercial sectors. Moreover, government initiatives and investments in flow batteries are playing a pivotal role in driving market growth. For instance, in August 2023, the Australian government allocated USD 24 million to bolster the local flow battery industry. This investment aims to enhance Queensland's domestic battery capacity, supporting the state in meeting its renewable energy goals.
Europe region will grow rapidly. The region is increasingly prioritizing renewable energies, aiming to become the world's first climate-neutral area by 2050, as outlined by the European Commission. Additionally, data from the European Environment Agency (EEA) revealed that 22% of the European Union's energy consumption came from renewable sources in 2021. Notably, the proportion of renewable energy used in EU transportation surged from 2% in 2005 to nearly, 10.2%, in 2020. These factors are anticipated to boost the demand for these batteries in the region in the upcoming years.
Key Market Players & Competitive Insights
The market is fiercely competitive, with numerous manufacturers holding a significant portion of the industry share. Key players employ strategies such as mergers, acquisitions, capacity expansions, and innovations to enhance and sustain their global presence.
Some of the major players operating in the global market include:
Cell Cube

Elestor

ESS Inc.

EverFlow

Invinity Energy Systems

Jenabatteries GmbH

Largo Inc.

Lockheed Martin Corporation

Primus Power

Redflow Ltd.

Redox One

Stryten Energy

Sumitomo Electric Industries

ViZn Energy Systems

VRB Energy

WattJoule Corporation
Recent Developments
In December 2022, Enerox (CellCube), partnered with the North Harbour Clean Energy PTY (NHCE), an Australian company specializing in clean energy storage.
Flow Battery Market Report Scope
| | |
| --- | --- |
| Report Attributes | Details |
| Market size value in 2023 | USD 345.10 million |
| Revenue forecast in 2032 | USD 1272.22 million |
| CAGR | 15.6% from 2023 – 2032 |
| Base year | 2022 |
| Historical data | 2019 – 2021 |
| Forecast period | 2023 – 2032 |
| Quantitative units | Revenue in USD million and CAGR from 2023 to 2032 |
| Segments covered | By Type, By Material, By Storage, By Application, and Region |
| Regional scope | North America, Europe, Asia Pacific, Latin America; Middle East & Africa |
| Customization | Report customization as per your requirements with respect to countries, region and segmentation. |