The global flow diverters market was valued at USD 220.9 million in 2019 and is expected to grow at a CAGR of 12.6% during the forecast period. The rising prevalence of brain aneurysms and their associated ill effects, an inclination of surgeons towards minimally invasive surgeries to improve the patient journey and its economic impact, and decline in device cost in the emerging countries, particularly India are the primary demand-side factors responsible for the flow diverters industry growth.
The market's secondary factors contributing to its growth include the world's aging population, un-healthy diet, lifestyle, and innovations in material science. According to the study done by the NCBI, there is a rise in cases of un-ruptured brain aneurysms among the older population. Moreover, the World Ageing (WA), in 2019, reported around 700 million individuals aged 65 years and above, across the globe. Thus, this large section of the population is contributing to the market growth.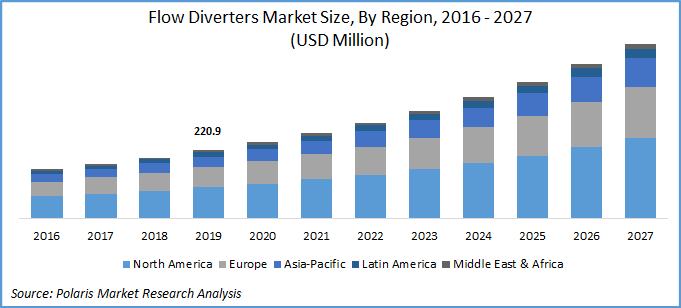 Know more about this report: request for sample pages
Industry Dynamics
Growth Drivers
Faulty lifestyle doubles the risk of cerebral aneurysm cases among the population, in the current scenario, a large section of the population across the globe are at risk of developing intracranial aneurysm due to a surge in smokers and people with high blood pressure. As per the estimates of the CDC, every year around 480,000 smokers die prematurely due to smoking.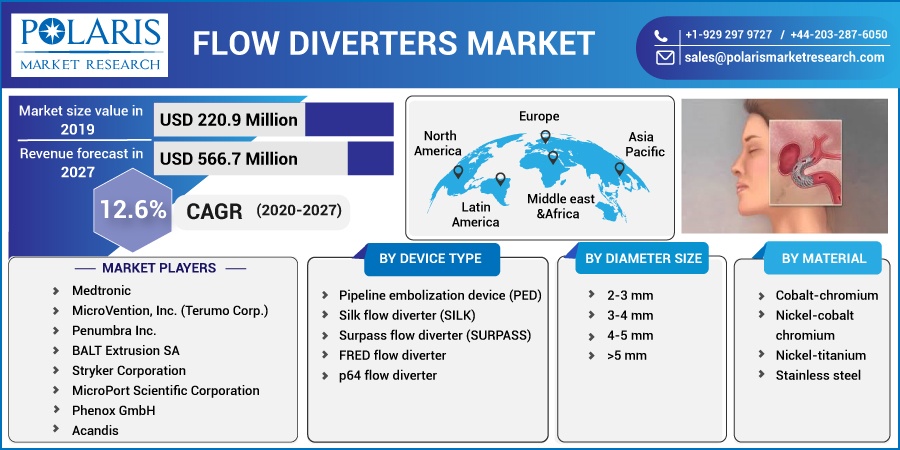 Know more about this report: request for sample pages
In 2018, it was reported that in the U.S., there were around 34.2 million smokers and more than 16 million U.S. citizens were living with smoke-related disorders. Moreover, according to the estimates of the Headway, in 2016-17, in the U.K, there were around 348,453 patients admitted to hospitals suffering from brain-related diseases.
Moreover, patient awareness about the related ill causes will result in early diagnosis. As per estimates of the Brain Aneurysm Foundation (BAF), each year more than 500,000 people die from a brain aneurysm and around 15 percent of the sufferers do not survive before reaching the hospital. Several non-profit organizations and governments in various countries are introducing initiatives to educate the general population about the condition.
For instance, The Bee Foundation (TBF), is a U.S.-based non-profit organization that is focused on culminating awareness about the brain aneurysm through innovation and research. TBF also provides research grants to find ways to reduce mortality with concerned brain-related injuries. Thus, there is a likelihood of decreasing brain injury death rate among the population, thereby, boosting the market demand for flow diverters.
Flow Diverters Market Report Scope
The market is primarily segmented on the basis of device type, diameter size, material, and region.
By Device Type

By Diameter Size

By Material

By Region

Pipeline embolization device (PED)
Silk flow diverter (SILK)
Surpass flow diverter (SURPASS)
FRED flow diverter
p64 flow diverter

2-3 mm
3-4 mm
4-5 mm
>5 mm

Cobalt-chromium
Nickel-cobalt chromium
Nickel-titanium
Stainless steel

North America (U.S., Canada)
Europe (France, Germany, UK, Italy, Spain, Netherlands, Austria)
Asia Pacific (Japan, China, India, Malaysia, Indonesia. South Korea)
Latin America (Brazil, Mexico, Argentina)
MEA (Saudi Arabia, UAE, Israel, South Africa)
Know more about this report: request for sample pages
Insight by Device Type
Based on the device type, the global flow diverters market is bifurcated into PED, p64, Silk flow, Surpass flow, and FRED flow diverters. In 2019, the PED market segment accounted for the largest share and it is likely to retain its dominance over the study period. Its wide applications and higher efficiency rate enable it to garner the largest share. PED is indicated for the patients aged 22 and above, and are used for treating small and medium cerebral aneurysm with a dome to neck ratio <2 mm and for multiple aneurysm types, such as saccular, and fusiform, and aneurysms in the carotid artery having a size of 2mm and 5 mm.
Insight by Diameter Size
Based on the diameter size, the global flow diverters market is bifurcated into 2-3 mm, 3-4 mm, 4-5 mm, and >5 mm flow diverters. In 2019, the >5 mm market segment accounted for the largest share. This high share is due to its ability to treat intracranial aneurysms of size more than 10 mm in diameter. Thus, these large diameter devices are typically used to implant devices in large-sized blood vessels and to achieve a high occlusion rate.
The 3-4 mm market segment is projected to exhibit the highest growth rate over the projected period. The high market growth rate is due to a rise in product approvals and patient's awareness of minimally invasive surgeries. For instance, in July 2020, the U.S. based company, Balt Extrusion received FDA approval for Silk Vista flow diverters. The product was commercialized in over 30 countries. Previously, in February 2019, Medtronic, a manufacturer of PED expanded its indication for patients with wide-necked aneurysms.
Geographic Overview
North America market accounted for the largest revenue share of the flow diverters industry. This can be attributed to the high prevalence of brain aneurysm cases, product availability with trained neurosurgeons, and the rising preference of patients for minimally invasive procedures. As per the estimates of the BAF, in the U.S. alone, every year around 30,000 people live with brain aneurysms. In Canada, BAF reported there are on average each year, around 3,150 people live with the intracranial aneurysm. Moreover, market innovations in the flow diverters in the form of material usage and indication enhancement are also boosting the region's market growth for flow diverters.
Asia Pacific market is projected to register the highest growth rate over the forecast period. The presence of a large set of the population seeking medical attention, rising cases of neurovascular disorders due to busy and faulty lifestyle, and the focused approach of the big multinational in the emerging low-income countries, particularly India and China.
The rising cases of subarachnoid hemorrhage (SAH) in the market, with around 76,500 to 204,100 cases each year, in India also favoring its region's growth. The low medical procedure cost of USD 7,000 of the intracranial aneurysm in India is another factor favoring the uptake of the product. Average procedural cost in western countries stood three times more to about USD 20,000.
Competitive Insight
The prominent market players operating in the flow diverters industry include Medtronic; MicroVention, Inc. (Terumo Corp.); Penumbra Inc.; BALT Extrusion SA; Stryker Corporation; MicroPort Scientific Corporation; Phenox GmbH; and Acandis. Players in the marketplace are introducing technologically advanced flow diverters, for instance, August 2020, Stryker Corporation introduced 64 wired Co-Cr Surpass Evolve Flow Diverter to treat un-ruptured large intra-cranial aneurysms to expand its neuro-vascular portfolio of offerings.