The global fume and smoke collectors' market was valued at USD 608.05 million in 2022 and is expected to grow at a CAGR of 12.4% during the forecast period. Fume and smoke collectors have become more advanced in design, efficiency, and effectiveness. Innovations in filtration systems, airflow management, and monitoring technologies have greatly improved the performance of these collectors. The availability of more efficient and cost-effective solutions has encouraged industries to invest in fume and smoke collectors. Camfil's latest generation of Hi-Flo air filters brings significant benefits to the market. These advanced filters have successfully reduced energy consumption by more than 105 Mn kWh annually in Europe, leading to a substantial decrease in CO2 emissions of 25.6 tonnes. This will further fuel the growth of the market in the coming years.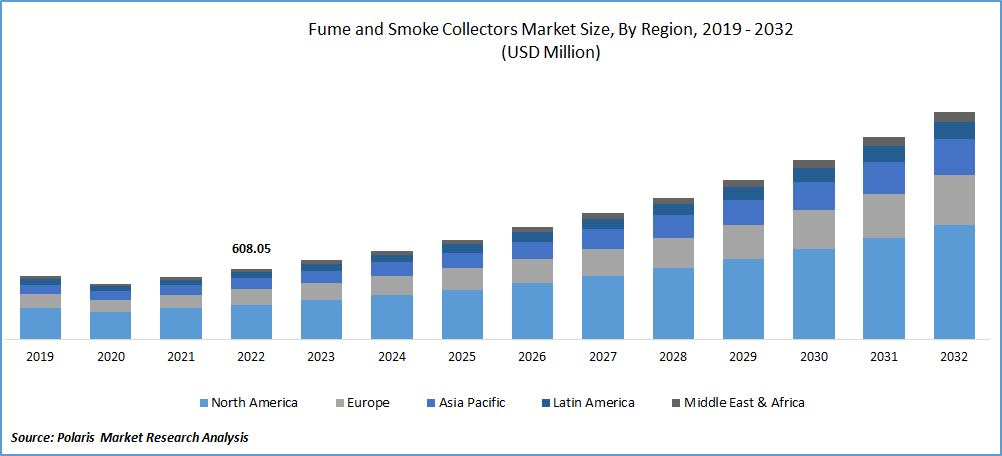 To Understand More About this Research: Request a Free Sample Report
Factors, including regulatory measures and industry requirements, drive the fume and smoke collectors market growth. One significant regulatory influence is the Clean Air Act (CAA), which empowers the Environmental Protection Agency (EPA) to establish limits on air pollutants across the United States. The EPA has the authority to regulate emissions from different sources, such as chemical plants, utilities, and steel mills, to control air pollution. These regulations necessitate fume and smoke collectors to capture and mitigate the release of harmful air pollutants effectively, driving the demand for such systems in the market. By adhering to the CAA requirements, industries can ensure compliance and contribute to maintaining cleaner air quality.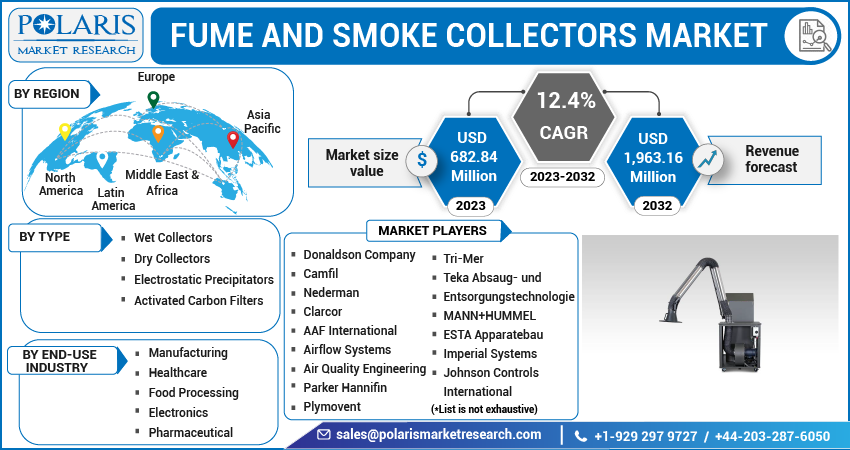 For Specific Research Requirements, Request for a Customized Report
Industry Dynamics
Growth Drivers
Governments and regulatory bodies worldwide have implemented stricter regulations regarding worker safety and environmental protection. Fume and smoke collectors are crucial in maintaining clean and safe working environments by effectively capturing and removing harmful fumes, gasses, and airborne particulates. Compliance with these regulations is a significant driver for adopting fume and smoke collectors. The European Green Deal clearly aims to transform Europe into the first climate-neutral continent by 2050. It strongly emphasizes sustainable practices and reducing the environmental impact of various industries. Fume and smoke collectors play a vital role in achieving these sustainability goals by reducing air pollution, minimizing emissions, and improving overall air quality. Consequently, there will be a growing demand for fume and smoke collectors that align with the objectives of the European Green Deal.
Report Segmentation
The market is primarily segmented based on type, end-use industry and region.
By Type

By End-Use Industry

By Region

Wet Collectors

Dry Collectors

Electrostatic Precipitators

Activated Carbon Filters

Manufacturing

Healthcare

Food Processing

Electronics

Pharmaceutical

North America (U.S., Canada)

Europe (France, Germany, UK, Italy, Netherlands, Spain, Russia)

Asia Pacific (Japan, China, India, Malaysia, Indonesia. South Korea)

Latin America (Brazil, Mexico, Argentina)

Middle East & Africa (Saudi Arabia, UAE, Israel, South Africa)
To Understand the Scope of this Report: Speak to Analyst
Dry Collectors segment is expected to witness fastest growth during forecast period
The dry Collectors segment is expected to have faster growth in the market. The growing emphasis on worker health and safety has raised awareness about the risks associated with fumes and smoke in industrial settings. Employers are increasingly investing in fume and smoke collectors to ensure the well-being of their employees. Dry collectors, with their ability to efficiently remove pollutants, are considered an integral part of comprehensive occupational health and safety programs, driving their market growth. Compared to wet collectors, dry collectors generally have lower maintenance requirements. Wet collectors, which use liquid-based filtration methods, require regular cleaning and disposal of the liquid waste.
On the other hand, dry collectors have solid filters or electrostatic plates that can be cleaned or replaced, reducing downtime and maintenance costs for the end users. The continuous advancement of filtration technologies has improved dry collectors' efficiency and performance. Innovations in filter media, filter designs, and electrostatic precipitator technologies have enhanced the capabilities of dry collectors in capturing and removing pollutants. These technological advancements have driven market growth by offering industrial customers more efficient and reliable solutions.
Manufacturing Industry segment accounted for the largest market share in 2022
The Manufacturing industry segment holds the largest market share in 2022. The Manufacturing industry prioritizes worker health and safety. Exposure to fumes and smoke can harm workers' respiratory health and overall well-being. Manufacturers create a safer working environment by implementing fume and smoke collectors, reducing the risk of respiratory issues, irritation, and long-term health problems. The focus on worker health and safety drives the demand for reliable and efficient fume and smoke collectors.
The Manufacturing industry is subject to stringent environmental regulations that aim to control and reduce air pollution. Fume and smoke collectors play a crucial role in helping manufacturers comply with these regulations by capturing and treating harmful emissions before they are released into the atmosphere. Failure to comply with environmental standards can result in penalties and reputational damage, motivating manufacturers to invest in effective pollution control systems. The Manufacturing industry is witnessing global growth, particularly in emerging economies. Rapid industrialization and infrastructure development contribute to increased manufacturing activities, resulting in a higher demand for fume and smoke collectors. As manufacturing expands in these regions, the need for effective pollution control systems becomes more pronounced, driving the market growth.
APAC is expected to register highest growth in the study period
APAC is projected to witness the highest growth rate for the market. Many countries in this region are placing a greater emphasis on sustainable development and reducing environmental impact. Fume and smoke collectors are critical in achieving these sustainability goals by controlling air pollution and ensuring cleaner manufacturing processes. The increasing focus on sustainability drives the region's demand for fume and smoke collectors. Camfil, the global leader in clean air filtration solutions, inaugurated a new manufacturing facility near Shanghai, China, in Taicang. Establishing new manufacturing facilities allows companies like Camfil to increase their production capacity significantly. With larger facilities and enhanced manufacturing capabilities, they can more efficiently meet the growing demand for fume and smoke collectors. Increased production capacity ensures a steady supply of products to meet market needs, thereby driving the overall growth of the market in this region.
North America is expected to witness a larger revenue share in the market. This region has well-established and stringent environmental regulations to control air pollution and ensure workplace safety. These regulations create a strong demand for fume and smoke collectors as industries strive to comply with emission standards and maintain a clean working environment.
Competitive Insight
Some of the major players operating in the global market include Donaldson Company, Camfil, Nederman, Clarcor, AAF International, Airflow Systems, Air Quality Engineering, Parker Hannifin, Plymovent, Tri-Mer, Teka Absaug- und Entsorgungstechnologie, MANN+HUMMEL, ESTA Apparatebau, Imperial Systems, Johnson Controls International, Absolent, BOFA International, Keller Lufttechnik, Fumex, Schenck Process.
Recent Developments
In March 2023, Donaldson Company, a prominent global manufacturer of innovative filtration solutions, introduced Alpha-Web filtration media. This cutting-edge hydraulic filtration technology significantly enhances the cleanliness of hydraulic fluid, leading to extended lifespan of hydraulic components, reduced downtime, and lower overall equipment ownership costs.
In April 2022, Nederman, a leading environmental technology and industrial air filtration company, is expanding its presence in Helsingborg. The company is making substantial investments in the region, including the development of a new manufacturing and logistics facility and the establishment of a global innovation center.
Fume and Smoke Collectors Market Report Scope
| | |
| --- | --- |
| Report Attributes | Details |
| Market size value in 2023 | USD 682.84 million |
| Revenue forecast in 2032 | USD 1,963.16 million |
| CAGR | 12.4% from 2023 - 2032 |
| Base year | 2022 |
| Historical data | 2019 - 2021 |
| Forecast period | 2023 - 2032 |
| Quantitative units | Revenue in USD million/billion and CAGR from 2023 to 2032 |
| Segments covered | By Type, By End-Use Industry, By Region |
| Regional scope | North America, Europe, Asia Pacific, Latin America; Middle East & Africa |
| Key companies | Donaldson Company, Camfil, Nederman, Clarcor, AAF International, Airflow Systems, Air Quality Engineering, Parker Hannifin, Plymovent, Tri-Mer, Teka Absaug- und Entsorgungstechnologie, MANN+HUMMEL, ESTA Apparatebau, Imperial Systems, Johnson Controls International, Absolent, BOFA International, Keller Lufttechnik, Fumex, Schenck Process. |