The global game engines market was valued at USD 2,389.77 million in 2022 and is expected to grow at a CAGR of 17.1% during the forecast period.
The global market is experiencing growth attributed to the increasing popularity of esports and online gaming. E-sports has emerged as a rapidly expanding industry, attracting millions of players and fans globally. Many popular esports titles, such as League of Legends, Dota 2, and Counter-Strike: Global Offensive, are powered by advanced game engines. The growing demand for high-quality video games across various platforms, including mobile devices, personal computers, & gaming consoles, primarily drives it. Game developers rely on robust game development software that offers frameworks, tools, and resources to create engaging and immersive video game experiences. These software solutions empower developers to bring their creative visions to life and cater to the evolving preferences of gamers.

To Understand More About this Research: Request a Free Sample Report
In addition to powering game engines, game development software plays a crucial role in rendering graphics, managing physics and collisions, and handling game assets. Over the years, technological advancements have significantly improved the capabilities of game development software, enabling the creation of visually stunning games with immersive gameplay and realistic physics. As a result of these advancements, there is a growing demand for companies that provide development platforms to support game developers in creating competitive games in the highly competitive gaming industry. Game developers are constantly seeking innovative solutions and tools to meet the evolving expectations of players and deliver engaging gaming experiences.
Game platforms have extended their utility beyond gaming and now find applications in various non-gaming sectors. This shift in usage is propelled by the growing accessibility of robust platforms that can be customized to suit diverse applications. These platforms offer several distinct advantages over conventional 3D modeling and animation software, including rendering graphics in real-time, creating interactive simulations, and providing compatibility across multiple platforms.
The market is experiencing a positive impact from the increasing availability of game development schools and courses that offer training in-game engine technologies. As more developers acquire proficiency in these technologies, the demand for powerful game development platforms continues to grow. A notable example is Grand Theft Auto V, which utilizes the RAGE engine to create a highly detailed and immersive 3D environment. The RAGE engine is renowned for its advanced capabilities in generating expansive open-world settings, realistic physics, and lifelike animations.
To meet the demand for multi-platform game development, companies are equipping developers with tools and features that facilitate cross-platform deployment. They actively seek feedback from the developer community and establish forums, user groups, and other resources for knowledge exchange and improvement. Real-time collaboration is emphasized through cloud-based development environments and collaboration tools, enabling teams to work seamlessly and enhance the development process. Developers prioritize engines that target multiple platforms, such as PC, console, and mobile, maximizing their potential audience.
Cloud-based engines are gaining traction as they allow real-time collaboration & streamlined workflows. By providing a centralized platform, these engines enhance team collaboration, boost productivity, and reduce development time. Some developers are exploring engines that integrate blockchain technology, opening possibilities for decentralized games with blockchain-enabled economies. This integration allows for unique gaming experiences and secure and transparent in-game economies.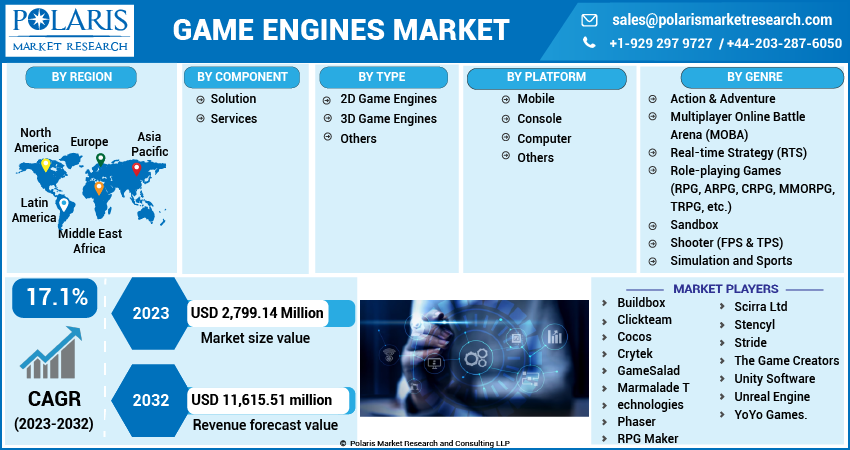 For Specific Research Requirements, Request for a Customized Report
Industry Dynamics
Growth Drivers
Technological advancement drives the market
The integration of augmented reality (AR) & virtual reality (VR) technologies into game engines has revolutionized how people engage with digital content, particularly in video games. This market has fully embraced these technologies, leveraging their capabilities to create immersive user experiences. AR overlays digital information onto the real world, while VR transports users into fully immersive virtual environments. Developing sophisticated platforms is crucial for creating and rendering digital content in AR and VR. For instance, players can use their phone's camera to capture real-world images, which are incorporated into an AR experience. A notable example of this is the popular mobile game Pokemon Go, where AR technology allows players to capture virtual Pokemon creatures within the context of their real-world surroundings.
By harnessing the capabilities of a player's smartphone camera and GPS, the game engine seamlessly merges virtual Pokemon characters with the real world, delivering an immersive and captivating gaming experience. An excellent example of this is the widely popular mobile game Pokemon Go. Additionally, Unity, a prominent game engine, powers Beat Saber, a VR game that offers players a rhythmic and lightsaber-based gameplay encounter. With Unity, developers can construct dynamic 3D environments and leverage physics-based interactions to enhance player engagement.
Report Segmentation
The market is primarily segmented based on component, type, platform, genre, and region.
By Component

By Type

By Platform

By Genre

By Region

2D Game Engines

3D Game Engines

Others

Mobile

Console

Computer

Others

Action & Adventure

Multiplayer Online Battle Arena (MOBA)

Real-time Strategy (RTS)

Role-playing Games (RPG, ARPG, CRPG, MMORPG, TRPG, etc.)

Sandbox

Shooter (FPS & TPS)

Simulation and Sports

Others

North America (U.S., Canada)

Europe (France, Germany, UK, Italy, Netherlands, Spain, Russia)

Asia Pacific (Japan, China, India, Malaysia, Indonesia. South Korea)

Latin America (Brazil, Mexico, Argentina)

Middle East & Africa (Saudi Arabia, UAE, Israel, South Africa)
To Understand the Scope of this Report: Speak to Analyst
By Component
Solution segment held the significant market share in 2022
The solutions segment held a significant market share. The segment's growth is driven by the increasing demands of game development, which continue to evolve in complexity. Game developers strive to enhance the quality of their games and deliver captivating and immersive experiences to players. This drive has spurred the development of various tools and platforms that offer a wide range of features, including advanced 3D graphics, realistic physics simulations, sophisticated artificial intelligence systems, and robust networking capabilities. Furthermore, the availability of open-source game engines has contributed to the segment's growth, as they offer developers cost-effective solutions with many features and tools to create high-quality games.
The services segment is anticipated to grow at a considerable growth rate over the study period. The crucial role services drive this growth play in helping developers enhance product engagement and foster the adoption of augmented reality (AR) experiences. Game engines are intricate software systems that require specialized knowledge and technical expertise for implementation, customization, and maintenance.
By Genre
Action & adventure segment is projected to hold substantial market share during forecast period
The action and adventure segment is projected to account for a substantial market share in revenue over the anticipated period. This genre has witnessed significant growth, primarily fueled by the increasing popularity of open-world games. Open-world games allow players to explore expansive virtual environments and engage with various characters and objects, providing immersive and interactive experiences. The surge in open-world games can be attributed to the advancements in gaming consoles and computers, which have become more powerful, capable of rendering complex graphics and implementing sophisticated physics required for such games.
Regional Analysis
APAC region dominated the global market in 2022
APAC region dominated the global market with a substantial share. This region's strong performance can be attributed to the widespread popularity of video games and the significant presence of mobile platforms. It offers promising growth prospects for market players due to the region's robust trend of playing and creating video games. Furthermore, the high penetration of smartphones and the strategic business expansions undertaken by renowned game development companies.
Middle East is likely to emerge as a fastest growing region with a healthy CAGR during the projected period. This growth can be attributed to the increasing demand for contemporary video games across various platforms, including PCs, consoles, and mobile phones.
Competitive Insight
The Game Engines market is fragmented and is anticipated to witness competition due to several players' presence. Major service providers in the market are constantly upgrading their technologies to stay ahead of the competition and to ensure efficiency, integrity, and safety. These players focus on partnership, product upgrades, and collaboration to gain a competitive edge over their peers and capture a significant market share.
Some of the major players operating in the global market include:
Buildbox

Clickteam

Cocos

Crytek

GameSalad

Marmalade Technologies

Phaser

RPG Maker

Scirra Ltd

Stencyl

Stride

The Game Creators

Unity Software

Unreal Engine

YoYo Games.
Recent Developments
In March 2023, Scirra Ltd., the company behind Construct 3, officially launched Construct Animate, a browser-based animation tool. This tool allows developers to create movement sequences over time using the Timeline Bar. Once the animation is created, it can be exported as a video or GIF file. This tool provides developers with a convenient and accessible solution for creating and exporting animations directly from their web browsers.
Game Engines Market Report Scope
| | |
| --- | --- |
| Report Attributes | Details |
| Market size value in 2023 | USD 2,799.14 million |
| Revenue forecast in 2032 | USD 11,615.51 million |
| CAGR | 17.1% from 2023 – 2032 |
| Base year | 2022 |
| Historical data | 2019 – 2021 |
| Forecast period | 2023 – 2032 |
| Quantitative units | Revenue in USD million and CAGR from 2023 to 2032 |
| Segments covered | By Component, Type, Platform, Genre, By Region |
| Regional scope | North America, Europe, Asia Pacific, Latin America; Middle East & Africa |
| Customization | Report customization as per your requirements with respect to countries, region and segmentation. |