The global gelatin market was valued at USD 2.94 billion in 2021 and is expected to grow at a CAGR of 5.7% during the forecast period. One of the main factors driving the gelatin market's expansion is the consumer trend for wholesome, nutritional meals. The market continues to expand because of the quick benefits and adoption of new technologies such as the Internet of Things (IoT), Artificial Intelligence (AI), cloud services, and others.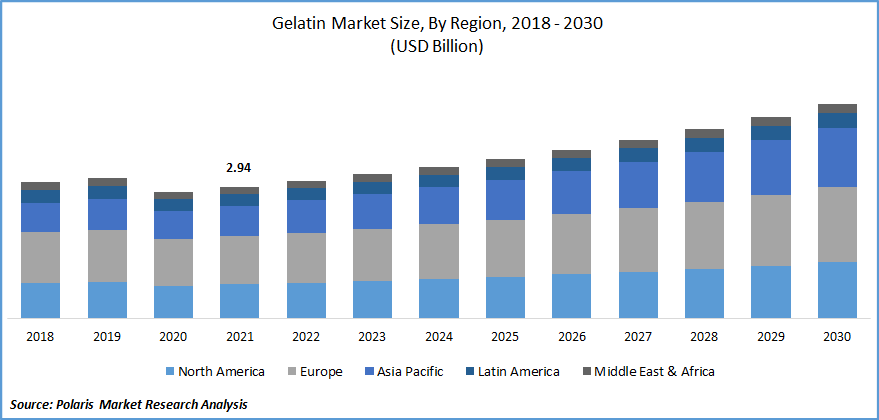 Know more about this report: Request for sample pages
Gelatin, also known as gelatine, is a permanently hydrolyzed form of collagen that is typically employed as a gelling agent in a variety of products, including food, medicine, paper, cosmetics, and others. It is a blend of proteins and peptides made from collagen that has been taken out of animal tissues, including skin, bones, and skin tissue.
Proline, glycine, glutamic acid, alanine, arginine, aspartic acid, and other amino acids are also present. The emulsifying, cleaning, stabilizing, viscosity and distinctive binding qualities of the ingredient contributes to its rising demand. It is a binding and coating substance used in the meat processing business.
Glutamic acid, which is present in the ingredient, aids in digestion and keeps the stomach lining healthy. Additionally, it aids in calcium absorption, which keeps bones strong and prevents their degeneration. People consume gelatin to reduce their risk of developing osteoporosis, a condition that weakens and brittles bones. Glycine helps reduce type 2 diabetes. The rising prevalence of type 2 diabetes in the world has increased the demand for it. For instance, as per the National Institute of Health, Type 2 diabetes affects an estimated 462 million people worldwide, or 6.28 percent of the total population.
The unexpected COVID-19 epidemic had a bad effect on the food and beverage sector, pharmaceuticals, agribusiness, and supply chains, as well as on people's health and quality of life. During the pandemic, people are more conscious of their food intake and are purchasing new items, which lowers the demand for the gelatin market.
Consumer demand for health and nutrition products surged as a result of the epidemic. The sudden impact of COVID-19 led to a rise in demand for products that boost immunity and well-being, which had a positive impact on the market. One of the main growth drivers driving the spike in demand is the rising need for a variety of immunity-boosting products, such as nutritional supplements. Additionally, the production of gelatin has been halted as a result of the economic crisis, government-imposed social distance rules, and a lack of raw materials, which has hurt the development of the global gelatin market. However, following the pandemic, there has been a rise in demand for processed foods that are healthful and nutritious, which boosts the demand for the gelatin market during the projected period.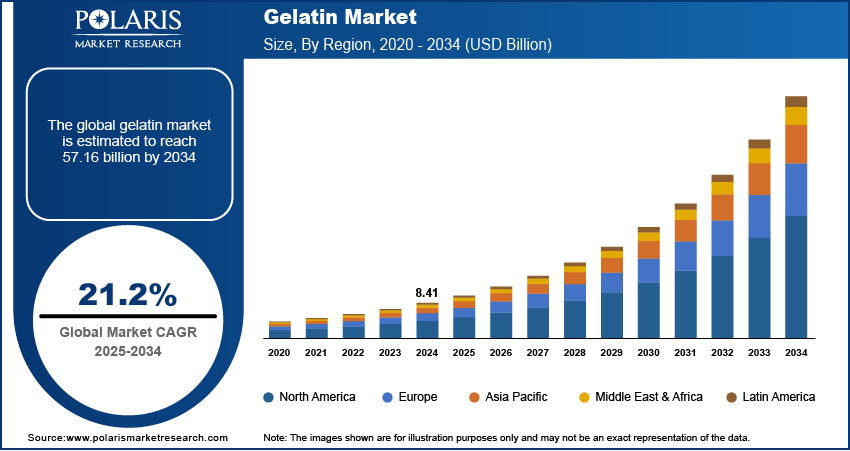 Know more about this report: Request for sample pages
Industry Dynamics
Growth Drivers
To meet the rising demand for ingredients in many industries, major market participants are launching new kinds of goods. For instance, in January 2021, in the hotel, restaurant, and catering (HoReCa) industry, Nitta Gelatin India developed exquisite quality ingredients of an international grade. Food enthusiasts are now anticipating preparing and enjoying a wide variety of desserts, frozen sweeteners, and food, jellies, marshmallows, and soft candies, among others., at a level consistent with that of other countries.
Further, in May 2021, the introduction of X-Pure® GelDAT - Gelatin Desaminotyrosine broadens the selection of pure, medical grade, customized gelatins offered by Darling Ingredients Inc. It's the first widely accessible biomaterial of its sort, developed in response to the market to get around the difficulties in clinical translation. For the effective achievement of biomedical products utilized in the human body, X-Pure® GelDAT provides equal purity and uniformity at scale. Thus, these factors are boosting the market growth during the forecast period.
Report Segmentation
The market is primarily segmented based on raw material, function, application, and region.
By Raw Material

By Function

By Application

By Region

Pig Skin
Cattle Bones
Bovine Hides
Fish & poultry
Others

Stabilizer
Thickener
Gelling Agent
Others

Food & Beverage

Confectionery
Dairy Products
Meat & Poultry Products
Desserts
Beverage
Others

Personal Care
Pharmaceutical
Nutraceutical
Photography
Others

North America (U.S., Canada)
Europe (France, Germany, UK, Italy, Netherlands, Spain, Russia)
Asia Pacific (Japan, China, India, Malaysia, Indonesia. South Korea)
Latin America (Brazil, Mexico, Argentina)
Middle East & Africa (Saudi Arabia, UAE, Israel, South Africa)
Know more about this report: Request for sample pages
The food and Beverage Industry segment is expected to witness the fastest growth
In the food and beverage business, gelatin is a key component used in the production of beverages, edible films and coatings, and dietary supplements. Due to its many applications in food and excellent nutritional value, the food segment is predicted to increase at the quickest rate. Its consumption has been boosted by the increased demand for nutrient-dense foods and beverages.
Additionally, it is anticipated that over the forecasted period, the ingredient will find new uses as a food additive to enhance rheological qualities. Market expansion is anticipated to be aided by rising demand for ingredient-based biomedical products that improve hair quality and texture.
It is used in the hair care business because it promotes healthy hair development and reduces hair loss. The use of the ingredient in personal care products is anticipated to increase over the projected period as a result of the growing consumer inclination towards the use of hair care treatment applications.
Porcine industry accounted for the highest market share in 2021
Bovine-based gelatin made using an alkaline process is referred to as type B, while porcine-based is referred to as type A. They are frequently referred to as edible ingredients and are widely used in the production of food. The inedible variety is frequently utilized in other end-use sectors, such as personal care and photography.
Due to its lower cost, pig skin gelatin is more popular than gelatin from other sources. In immune-detection processes like western blot analysis and immunostaining, fish gelatin is mostly employed as a blocking initiative to minimize ambient noise. Ingredient made from fish skin that has been frozen does not react negatively with antibodies from mammals, making them more popular for usage in medicinal products.
During the projection period, there is expected to be considerable demand for fish ingredients due to the specialty and functional food industries' strong expansion. The growing demand for fish gelatin is anticipated to be further fueled by rising consumer demand for desserts and artisanal pastries. In the foreseeable future, it is anticipated that consumer demand for protein and other essential nutrients will increase. This is then anticipated to prioritize fish ingredients as a preferred protein source.
Many consumers hunt for protein consumption across many categories of meals and beverages because they suffer from problems like protein insufficiency. Consumer demand for fish ingredient supplements has increased as a result. High-quality protein and all the necessary amino acids are provided by fish gelatin. Consequently, it is projected that the growing trend toward consuming more protein would present a huge opportunity for market expansion.
Thickeners are expected to hold the significant market share
Thickeners improve a liquid's viscosity without changing its inherent characteristics. The demand for ingredients as thickeners is anticipated to rise as the food sector expands in the Asia Pacific region as a result of rising population and per capita income levels in nations like China and India. Additionally, the use of thickeners in personal care and cosmetic goods is anticipated to drive market expansion in the upcoming years.
The demand in Europe is expected to witness significant market growth
The dominance in this region is attributed to the rising pharmaceutical market as well as the strong demand for nutritive and functional food and beverage products. Additionally, the region's market is expanding as a result of the plentiful supply of raw materials and the presence of important ingredient manufacturing facilities. The presence of strict restrictions put in place by the European Commission defines the European market.
Throughout the forecast period, the market is anticipated to rise due to the adoption of high-quality collagen in the manufacture of patches for bone and tissue regeneration. Consumption of gelatin-based goods such as cosmetics, foods, rejuvenation beverages, and pharmaceuticals is what fuels the regional demand. Additionally, the market expansion is anticipated to be fueled by the increased demand for ingredients in the manufacture of meat casings.
It is predicted to be used more frequently in the formulation of several items, including confectioneries, desserts, and drinks, due to the growing need for convenience-packed foods in the North American region as a result of new product releases. Additionally, it is anticipated that Mexico will continue to be a key location for production in the food, beverage, personal care, and pharmaceutical industries.
Competitive Insight
Some of the major players operating in the global market include Capsugel Incorporation, Darling Ingredients Incorporation, Ewald-Gelatine GmbH, Foodchem International Corporation, Geltech Co., Ltd., Gelnex Industria E Comercio Ltda., Gelita AG, Italgelatine S.p.A., Junca Gelatines S.L, Luohe Wulong Gelatin Co. Ltd., Nitta Gelatin Incorporation, PB Gelatins GmbH, Rousselot B.V., Roxlor France, REINERT GRUPPE Ingredients GmbH., Suheung Co., Sterling Biotech Limited, Trobas Gelatine BV, The Roxlor Group, Tessenderlo Group NV, Ltd, and Weishardt Holding Corporation.
Recent Developments
In May 2022, Darling Ingredients introduced Quali-Pure HGP 2000, pharmacological gelatin with endotoxin control intended for use in vaccines and wound healing. According to Rousselot, Quali-Pure HGP 2000 not only demonstrates the functionality needed for these biological applications but also offers further advantages of controlled endotoxin levels and improved regulatory compliance.
Gelatin Market Report Scope
| | |
| --- | --- |
| Report Attributes | Details |
| Market size value in 2021 | USD 2.94 billion |
| Revenue forecast in 2030 | USD 4.79 billion |
| CAGR | 5.7% from 2022 - 2030 |
| Base year | 2021 |
| Historical data | 2018 - 2020 |
| Forecast period | 2022 - 2030 |
| Quantitative units | Revenue in USD billion and CAGR from 2022 to 2030 |
| Segments covered | By Raw Material, By Function, By Application, By Region |
| Regional scope | North America, Europe, Asia Pacific, Latin America; Middle East & Africa |
| Key companies | Capsugel Incorporation, Darling Ingredients Incorporation, Ewald-Gelatine GmbH, Foodchem International Corporation, Geltech Co., Ltd., Gelnex Industria E Comercio Ltda., Gelita AG, Italgelatine S.p.A., Junca Gelatines S.L, Luohe Wulong Gelatin Co. Ltd., Nitta Gelatin Incorporation, PB Gelatins GmbH, Rousselot B.V., Roxlor France, REINERT GRUPPE Ingredients GmbH., Suheung Co., Sterling Biotech Limited, Trobas Gelatine BV, The Roxlor Group, Tessenderlo Group NV, Ltd, and Weishardt Holding Corporation. |