The global liquid nitrogen market was valued at USD 17.25 billion in 2022 and is expected to grow at a CAGR of 4.6% during the forecast period. Liquid nitrogen is the inorganic and biggest volume of chemicals sold worldwide for technical and commercial applications. Nitrogen in the liquid state is used for freezing food, grinding and deflating rubber and plastic, metal treating, cooling, pulverization, biological sample preservation, and other temperature-related applications. It is also used for combating fire in coal mines, thus enhancing ire safety eliminating the risk of losing huge quantities of natural resources, and stopping the release of toxic gases and fumes that might damage the environment. It is applicable for extensive cooling in several industrial processes and for the food industry, where cold storage is crucial.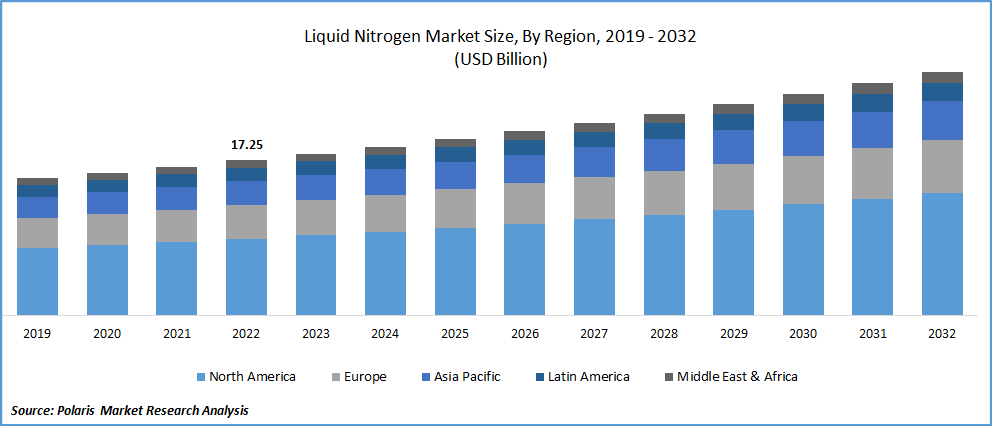 Know more about this report: Request for sample pages
Liquid nitrogen also helps in cooling several types of mechanical equipment required to be kept in an extremely cold environment and for snap-freezing food products such as hamburger patties, chicken, and fruits preserved for out-of-season. Moreover, inert liquid nitrogen blankets are applied over highly reactive liquids stored in tankers, in varnish producers, and within potato chip packets.
Liquid nitrogen is intended for use as a cryogen in medical and pharmaceutical applications due to the cold temperature of the liquid. The boiling point of liquid nitrogen is -196ºC. The most ordinary application segments for cryotherapies applying liquid nitrogen include common external skin conditions, including the removal of moles, warts, skin tags, and verrucas. This technique can also address more serious external ailments like solar keratoses and small skin cancers.
The COVID-19 outbreak has conflicted with the world market for liquid nitrogen. The global influenza epidemic caused a major decline in packaged food demand as most customers stayed indoors. As a result, there was a decline in the demand for liquid nitrogen in the food and beverage sectors as a preservative and cooling agent, impacting the global market. The demand from the medical industry skyrocketed during the epidemic. This has increased the use of liquid nitrogen in the medical sector and served as a significant catalyst for the market's expansion.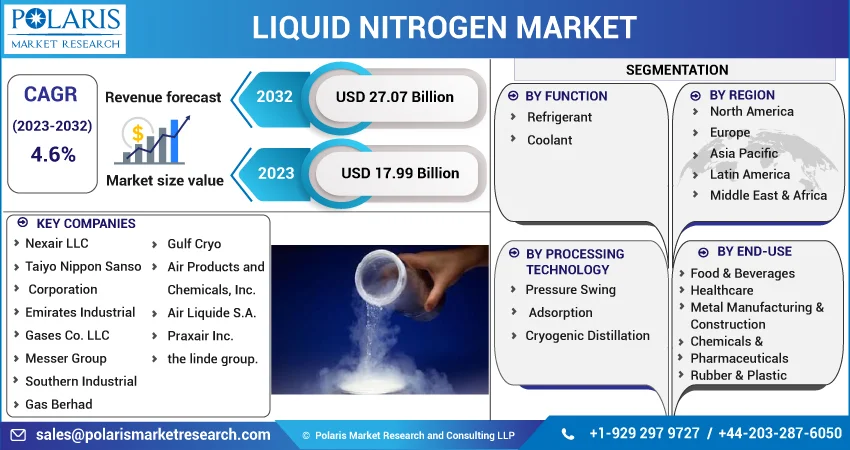 Know more about this report: Request for sample pages
Industry Dynamics
Growth Drivers
Developing an alternative to conventional gasoline automobiles is imperative because vehicle emissions contribute significantly to rising air pollution. Nitrogen-powered liquid vehicles make a great substitute. As a result, liquid nitrogen is frequently employed as a coolant in cars. The Indian government has announced the Automotive Mission Plan 2016-26 (AMP 2026) program to promote the nation's automotive sector. The government's collective vision for how the automobile industry should evolve in terms of its size, contribution to national development, level of technical sophistication, global competitiveness, and institutional makeup is well-described.
Liquid nitrogen spray freezing uses the vast amount of heat collected during gasification. With rapid heat transfer or quick freezing rates, the amount of time a food product spends in the maximum crystal-forming temperature range throughout the NF process is brief, producing tiny and evenly dispersed ice crystals. As a result, the food product's natural flavor, aroma, and color are preserved to the maximum possible extent. The food product's shelf life is increased by chilling or freezing it during preservation. The food business uses liquid nitrogen primarily to freeze baked goods, meat, poultry, fish, prepared meals, vegetables, and fruits.
Report Segmentation
The market is primarily segmented based on function, processing technology, end-use, and region.
By Function

By Processing Technology

By End-Use

By Region

Pressure Swing Adsorption

Cryogenic Distillation

Food & Beverages

Healthcare

Metal Manufacturing & Construction

Chemicals & Pharmaceuticals

Rubber & Plastic

Others

North America (U.S., Canada)

Europe (France, Germany, UK, Italy, Netherlands, Spain, Russia)

Asia Pacific (Japan, China, India, Malaysia, Indonesia, South Korea)

Latin America (Brazil, Mexico, Argentina)

Middle East & Africa (Saudi Arabia, UAE, Israel, South Africa)
Know more about this report: Request for sample pages
Coolant segment accounted for the highest market share in 2022
Liquid nitrogen is employed in cutting-edge cooling and freezing technologies because of its exceptionally low-temperature qualities. Coolant is anticipated to earn the biggest market share in the functional sector. It is extensively employed in applications requiring immersion, injection, or spray cooling.
In the upcoming years, it is predicted that the refrigerant segment will expand more quickly. The liquid nitrogen market is anticipated to grow due to the rising usage of liquid nitrogen as a refrigerant in the medical, industry, research, and cookery industries. Rubber removal, temporary ground freezing, metal hardening, and pipe freezing are some of their industrial uses.
Cryogenic distillation segment dominates the market over the projected timeline
Processing technology in 2022 was dominated by cryogenic distillation, which is also predicted to be the largest category during the projected year. Industrial gases like nitrogen, argon, and oxygen may be produced with this method at a reasonable price. It is launched that increased usage in the production of semiconductor devices would accelerate market growth.
Because of its inexpensive initial investment and little utility usage, this method is widely employed to create liquefied industrial gases. Using cryogenic distillation technology, Cryogenic distillation may be used to purify gases like argon, oxygen, carbon monoxide, and light hydrocarbons.
Throughout the projection period, pressure swing adsorption (PSA) technology is anticipated to expand at the greatest CAGR. Using this method, air may be separated from gases without liquefaction. The market is expected to grow during the next eight years due to increasing demand for pressure swing technology because of its low operating costs. The liquid nitrogen market is anticipated to grow over the forecast period due to rising expenditures from businesses like Air Products & Chemicals Inc. and Praxair in developing liquid nitrogen technologies.
Chemicals & pharmaceutical segment is projected to grow at the fastest rate.
The end-use category for chemicals and pharmaceuticals is anticipated to develop fastest. During the next years, the pharmaceutical sector is expected to employ the liquid nitrogen market more frequently to maintain the cold reaction temperature for medications. Growing demand in the healthcare sector is one of the industries' driving forces.
Chemicals and resins manufacturing processes require large quantities of Nitrogen. Liquid nitrogen can help push liquids through pipelines. It is also used to shield oxygen-sensitive materials from the air and to remove volatile organic chemicals from process streams.
North America dominated the global market in 2022.
North America was the largest liquid nitrogen market in 2022. The market is expected to grow throughout the forecast period as development activities increase. A growing number of producers and suppliers in this area are anticipated to fuel the industry.
The construction sector produces yearly constructions worth over USD 1.4 trillion, according to the Associated General Contractors of America (AGC), and makes a significant economic contribution to the United States. The U.S. Census Bureau reports that as of March 2022, there were 1,873,000 building permits, 1,793,000 home starts, and 1,303,000 house completions each month throughout the nation. In the upcoming years, the country's rapidly expanding construction market is projected to increase demand for liquid nitrogen in construction-related applications.
Asia Pacific region's sector with the fastest expected growth rate. India and China are two emerging economies now experiencing rapid economic expansion. Demand in the food and beverage, construction, electronics, and pharmaceutical industries has been boosted by rising population and living standards.
Competitive Insight
Some major global players operating in the global market include Nexair LLC, Taiyo Nippon Sanso Corporation, Emirates Industrial Gases Co. LLC, Messer Group, Southern Industrial Gas Berhad, Gulf Cryo, Air Products and Chemicals, Inc., Air Liquide S.A., Praxair Inc., and the linde group.
Recent Developments
In June 2021, According to information provided by Inox Air Products, the proposed factory in Hosur will generate liquid nitrogen, among other things, and go into operation in December 2022.

In February 2021, Inox Air Products will construct eight new air separation units across India with an investment of USD 2,000 crore. States like Gujarat, Maharashtra, Tamil Nadu, Madhya Pradesh, Uttar Pradesh, Andhra Pradesh, and West Bengal would be home to these new factories.
Liquid Nitrogen Market Report Scope
| | |
| --- | --- |
| Report Attributes | Details |
| Market size value in 2023 | USD 17.99 billion |
| Revenue forecast in 2032 | USD 27.07 billion |
| CAGR | 4.6% from 2023 – 2032 |
| Base year | 2022 |
| Historical data | 2019 – 2021 |
| Forecast period | 2023 – 2032 |
| Quantitative units | Revenue in USD billion and CAGR from 2023 to 2032 |
| Segments Covered | By Function, By Processing Technology, By End-Use, By Region |
| Regional scope | North America, Europe, Asia Pacific, Latin America; Middle East & Africa |
| Key Companies | Nexair LLC, Taiyo Nippon Sanso Corporation, Emirates Industrial Gases Co. LLC, Messer Group, Southern Industrial Gas Berhad, Gulf Cryo, Air Products and Chemicals, Inc., Air Liquide S.A., Praxair Inc., and the linde group. |