The global microalgae market was valued at USD 955.1 million in 2021 and is expected to grow at a CAGR of 5.7% during the forecast period. Over the projection period, the rising usage of microalgae proteins and components in the production of nutraceutical, pharmaceutical, and aquaculture goods and growing initiatives to standardize the microscopic algae cultivation process are expected to become key growth factors.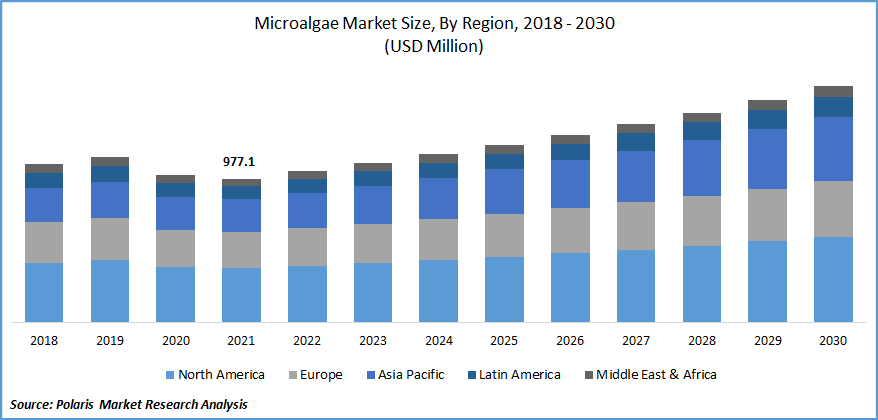 Know more about this report: request for sample pages
In the future years, technological advancements like automation, synthetic biology, and phenomics will be able to capitalize on microalgae's currently promising capabilities. The creation of new synergies at the national and international levels, as well as the formulation of regulatory standards, will be important to the global market's future growth.
Microalgae are tiny algae that cannot be seen with the human eye. They live in both the water column and the sediment in freshwater and marine habitats. Single-celled organisms can live alone, in chains, or in groups. microscopic algae are employed in a variety of nutritional supplements and foods as a rich source of carbs, protein, enzymes, and other nutrients.
According to Food and Agriculture Organization (FAO), China, one of the world's main producers and consumers of microalgal species, felt the effects of the COVID-19 pandemic on this market in 2020. Factory closures, lower capacity microalgae processing facilities, and restrictions on importing and exporting algal biomass all significantly impact the microalgae industry in China. Furthermore, the pandemic is projected to negatively influence the microalgae market in numerous nations throughout the world, including Brazil, India, the United States, Australia, and the EU-5. Many commercial microscopic algae production and processing facilities in India have shut down or are working at reduced capacity due to the countrywide lockdown, resulting in significant losses in domestic microalgal production.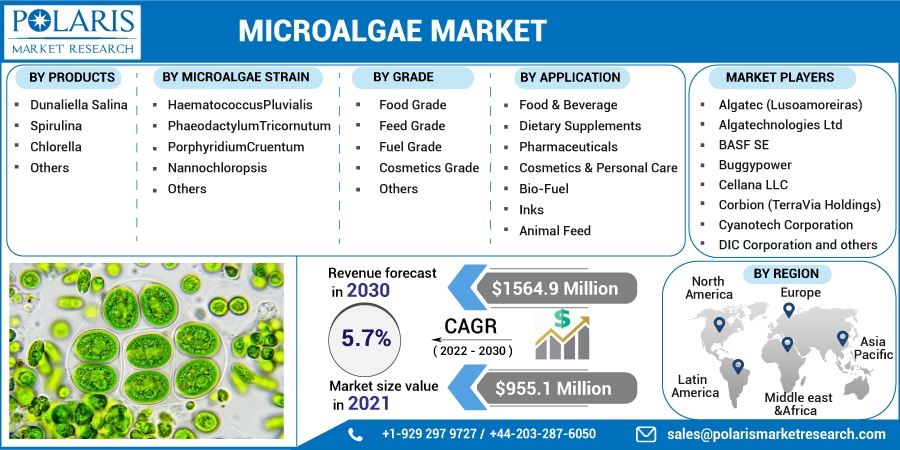 Know more about this report: request for sample pages
Industry Dynamics
Growth Drivers
The rise in demand for microscopic algae in pharmaceutical applications is a key driving factor of the microalgae market. Due to its producing nature of bioactive compounds such as monoclonal antibodies, antibiotics, hepatotoxic and neurotoxic compounds, subunit vaccines, enzymes, hormones, and other compounds. Chemical methods do not easily synthesize these compounds; however, they play a key role in pharmaceutical and therapeutic areas.
Further, the health benefits such as the prevention of cancer, neurological disorders, cardiac diseases, and eye diseases associated with microalgae pigments create lucrative growth for the microalgae market. microscopic algae are a vital ingredient in the generation of recombinant proteins because of their unique attributes, such as high growth and low-cost medium, and their post-translational modifications, which are much more similar to mammalian cells than bacterial cells.
Microscopic algae are a suitable choice for vaccine transporters since they are non-toxic and contain a single chloroplast that consists of high proteins. E2 protein, which is employed in vaccinations against classical swine fever virus, and D2-CTB fusion protein, and is used in the oral vaccine, are illustrations of these recombinant proteins. Moreover, microscopic algae are viable energy of pharmaceuticals and biofuels. Because of the scarcity of substrate sources, higher yields, and the GRAS status of substances connected with microalgae, which lead the microscopic algae industry boomed. Algal products benefit not just the pharmaceutical but also the food industries because of their GRAS certification. Thus, surging demand for microscopic algae in various industry verticals is augmenting the market's growth.
Report Segmentation
The market is primarily segmented based on product type, by microalgae strain, by application, and region.
By Product Type

By Microalgae Strain

By Grade

By Application

By Region

Dunaliella Salina
Spirulina
Chlorella
Others

HaematococcusPluvialis
PhaeodactylumTricornutum
PorphyridiumCruentum
Nannochloropsis
Others

Food Grade
Feed Grade
Fuel Grade
Cosmetics Grade
Others

Food & Beverage
Dietary Supplements
Pharmaceuticals
Cosmetics & Personal Care
Bio-Fuel
Inks
Animal Feed
Others

North America (U.S., Canada)
Europe (France, Germany, UK, Italy, Spain, Netherlands, Austria)
Asia Pacific (Japan, China, India, Malaysia, Indonesia. South Korea)
Latin America (Brazil, Mexico, Argentina)
Middle East & Africa (Saudi Arabia, UAE, Israel, South Africa)
Know more about this report: request for sample pages
Insight by Product Type
The spirulina category is likely to lead the market since it is the most extensively cultivated microscopic algae and has several health benefits, including anti-inflammatory, antioxidant, and brain-protective properties. Spirulina is abundant in antioxidants, including Vitamins A, C, and E, and Beta-carotene and a trace of Lutein Zeaxanthin, which helps prevent various diseases and illnesses. It improves HDL cholesterol while lowering total cholesterol (LDL cholesterol) and triglycerides (good cholesterol).
Spirulina also contains anti-cancer effects, lowers blood pressure, alleviates allergic rhinitis symptoms, reduces anemia, and aids in blood sugar regulation. Microscopic algae have been linked to preventing diseases such as Alzheimer's, muscle degeneration, and rheumatoid arthritis. Microalgae's health benefits are expected to drive microalgae market expansion.
Geographic Overview
In 2021, North America is predicted to have the largest revenue share of the global market. It is due to high consumption of health supplements, stringent regulations against the use of synthetic colors, the growth of cosmetics and bio-fertilizer industries, a growing preference for natural protein sources, and the presence of established market players of algae biomass, particularly in the United States. However, Europe is expected to grow significantly over the forecast period, owing to increased use of microscopic algae, particularly spirulina and chlorella, in the production of therapeutic and nutritional products, growing aversion to synthetic dyes, escalating demand for natural blue dyes, and investments in the phycocyanin space from major color stakeholders.
In addition, as per Frontiers Media S.A., the European Union (EU) is investing in the microscopic algae market to assist its objective of creating renewable energy and reducing its carbon footprint. The European Commission has partnered with several projects to improve the biofuels production framework. Increased EU financing for microalgae R&D, as well as the adoption of standardization methods for the manufacture and use of microscopic algae-based goods and ingredients in a variety of industries, would help the EU market flourish.
For instance, as per Frontiers Media S.A., The European Commission's new Green Deal focuses on critical sectors where algae production could substantially contribute. It includes the EU's goals of being carbon neutral by 2050, biodiversity protection (EC, 2020b), participation in the farm to fork strategy for sustainable food are all examples (EC, 2020c), and the development of a circular economy (EC, 2020a). Thus, government initiatives have significantly influenced the market's growth.
The Asia Pacific region contributes sustainable growth in the market owing to the surging demand for algae ingredients in the pharmaceutical industry. China's future economic prospects are anticipated to be optimistic, with raising awareness of a healthy lifestyle among the country's urban population and rising spending power. In this region, pharmaceutical medications containing algae constituents such as omega 3 and protein are in great demand, prompting manufacturers to use higher amounts of algae protein in their final products. Furthermore, due to China's dominance in terms of production and export in the region, thus, witnessing a lucrative growth opportunity in the forthcoming years.
Competitive Insight
Algatec (Lusoamoreiras), Algatechnologies Ltd, BASF SE, Buggypower, Cellana LLC, Corbion (TerraVia Holdings), Cyanotech Corporation, DIC Corporation, Fuji Chemical Industries Co., Ltd., INNOBIO Corporation Limited, KDI Ingredients, Koninkliijke DSM NV, Parry Nutraceuticals, Roquette Frères, Sinoway Industrial Co., ltd, Sun chlorella, Yunnan Green-A-Bio-engineering Co Ltd, are some of the players operating in the market.
Microalgae Market Report Scope
| | |
| --- | --- |
| Report Attributes | Details |
| Market size value in 2021 | USD 955.1 million |
| Revenue forecast in 2030 | USD 1,564.9 million |
| CAGR | 5.7% from 2022 - 2030 |
| Base year | 2021 |
| Historical data | 2018 - 2020 |
| Forecast period | 2022 - 2030 |
| Quantitative units | Revenue in USD million and CAGR from 2022 to 2030 |
| Segments covered | By Microalgae Strain, By Application, By Region |
| Regional scope | North America, Europe, Asia Pacific, Latin America, Middle East & Africa |
| Key Companies | Algatec (Lusoamoreiras), Algatechnologies Ltd, BASF SE, Buggypower, Cellana LLC, Corbion (TerraVia Holdings), Cyanotech Corporation, DIC Corporation, Fuji Chemical Industries Co., Ltd., INNOBIO Corporation Limited, KDI Ingredients, Koninkliijke DSM NV, Parry Nutraceuticals, Roquette Frères, Sinoway Industrial Co., ltd, Sun chlorella, Yunnan Green-A-Bio-engineering Co Ltd |