The global narcolepsy therapeutics market was valued at USD 3.14 billion in 2022 and is expected to grow at a CAGR of 9.5% during the forecast period. An incidence of several sleep syndromes majorly drives the global market. According to the Narcolepsy Networks, Narcolepsy affects an estimated 1 in every 2,000 people in the U.S. That is 200,000 Americans and around 3 million of the global population.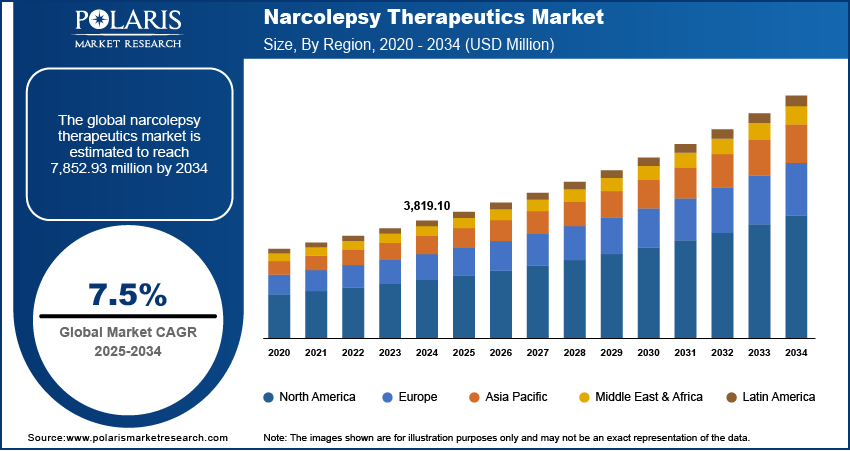 Know more about this report: Request for sample pages
In addition, increasing consciousness regarding the disease and growing demand for advanced therapeutics and diagnostics are other factors expected to boost narcolepsy therapeutics market growth. Furthermore, increasing demands for appropriate treatment of the disorder, followed by growing R&D activities, is anticipated to boost the industry growth.
Narcolepsy is a chronic nerve disease associated with sleep paralysis, hypnagogic hallucinations, Excessive Daytime Sleepiness (EDS), fragmented night sleep, and cataplexy. Narcolepsy is the brain's incapability to control sleep-wake phases. The sleep attack can occur during any activity, such as eating, playing, conversing, or driving. Individuals with such disorders have a strong impulse to sleep and lack energy.
Narcolepsy generally triggers due to a lack of brain chemicals known as hypocretin, inherited conditions, mental illness, hormonal changes, immune-system dysfunction, infections, trauma, or stress. Approximately 10% of people having narcolepsy with cataplexy partake in a genetic tendency. Narcolepsy can arise in both women and men at any age. Such disorders typically occur in the early twenties and last throughout life.
The pandemic has disrupted the supply chain of narcolepsy drugs, leading to shortages in some areas. The lockdowns and travel restrictions have made it difficult for pharmaceutical companies to transport their products to various countries, resulting in deficiencies in some areas. Additionally, the closure of clinical trial sites and the diversion of resources to COVID-19 research have slowed the development of new therapies for narcolepsy.
In addition, pandemic also affected the demand for narcolepsy drugs. With people working from home and socializing less, the need for narcolepsy medication has decreased for some patients. However, for others, the pandemic has increased their stress levels, which can exacerbate narcolepsy symptoms. The mental health effects of the pandemic have also increased the prevalence of sleep disorders, including narcolepsy, which may lead to increased demand for narcolepsy medications in the long term.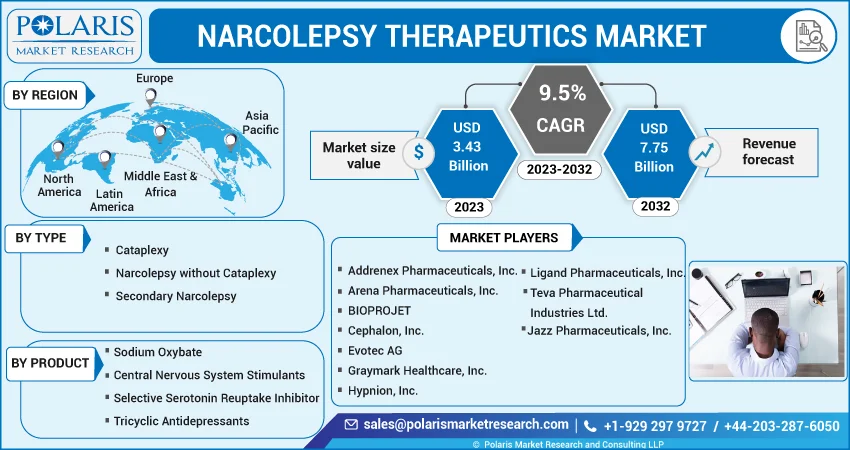 Know more about this report: Request for sample pages
Industry Dynamics
Growth Drivers
The narcolepsy therapeutics market is primarily driven by the geriatric population's need for treatment, the increase in narcoleptic illnesses, changing lives, and the link between stress and narcolepsy condition. The market is anticipated to be driven in the future years by higher research efforts, an increase in healthcare expenditure, and the existence of better medical infrastructure.
In the upcoming years, market development may also be significantly influenced by the market competitor's clearance and commercialization of novel medications. For instance, in March 2021, Avadel's New Drug Application (NDA) for FT218, approved by the Food and Drug Administration an experimental, once-daily formulation of sodium oxybate used to treat excessive daytime sleepiness and cataplexy in people with narcolepsy.
Moreover, technological advancements in diagnosis and treatment, the availability of advanced diagnostic tools and technologies, and the development of novel and effective therapies are driving the growth of the market. The use of polysomnography, multiple sleep latency testing (MSLT), and other diagnostic tools has led to an increase in the number of diagnosed cases, which is driving the demand for narcolepsy medications.
In April 2021 study was carried out by Neurotherapeutics and was titled "A practical guide to the pharmacological and behavioral therapy of Narcolepsy, a CNS stimulant, modafinil, has get approved by the European Medicines Agency (EMA) and the FDA for adult narcolepsy patients and its shows potential effect and have a low side effect.
The narcolepsy therapeutics market is a relatively small and niche market. Still, it is expected to grow in the coming years due to increased awareness of the condition and the development of new treatments.
Report Segmentation
The market is primarily segmented based on type, product, and region.
By Type

By Product

By Region

Cataplexy

Narcolepsy without Cataplexy

Secondary Narcolepsy

Sodium Oxybate

Central Nervous System Stimulants

Selective Serotonin Reuptake Inhibitor

Tricyclic Antidepressants

North America (U.S., Canada)

Europe (France, Germany, UK, Italy, Netherlands, Spain, Russia)

Asia Pacific (Japan, China, India, Malaysia, Indonesia, South Korea)

Latin America (Brazil, Mexico, Argentina)

Middle East & Africa (Saudi Arabia, UAE, Israel, South Africa)
Know more about this report: Request for sample pages
Cataplexy segment is expected to dominated the market over the forecast period.
Cataplexy segment is anticipated to grow over the forecast period because of development of non-pharmacological interventions for cataplexy in narcolepsy include lifestyle changes such as avoiding triggers that can induce cataplexy attacks, practicing stress reduction techniques such as meditation and yoga, and participating in cognitive-behavioral therapy (CBT) to help manage emotions and stress.
The market for cataplexy treatments is currently dominated by sodium oxybate, the only medication approved by the U.S. Food and Drug Administration (FDA) specifically for treating cataplexy. However, there is a growing pipeline of new therapies for cataplexy in narcolepsy, including novel medications that target the hypocretin pathway and gene therapies that aim to restore hypocretin production, and propels the growth for the market globally.
Sodium Oxybate segment have largest market

in 2022.
The sodium oxybate is currently most commonly prescribed medication for cataplexy in narcolepsy. It is a central nervous system depressant taken at bedtime and is thought to help improve nighttime sleep and reduce the frequency of cataplexy attacks. It is currently the only medication approved by the U.S. Food and Drug Administration (FDA) specifically for treating cataplexy.
The segment is experience growth due to the increasing awareness of narcolepsy, the availability of effective treatments, and the launch of generic versions of sodium oxybate, which are expected to increase the affordability and accessibility of the medication.
North America dominates the global market over the projected period.
The North American market is dominated by the United States, which has the highest prevalence of narcolepsy in the region. The U.S. Food and Drug Administration (FDA) has approved several medications for narcolepsy, including sodium oxybate, modafinil, etc. These medications are widely prescribed and expected to continue driving growth in the North America narcolepsy therapeutics market.
However, Asia Pacific is expected to dominate the global industry during the forecast period. Rising disposable income, increasing investments in biotechnology and pharmaceutical sectors, economic development, supportive government initiatives, and rising awareness among people regarding the appropriate therapies are the factors expected to significantly boost the market in the Asia Pacific.
Competitive Insight
Some major key players in global narcolepsy therapeutics market includes Addrenex Pharmaceuticals, Inc., Arena Pharmaceuticals, Inc., BIOPROJET, Cephalon, Inc., Evotec AG, Graymark Healthcare, Inc., Hypnion, Inc., Jazz Pharmaceuticals, Inc., Ligand Pharmaceuticals, Inc., and Teva Pharmaceutical Industries Ltd. among others.
Recent Developments
In March 2022, Axsome Therapeutics Inc. and Jazz Pharmaceuticals signed legal contract for Axsome Therapeutics Inc. to acquired Sunosi (solriamfetol), is a medication indicated to improve wakefulness in adult patients with excessive daytime sleepiness due to narcolepsy or obstructive sleep apnea.

In January 2021, Harmony Biosciences announced the submission of a New Drug Application (NDA) to the U.S. Food and Drug Administration (FDA) for pitolisant, a medication indicated for the treatment of cataplexy and excessive daytime sleepiness in patients with narcolepsy.
Narcolepsy Therapeutics Market Report Scope
| | |
| --- | --- |
| Report Attributes | Details |
| Market size value in 2023 | USD 3.43 billion |
| Revenue forecast in 2032 | USD 7.75 billion |
| CAGR | 9.5% from 2023 – 2032 |
| Base year | 2022 |
| Historical data | 2019 – 2021 |
| Forecast period | 2023 – 2032 |
| Quantitative units | Revenue in USD billion and CAGR from 2023 to 2032 |
| Segments Covered | By Type, By Product, By Region |
| Regional scope | North America, Europe, Asia Pacific, Latin America; Middle East & Africa |
| Key Companies | Addrenex Pharmaceuticals, Inc., Arena Pharmaceuticals, Inc., BIOPROJET, Cephalon, Inc., Evotec AG, Graymark Healthcare, Inc., Hypnion, Inc., Jazz Pharmaceuticals, Inc., Ligand Pharmaceuticals, Inc., and Teva Pharmaceutical Industries Ltd. |