The global hearing loss disease treatment market was valued at USD 12.72 billion in 2022 and is expected to grow at a CAGR of 4.7% during the forecast period. The World Health Organization estimates that in April 2021, approximately 432 million adults and 34 million children worldwide required treatment for their hearing impairment. By 2050, approximately 700 million people worldwide will require the assistance of listening rehabilitation, and approximately 2.5 billion people, or one in every ten people, will have some kind of hearing impairment.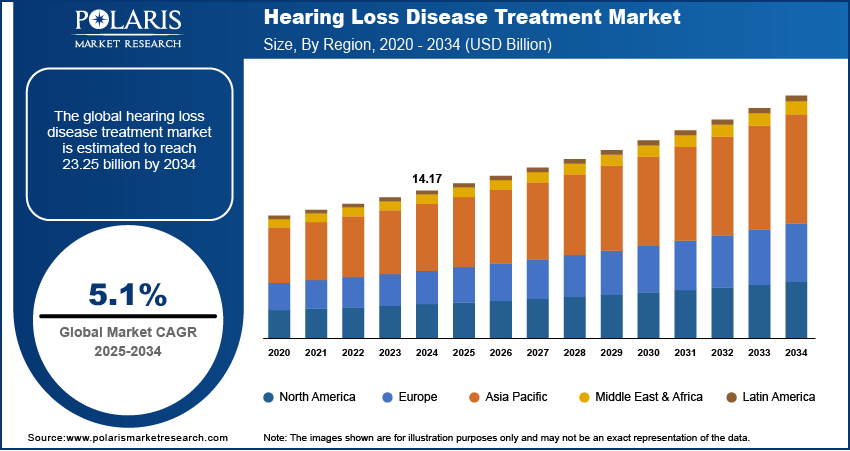 Know more about this report: Request for sample pages
Additionally, unsafe listening practices put over a billion young people at risk of permanent, but treatable, hearing loss. Consequently, industry expansion is being fueled by the disease's growing global prevalence.
Strong activities in research and development have resulted in the clinical product pipeline of to satisfy an unmet medical need. For instance, Sensorion's SENS 401 will begin a phase III clinical trial, in January 2022, for the treatment of severe & sudden sensori-neural hearing loss. Ebselen, a drug developed by Sound Pharmaceuticals for the treatment of the Meniere's Disease, a rare inner ear disorder, will enter phase III trials, in December 2022. Similarly, Otonomy.'s OTO-413 & Frequency Therapeutics' FX-322 are both undergoing phase 2 clinical trials for adults with acquired sensorineural disease and speech-in-noise hearing loss, respectively.
As a result, new technology and features are making patient care better, which is expected to boost the hearing loss disease treatment market growth over the forecast period. The World Health Organization estimates that untreated hearing loss results in annual costs of $980 billion worldwide. This includes the costs incurred by the health sector, society, productivity loss, and educational support costs 57% of this cost was borne by countries with low and middle incomes. Companies can capitalize on these factors to fill a regional demand gap. Through a variety of campaigns, both public and private organizations continuously strive to raise awareness.
Industry Dynamics
Growth Drivers
Eighty percent of people with disabilities live in low- and middle-income nations. The disease's prevalence has also increased as people get older. Hearing loss affects approximately 25% of 60-year-olds worldwide. As a result, the space is being driven by the growing number of diseases. There is a substantial pipeline of clinical trials in the area, which is anticipated to provide better treatment options in the coming years.
The growing geriatric population worldwide, government and private initiatives to raise public awareness, and the global rise in disease burden are all responsible for the expansion. Additionally, the expanding number of drugs in the clinical pipeline and developments involving auditory devices present lucrative growth opportunities.
Report Segmentation
The market is primarily segmented based on product, disease type, end-use, and region.
By Product

By Disease Type

By End-Use

By Region

Devices

Drugs

Systemic Steroids

Antiviral medication

Vasodilators

Others

Conductive Hearing loss

Sensorineural Hearing Loss

Mixed

Hospitals

Otology clinics

Ambulatory clinics

North America (U.S., Canada)

Europe (France, Germany, UK, Italy, Netherlands, Spain, Russia)

Asia Pacific (Japan, China, India, Malaysia, Indonesia, South Korea)

Latin America (Brazil, Mexico, Argentina)

Middle East & Africa (Saudi Arabia, UAE, Israel, South Africa)
Know more about this report: Request for sample pages
Devices segment accounted for the largest market share in 2022
The lack of FDA-approved drugs for the treatment of hearing loss, the introduction of new products with advanced features, the growing advancement of auditory devices, and the large number of payers in the market all contribute to this segment growth. A cochlear implant can be beneficial for patients who suffer from severe diseases. Cochlear implants have made it possible for people to keep the same quality of sound even if one ear has severe hearing loss and the other has normal, mild, or moderate hearing loss.
The growth of the hearing loss disease treatment market is being fueled by these device advancements. Due to the introduction of new therapeutic products, it is anticipated that the drugs segment will experience the highest CAGR over the forecast period. There are medications for a variety of hearing issues. Standard treatments like antibiotics for the ear infections & steroids for the sudden auditory loss/inflammation are included in this. However, patients who can't respond well to medication may be prescribed hearing aids. As a result, the industry now has growth opportunities and novel treatment options.
Sensorineural Hearing Loss is expected to grow significantly over the projection period
This is due to the increasing number of treatment options and the most prevalent condition among patients.
In addition, as per the National Institute on Deafness and Other Communication Disorders (NIDCD), 1 in 3 Americans aged 65 to 75 suffer from hearing loss. As a result, the segment's expansion is being driven by an increase in the number of cases of the disease. In addition, a lucrative opportunity for market expansion exists as research and development for better treatment options in space continues to grow.
Hospital application segment is dominate the industry over the forecast period
The rising demand for multispecialty hospitals for these conditions is to blame for this high share. A multidisciplinary team of specialists whose medical and surgical practice is dedicated to managing the condition treats patients who complain of ear disorders. For instance, patients with ear infections, auditory impairment, and tumors affecting both the ear and the skull can be effectively managed by otologists and neurotologists working together.
In addition, people have access to a variety of facilities at hospitals, including counseling, treatment for medical and surgical conditions, rehabilitation, and follow-up care, which is driving the segment's expansion. In addition, hospitals provide services round-the-clock and retain the patient's and family's trust for medication education, training, and post-treatment guidance. Moreover, investments in automating the process of medical and pharmacy insurance information have made it easier for patients and payers to clear documents, creating lucrative growth opportunities.
North America accounted for the highest share of the overall revenue in 2022
The increasing prevalence of disease, advanced devices in the U.S., presence of major players, and high-paying ability toward branded drugs are drives the regional growth.
According to the NIDCD, 1 in 8 people over the age of 12 have reported suffering with hearing impairment in the both ears, & prevalence rate has increased by around 8.5% among people between the ages of 55 & 64. Its market share will also grow in the coming years due to anticipated new drug launches and improved healthcare access.
In Asia Pacific, a variety of organizations organize awareness campaigns and work to raise awareness of disabilities on World Hearing Day. As a result, market expansion is being aided by an increase in awareness, which is encouraging patients to seek a diagnosis of auditory impairment. However, due to the rising number of target patients and funding support for major players in the region, Asia-Pacific is anticipated to be the fastest-growing region from 2023 to 2030.
Competitive Insight
Some of the major players operating in the global hearing loss disease treatment market include Acousia Therapeutics, Astellas Pharma, Audifon GmbH, Audina Hearing Instrument, Frequency Therapeutics, Otonomy, Pipeline Therapeutics, Sensorion, Novartis, and WS Audiology.
Recent Developments
In July 2022, Ebselen from Sound Pharmaceuticals & SENS-401 from the Sensorion are both undergoing phase 3 clinical trials to treat sensorineural hearing loss and Meniere's disease, respectively.

In June 2022, PIPE-505, a phase 2 drug developed by Pipeline Therapeutics, will be evaluated for sensorineural hearing loss.
Hearing Loss Disease Treatment Market Report Scope
| | |
| --- | --- |
| Report Attributes | Details |
| Market size value in 2023 | USD 13.27 billion |
| Revenue forecast in 2032 | USD 19.99 billion |
| CAGR | 4.7% from 2023 - 2032 |
| Base year | 2022 |
| Historical data | 2019 - 2021 |
| Forecast period | 2023 - 2032 |
| Quantitative units | Revenue in USD billion and CAGR from 2023 to 2032 |
| Segments covered | By Product, By Diseases Type, By End-Use, By Region |
| Regional scope | North America, Europe, Asia Pacific, Latin America; Middle East & Africa |
| Key companies | Acousia Therapeutics GmbH, Astellas Pharma, Audifon GmbH & Co.KG, Audina Hearing Instrument, Frequency Therapeutics, Otonomy Inc, Pipeline Therapeutics, Sensorion, Novartis AG, WS Audiology A/S. |