The global hearing aids market is valued at USD 4,956.6 million in 2017 and is anticipated to grow at a CAGR of 3.9% during the forecast period. Hearing aid is an electronic device mostly worn on or in the ear by individual suffering from hear loss. Hearing aids helps a hearing-impaired person by amplifying the sounds in the surrounding.
The global hearing aids market is majorly driven by increasing number of geriatric population, increasing incidences of hearing loss due to increased noise pollution, and continuous technology advancements and innovation by the manufacturers. Moreover, increased number of birth complication also drives the market of hearing aids during the forecast period.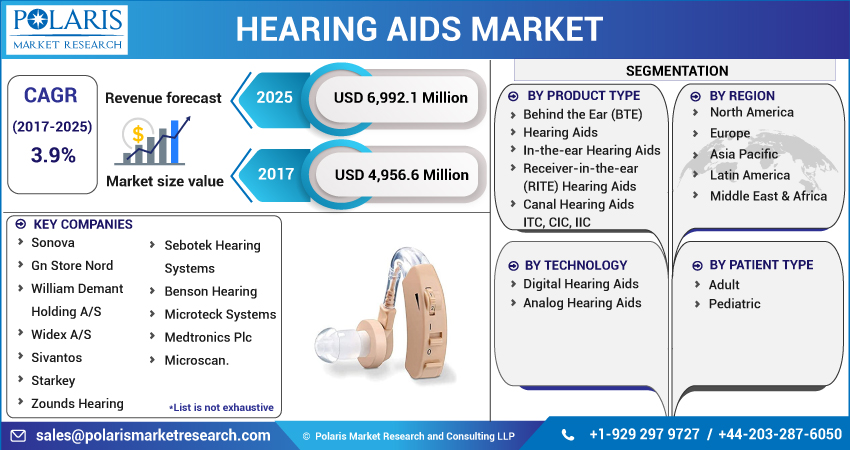 Segment Analysis
The global hearing aids market is segmented on the basis of product type, technology type, patient type and geography type. On the basis of product type, market is characterized as behind the ear (BTE) hearing aids, in-the-ear hearing aids, receiver-in-the-ear (RITE) hearing aids, and canal hearing aids ITC, CIC, and IIC. Depending on the technology the market is segmented as digital hearing aids and analog hearing aids. On the basis of type of patients this market is further characterized into adult patients, and pediatric patients. The report analyzes the global market across North America, Europe, Asia-Pacific, Latin America, and Middle East & Africa. Geographically, Europe accounted for the largest share in the global hearing aids market in 2017.
Competitive Landscape
The major players operating in this industry include Sonova, Gn Store Nord, William Demant Holding A/S, Widex A/S, Sivantos, Starkey, Zounds Hearing, Sebotek Hearing Systems, Benson Hearing, Microteck Systems, Medtronics Plc, and Microscan.