The global human microbiome therapeutics market was valued at USD 415.73 Million in 2021 and is expected to grow at a CAGR of 23.7% during the forecast period.
Human microbiome treatments are projected to expand in popularity as the number of digestive illnesses and drug-related side effects rises. In addition, the rate of funding in biological drug development is growing, and competitors in the worldwide human microbiome industry are forming alliances.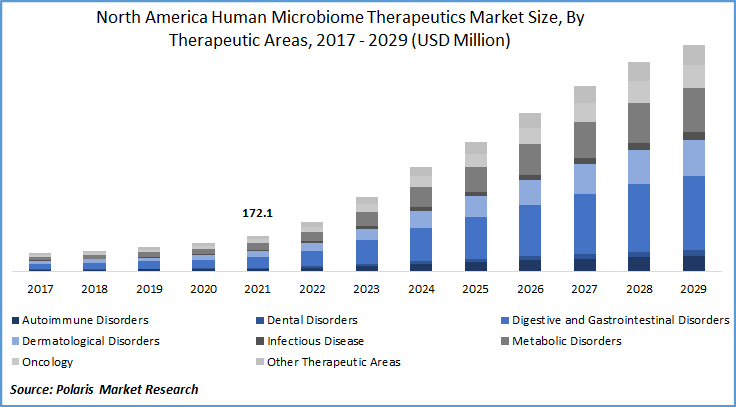 Know more about this report: request for sample pages
The growing emphasis on human microbiome therapies, as well as technological advancements in genomic studies and next sequencing, is expected to boost human microbiome therapeutics market demand in the near future.
Nevertheless, throughout the anticipated period, high infrastructure and machinery expenses, as well as complex techniques for the generation and separation of microorganisms in the laboratories, are anticipated to stymie human microbiome therapeutics market expansion. Furthermore, concerns such as microbe temperature intolerance and a lack of sufficient regulation are projected to hinder the global human microbiome therapies market growth.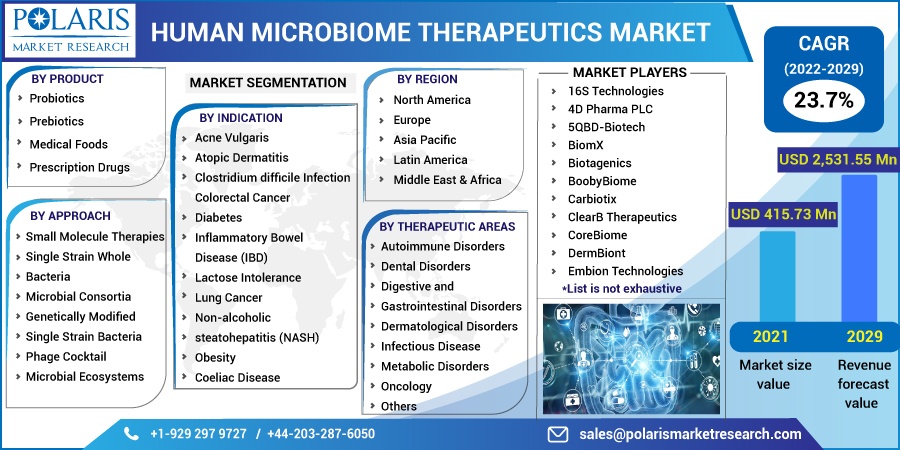 Know more about this report: request for sample pages
Industry Dynamics
Growth Drivers
The rising frequency of illnesses caused by dysbiosis with the gut microbiota, as well as the allocation of a large amount of money for biological drug discovery and research, are the main drivers of this human microbiome therapeutics market growth.
Furthermore, the demand for accurate, reliable, and rapid therapy for disorders including hepatic encephalopathy, phenylketonuria, C. difficile infection, among multidrug-resistant urinary system infection is expected to drive the market across the globe.
Orphan drug designations and advanced treatment designations for human microbiome therapies are likely to speed up the introduction of new pharmaceuticals in the microbiome therapeutics industry. This market has a lot of room to expand because there are over 120 medication candidates in the process at various stages of discovery that will help the microbiome therapeutics industry.
Report Segmentation
The market is segmented on the basis of product, therapeutic areas, indication, approach, and region.
By Product

By Therapeutic Areas

By Indication

By Approach

By Region

Probiotics

Prebiotics

Medical Foods

Prescription Drugs

Acne Vulgaris

Atopic Dermatitis

Clostridium difficile Infection

Colorectal Cancer

Diabetes

Inflammatory Bowel Disease (IBD)

Lactose Intolerance

Lung Cancer

Non-alcoholic steatohepatitis (NASH)

Obesity

Coeliac Disease

Small Molecule Therapies

Single Strain Whole Bacteria

Microbial Consortia

Genetically Modified Single Strain Bacteria

Phage Cocktail

Microbial Ecosystems

North America (U.S., Canada)

Europe (France, Germany, UK, Italy, Spain, Netherlands, Austria)

Asia Pacific (Japan, China, India, Malaysia, Indonesia, South Korea)

Latin America (Brazil, Mexico, Argentina)

Middle East & Africa (Saudi Arabia, UAE, Israel, South Africa)
Know more about this report: request for sample pages
Insight by Product
The probiotics category is likely to dominate the human microbiome therapeutics industry throughout the projected period. Probiotics are microorganisms that give health advantages when ingested, including bacteria and yeasts. Small molecule treatments held the biggest market share, owing to their widespread usage. They were expected to increase at the fastest rate throughout the projection period.
Insight by Indication
Clostridium difficile disease was the most common illness in 2021 due to an increase in the number of cross-reactions with medications, as well as the present lifestyle and poor eating habits. During the forecast period, the diabetes category is expected to increase at the fastest pace. Positive clinical data for the therapy of diabetes using live biotherapeutics, as well as a current pipeline of treatments to be marketed, is credited for the segment's rise.
Pendulum Glucose Control was launched in June 2020 by a firm located in the United States. This is the medicinal probiotic that is said to reduce A1C and blood sugar levels. This oral drug is intended to help 30 million patients with type 2 diabetes in the U.S.
Geographic Overview
Because of the extremely aware public, supportive government policies, higher adjustment of technological breakthroughs, and increased R&D, North America dominated the human microbiome industry in 2021 and is expected to maintain its dominance over the projected timeframe.
The National Human Genome Research Institute, which promotes studies on the individual genome and funds research on its form, activity, and function in healthcare and illness, is one example of how the U.S. government promotes genomics science through several government entities.
Many businesses in the area are working on manufacturing human microbiome treatments. It is useful in a variety of therapy areas, including cancer, chronic bowel illness, diabetes, autoimmune illnesses, and more.
Competitive Insights
Key market players operating in the market are 16S Technologies, 4D Pharma PLC, 5QBD-Biotech, BiomX, Biotagenics, BoobyBiome, Carbiotix, ClearB Therapeutics, CoreBiome, DermBiont, E.I. du Pont de Nemours and Company, Embion Technologies, Enterome Bioscience, Evelo Biosciences, Exeliom Biosciences, Ferring Pharmaceuticals, Finch Therapeutics, GNUbiotics Sciences, GoodBelly, GoodGut, Holobiome, Commense, Hyggut, Igen Biolab Group, Lactobio, LNC Therapeutics., Oxidien Pharmaceuticals, LLC, Second Genome, Seres Therapeutics, Synlogic, UBiome, Vedanta Biosciences, and ViThera Pharmaceuticals.
In July 2020, 4D pharmaceuticals plc, a UK-based pharmaceutical firm focused on advancing active biotherapeutics, reported that patient recruitment for its stage II study of its prospective oral innate immunity MRx-4DP0004 treating COVID-19 individuals is now open, with treatment to begin soon. The firm is a global specialist in the development of live biotherapeutics. Its solutions are single-strain microorganisms that are normally found in the human stomach and are administered orally.
Human Microbiome Therapeutics Market Report Scope
| | |
| --- | --- |
| Report Attributes | Details |
| Market size value in 2021 | USD 415.73 Million |
| Revenue forecast in 2029 | USD 2,531.55 Million |
| CAGR | 23.7% from 2022 - 2029 |
| Base year | 2021 |
| Historical data | 2017 - 2020 |
| Forecast period | 2022 - 2029 |
| Quantitative units | Revenue in USD million/billion and CAGR from 2022 to 2029 |
| Segments covered | By Product, By Therapeutic Areas, By Indication, By Approach, By Region |
| Regional scope | North America, Europe, Asia Pacific, Latin America, Middle East & Africa |
| Key Companies | 16S Technologies, 4D Pharma PLC, 5QBD-Biotech, BiomX, Biotagenics, BoobyBiome, Carbiotix, ClearB Therapeutics, CoreBiome, DermBiont, E.I. du Pont de Nemours and Company, Embion Technologies, Enterome Bioscience, Evelo Biosciences, Exeliom Biosciences, Ferring Pharmaceuticals, Finch Therapeutics, GNUbiotics Sciences, GoodBelly, GoodGut, Holobiome, Commense, Hyggut, Igen Biolab Group, Lactobio, LNC Therapeutics., Oxidien Pharmaceuticals, LLC, Second Genome, Seres Therapeutics, Synlogic, UBiome, Vedanta Biosciences, and ViThera Pharmaceuticals. |