The global hypercar market was valued at USD 13.7 billion in 2019 and is expected to exhibit a CAGR of 34.5% over the forecast period. Global hyper car market size is expected to witness significant development, with growing demand for audaciously constructed high-performance vehicles using sophisticated composite materials with ultra-light building and aerodynamic body. These cars are powered and supported by an all-wheel drive system. The two systems will help the front wheels with an active torque vectoring method to be pushed separately. Increasing preference for high-performance vehicles with improved systems, greater convenience and safety compared to standard vehicles will contribute to the forecast time frame development of the hypercar industry. It offers a large car horsepower combined with an overload or turbocharging scheme and can achieve fast speeds. Increasing preference for young generation racing experience will boost the market size of hyper vehicles over the forecast period. It provides excellent handling and results in a stunning economy of fuel.
Hypercars can achieve advanced fuel economy three to four-fold enhancements that have equivalence or improved efficiency, safety of amenities, and affordability relative to the current processing of cars. Hypercars are highly efficient vehicles that deliver high-performance, secure, clean and economical. Hypercars have exceptional aerodynamics, effective propulsion and effective weight construction that can exceed various typical speeds. The automotive industry is focusing on ultra-light vehicle building.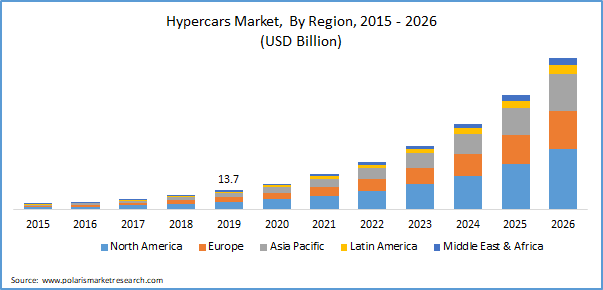 Know more about this report: request for sample pages
Advanced technology, racing experience, creative and distinctive design will also be the main driving force on the market for hyper vehicles. Shifting customer preference for high-performance sports cars as a status symbol will drive product development over the forecast period. The upsurge in the manufacturing of exceptionally clean, secure and fuel-efficient hybrid / electric cars will promote product demand. These cars, however, are extremely priced than counterparts, so they are not accessible to all. This can hamper the development of the sector over the forecast period.
One of the main variables driving the growth of the hypercar industry is the competition among super sports car producers. One of the factors driving demand for luxury, mid-segment, and sports cars around the globe is improving socio-economic circumstances in many nations. In addition, with the increasing disposable income customers are now prepared to spend more on buying a vehicle and the automakers working in the sports car industry have begun investing heavily in developing hypercars to make their brand names more reputable and distinct on the market.
They also differentiated performance enhancement systems in addition to equipping their vehicles with high-performance motors and sophisticated safety systems. Electric power assist, for example, is an example of such a scheme that added to the vehicle's efficiency quotient. With such advances, we expect competition among sports car producers to continue to expand, which in turn will drive hypercar market growth.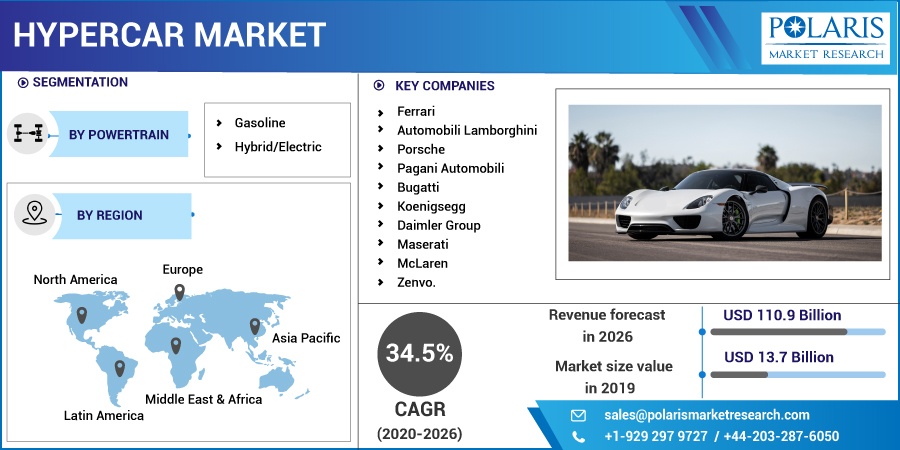 Know more about this report: request for sample pages
Hypercar Market Report Scope
The market is primarily segmented on the basis of powertrain, and geographic region.
By Powertrain

By Region Type

North America (U.S., Canada)
Europe (UK, Germany, France, Italy, Spain)
Asia Pacific (Japan, China, South Korea)
Latin America
Middle East & Africa
Know more about this report: request for sample pages
Powertrain Outlook
The hybrid/electric powertrain segment accounted for the hypercar market's significant shares in 2019. Integrating sophisticated and energy-efficient electric motors will be a significant factor contributing to development in the size and share of the hypercar industry in the years ahead. The industry's move to electrifying and developing leaner machines to minimize environmental effect, boosting the automotive growth of more effective hybrid / electric engines. Upcoming trends such as Italian sports car manufacturer, Automobili Lamborghini collaborating for future hypercars with the Massachusetts Institute of Technology (MIT) to develop future supercars and hypercars as the company's engineers and developers think that such partnerships will serve as a laboratory for designing and developing future hyper-performance vehicles.
Regional Outlook
Due to strong national demand, North America is expected to provide multiple growth possibilities for the region's automotive producers. With the cooperation of national and foreign automakers in the region, the national automotive industry is expected to experience vibrant changes. Entry from overseas car producers like McLaren and Koenigsegg will drive market growth for hypercar. These producers are anticipated to create a powerful national presence with increasing sales figures and a strong product portfolio over the forecast period as well as a growing retailer network.
Germany's dominant European automotive industry is native to the world's leading automotive producers. Over the forecast period, the regional automotive industry will experience significant investment in the market for sophisticated technology hyper vehicles research and development. It will promote product development by the presence of sports car producers such as Porsche, Aston Martin, Briggs and McLaren. Asia Pacific is expected to be the fastest growing market for hypercars. Increasing disposable income together with high living standards will drive the region's demand for the product. Increasing environmental concerns in the region will result in an increase in electrically powered vehicle manufacturing to satisfy increasing customer demand.
Competitive Landscape
The primary industry players include Ferrari, Automobili Lamborghini, Porsche, Pagani Automobili, Bugatti, Koenigsegg, Daimler Group, Maserati, McLaren, Hennessey Performance Engineering, and Zenvo. Because of the existence of a few well-established players including OEMs providing superior quality in their cars, the hypercar industry seems to be competitive. With the increasing popularity of these cars, competition among players in this industry is anticipated to intensify during the forecast period. Automotive companies invest strongly in sophisticated systems studies and development to satisfy customer demand for high-performance hyper cars. Various key players in this market have adopted developmental strategies in order to maintain their lead positions in the market across the globe. One of the major developmental strategies include new products launch in order to gain a competitive edge in the market. In addition to this, the market players have also adopted the strategy of research and development activities in order to offer advanced products to the customers in this market. All these strategies have helped to boost the market size for hypercars and are also expected to fuel the growth of this market in the near future.